Top 10 Benefits of Investing in Real Estate (+ Possible Cons)
When done correctly, real estate is one of the most popular, profitable, and stable investment choices that can generate a high profit return. The advantages of investing in real estate include the ability to generate wealth, use equity as leverage, and protect your money from inflation. In addition, there are immeasurable benefits to investing in real estate, like improving your community, providing housing, and building a network. Make sure you're aware of the pros and cons of real estate investing and choose the right tools to succeed.
Start gathering information about potential real estate investments, searching for properties, or getting knowledge from the learning resources on Roofstock. Roofstock is a real estate listing platform built specifically for investors, so every listing includes extensive financial property data like estimated rent costs, cash flow, and annual rates of return.
Here are the top advantages of investing in real estate:
1. Generate Wealth & Build Equity
The first of many advantages of investing in real estate is the power of equity. When you own a house or piece of property, it naturally appreciates, or increases in value. As you pay the mortgage down and allow the house to appreciate, you build equity. Equity is an asset part of your net worth, making it one of the most straightforward ways to generate wealth. For example, according to FRED, the value of homeowner equity nearly tripled between 2011 and 2022.
With equity, you have multiple options to generate cash flow and get a return on your investment (ROI). If you sell the home at the right time, you can get a large profit. On the other hand, you can use equity as leverage to increase your investment portfolio even further. With equity from one property, you can buy a rental property to generate monthly income and double your gains from building equity.
2. Reliable Long-term Investment
Although the real estate market fluctuates, it is a stable investment that continually increases in value. Compared to the stock market, which is a highly volatile investment, real estate is not prone to frequent market swings or inflation. Properties don't immediately change in price based on capital contributions or political volatility, making real estate a safe and stable long-term investment.
The charts below visually show how the stock market and real estate market fluctuate and grow over time. Notice the peaks and valleys the stock market graph displays. While the real estate graph has fewer ups and downs, it goes steadily over time.
Plus, real estate is a physical asset that can always be monetized. Owning real estate benefits the investor by providing ongoing income and tax benefits while the property increases in value. Renting the property provides a cash-on-cash return, and residing and reselling the property provides an ROI.
Pro tip:
Real estate is ideal for experienced investors looking to diversify their portfolios. It provides insulation against higher-risk investments like stocks and mitigates the risks of investing in volatile markets. Real estate is part of a broad category of alternative investments, which include everything—from art to collectibles and physical gold. The tangibility of real estate affords property owners a sense of stability during bear markets or short-term stock sell-offs.
3. Protection From Inflation
While most people fear inflation, real estate investors don't have to. Properties are rarely impacted by the effects of inflation, which is one of the most valuable benefits of real estate investing in current markets. Instead of being negatively impacted, real estate investments generally rise in value along with inflation. In fact, the graph below shows how home prices have stayed consistent along with inflation over the last three decades.
As a real estate investor, increases in your expenses will be relative to the increases in property value and income. If you are a landlord, you can maintain or even increase your cash flow according to inflation by adjusting how much you charge for rent. When it's time to increase the price of rent for your tenants, make sure you know the laws and regulations, provide the correct amount of notice, and write a professional yet direct letter.
To simplify the process, start by downloading our rent increase letter template and using a property management tool like Buildium. It provides a streamlined, easy-to-use platform to manage every aspect of your investments, including screening tenants, managing maintenance requests, accepting rent payments, and communicating efficiently with residents. When you use Buildium for your rental properties, it's easy to adjust tenants' rent prices in just a few clicks. Learn more about how Buildium can help you.
4. Rental Properties Provide Passive Income
When you invest in real estate, you open the door to generating passive income. As mentioned, property values naturally appreciate, even if you don't make changes to the property. Rental properties generate a regular monthly income for owners regardless of whether the owner spends hours working on the property or lives in a completely different state. The ability to make money without dedicating a certain amount of time to your real estate investment provides freedom for investors.
Of course, properties don't automatically generate money without an investor putting in an extensive amount of work. It takes time and effort to find and evaluate an investment property, get funding, prepare or maintain the property, market the rental listing, and manage the tenants. However, with the right property management company or tool, every part of the process can be simple and stress-free.
For example, Avail provides tools to calculate rental prices, create and promote rental listings, screen tenants, and automate rent payments. It's an all-in-one tool that can streamline the process of purchasing, buying, and managing your rental, allowing you to generate income and find freedom in your time. Start using Avail for free today.
5. Benefits the Community & Provides Housing
Most investors focus heavily on the financial indicators of investments, but there are also unquantified benefits of investing in residential real estate. For example, responsible real estate investors can greatly impact the community by improving properties, curb appeal, and providing new housing.
When real estate investors buy and repair a dilapidated property, they do much more than simply remove an eyesore. They also provide a new home for residents who need it and ensure that more community members are housed in safe, healthy, clean, and fair conditions.
In addition, working as a real estate investor requires you to be heavily involved in the local community. Work with lenders, real estate agents, home inspectors, and contractors frequently, employing them for your properties. You'll also build relationships with community members who may be neighbors, homesellers, or potential tenants. Working with local businesses helps stimulate your local economy and creates a network of professionals you can recommend and refer to others.
6. Wide Variety of Investment Options
Investing in real estate can mean various things—from buying a single-family property to buying a parcel of land or leasing commercial real estate. The right type of real estate investment will depend on your financial abilities, financial goals, and your lifestyle. As a real estate investor, you are in charge of the types of properties and investments you purchase and how you generate money. This flexibility is one of the advantages of real estate that is especially appealing to many people.
Here are some of the investment property types you can choose to invest in with links to articles that will give you the details of how to buy that type of property:
Regardless of how you start investing in real estate, creating a business plan is important. For example, some investors simply use rental income to save money on top of their existing careers. Others use the rental income to cover expenses so they can travel or expand their portfolio even further. With a detailed real estate investing business plan, you'll clearly analyze your strengths and weaknesses, define your goals, and establish a plan to reach your goals.
7. Effective Means of Saving for College Funds or Retirement
Real estate investing, when done right, is a stable way to increase wealth over a period of time. This makes it an ideal method of funding specific types of goals, like college funds and retirement. For instance, parents may buy a rental property with a 15-year mortgage and put the rental income into a savings account. The property could be paid off before the child turns 18, then either sold or used for continual cash flow.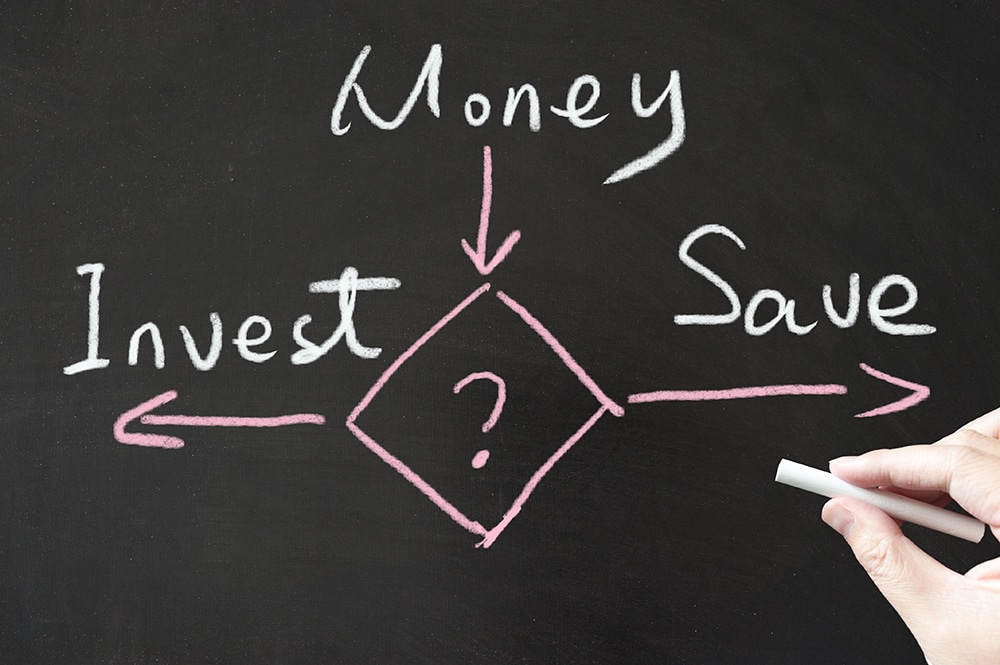 On the other hand, the same process could be used to save for retirement or to supplement retirement funds. Since rental income is remarkably stable, retirees can use the cash flow while continuing to build equity.
8. Relatively Easy to Finance & Create Leverage
Real estate investments are relatively easy to finance, especially when compared to other assets. You can borrow 50% to 90% of the acquisition cost, and the interest rates are often below the anticipated ROI rate. In 2022, the average interest rates are about 4.73%, and mortgage interest rates haven't gone above 6% for almost 15 years, as you can see in the chart below.
In comparison, it's not uncommon to get an ROI of 15% or more on investment properties. However, it's essential to understand that the rate of ROI for investment properties can vary significantly, and ROI may not be the only calculation or most important method to define your profits. Instead, depending on the type of real estate investment you make, it's better to focus on the cap rate or cash-on-cash returns. Learn more about calculating cap rates, cash-on-cash returns, and ROI.
Yet another financial advantage of investing in real estate is the ability to use financing to increase the ROI of a property, which is called positive leverage. For example, if you wanted to invest $200,000 in the stock market, you'd have to put in the full amount of money.
On the other hand, you can invest $200,000 in a duplex home for about $40,000 with the right financing. The lender puts up 80% of the cash for the investment, but you keep the profits from the property. If the $200,000 stock market investment and the $40,000 duplex investment appreciate at the same rate, your ROI would be significantly higher on the real estate investment since the upfront costs were so much lower.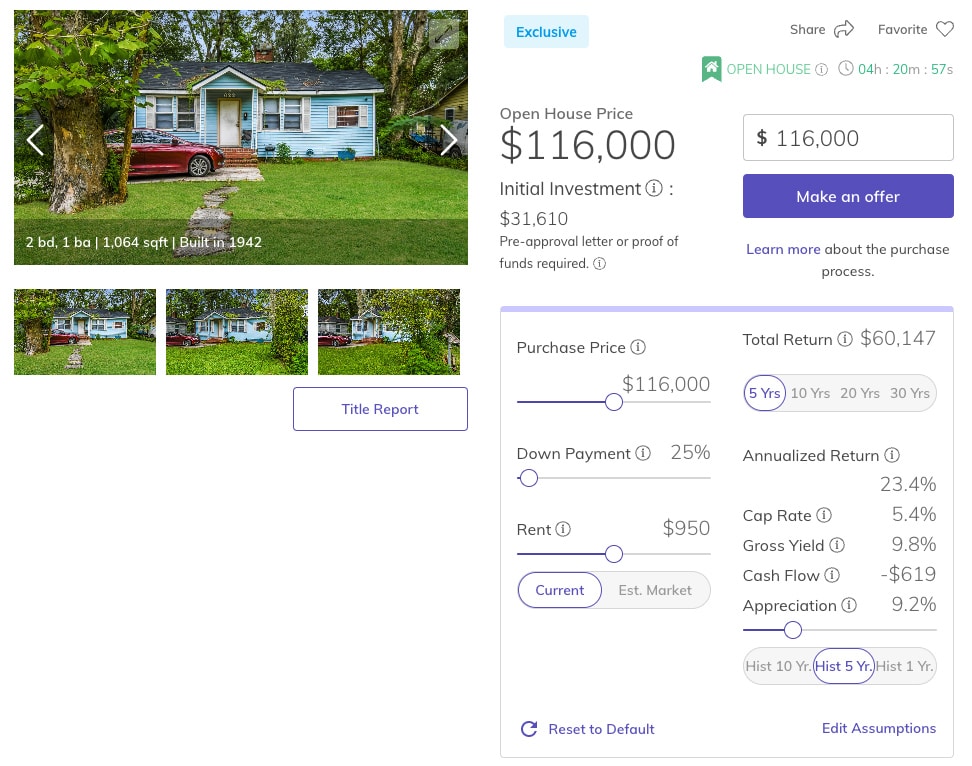 ---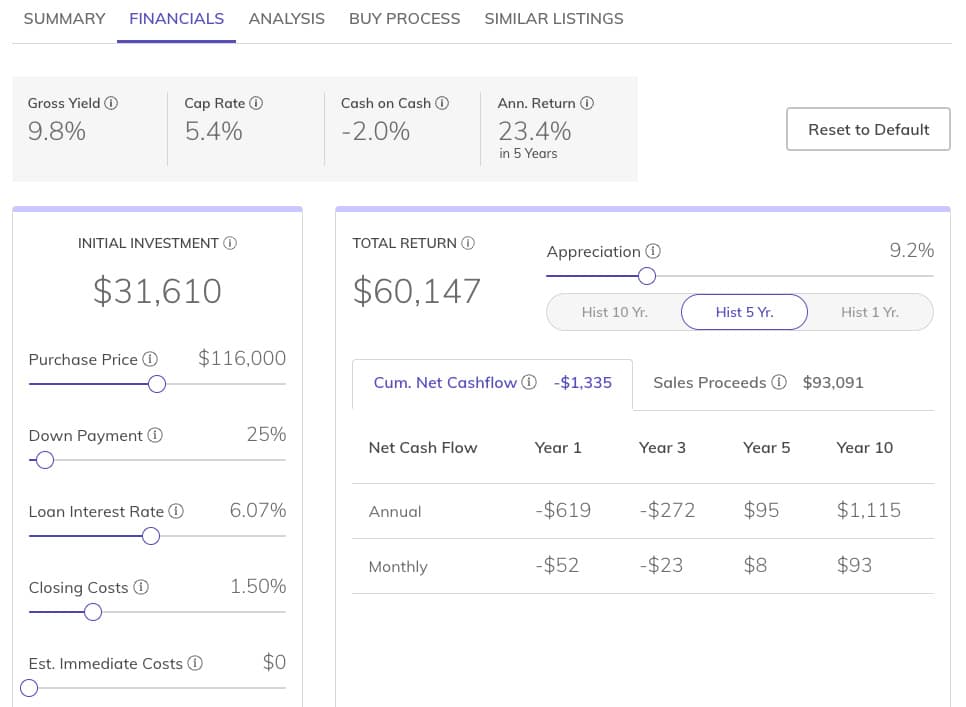 ---
You can automatically calculate the ROI of any property listed on Roofstock with its financial calculators. Roofstock is a listing marketplace created specifically for investors, which includes property information, financial details and calculations, and extensive analyses for every listing. This makes it easy to find potential properties and accurately evaluate their rate of return.
Roofstock provides a selection of lenders who work with investors, making it easy to see rates and get pre-approved for financing quickly. Sign up for Roofstock for free and see how it may be the key to your next or first real estate deal.
9. Tax Benefits of Real Estate Investing
It's common knowledge how real estate sales and rental properties make money. However, there are even more financial real estate advantages that are not commonly understood, like tax benefits. For instance, rental property depreciation expenses help owners significantly lower their taxable income from the property—sometimes even eliminating it.
Other rental property tax deductions can include:
Mortgage interest payments
Loan origination fees
Insurance payments
Utilities
Maintenance, repairs, and improvements
Advertising and marketing
Homeowner association fees
Property management
There are also other options that allow investors to maximize tax savings, like Opportunity Zones and Section 1031 of the Internal Revenue Code. Section 1031 allows you to postpone paying taxes on the sale of your property when you reinvest the gains in another property, and opportunity zones allow you to avoid capital gains by investing in a specified piece of land. Of course, these laws can be complex, so it's vital that you have a thorough understanding of how they work and how they will impact your finances before making decisions.
An ideal way to gain the knowledge and confidence you need to make a smart investment decision is by taking professional training courses through Lorman, an online education provider. Lorman offers a course specifically for this topic, titled "Advanced 1031 Exchange Concepts and Opportunity Zones." Courses are offered through live webinars with an instructor, or you can purchase a recorded version to continually refresh your understanding.
10. Freedom, Flexibility & Autonomy
Most people focus on the financial benefits of being a real estate investor, but there are also many personal and non-monetary reasons for investing in real estate as a career or side hustle. It allows an individual who may or may not have any professional education or career experience to build wealth and directly impact their entire community. It also provides a level of freedom that most other careers cannot offer, including financial freedom, time freedom, and the flexibility to choose your own unique business strategy.
For example, investors who own multiple properties have the freedom to change their primary residence at any time at almost no cost at all. Many people prefer a two-story house when raising a family but decide to downsize to a one-story in their golden years because it is more manageable for them. In contrast, you may choose to "house hack," or live in a duplex unit or triplex unit to start generating rental income, then move into a larger home when you have multiple properties covering your expenses.
Investing is also particularly appealing for those with entrepreneurial spirits since you can invest in a variety of different ways. You may choose to flip houses or hold property to let appreciation create wealth. You may choose to be a landlord and manage properties, or own rental properties and outsource all of the management. You might even find that flipping land or developing land for commercial businesses is your preference.
Since you get to be the boss of your investing business, there is no limit and no restrictions on your decisions. This flexibility can be extremely fulfilling for entrepreneurs.
Where to Find Investment Properties
With such a wide variety of advantages of investing in real estate, it's an exciting choice for new investors. It can be tempting to rush into an investment property purchase when an investor is focused on the possibilities, but real estate purchases take time. The most successful investors know how to find investment properties for sale and how to evaluate them for certain criteria to find the best investment. Although it takes time to learn this process, using the right tools to search for properties is an important step.
Start by searching for properties with these top real estate listing sites:
Sources

Best For

Real estate investors looking for single-family rentals and turnkey properties

Real estate investors wanting to view the highest number of local listings with detailed search filters

Investors looking for fixer-uppers for fix-and-flip deals or long-term rentals

Investors wanting to save on agent fees and find deals from homesellers

Key Features

Financial information on each listing
Prepackaged portfolios for sale
Includes inspection reports

Highest number of listings
Important property details
Neighborhood and tax details

Largest provider of foreclosed homes
Rental value and profit estimations
Renovation value estimations

Important property and neighborhood details
Most popular FSBO site
Extensive search filters

Starting Price

Free to browse

Free to browse

$39.80 per month

Free to browse

Learn More
Possible Cons to Investing in Real Estate & How to Avoid Them
Learning the advantages and disadvantages of investing in real estate before making a purchase is important to have accurate expectations. There are some potential drawbacks to real estate investing, and you must be aware of them in order to avoid or prepare for them.
Some of the potential disadvantages of real estate investment include:
Potential Cons

How to Avoid or Prepare

High Cost of Entry

It's possible to invest in stocks with as little as a few dollars, but purchasing any type of property requires a fairly large down payment. However, there are creative ways to start investing without paying tens of thousands of dollars, like renting out part of your primary residence.

Unexpected Expenses

Properties inevitably have unexpected expenses, whether it's an emergency repair or an increased HOA fee. Real estate investors must be thoroughly prepared for unexpected expenses with additional savings.

High Carrying Costs

Owning real estate means you'll owe monthly mortgage payment, taxes, and utilities—at a minimum. In the case of a vacancy or unexpected delay, investors must have at least a few months of carrying costs saved in advance.

Requires Maintenance

Every type of property will require ongoing maintenance and repairs, which can take valuable time from the investor. Make sure you're prepared for this time commitment, or hire a maintenance employee or a property management company.

Keeping Up With Laws & Regulations

You must be familiar with your state's

landlord-tenant laws

to ensure you are always operating legally. Laws can be confusing to understand and can change, so consider taking courses from Lorman to improve your understanding.

Dealing With Tenants

Bad tenants can cause extreme stress for landlords and even cause thousands of dollars in property damage. To avoid the hassle of dealing with difficult tenants, make sure you learn

how to screen tenants

thoroughly and legally.

Illiquid Asset

Real estate is not a liquid asset, which means it cannot be immediately or quickly sold for cash. Real estate sales take time. You can prepare for this by meticulously managing your finances and keeping a few months of expenses saved at all times.
Bottom Line
While investing in real estate isn't always easy, it offers many advantages that can lead to financial and time freedom. We've gathered some of the most important benefits of investing in real estate to help potential and current investors decide if it's the right choice to meet their goals. Before committing to real estate investing, check out the pros and cons as there aren't any investing strategies that are completely free of risk.