2023 Odoo Review: Open Source Software for Small Businesses
This article is part of a larger series on POS Systems.
Odoo is a free open source suite of business tools that includes point of sale (POS), inventory, accounting, customer relationship management (CRM), and ecommerce. Its POS app is bundled with its inventory and invoicing apps—making sales and stock tracking and accounting easy.
In our review of the best open source POS software for small businesses, Odoo came in first with a score of 4.01 out of 5, based on our evaluation of 23 data points, including pricing, checkout and management features, ease of use, and our test of the software. The software is best for warehouse and dropshipping operations and any small or medium business with complex operational needs wanting the technical flexibility of open source software.

Pros
Free POS app with invoice and inventory functions
Many downloadable modules for sales, CRM, accounting, marketing, and more
Double-entry inventory system
Stock replenishment automation
Cons
No available third-party integrations
Paid Odoo integrations—costs can add up fast when buying modules
Implementation and customization are unintuitive
No free ecommerce functions
Who Should Use Odoo:
Small businesses needing a customizable and flexible all-in-one business software
Warehouse management and dropshipping businesses
Businesses needing top-notch inventory management features or to keep their stock topped up
Who Should Use an Alternative:
Regulated industries
Large retail stores needing multichannel sales tools and thorough business analytics
Supported Business Types

Retail, manufacturing, warehousing, distribution, and more

Standout Features

Multiple registers, cloud-based with offline mode for front-end functions
Extensive customer management and loyalty features (as paid modules)
Multilocation inventory tracking

Monthly Software Fees

Free (monthly integration fees usually start at $43.50 per user)

Setup and Installation Fees

$0

Contract Length

No vendor lock-in

Payment Processing Options

Payment Processing Fees

Depends on payment provider

Customer Support

Limited

24x5 live chat and email
Best For

Monthly Fee From

Full Review

Free mobile POS with basic CRM and inventory tools

$0 with payment processing; with some add-on features

CRM for B2B and omnichannel merchants

$15 (free for 3 users)

POS and inventory software for retailers

$89 for first location

All-in-one POS nad management system for restaurants

$69
Odoo's well-reviewed POS comes with a free inventory management module, along with other modules for sales forecasting and CRM solutions, to name a few. Using Odoo for your small businesses is a good idea if you value flexibility and the ability to customize—however, this does require some technical know-how.
The system's automatic stock replenishment and inventory forecasting are advantages for dropshipping businesses with high-volume orders or businesses that need solid warehouse management. Given the system's double-entry inventory system, tracing stock is also easier for suppliers.
On the other hand, businesses that deal in regulated products will want to consider a different POS, as Odoo doesn't have features to manage unique industry regulations, such as those for liquor and tobacco. These businesses can check out our recommended vape shop, liquor store, and convenience store POS systems for a better fit.
Odoo's reporting tools are also fairly basic and may not be enough for multichannel retailers or businesses with extensive inventories. Businesses with these needs may benefit more from POS systems like Shopify POS or Lightspeed Retail.
Looking for something different?
Odoo earned perfect scores for pricing. It is free to use as a starter package with Invoicing and Inventory apps (though there is a monthly fee to integrate it with other Odoo apps, usually starting at $43.50 per user). Most apps that require payments are listed on Odoo's pricing page.
When you sign up, you get unlimited users, locations, products, and transactions. Right from the start, you'll also have lots of embedded payment providers available, including Alipay, PayPal, and Authorize.net. Signing up for Odoo gives you access to its platform—including hosting, daily backups, email integration, 24/7 monitoring and security, and a control center.
Payments & Hardware
To accept credit card payments in Odoo with an integrated card reader, there are several payment providers you can work with.
For those that have payment providers not on Odoo's list, Odoo provides a workaround solution: Businesses work with a standalone card reader, copy the transaction total from the Odoo screen into the card reader, and then record the transaction in Odoo. An IoT box (an added charge, which will be discussed shortly) can also provide integration with third-party providers and payment terminals.
If you want more hardware and functionality beyond Odoo's mobile POS app, you can purchase additional hardware separately. However, the system is compatible with most commercial POS systems, tablets, and computers.
An IoT Box ($20.00/month/box) is a cross-platform hardware solution that lets you use the same USB POS peripherals (input/output) on every device. It is required for some devices, such as weighing scales, customer displays, and payment terminals. It comes fully integrated with all Odoo apps.
Other hardware options include:
Barcode Scanners: Odoo POS will work with most USB barcode scanners, connected directly to your computer. The Honeywell product line is recommended.
Weighing Scales: The IoT Box can provide support for the Mettler Toledo Ariva product family and Adam Equipment scales product family (AZExtra Series). The Box allows Odoo POS to integrate with electronic weighing scales.
Cash Registers: Odoo POS can operate any EPSON-compatible cash register. Odoo recommends the Metapace K-2 model.
Receipt Printers: Odoo POS can print on any web browser-compatible printer (inkjet, laser, and thermal).
Payment Terminal:

No IoT Box Required: Adyen (supported countries) – swipe, EMV, contactless; Stripe payment terminals (supported countries and payment terminals)
IoT Box Required: Ingenico (Belgium, Luxembourg) with a Lane/5000, Desk/5000, Move/5000 terminals; Worldline (Europe) with a Yomani terminal; Vantiv / FIS (USA, Canada) – swipe-only.
Do you want to learn more about how POS hardware works? Read our POS hardware guide to know what to consider when purchasing equipment.
Odoo's checkout features earned above-average scores. The POS includes essential register and checkout features for your retail business needs. It can handle tipping management and cash tracking. Loyalty features, gift cards, and online ordering functions are available—but if you want to access these, you will need to either pay added fees to get the necessary modules or make manual changes in the POS settings menu.
Other checkout features include:
Checkout interface, which allows serving multiple customers at the same time
Barcode scanning to apply discounts, identify loyalty cards, and scan item prices
Cloud-based with offline mode (for open tickets)
Split tenders, currency rounding, and tipping
Customized receipts
Electronic scale integration is available
Compatible with iPad and Android tablets (mobile POS)
Parallel orders (put orders aside and process multiple orders at the same time)
Built-in search features
Version 16 Released
(October 2022) Odoo released version 16 of its platform, which includes the following improvements:
Faster loading times for back-end pages
More and improved locations added for accounting localization
Pictures and interface improvements to the ecommerce module
New accounting widget to improve user experience
Odoo makes handling sales, stock management, and accounting easy with its POS/Inventory/Accounting package. Its built-in double-entry inventory system gives it an advantage over other open source POS platforms because it lets you track every stock move from purchase to warehouse bin to sales order. With such a system, your items are moved along the pipeline rather than removed from the system, allowing for easy traceability and fewer errors.
Overall, the Odoo POS, inventory, and invoicing app bundle is a great advantage for businesses because it allows for an efficient workflow across sales tracking, bookkeeping, inventory management, warehouse locations, and product monitoring. Odoo could have earned additional points in this category if more of these functions were available in the base POS, rather than requiring extra modules.
For more management tools beyond the basic package, note that you may need to pay extra fees. Odoo's management tools for different functions include:
Monitor cash register adjustments at the end of day
Cashier account assignment with badges or pin codes
Order history by customer, product, cashier, or date
Franchise management
---
Split bills, kitchen order notes, send orders to bar and kitchen printers
Floor plans, table mapping, guest tracking for table availability
Delayed orders (take orders for different courses at once and send them to the kitchen printer at separate times)
---
Odoo is our top overall choice for free inventory management software—and for good reason.
Right off the bat, with the free version of the app, you'll get an inventory management module with unlimited products and locations, making it a great feature regardless of your business' inventory size. Built-in expiration date tracking minimizes your wasted stock and can help prevent over-ordering. Inventory forecasting and automatic purchase orders from suppliers are also at your fingertips, ensuring that you can optimize your inventory from all angles and never miss a beat—whether for maintaining adequate stock levels or planning for the growth of your business.
Other handy features that make Odoo great at inventory management include:
Double-entry, immediate updates across all stores, and programmable reorder points
Dropshipping, multiple warehouses, and inventory reports
Refund claims, schedule delivery, warranty tracking
---
Categories, search, measuring units, product variants
Support for large product counts—over 100,000 products
---
Invoicing—quotes-to-invoices and sales analysis reports
Payments are directly integrated into Odoo Accounting for efficient bookkeeping
---
While Odoo does include a CRM feature (it made our guide to the best open source CRM software), you will need to obtain the appropriate module to unlock specific CRM functions. This module will be free to use for about two weeks, after which you will need to pay for a subscription.
Odoo's CRM feature lets you create a detailed plan for generating leads. You can set the number of companies and contacts that you intend to reach out to, choose from an extensive list of industries, and specify a sales contact from your own business. This level of detail ensures that you have a crystal-clear picture of the businesses you'd like to connect with, along with maintaining accountability from your sales team.
If you need more help maximizing the CRM feature, you can read extensive documentation for this on Odoo's site.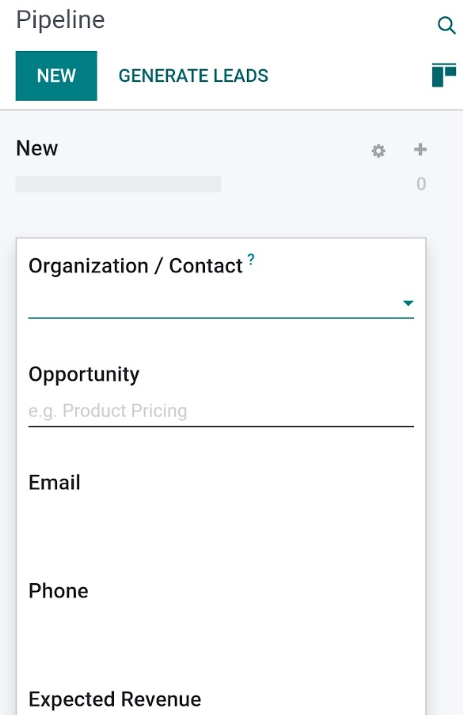 ---
Odoo scored well for ease of use, with highlights including its cloud-based nature and offline mode. A small deduction was given for its somewhat limited customer service hours.
Since Odoo is developed on an open source platform, expect a more extensive setup that might require a developer if you are not tech-savvy. However, if you know how to navigate your way through the tutorials and documentation, Odoo's knowledge base and community forum are comprehensive and regularly updated. It provides email support and live chat, but no phone support, and some user reviews online lament its poor customer service.
Odoo Setup & Installation
While setting up an open source POS such as Odoo can be more challenging than downloading a pre-built POS app, Odoo provides a detailed step-by-step guide on its website. There are also plenty of how-to videos available to help you.
To summarize the process of software installation:
Install POS app
Add products and make them available
Configure payment methods
Open and close sessions/transactions as needed
We considered any unique or standout features, the overall value that Odoo provides, user reviews for the POS, and feedback based on our experience testing the system.
Odoo is the most popular of all the open source POS systems we have evaluated, and its popularity is strengthened by the majority of user feedback. Having tested dozens of POS systems (open source and standalone software), we find Odoo's feature tool set enough to meet a small business' POS needs.
Odoo's open source nature is a double-edged sword, depending on your business needs as well as your level of technical expertise. If you operate a small business and don't need much beyond the basics, then you will probably appreciate Odoo's simple yet functional starter package. It contains essential functions such as invoicing and inventory, and can be set up just the way you want. However, if you're running a quickly-growing business and anticipate a need for more complex features like product lifecycle management, ecommerce, and subscriptions— then you might find the costs piling up as you add more and more of the required apps and modules to the basic POS. Having to continuously adjust settings as you accumulate modules might also become frustrating for users who aren't very tech-savvy.
What Users Say in Odoo Reviews
Most Odoo reviews we have read online are positive, with a majority of users saying that Odoo is a complete system for their business—ecommerce, accounting, POS, HR, and ERP. They particularly like Odoo's inventory and accounting features, remarking that these provide the most value.
However, while there are some that like the open-source flexibility Odoo gives, many still left feedback that it is not easy to set up and the user interface is unintuitive. Many also complained that its customer support team takes a long time to respond to requests.
At the time of publication, Odoo reviews earned the following scores on popular user review sites:
Here are Odoo users' commonly cited likes and dislikes about the software:
Users Like

Users Don't Like

Strong inventory, warehouse, and ecommerce features
Customer support somewhat limited and takes a while to respond
Open source nature gives more flexibility for customization
Can be difficult to set up for the not-so-tech-savvy
Add-on apps/modules cover almost everything you need or want to do
Coordination between different apps/modules is sometimes lacking
Offline mode is available and reliable
Adding functions via apps/modules can quickly become costly
Methodology—How We Evaluated Odoo
We evaluated Odoo by testing the system ourselves and grading it against the criteria we use to evaluate the best open source POS software. We considered features that business owners expect from any POS software and considered the advantages of open source platforms—adaptability, community support, and compatibility with different operating systems. We also looked for a modern interface, active updates, and depth of features.
Click through the tabs below for a more detailed breakdown of evaluation criteria:
30% of Overall Score
We rated overall features for inventory, customer relations, and employee management (including logins and clock in/out). We also considered the number and value of reports—whether they were customizable or offered template versions. Bonus points are given if a POS provides email marketing as well. Odoo did fairly well in this category, with adequate employee management and reporting tools. It could have scored higher if it included free tools for CRM, marketing, and payroll in the base POS.
20% of Overall Score
We award points for robust tipping management and cash tracking, as these are useful for retail businesses and restaurants. We also prioritized the ability to reconcile registers at the day's end. Loyalty programs, gift cards, contactless payments, and online ordering were also features we looked into. Odoo performed quite well here, with most of the expected checkout features available for free. However, users will need to pay additional fees (for modules or hardware) if they want online ordering and contactless payment functions.
20% of Overall Score
We looked at the platform interface but also looked for user comments and complaints about features and backend issues. Since point-of-sale systems are used round-the-clock in business operations, they must be intuitive and easy to troubleshoot. We also paid attention to the software's customer service hours and whether the program can run offline or is cloud-based. Odoo got a nearly perfect score for ease of use, missing out on the gold due to its limited customer support availability.
20% of Overall Score
This category is a holistic evaluation of features vs cost, customer support, and popularity in terms of the number of users. We also considered online user reviews, including those of our competitors—with the standard of having an average of 4+ rating considered ideal. Odoo scored 4 out of 5, boasting good value for money (the base POS is free) and lots of positive feedback on its usability and features.
10% of Overall Score
Nearly all open source software is free, though these often come with paid add-ons or upgrades. Aside from the presence of free plans, we also considered the maximum number of users, devices, inventory, and transactions a platform can support. Integrated payment processing options were considered as well. Based on these criteria, Odoo obtained a perfect score. We found that the features in its free version are enough to run a small business. It allows for unlimited users and transactions, and has numerous built-in payment processing options.
*Percentages of overall score
Odoo Frequently Asked Questions (FAQs)
Odoo's POS app is free to use as a starter package; you'll have immediate access to its invoicing and inventory functions. But if you need additional business features like a CRM system or time sheets, you will need to integrate with other Odoo apps or modules. These come with integration fees, usually starting at $43.50 per user.
---
Odoo works exclusively with apps in its ecosystem. Therefore, you are limited to working with its other apps if you need more business features. Most of its apps also come with separate fees, which add to your business costs.
---
Both perform essentially the same functions and can be linked so actions you perform in one will be reflected in the other. Note that the interface of the computer version looks quite different from the mobile version, which can lead to some confusion if you are constantly switching between the two.
---
Bottom Line
Odoo's free POS provides all the basic features most small businesses need for running a retail shop or restaurant. If you are in need of a specific feature, such as ecommerce, it is most likely available as a paid add-on. Odoo's add-on apps can be pricey when stacked up; however, there is definitely enough of everything for most businesses to start with (and eventually scale). Join others who have made Odoo their POS system.