Odoo Review: Is This Open-Source Software Right for You?
This article is part of a larger series on POS Systems.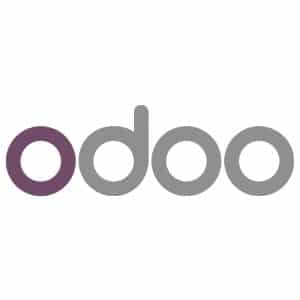 What We Recommend Odoo For
Odoo's POS app (which this review focuses on) is our top-recommended open-source POS system, earning a 3.91 out of 5 score based on our evaluation criteria. Its biggest advantage is having built-in solutions for inventory and invoicing modules, allowing for an efficient workflow across sales tracking, bookkeeping, inventory management, warehouse locations, and product monitoring.
In short, Odoo is best for:
Small businesses needing a customizable all-in-one business software: Odoo's well-reviewed POS comes packaged with its excellent free inventory management, material planning, sales forecasting, and CRM solutions to name a few.
Warehouse management and dropshipping businesses: Odoo's automatic stock replenishment and inventory forecasting are advantages for dropshipping businesses with high-volume orders. Tracing stock is also easier for suppliers—given its double-entry inventory system.
When Odoo Would Not Be a Good Fit
Looking for something different?
Read our guide to the best POS systems for small businesses to find a solution that matches your needs.
If you are on a budget but do not want the complexities of an open-source product, then there are several free commercial POS systems available.
Odoo Overview
PROS

CONS

Free POS, Invoice, and Inventory
No available third-party integrations
Modules for stores, restaurants
Paid Odoo integrations—these can add up fast when adding modules
Inventory forecasting
Ecommerce excluded
Stock replenishment automation
Implementation and customization are unintuitive
Double-entry inventory system
Odoo Pricing
Odoo's POS app is free to use as a package with Invoicing and Inventory apps. However, there is a fee to integrate it with other Odoo apps, and monthly fees usually start at $42.50 per user. When you sign up, you get unlimited users, locations, products, and transactions.
Most apps that require payments are listed on Odoo's pricing page. Some are also offered for free (such as Survey, Discuss, Notes, Chat, and Employees). However, note that other apps are already bundled within others (like Blog, Forum, Live Chat, and Slides are within the Website App).
Signing up for Odoo gives you access to its platform—including hosting, daily backups, email integration, 24/7 monitoring and security, and a control center.
Odoo POS Payments and Hardware
To accept credit card payments in Odoo POS with an integrated card reader, you have to use MercuryPay and sign up for its merchant account. It operates only with US and Canadian banks, making this set up exclusive for North American businesses.
However, Odoo provides a turnaround solution: businesses work with a standalone card reader, copy the transaction total from the Odoo POS screen into the card reader, then record the transaction in Odoo POS. An IoT box (an added charge, which will be discussed shortly) can also provide integration with third-party providers and payment terminals.
In our evaluation of Odoo for the best open-source POS software, the lack of direct payment processing integrations prevented it from getting a perfect overall score, as it really limits options for integrated payment processing.
For hardware equipment, these can be purchased separately. However, the system is compatible with most commercial POS systems, tablets, and computers.
An IoT Box ($20.00/month/box) is required for some devices, such as weighing scales and a customer display. It is a cross-platform hardware solution that lets you use the same USB POS peripherals (input/output) on every device.
Barcode Scanners: Odoo POS will work with most USB Barcode Scanners, connected directly to your computer. It recommends the Honeywell product line.
Weighing Scales: The IoT Box can provide support for the Mettler Toledo Ariva product family and Adam Equipment scales product family (AZExtra Series).
Cash Registers: Odoo POS can operate any EPSON compatible cash register. It recommends the Metapace K-2.
Receipt Printers: Odoo POS can print on any web browser-compatible printer (inkjet, laser, and thermal).
Payment Terminal:

No IoT Box Required: Adyen (supported countries) – swipe, EMV, contactless; SIX (Europe) with a Yomani terminal
IoT Box Required: Worldpay / FIS (USA, Canada) – swipe-only
Do you want to learn more about how POS hardware works? Read our POS hardware guide to know what to consider when purchasing equipment.
Odoo Features
While setting up an open-source POS such as Odoo can be more challenging than downloading a cloud-based POS app, Odoo provides a detailed step-by-step guide with illustrations on its website. There are plenty of how-to videos to help you, but as an overview, here are the steps:
Connect peripheral devices
Power the POSBox
Set up the Point of Sale
Configure the Wi-Fi
Install POS app
Add products
Configure payment method and points of sales
Once you have set up Odoo, you can simulate a new order by clicking on New Session.
Odoo makes handling sales, stock management, and accounting easy with its POS/Inventory/Accounting package. Its built-in double-inventory system gives it an advantage over other open-source POS platforms because it lets you track every stock move from purchase, warehouse bin, to a sales order. With such a system, your items are moved along the pipeline rather than removed from the system, allowing for its easy traceability.
Take a look at the rest of its features below so that you can decide if it's a perfect fit for your business.
POS and Checkout
Multiple registers
Checkout interface allows serving multiple customers at the same time
Barcode scanning to apply discounts, identify loyalty cards, and scan item prices
Cloud-based with offline mode (for open tickets)
Split tenders, currency rounding, and tipping
Customized receipts
Electronic scale integration is available
Compatible with iPad and Android tablets
---
Store Management
Monitor cash register adjustments at the end of day
Cashier account assignment with badges or pin codes
Order history: by customer, product, cashier, or date
Franchise management
---
Restaurant
Split bills, kitchen order notes, send orders to bar and kitchen printers
Floor plans, table mapping, guest tracking for table availability
Delayed orders (take orders for different courses at once and send them to the kitchen printer at separate times)
---
Inventory
Double-entry, immediate updates across all stores, programmable reorder points and automated purchase orders
Dropshipping, multiple warehouses, and inventory reports
Refund claims, schedule delivery, warranty tracking
---
Product Management
Categories, search, measuring units, product variants
Support for large product counts—over 100,000 products
---
Accounting
Invoicing—quotes-to-invoices and sales analysis reports
Payments are directly integrated into Odoo Accounting for efficient bookkeeping
---
Odoo Ease of Use
Tutorials and documentation
Github
Community forum
Partner agencies for development
Customer support is by email or live chat: available from Monday to Friday, 24/5, in English and French.
Since Odoo is developed on an open-source platform, expect a more extensive setup that might need the help of a developer if you are not tech-savvy. However, its knowledge base and community forum are comprehensive if you know how to navigate your way through the set up guide. It doesn't provide phone support, and the user reviews I have read online lament its poor customer service.
Top Odoo Alternatives
| | | | |
| --- | --- | --- | --- |
| | | | |
| Best for: Those requiring an all-purpose, free, and mobile POS | Best for: Brick and mortar retailers | Best for: Grocery stores and high-volume sales | Best for: Restaurants |
| Monthly fee from: $0 with payment processing; some features add on | Monthly fee from: $99 | Monthly fee from: $99 | Base monthly fee from: $69 plus $500 installation fee |
| | | | |
If you're unsure Odoo is right for you, see how it compares with our top POS systems.
What Users Think About Odoo
Most Odoo reviews I read online are positive, with a majority of users saying that Odoo is a complete system for their business—ecommerce, accounting, POS, HR, and ERP. They particularly like Odoo's inventory and accounting features, remarking that these provide the most value.
However, Odoo's open-source platform is a double-edged sword. While there are some that like the flexibility it gives, many still left feedback that it is not easy to set up and that the user interface is unintuitive. Many also complained that its customer support team takes a long time to get back to their requests.
At the time of publication, Odoo reviews earned the following scores on popular user review sites:
When reading through user reviews, I noticed some of these trends:
| Users Like | Users Don't Like |
| --- | --- |
| Strong inventory, warehouse, and ecommerce features | Customer support isn't as helpful and takes a while to respond |
| Open source gives more flexibility for customization | Difficult to set up for the not-so-tech-savvy |
| Built-in apps/modules cover almost everything you need or want to do | User interface is not intuitive |
Bottom Line
Odoo's free POS provides all the basic features most small businesses need for running a retail shop or restaurant. If you are in need of a specific feature such as ecommerce, it is most likely available as a paid add-on. Odoo's add-on apps can be pricey when stacked up and Odoo has limited payment processing integrations; however, there is definitely enough of everything for most businesses to start with (and eventually scale). Join others who have made Odoo their POS system.