This guide will show you how to hire employees in a way that is both effective and fast.
A full-time employee spends 2,000 hours a year at your business. This should make it pretty clear why hiring is such an important process. Putting extra effort into finding the right employee easily one of the most rewarding investments a business owner can make. Although, unfortunately, many business owners are too busy to be picky.
The secret to streamlining the hiring process it to attract more "ideal" candidates from the get-go. This includes writing a job description that filters out unqualified candidates, choosing a job board that gives you the most out of your listing, and interviewing candidates in a way that's fast and efficient.
Next we'll run through the steps one-by-one. If you want to hire fast, we recommend using Indeed, which provides access to more potential employees than any other job board. Click here to get a free $50 Indeed credit.
1. How to Write a Job Description
It's worth investing a lot of time on your job description. A well-written job description not only attracts more candidates, but, provided you get specific about the position and requirements, it attracts more ideal candidates. You may have fewer responses overall, but this means less busywork reviewing applications and conducting interviews.
Job Description Template
Here's a brief overview of the different sections you want to include on your job description. For more examples, check out our full guide to writing a job description.
Job Title

(1 sentence)

Be as specific as possible

For example, a sales manager position for a plumbing supply company might be "

North East Regional B2B Sales Manager – Plumbing Supplies

"

About Us

(3 to 5 sentences)

Outline what your company does and why someone would want to work there

Position Details

(4 to 6 sentences)

Why is the job open?

What is the day-to-day like?

What are the unique opportunities of the position? – i.e. skills they will learn, growth potential, benefits & perks

What is the team like? List any common interests/attributes

Salary

Post the salary as a fairly wide range depending on experience (DOE)

For help determining the salary, see our

full guide

to writing a job description.

Required Skills

List top 3 to 5 skills that the candidate must possess in order to be considered for the job

Bonus Skills

Skills that are not required, but would be a nice bonus if the candidate possessed them

Further Instructions

(2 to 3 sentences)

Tell them how you would like to apply (email, form submission, mail to physical address?)

Ask for a cover letter that addresses a specific point, or answers a specific question – this will make it easier to narrow down applicants, since you can discard anyone who misses the step
2. Where to Post a Job: Indeed
For most businesses, Indeed is the best place to advertise a job. First off, It's one of the largest job board websites with over 180 million unique monthly visitors. The types of jobs range from unskilled positions to doctors and engineers. The majority of posts, however, are for mid-level positions like general managers, sales associates, maintenance technicians and so on.
The other advantage of Indeed is the low cost. You can post a job listing for free. You only need to pay if you want to "sponsor" the post, which means advertising at the top of search results and in other prominent places. The cost to "sponsor" a post is generally between $0.25 and $1.50 per click. With this flexible pricing model, you can spend a lot less than competitors like Monster, Careerbuilder or LinkedIn, who charge roughly $400 – $500 upfront.
New To Indeed? Get a free $50 credit!
Other Places to Advertise a Job
While Indeed is a great general option, if you work in a niche industry or need somebody with a very particular skill set, you may want to try a different job board. Here are some of the other  popular options:
3. How to Streamline the Interview Process
So you've written the job description and posted the ad. With any luck, your inbox should now be filling up with responses.
The next two steps are to review applications and conduct interviews. This process can get very tedious if you go through each application one-by-one and schedule too many interviews.  Instead, here's 2 tips on how to narrow down candidates more efficiently:
Include a "filter" in the instructions

. This is something we outlined in step 7 of writing a job description: Ask candidates to attach a cover letter, or fill out an online survey along with their application. Then, remove anyone who fails to complete this step. It may sound harsh, but it's an easy way to separate serious candidates from those who just filling out applications blindly.

Start with a 5 minute phone interview.

This can be conducted by you or another person at your business. The purpose is mainly to confirm that the applicant has the required skills/certifications. It's also your chance to explain the position a little more and gauge the interest of the candidate. You might be amazed how many candidates rule themselves out by declaring the job is "not a good fit."
To book your phone interviews, consider using an app like ScheduleOnce. You can use this free program to create a "booking page" where candidates can view your openings. Once they book an interview, the timeslot is automatically "filled" and unavailable to other candidates.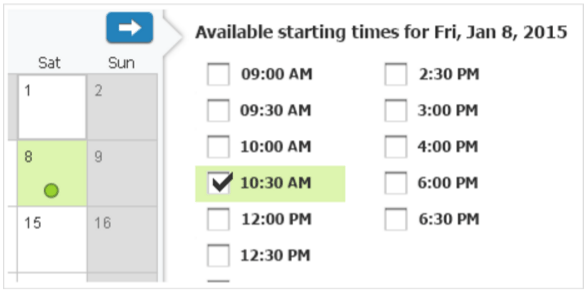 Once you've found several qualified candidates through the phone interview, it's time to schedule your main face-to-face (or Skype) interviews. For tips and sample questions, check out our main guide to conducting a job interview.
The Bottom Line
Put extra effort into writing and posting your job description and it will save you loads of trouble later on. By including lots of detail in the job description, you're more likely to attract fitting candidates. A "filter," like a cover letter or online survey, will also help you separate the sincere candidates from the duds.
Ready to get started? Click here to get a free $50 credit and start advertising on Indeed, our recommended job board..