Customer relationship management (CRM) software for the retail industry offers solutions to manage inventory, process payments, and build customer relationships through loyalty programs and marketing campaigns. Additionally, retail CRM systems help manage brick-and-mortar operations as well as ecommerce functions. We looked at various CRM software that work best for retail businesses and narrowed it down to the top five options.
How We Evaluated the Best Retail CRM Systems
To determine the best retail CRM systems, we evaluated pricing and features with retail-specific benefits. These features include integrations with various onsite payment processors, built-in tools for managing store credit and customer loyalty programs, as well as mechanisms for keeping inventory stocked. We also looked at other factors such as product usability and customer support.
Based on our evaluation, Zoho CRM Plus is the best overall choice due to its broad range of social media marketing features, including managing multiple social media channels within the platform such as Facebook, Instagram, LinkedIn, Twitter, YouTube, and Google My Business. Zoho CRM Plus also has a wide functional range of solutions for marketing to retail customers through social media by way of lead generation forms, content posting, and messaging customers.
The tabs below offer insight into our evaluation process for choosing the best CRM options for retailers:
30% of Overall Score
Total costs and various pricing options are typically the most important criteria for any small business decision, so it was most heavily weighted when reviewing the best CRM providers for retailers. We considered access to free plans, varying subscription options, and whether or not monthly billing was available.
20% of Overall Score
The purpose of any CRM is to provide functional solutions associated with sales, marketing, customer service, and project management activities. Specifically, we looked at features that we consider necessary in a solid retail CRM, including tools for monitoring and reordering inventory, systems for processing payment transactions, and solutions for marketing a retail store through various campaigns and promotional sales programs.
20% of Overall Score
The functions of any application are only as beneficial as it is usable. Thus, these criteria were analyzed by the knowledge required to set up the CRM, the skill needed to operate the platform, and the intuitiveness of the user interface.
20% of Overall Score
Extensive support and service can prevent issues that a user might encounter. These were evaluated in terms of customer service hours and availability of support via phone, live chat, and email.
10% of Overall Score
In addition to first-hand experiences with the providers, we evaluated what other users are saying about each CRM. These criteria consider how customers feel based on their reviews to gauge popularity, ease of use, and overall value for money.
*Percentages of overall score
Zoho CRM Plus: Best Overall for Managing Social Media
Zoho CRM Plus

What We Like
Platform can be used for other business processes, including human resources management, accounting, and project management through built-in tools and native integrations
Integration with native app built through Zoho Creator for managing point-of-sale functions
Easy to set up with pre-integrated applications built within the system
What's Missing
No free option for Zoho CRM Plus
Many reported issues of system glitches when using the platform
Must pay extra for Zoho Commerce to have online store capabilities
Zoho CRM Plus Pricing at a Glance
Zoho CRM Plus: $69 per user, per month or $57 per user, per month, when billed annually
Free trial: Up to 30 days
Whether a retailer uses an online storefront, brick-and-mortar, or both, Zoho CRM Plus is the ultimate tool for social media management. Users can manage pages for Facebook, Instagram, LinkedIn, Twitter, YouTube, and Google My Business within the platform.
Within each of the various channels, businesses can publish or schedule social media posts, monitor feeds, capture leads, and message potential customers. Retailers can also target specific audiences and generate CRM contacts from their pages.
Zoho CRM Plus users need to pay extra to access ecommerce capabilities. If you don't want to spend more than the base plan, you can opt for Bitrix24, which offers ecommerce capabilities in its free plan.
Zoho CRM Plus Features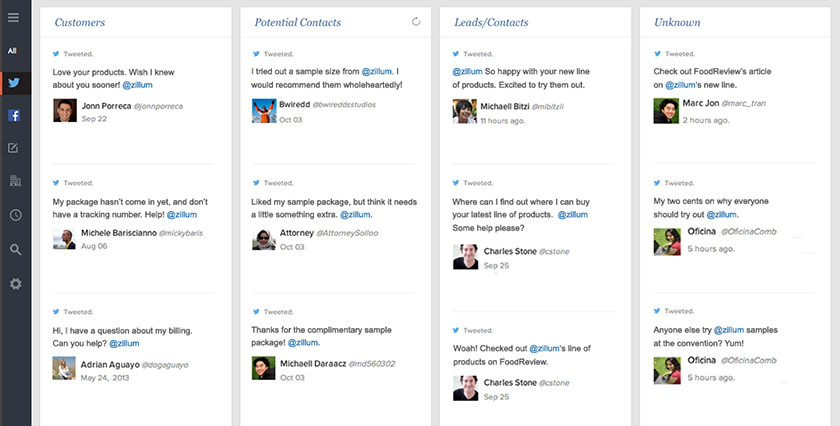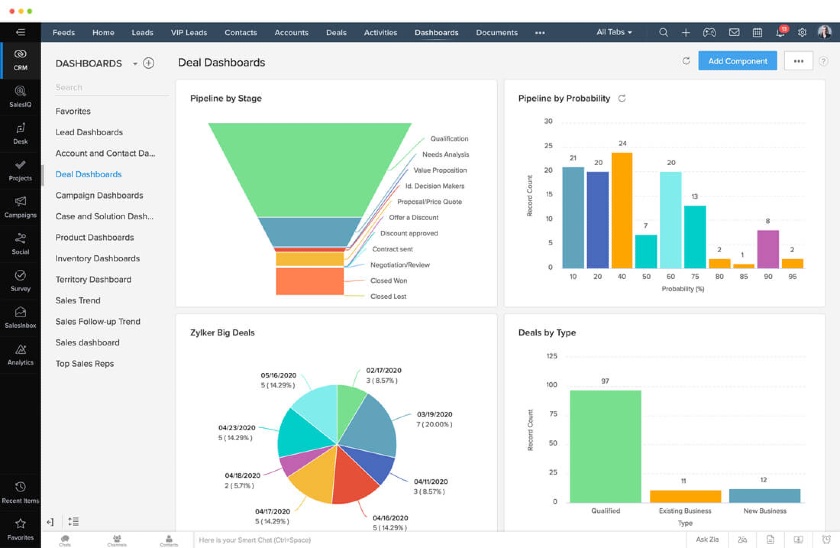 Social media tools available to publish, schedule, and manage social media content for Facebook, Twitter, and LinkedIn through the platform
Built-in tools for managing mail lists, such as the ability to manage subscribers, create sign-up forms, view email list summaries, and automatically remove unsubscribed email addresses
Integrations with other Zoho business management applications such as Zoho Invoice, Zoho Books, Zoho People, and Zoho Meeting
Inventory management tools for keeping track of product stock, vendors, orders, quotes, and invoices
Bitrix24: Best for Free Ecommerce Capabilities
Bitrix24

What We Like
Free version available for an unlimited number of users
Many features for ecommerce retail, including website builder, SEO assistance, and marketing automation tools
Offers multistore capabilities for businesses that want to sell through multiple online storefronts
What's Missing
Can be challenging to set up and operate
Limited customer service support via phone
Limited solutions for point-of-sale and onsite transaction management
Bitrix24 Pricing at a Glance*
Free: Unlimited users (limited features)
Start+: $24 per month (up to two users)
CRM+: $69 per month (up to six users)
Project+: $69 per month (up to 24 users)
Standard: $99 per month (up to 50 users)
Professional: $199 per month (unlimited users)
Free trial: 30 days
*Pricing above is based on monthly plans. However, you may also pay in full quarterly, annually, or biannually.
Bitrix24 is the only CRM on this list that offers businesses a free CRM solution. Additionally, the free plan is available to an unlimited number of users and includes an online store feature. Users can manage up to one store at no cost, process an unlimited number of orders, unlimited amount of revenue, and sell up to 100 different products.
While Bitrix24 is a solid CRM for managing online retail, it does not offer any solutions for managing onsite sales. We recommend considering Vend and Lightspeed Retail as viable options for businesses that want in-person point-of-service tools.
Bitrix24 Features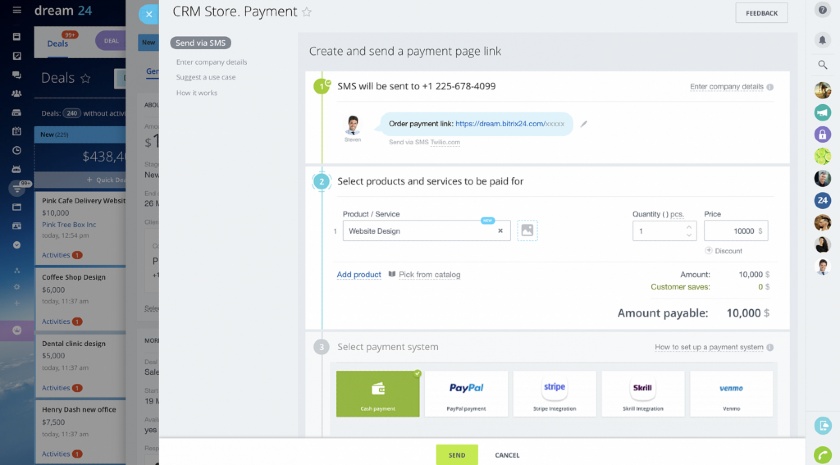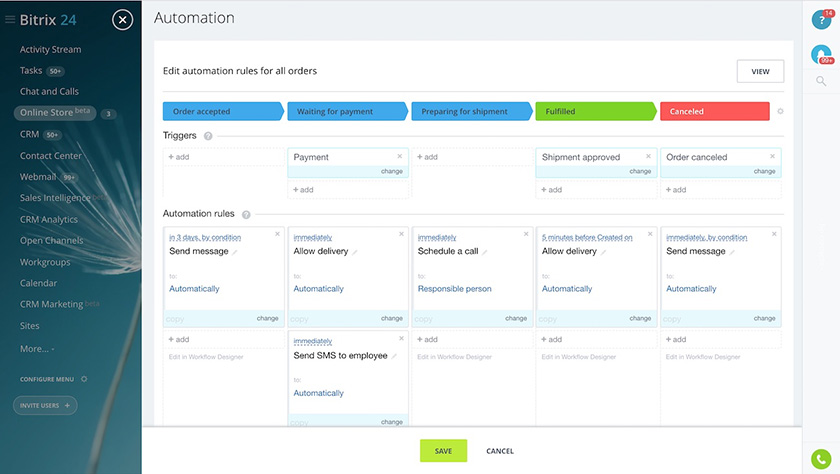 Online store features for setting and bundling certain products
Basic human resources (HR) management features for work time tracking, meeting information, work reporting, and paid-time-off (PTO) management
Built-in invoicing and sales tracking tools in the platform
Built-in artificial intelligence (AI) chatbot tool for auto-messaging customers in live chats on the website
Online store provides keyword generation assistance for search engine optimization (SEO) of landing pages, driving more website traffic
Want to know if this CRM fits your business needs? Read our comprehensive Bitrix24 review.
QuickBooks Commerce: Best for Retail Accounting Tasks
QuickBooks Commerce

What We Like
Integrates with QuickBooks for automated accounting features
Inventory control features for automatic reordering of stocks and products
Backorder management capabilities to allow pre-orders on inventory
What's Missing
Higher-level plans can get expensive
No built-in email marketing campaign tools available
Most warehouse management tools are only available at higher-level plans
QuickBooks Commerce Pricing at a Glance*
Founder: $39 per month for up to one user
Lite: $79 per month for up to two users
Small Business: $199 per month for up to five users
Business: $599 per month for up to eight users
Premium: $799 per month for up to 15 users
Free trial: 14 days
*Pricing is based on annual billing. Monthly subscription options are available for Founder, Lite, and Small Business plans only.
QuickBooks Commerce (formerly TradeGecko) stands out for its accounting capabilities. It helps businesses with everything related to retail accounting, including automated bookkeeping, inventory management, and purchase order fulfillment. It also can monitor multichannel online sales as it integrates with Amazon, eBay, Shopify, WooCommerce, and Squarespace.
QuickBooks Commerce does not have built-in email marketing tools. You can, however, integrate it with other platforms that offer these features, such as Mailchimp, Klaviyo, and HubSpot CRM. If you are looking for an option with built-in email marketing, alternatives include Lightspeed Retail and Zoho CRM Plus.
QuickBooks Commerce Features
Offers inventory management features for storing customer purchase preferences, history, billing details, and shipping addresses
Warehouse management tools to organize shipping, receiving, and packing requirements
Inventory optimization feature to hold the right amount of inventory for a given time
Ability to manage multiple sales channels in one platform, including Amazon, eBay, Shopify, WooCommerce, and Squarespace
Vend: Most User-friendly Retail CRM
Vend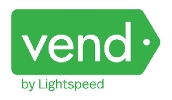 What We Like
Ample integration options for payment processing available, including BlueDog, CardConnect, Elavon, Clearent, EVO Payments, PayPal, and TSYS
Customization capabilities within the point-of-sale system for managing onsite checkouts
Point-of-sale system is super-easy to use through minimal buttons that are fully customizable by the users, and you can search for products through keyword or bar code scanning
What's Missing
No free plan available, and can get expensive
Mobile application limited to just register capabilities on iPad and bar code scanning
Ecommerce capabilities require integrations
Vend Pricing at a Glance*
Lite: $99 per month plus $49 per month per additional register
Pro: $129 per month plus $49 per month per additional register
Enterprise: Quoted individually
Free trial: 14 days
*Prices are based on annual billing. Monthly billing is available for a higher cost
Vend CRM offers retail businesses an array of built-in tools for managing onsite retail operations. It is hands-down the easiest to learn and operate compared to other CRM software on this list. The point-of-sale (POS) interface takes a minimalist approach to the button options, and the buttons and layouts are customizable by the business user.
Additionally, Vend has a bar-scanning application that integrates with its other systems, such as the inventory management and point-of-sale systems, allowing retail workers to scan product barcode information straight from the camera app of their phone.
Retail management requires strong mobile capabilities, specifically for delivery, mobile selling, or purchasing inventory. Since Vend has minimal mobile capabilities, businesses may want to consider alternatives, such as Zoho CRM Plus or Lightspeed Retail, to manage their retail store better while on the go.
Vend Features
Point-of-sale feature allows businesses to sell in-store on a Mac or PC
The Vend Register iPad app and Pair Vend Display can synchronize to create a customer database with profiles
Free Vend barcode scanner app can integrate with other Vend systems and scan inventory from a phone camera
Built-in automated tools for managing and reordering inventory
Can integrate with WooCommerce, BigCommerce, and Shopify for ecommerce capabilities
Lightspeed Retail: Best for Managing Customer Loyalty Programs
Lightspeed Retail

What We Like
Elaborate customer loyalty program tools by managing point-based programs, promotions, coupons, and Smart Customer Groups tool
Payment processing solutions offer a free terminal included in all plans
Customer support is available seven days a week
What's Missing
Features for ecommerce, accounting, loyalty, and analytic functions are only available at higher-priced plans
Steep learning curve needed to operate the platform
No free plan available
Lightspeed Retail Pricing at a Glance*
Basic: $69 per month
Starter: $99 per month
Standard: $119 per month
Advanced: $169 per month
Pro: $229 per month
Enterprise: Customized pricing
Add-on: $29 per additional register, per month
Free trial: 14 days
*Prices are based on annual billing. Monthly billing is also available for higher prices.
While Lightspeed Retail utilizes many native integrations for accounting, ecommerce, and payment processing, it's their loyalty program management that stands out the most. It centralizes both online and in-store loyalty programs and can automate email marketing to loyal members through drag-and-drop email creation.
Customers can enroll in the programs directly through the point-of-sale system and manage point-based programs, promotions, and coupons. There is also the ability to auto-segment customers based on behaviors and send custom, one-time deals to VIP shoppers.
Lightspeed Retail is not the easiest software to operate based on online user reviews, especially early on. Businesses looking for a retail CRM that is easy to set up and navigate may find Vend is a more suitable alternative.
Lightspeed Retail Features
Built-in payment processing system for onsite and online payments
Built-in appointment scheduling tools from the website for in-store meetings
Loyalty features allow users to auto-segment their customers based on purchasing habits
Accounting software is native to Lightspeed and can synchronize with the point-of-sale system
Check out our Lightspeed Retail review to learn more about its features and benefits.
Bottom Line
Retail businesses may operate online, in a store, or both. Regardless of the storefront, they need a CRM to manage sales transactions, inventory, and everything in between. Retail CRM providers offer unique tools for operating but may lack capabilities for particular areas. It's essential to evaluate your business' needs and goals when selecting a retail CRM.
We recommend Zoho CRM Plus as the best overall retail CRM option on this list due to its social media marketing tools, which are more valuable for retail businesses than other verticals. Zoho CRM Plus also offers a wide range of tools to manage social media and is available for nearly all major platforms.
Still not sure which CRM is right for you? Check out the best CRM software for small businesses for more options.