Sales enablement is an umbrella term that describes a range of methods and tools that are used to increase the effectiveness of sales organizations and individual salespeople. We looked at a range of software tools that help streamline processes to develop a list of the best tools to help enable your sales team.
Top 13 Sales Enablement Tools 2020
| Sales Enablement Tools | Best For |
| --- | --- |
| | Teams that want a highly visual pipeline tool for managing and winning more sales opportunities |
| | Businesses looking for a centralized knowledge base for sales best practices, scripts, and training |
| | Businesses that need simple, cloud-based contract management on their mobile device |
| | Teams that conduct client meetings via video conference |
| | Businesses that purchase verified leads and email addresses online |
| | Sales reps wanting high-quality leads and connections from their professional network |
| | Sales teams that want an all-in-one content and coaching platform |
| | Sales teams that want a simple way to design professional graphics |
| | Businesses that want to integrate software and processes into their workflow |
| | Teams that want an easy tool to create professional-looking slide presentations to share online |
| | Businesses that want to capture sales leads via webchat on their site |
| | Salespeople who want to increase email engagement through personalized videos |
| | Businesses that want to make it easy for customers to self-schedule meetings online |
How We Evaluated the Best Sales Enablement Software
We considered a variety of factors that make sales enablement software a useful tool for salespeople and sales teams, including how the software tool helps move the sales process forward or eliminates redundant steps. We also evaluated factors such as pricing, ease of use, and what integrations are available to connect your overall sales process.
A few of the key factors we looked at include:
Price and affordability
Ease of use
Integrations
Customer support
Overall features and functionality
1. Pipedrive

What it costs: From $15 to $99 per user, per month
What it does: Helps manage contact and sales opportunities, and moves them through your sales process with a visual pipeline tool
Pipedrive is a customer relationship management (CRM) tool that helps sales teams to work more efficiently by providing an intuitive interface to manage leads, customers, and sales opportunities. The visual pipeline tool makes it easy to see exactly where each of your deals are at in the sales process and quickly identify the sales activities required to move them forward. For example, if a deal has been sitting in one stage for too long, it will turn red to draw attention to itself.
Key Features
Sales goal tracking and activity reporting to help you stay focused on your goals and plan the activities that will help you get there.
Individual and team goals to motivate and reward your team with effective compensation plans.
Visual, easy-to-use interface.
Reporting features that allow sales teams to measure and manage the sales process.
To learn more about what people say about Pipedrive, visit our Pipedrive reviews page.
2. Guru

What it costs: Free to $24 per user, per month
What it does: Allows teams to create a knowledge library that can be searched and used to standardize best practices and policies
Guru is designed to make it easy for teams to create an overall knowledge base that can be used across the organization to standardize your best practices. This helps enable sales because it puts the standard operating procedures (SOPs) and best practices within reach while your team is working on building new customer relationships.
Key Features
A card-based interface that allows you to share information and makes it intuitive to navigate Guru's plans.
The ability to embed Guru cards into other programs.
Analytics reporting to help you see where your team is finding the most help.
A Chrome browser extension and Slack integration that make it easy to access your company's information, even when you're busy getting work done.
3. HelloSign

What it costs: Ranges from free to $50 per user, per month
What it does: Simple online document signing for individuals or teams
HelloSign is a cloud-based tool that allows you to collect digital signatures on proposals, deal contracts, or product orders. For many users needing a solution to digitally sign a few proposals and contracts a month, HelloSign's free plan is a great choice.
Key Features
Integrations with Google Drive, Dropbox, Evernote, HubSpot, Salesforce, Slack, and G Suite.
Free plan allows individuals to use up to three documents per month.
30-day free trial of the higher-tier plans.
Bank-level security protection.
4. Zoom

What it costs: Free for meetings up to 40 minutes; paid plans range from $14.99 to $19.99 per user, per month
What it does: Video conferencing tool with a free plan that can be used for simple online one-on-one or group meetings
Zoom is a video conferencing tool with a free plan that can be used for simple online one-on-one or group meetings. This can be especially helpful in enabling sales since it is a great tool for presenting proposals, internal account review meetings, and external meetings with customers. It also works well for keeping your field team connected remotely, which is similar to how we use it here at Fit Small Business.
Key Features
Free plan allows you to host an unlimited number of one-on-one meetings and group meetings of up to 100 people (though meetings are limited to 40 minutes).
Screen-sharing capabilities, making it ideal for conducting product demos, customer training, or support.
Side chat toolbar where attendees can ask questions or make comments.
Paid plans include 1GB of online cloud-based storage for sharing recordings.
HD video and voice that automatically highlights the active speaker.
To learn more about what users think of Zoom's video conferencing software, visit our Zoom reviews page.
5. UpLead

What it costs: $99 to $299 per month for 200 to 1,500 credits
What it does: Allows users to search its database for verified contact information based on company, industry, geographic location, or role and download them directly to their CRM
UpLead is a lead-purchasing database that describes itself as a "real-time verified B2B database that helps you find new customers and accelerate growth." UpLead is a good fit for businesses looking for lead generation software that base a large amount of their prospecting on cold calls and cold emails, and those that need to generate large quantities of leads to move through a sales process.
Key Features
Verifies leads upon export, reducing bounced emails.
Provides lists of accurate email addresses in a searchable database.
Free trial with five credits.
Allows you to search for contacts based on criteria such as industry, title, location, company, and social profiles.
6. LinkedIn Sales Navigator

What it costs: $79.99 to $134.99 per license, per month
What it does: A prospecting tool that allows you to discover leads through the popular professional social network
Sales Navigator makes it easy to find new customers and prospects by searching LinkedIn with a range of filters. It's an excellent tool for sales professionals who are active on LinkedIn and focus on account-based sales management.
Key Features
Ability to search by industry, role, keyword, or location.
Provides you access to the entire LinkedIn network for lead generation.
Gives you in-depth information about both your leads and their companies, including recommended leads, which are prospects that LinkedIn identifies based on factors such as their company, their connection to existing leads, and their roles.
Visit LinkedIn Sales Navigator
7. Showpad

What it costs: The company makes this information available upon request
What it does: Delivers sales content and coaching in a simple, cloud-based environment
Showpad is a cloud-based sales content library that makes it easier to find, present, share, and measure the results of your sales collateral. This helps you to share this knowledge with other team members to improve the sales effectiveness of the team as a whole.
Key Features
Allows you present and distribute your content in a cloud-based, branded environment.
Gives sales reps access to your library of marketing and sales collateral to find the right content, send it to prospects, and track prospect engagement within each piece of content.
Includes a coaching module that allows sales organizations to centralize all of their training and coaching resources.
Gives sales leaders the ability to track top performers' habits to see what content they use at each stage of the sales process.
8. Canva

What it costs: Free, with a Pro version that adds additional functionality for $12.95 per user, per month
What it does: Allows you to create beautiful graphics that you can use in sales materials, presentations, or online
Canva is an intuitive online design software tool that makes it easy for small businesses to create sales support materials without hiring a graphic designer. These sales support materials help your team to follow up with prospects and maintain touch points outside of phone calls and meetings. Most users will find the free version, which includes thousands of free templates and stock photos, to be sufficient for their graphic design needs. The paid plan offers additional team sharing capabilities as well as access to a larger library of premium stock images.
Key Features
Can be used to design presentations, flyers, social media graphics, web banners, and print collateral.
Includes an intuitive mobile app that makes it easy to design or edit graphics on the go.
Offers over 8,000 user-generated themes to choose from to create infographics, social posts, sales brochures, and more.
A drag-and-drop interface that makes it easy to tweak your graphics to look the way you want.
9. Zapier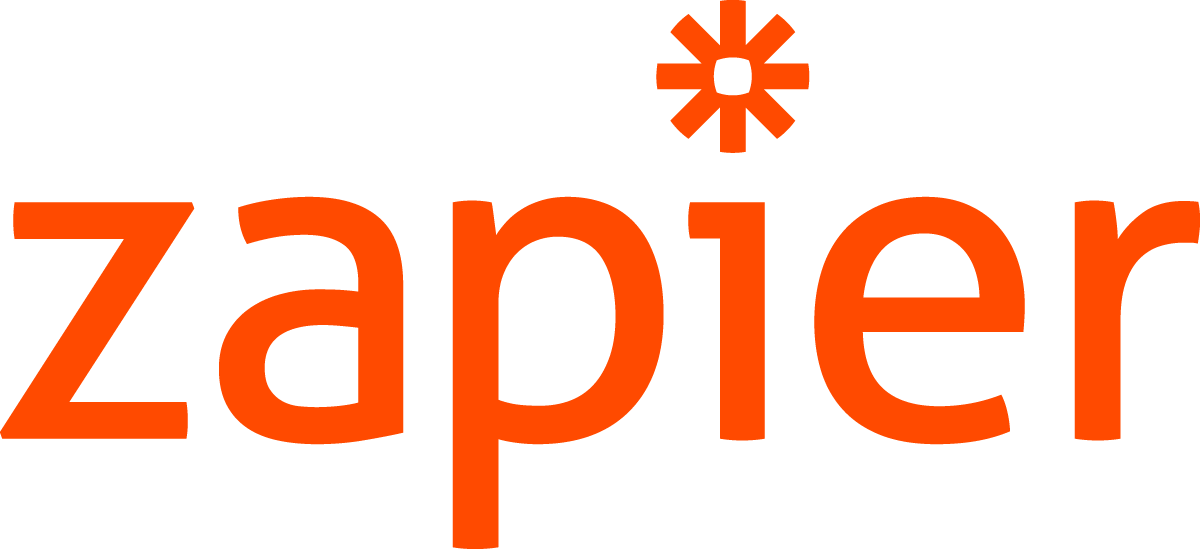 What it costs: Free for limited integrations; paid plans range from $24.99 to $748.75 per user, per month
What it does: Allows you to connect third-party software tools that don't already have built-in integrations with each other
Zapier is a workflow automation software that allows you to connect software tools that don't already have native integrations. This is especially helpful in connecting different parts of your sales process to enable better communication and timely follow up.
Key Features
Lets you create what are called "Zaps" to connect tools such as your CRM to your project management tool and have it automatically create a new project or task every time you close a deal.
Free plan lets you create five Zaps at a time and send 100 contacts per month between connected software apps.
Paid plans increase both the number of Zaps and the amount of information you can send.
Paid plans also give access to "Premium" Zaps that include connections with software and platforms like Salesforce, QuickBooks, and PayPal.
10. Slidebean

What it costs: Basic free plan with paid plans ranging from $8 to $19 per user, per month
What it does: Allows you to easily create sales presentations using professionally designed templates
Slidebean is a slide design software tool that allows you to create professional pitch presentations without the need for graphic design expertise. It also provides useful analytics, which help sales teams convert deals at the next stage.
Key Features
Includes professionally designed templates as well as additional designs that can be purchased as upgrades.
Offers metrics that allow you to monitor when, where, and for how long your audience views your presentation, as well as which slides they view for the longest, enabling your sales reps to know who to call and when is the right time to engage with them.
Allows you to share presentations with others and export copies to PDF and HTML formats.
11. Freshchat

What it costs: Free to $69 per user, per month, billed annually
What it does: Allows you to embed a real-time chat window on your website, allowing you to engage with and capture leads while they are most interested
Freshchat is a chat tool that can easily be embedded into your website to communicate with prospects and customers while they are engaged with your site in real time. It offers a free plan that includes up to 10,000 unique monthly visitors and supports up to 100 team members. This plan, called their Sprout plan, is free forever and they also offer free trials of each of their higher-tier paid plans, which include advanced features such as automatic agent assignment.
Key Features
Seamless integration with WordPress, Squarespace, Shopify, and Facebook Messenger, making it a great tool for connecting with prospects wherever they are.
Integrates with both Freshsales and Freshdesk, making it a powerful front-end sales communication tool.
Works with other Freshsales products like Freshdesk Contact Center, which helps enable and track phone outreach activities.
12. BombBomb

What it costs: Individual plans from $29.99 billed monthly and annual plans that range from $588 to $2,000; team plans range from $29.99 per seat, per month for basic features to $468 per seat, per month
What it does: Allows you to embed video with email and track the performance of your messages
BombBomb helps agents easily create personalized videos, insert them directly into emails, and track who watches them. Including videos in your emails helps them stand out in a crowded inbox, and has resulted in over 80% more replies and responses for BombBomb's clients. Plus, because it's not an attachment, your video message actually gets delivered and seen.
Key Features
Makes it easy to send personalized video emails to your contacts.
Allows you keep track of when they receive and view your message.
Basic plan lets you send simple one-to-one videos directly inside your Gmail inbox or Google Chrome browser.
Advanced plan for teams offers larger sending capability, superior training and customer support, and a mobile app.
13. Calendly

What it costs: Free to $12 per user, per month, billed annually
What it does: Allows users to send a link to allow contacts to self-schedule appointments based on your availability
Calendly is a free automated scheduling tool that makes it easy for salespeople to book more customer appointments. It lets prospects and customers pick the date and time that works best without all of the back and forth email conversation.
Key Features
Integrates with Google and Outlook calendars, and lets you set your availability, giving you a personalized scheduling link.
Paid versions offer advanced integrations with GoToMeeting, Zapier, and Salesforce, as well as multiple appointment types.
Paid versions also include administrative and team features for managing group and team scheduling needs, such as round-robin scheduling for multiple sales reps.
Bottom Line
Providing your sales team with the tools they need to perform at their best is one of the most important aspects of sales enablement. The software tools in this article offer the features you need to improve efficiency and effectiveness at every stage of your sales process, which leads to more conversions and higher sales revenue.
Since the heart of any sales organization is its CRM, we recommend Pipedrive as a highly intuitive, visual way to track leads, customers, and sales opportunities. Plans start at $12.50 per user, per month, allow you to easily move deals through your sales pipeline, and alert you when you need to take action. Visit Pipedrive to start a 14-day free trial today.