The best startup websites are not only user-friendly and visually exciting, but connect with site visitors by speaking to what makes your brand stand apart from businesses that have come before. In return, the best sites have low bounce rates and effectively generate leads by focusing on their unique solutions. For ideas to help you build your small business website, we found the 15 best startup site examples that illustrate how to make a great site where form meets function.
Here is a list of the 15 best startup websites to give you design inspiration as you start building a website for your startup:
1. Cue
CMS: Webflow
Cue is billed as "the world's first social calendar." This tells the site visitor who is looking for a calendar solution that they offer an advantage over other competitors who have yet to catch up with their social calendar technology.
Cue's website effectively showcases use and function to demonstrate what their app does best. Their use of energetic and colorful images set against a white background draws the viewer into the content. The "Download on the App Store" call to action (CTA) is easy to find, and placed in multiple locations. Including a list of well-known apps with which Cue connects also adds to the appeal of using a social calendar.
To join the ranks of the best startup websites when building a mobile website for your business on WordPress, consider finding and installing a premium WordPress mobile app theme. This ensures your website is designed specifically for use on mobile devices. Alternatively, make the design process easier and use Wix, which has the best variety of mobile app landing page templates out of any of the major website builders.
2. Shadowmap
CMS: Craft CMS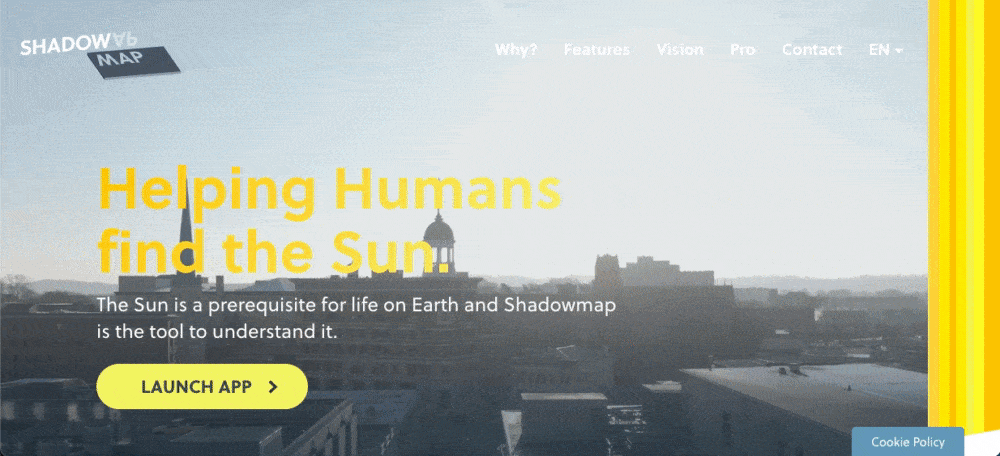 Shadowmap uses their hero section in two important ways. First, it shows the reader the importance of shadows with their beautifully shot drone video, and second, it gives the site visitor immediate access to their app with no email or sign-up information required. Visitors are allowed to preview the app and then encouraged to purchase a subscription for full access to all of its features.
Using your website's hero section to give the reader a glimpse of what your app can do and providing an easy-to-find call to action (CTA) to either try out, request a demo, or subscribe helps increase conversions. Design-wise, you can achieve a similar look by using a WordPress page builder plugin, such as Elementor.
3. Common
CMS: Custom (Using Next.js Framework)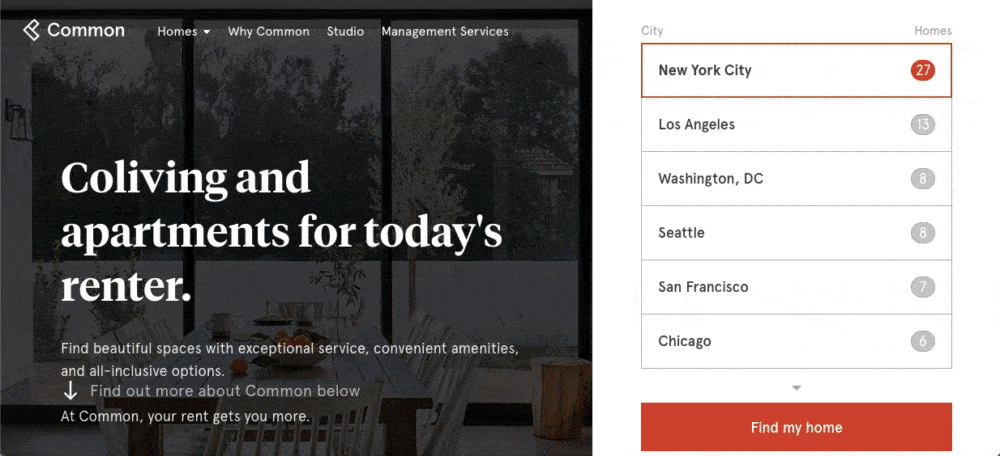 Common stands out among the best startup websites with its modern, attention-grabbing quiz on the home page that quickly directs a site visitor to the right content. The vertical, full-screen-length quiz element shows great care in design and page flow as it pertains to site visitor intent. This not only lends to a better user experience, but it also helps increase the number of pages viewed on the website and the number of leads generated.
If you're looking to incorporate quiz-style content into your website, WordPress offers a number of plugins that enable you to easily create elements like these, such as the top-rated (and free) Quiz and Survey Master Plugin.
4. Lightyear
CMS: Webflow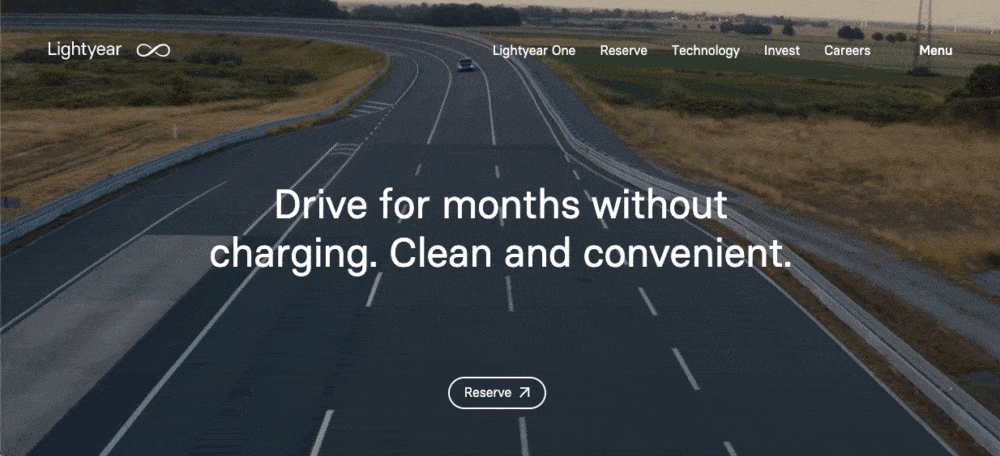 Lightyear's site visitor experience starts with a full-screen video that immediately engages the attention of site visitors, and places its main selling point front and center. Lightyear alternates use of white space with eye-catching images to divide content up into sections as you scroll down the page.
Each section offers options to click links to find out more or reserve (take action). Site visitors can navigate through the site organically and take actions based on their interests without having to go back to the top menu.
An easy way to create a site similar to this is by building your startup's website on Squarespace using their Bailard template. Place a high-quality video at the top of your home page that communicates your main selling point, so that it is clear and to the point from the moment a visitor lands on your website. Incorporate links in sections that take the visitor to the next logical page or article, based on your customers' typical buying journey.
5. Apothékary
CMS: Shopify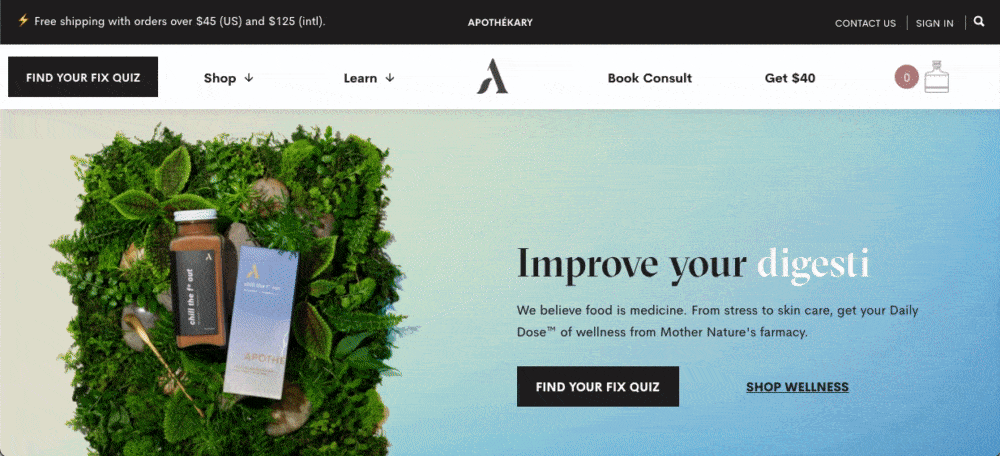 Visitor engagement is immediately stimulated with the invitation to take an interactive "Find Your Fix" quiz as soon as they arrive on Apothékary's homepage. Showing publications they have been featured in provides social proof to validate the promotion of their top-of-the-line products right below the hero section. Scrolling down the page takes the site visitor on a cohesive and well-planned guided tour, with relevant calls to action (CTAs) in every section.
To create a similar journey for your site's visitors, it's important to plan each section in advance. Consider what the potential customer would want to see next as you build each section, and incorporate CTAs that relate to the content in that section.
Apothékary's design look can be achieved using the premium Shopify theme. After installing the theme, select a color palette and font set that complement one another and your brand, and which are appropriate for the audience you wish to reach.
To create an interactive quiz, consider using a third-party service like Typeform that gives you creative control over how you present the quiz and create the logic that goes behind making it interactive.
6. January
CMS: Netlify CMS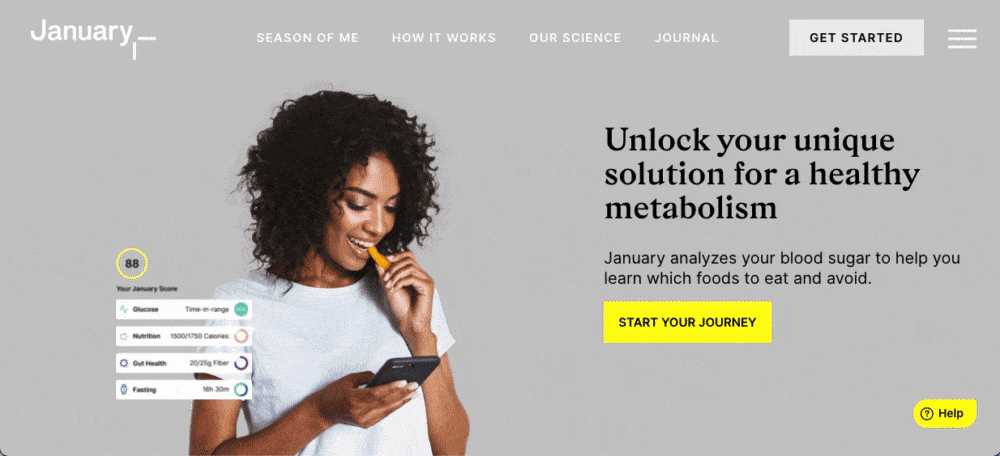 Immediately upon visiting the January homepage, a pop-up greets the site visitor with an enticing offer to save $200 by providing their email address, which is an effective way to generate leads and build your contact lists. After entering their email address or closing the pop-up, they can then navigate the website, which uses the color yellow to draw the site visitor's attention to action prompts and calls to action.
Their main navigation menu adds personal meaning for the site visitor because instead of using terms that are typically in navigation menus, such as "Home, About, Contact," and so on, their menu options speak more to how their app is relevant to the visitor. The large images, charts, and graphics they use clearly communicate meaning to visitors who are interested in their own health and well-being.
You can use many content management system (CMS) platforms, including WordPress, to get this look for your startup's website. However, the easiest way to recreate it is to use the Malone or Bogart template on Squarespace.
Use a bright color that draws visitors' attention to specific elements, such as your CTA buttons. Pop-ups featuring introductory or limited time offers will help you build your email list so you can reach out to potential customers. If you are using WordPress or Shopify, consider using a pop-up creator like Sumo to help with lead generation.
7. gohenry
CMS: WordPress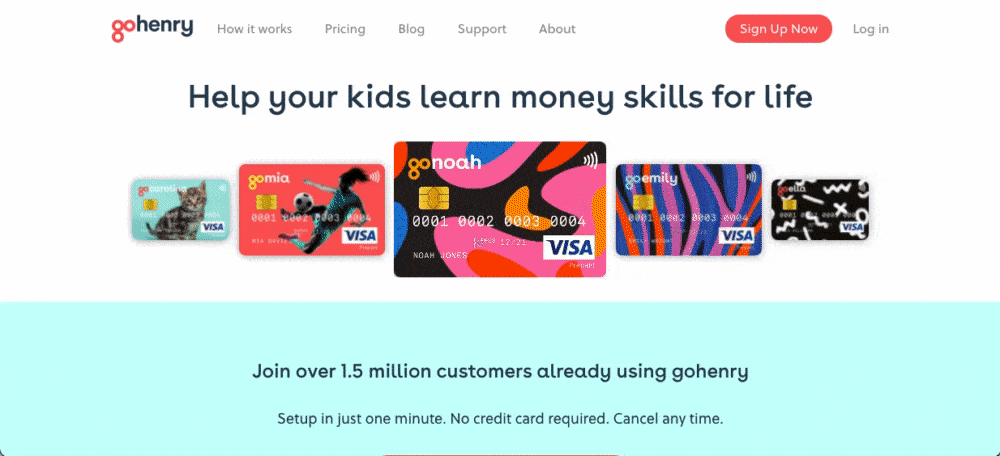 The graphic banner at the top of gohenry's homepage instantly shows what the company offers and speaks to the decision-maker (parents). The main message is reinforced throughout the page with imagery that references both their product and the intended user of their product (kids).
Quotes from major publications are featured throughout the page to help promote that gohenry is trustworthy. This is further reinforced by displaying Trustpilot reviews left by actual customers (parents) who use the product. Understanding and addressing the top concerns of your target market, such as the need to validate trust using reviews, is crucial to knowing how to design your website.
If you're using WordPress, consider the Google Reviews widget plugin that will import your reviews on Google and display them on your website. You can also manually input reviews by using a page builder such as Elementor Pro. If you're using Wix or Squarespace, you can use the Reviews on my Website service to do the same.
8. UpCodes
CMS: Custom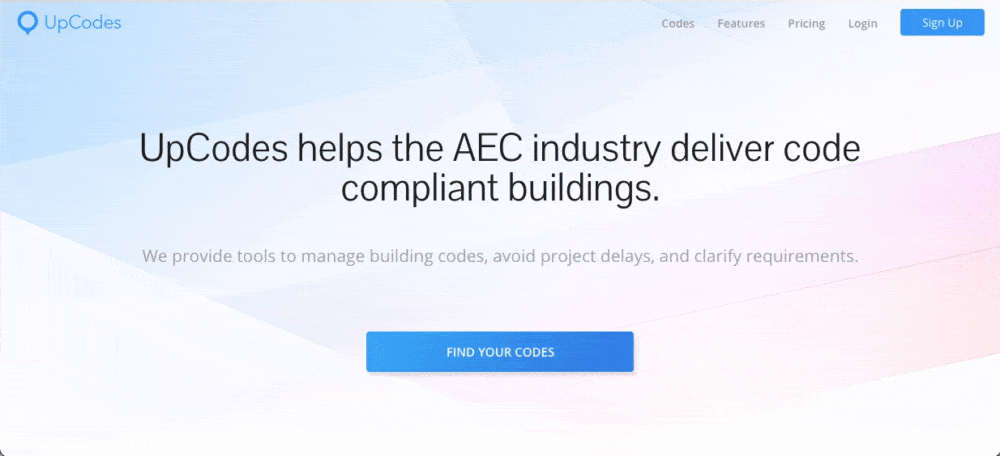 UpCodes' simplicity of design contributes to their message of simplified building code searches. Their top-of-page message immediately gives the site visitor free access to try their service, taking them to a page where they can select their state and find relevant building codes without entering an email address.
The home page also promotes trust through social proof by showing industry leaders who are using the service, publications they have been featured in, and numerical stats showing the number of users and quantity of information available on the site. One thing that this website can do to grab visitor attention is using counters to show the numeral statistics. Getting that attention can give visitors the confidence to take action.
This website was custom-made on a proprietary system. However, if your product or service requires subscriptions or memberships, consider building your business' membership website on WordPress with a plugin like WooCommerce Membership.
For a beginner-friendly alternative, build your site on Squarespace and use the Growwell template, which comes with membership-ready functionality. You can also transform any Wix template into a membership site using the "Members Area" feature.
9. The Kitchen Door
CMS: Custom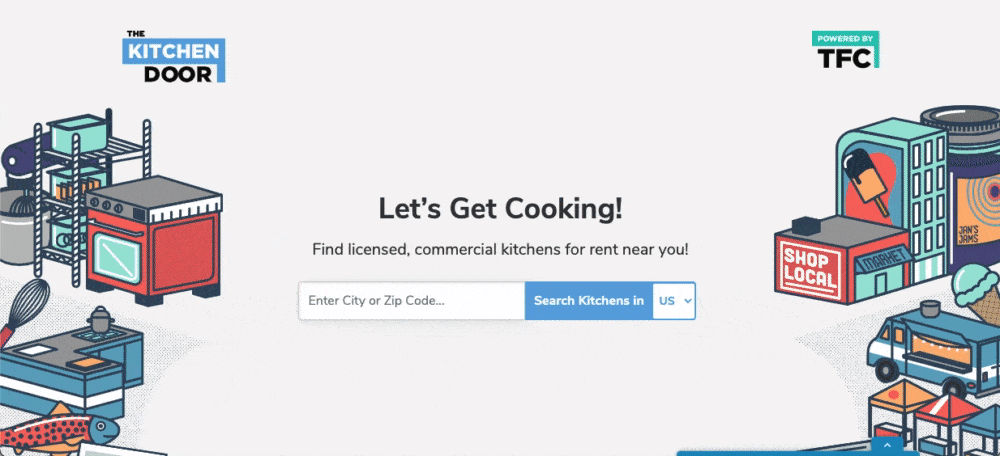 The Kitchen Door offers site visitors a fast and efficient way to find a rentable commercial kitchen in their area by entering their ZIP code into a search box in the hero section. Its simple, yet colorful hero section is followed by content sections explaining why someone looking for a commercial kitchen should use their free service. This is a good example of one-page web design.
They also provide search boxes for site visitors to enter their city or ZIP code at both the top and bottom of the page, so they don't have to scroll back up to the top of the page to use the service. Additionally, in the page footer, site visitors can click on a number of major cities to find rentable commercial kitchens.
The Kitchen Door is a custom-designed website; however, you can replicate this type of design and functionality using WordPress' Gutenberg editor and adding a search-by-zip code element using a plugin like LocateWP.
To discover the best places to put search elements or CTAs on your website, third-party services such as HotJar can tell you how users behave on your website, and you can try their services for free.
10. Play.ht
CMS: Custom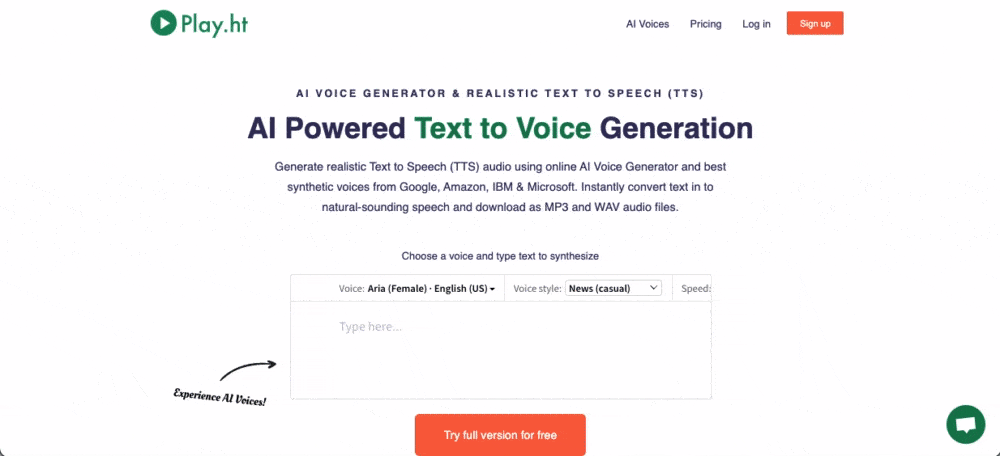 Play.ht immediately generates site visitor interaction by inviting them to test their artificial intelligence (AI)-powered text-to-voice generator tool free-of-charge and without any type of opt-in. They offer use cases to further validate the need of their service. They do this by linking to dedicated pages offering great detail, further validating the need for their service to the visitor.
This is a custom-built website; however, you can replicate elements of this website using any website platform where you can embed a basic or limited-use version of your tool and show use cases that explain the tool's capabilities and common customer types.
11. VBOUT
CMS: WordPress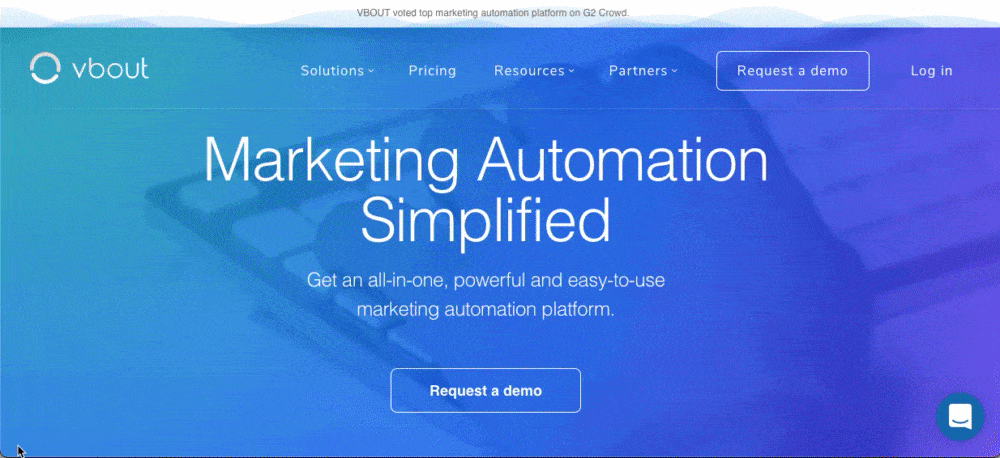 As a new company, VBOUT doesn't yet have many customer reviews, so they focus instead on showing all the different ways their service can integrate with your systems for a simplified, all-in-one solution. The hero section gives the site visitor a call to action to either request a demo or view a video showing how their system can help simplify the visitor's marketing.
The website design can be done using a modern WordPress page builder that has shape divider support, such as Elementor.
12. Consolto
CMS: Webflow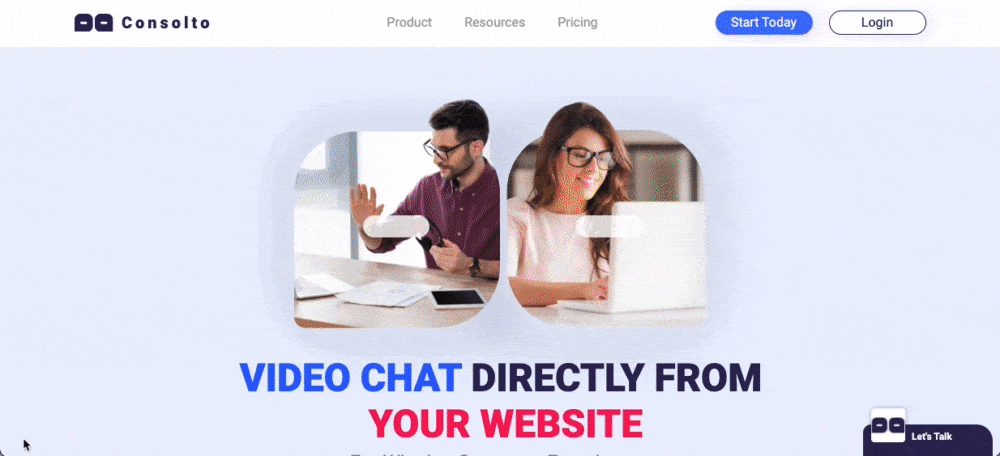 Upon visiting Consolto, site visitors are greeted with direct call to action to try their video chat service. The homepage effectively demonstrates how their service works and looks, and promotes confidence by showing the logos of major brands that are using their service. Most sections include a "Start Today" call to action with specific reasons to do so, such as showing features or the ability to scale with your business.
This type of design can be emulated using WordPress or an all-in-one website builder such as Wix or Squarespace, which also offers membership functionality if you need it. On WordPress, you can use a plugin like Paid Memberships Pro, which makes it easy to create websites with gated content and membership platforms. However, if you're selling subscriptions, Wix will be the cheaper platform for easily accepting recurring payments for both physical and digital products.
13. Woxo
CMS: Custom (Next.js)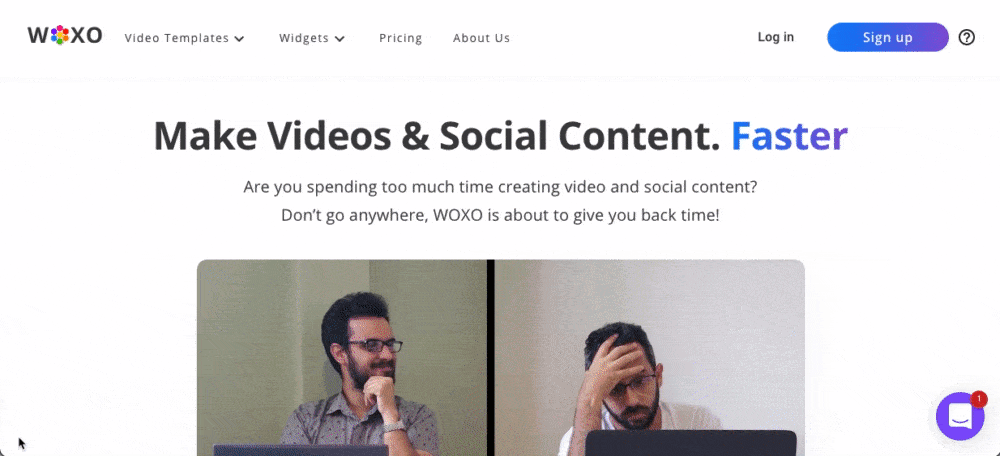 Woxo's hero section commands attention with a bold headline, text speaking to the site visitor's pain points, and a video that uses humor to make a point. The video itself creates curiosity by going from a blurred to non-blurred background, and then simulating the Woxo workflow, which boasts the ability to create hundreds of videos in 60 seconds.
Their homepage showcases many examples, testimonials, and brands that are using their video creation platform. Each section builds on itself, offering all the information a visitor may need to get started. Finally, a built-in live chat is available for the site visitor to ask questions and interact with a team member to improve conversions.
To build something similar for your small business, consider having an explainer video professionally created and put it at the very top of the page where everyone who visits will see it. Adding an effect like the blur will add extra attention to convince the user to watch.
Replicate this design by choosing a modern template with a two-column hero and built-in live chat, such as the Noll by Squarespace.
14. Ad You Need
CMS: Webflow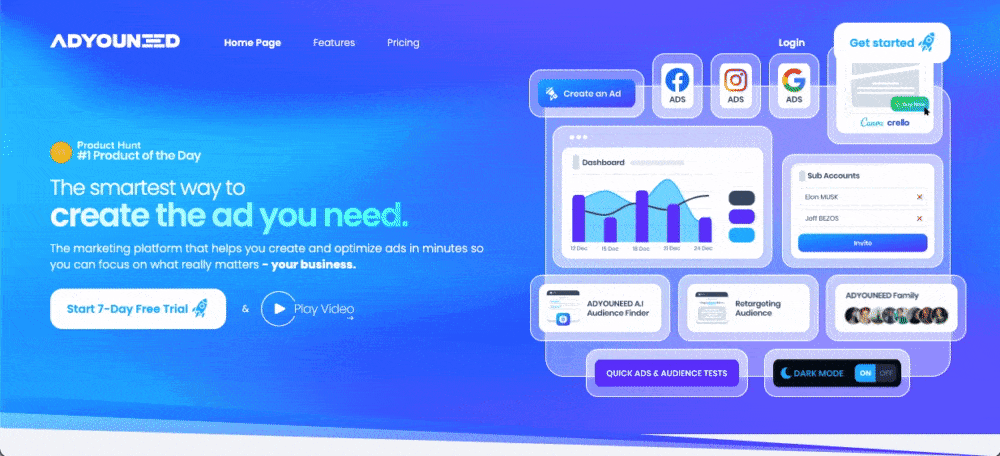 As soon as AdYouNeed's home page loads, the site visitor gets a clear summary statement of what the agency can do for them and a call to action to start a free trial. They use shades of blue throughout the page, presumably because it is a color commonly used by brands that want to convey trust and stability. Additionally, its animated graphics and tables stimulate site visitor interaction with their content.
Get these mouse-over effects by using the Elementor Pro page builder plugin with WordPress and a premium theme, such as Front (available from Themeforest).
15. You Engage
CMS: WordPress (using Elementor Pro)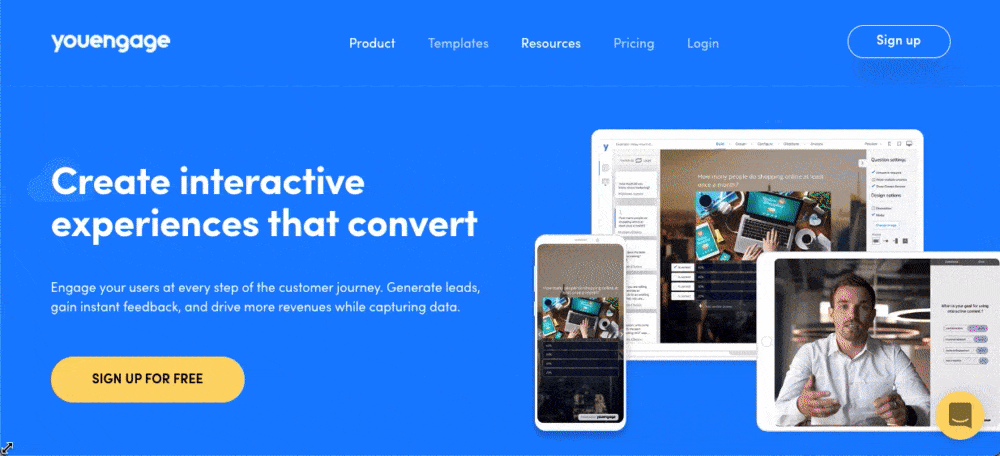 You Engage begins the visitor experience with a simple explanation of their service and a clear call to action. The site uses a subtle parallax scrolling feature, making the visuals more eye-catching, enabling it to more effectively hold the reader's attention. It does a good job of information architecture where each section builds upon the last, helping to educate the visitor and strengthen its messaging.
The design can be replicated using a modern page builder, such as Elementor Pro, which was used to design this page and has all the tools and elements you need to build a website like this. Other site builders, such as Wix and Squarespace, can also be used as a beginner-friendly alternative.
Frequently Asked Questions (FAQs)
What's better: WordPress or Squarespace?
Choosing between Squarespace vs WordPress as to which is better depends on the needs of your business. An easy and affordable way to build a website is by using Squarespace. For more customization and the ability to grow your website as your business grows, we recommend WordPress as your best option.
What do you need to build a startup website?
Some of the things you need to do before building a website for your startup include identifying your business goals, researching competitors, defining your audience, and deciding whether you want to build the website yourself or outsource design. Learn more by reading our article listing seven steps for building a website.
How much does a WordPress website cost?
A WordPress website can vary greatly in cost depending on the cost of your domain name, hosting plan, WordPress theme, plugins, and design costs. Find out more in our article breaking down the costs of a WordPress website.
Bottom Line
Designing your startup's website can be challenging. However, you can find inspiration from the best startup websites. WordPress themes and plugins offer a lot of the functionality and design features needed for an effective website. However, if web design is not your forte, we recommend Squarespace, which is easy to use and offers award-winning design templates for you to get started with.
You Might Also Like…