2023 Back-to-School Marketing Ideas & Trends for Retailers
Back-to-school season is one of the busiest seasons for retailers—it's the second-biggest event on the retail calendar, after the winter holidays. The National Retail Federation (NRF) recently released its back-to-school retail trends report for 2023, and the trends show a shift toward savings-focused shopping behavior because of persistent inflation. Higher prices are the driving force behind the increase in spending, with the NRF forecasting back-to-school spending to reach $41.5 billion, up from last year's $36.9 billion.
We list back-to-school marketing ideas and tips below, based on the retail trends we gathered.
1. Start Promotions & Sales Early
According to the NRF, 55% of consumers started shopping for back-to-school items in early July this year, on par with last year and consistent with the trend of earlier shopping for major spending events.
More than half (51%) of those surveyed by Deloitte anticipate a weakening economy in the next six months, and prolonged inflation has led to a worse financial situation for 31% of parents over the past year. Hence, families are reacting to the economic situation by comparing prices, hunting for bargains, and generally taking more time to plan their shopping.
If you want to be ahead of the game, plan your promotions and start marketing campaigns earlier, like around June.
Here are some tips to consider:
Make sure your merchandise is on point to prepare for this and compete with big retailers like Amazon. Using your point-of-sale (POS) or retail management system, you can look at your store history to check which items were bestsellers from last year's back-to-school season.
Check your products' price competitiveness to see how other retailers are pricing the same products you sell to give you an idea of what deals to offer. Use the data to map out your pricing and merchandising strategy. Learn how to price products strategically. You can also read our guide to common pricing strategies, along with examples.
Monitor rising retail trends to help you keep track of which items or promotions are trending so you can adapt. In general, it is always a good idea to keep abreast with retail trends.
Announce your promotions and sale events early to garner attention online so that shoppers can plan. According to a back to school study, 71% of US shoppers are willing to wait over two weeks before buying if they know of a sale, deal, or promotion.
If you can't do early promotions, don't get discouraged. According to the NRF, 85% of consumers still have half of their shopping remaining. The top reasons they have not checked items off their list are that 41% have not received their school lists and expect them to get released by the end of July.
2. Ensure a Well-stocked Inventory
The demand for school-related items (electronics and gadgets, clothing and accessories, school supplies, and dorm furniture) will be high during the back-to-school shopping season. This means you need to determine which items are in demand and ensure your inventory levels can meet the increase in demand.
For example, the recent NRF survey said the increase in spending for this year is because of increased demand for electronic gadgets. Sixty-nine percent of respondents expect to buy electronics or other computer-related accessories this year, the highest in the NRF's back-to-school survey history. Total spending on electronics is expected to reach a record $15.2 billion. Same as in past years, the top electronics consumers plan to purchase are laptops (51%), tablets (36%), and calculators (29%).
If you run an electronics store, it is best you take advantage of this demand by ensuring you have enough stock for inquiries and promotion sales.
Here are some tips to consider when evaluating your products:
Know local school requirements. Get accurate school supplies, athletic gear, and uniform lists from your area school districts, and make your stock purchases accordingly. Nothing is more frustrating for shoppers or store owners than processing returns because something didn't match a school requirement. So, stick to the list to ensure your products get sold.
Stock up on bestselling essentials. Don't be afraid to stock up on basic and other fast-moving essentials when purchasing back-to-school stock. However, be wary of splurging on specialty or seasonal goods. Learn how to prevent stockouts. Use a POS inventory system that can help you manage an efficient retail inventory.
3. Run Special Discounts & Events
With the prolonged inflation, consumers are looking for ways to save and pull back on spending. Most (68%) consumers plan to spend the same or less year-over-year (versus 63% in 2022).
How are they cutting back on spending? Google consumer trends report that 76% of online shoppers are adding items to their carts and waiting to see if they go on sale before making the purchase. Moreover, 74% plan to make multiple purchases in one checkout to help stay on budget and reduce shipping costs. This also applies to in-store shopping as consumers are buying more in one visit to reduce trips and save on gas.
Target back-to-school shoppers by giving them special discounts. Here are some specific back-to-school promotions to help you get started:
TIP: When you run special promotions, advertise and announce them on your social channels. According to Deloitte, 62% of those who use social media are using it to save on back-to-school spending, compared to 56% in 2022.
4. Simplify the Shopping Experience
Back-to-school season is hectic for shoppers, especially parents with multiple school children. Help them shop by streamlining the shopping experience.
Generate Shopping Guides & Checklists
One of the ways to simplify the shopping experience for shoppers is to provide guides or checklists. These help consumers know which products to buy and find items easily in-store. For example, Target and Walmart have specific back-to-school supply lists personalized per school city or ZIP code. As a small business, you can provide a particular category in your online store for back-to-school items or create a blog post with a downloadable checklist.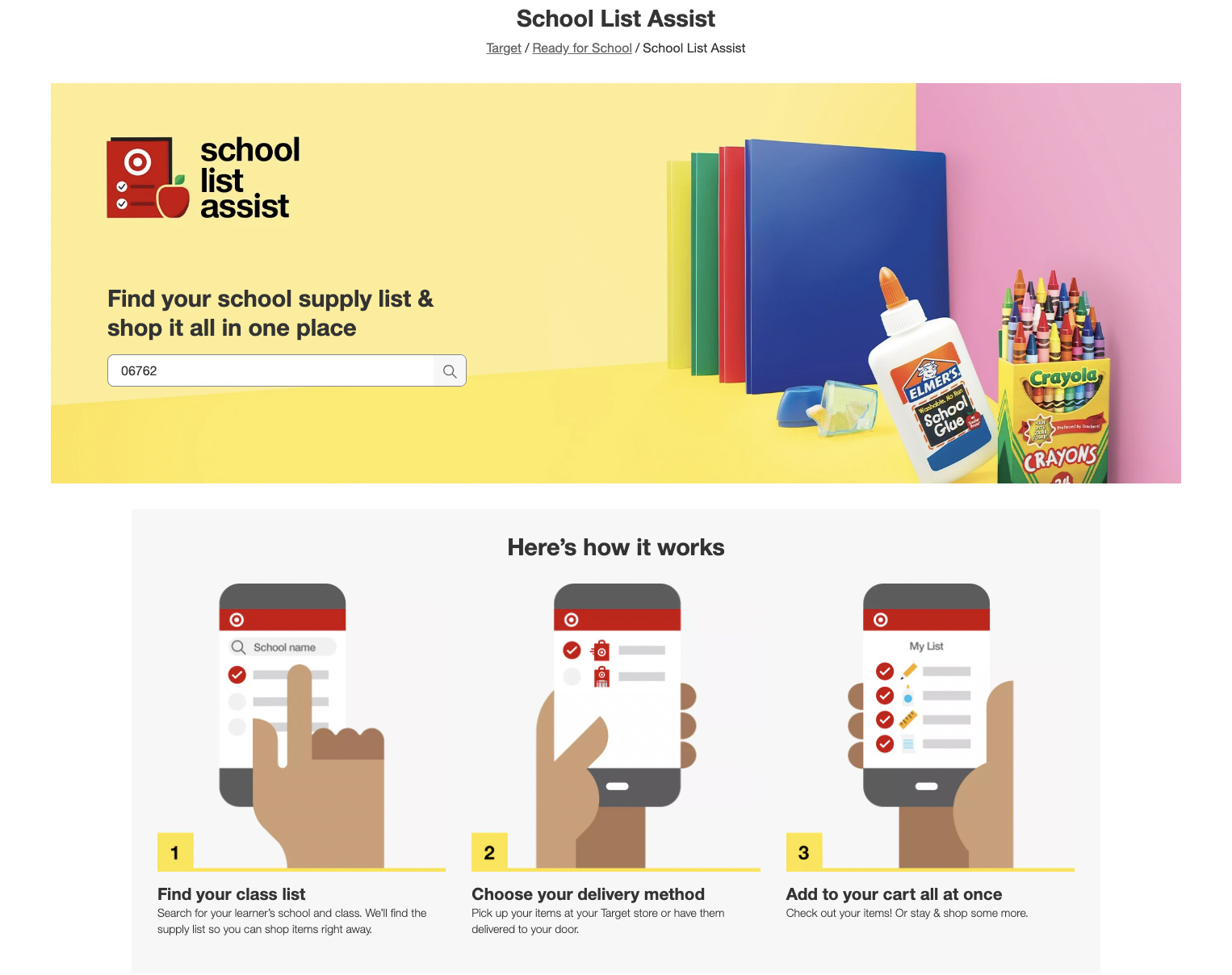 Target lets shoppers search for supply lists by ZIP code, school, and classroom to purchase all supplies at once. Small retailers can work with local school districts to get supply lists and offer bundles for different grade levels or classrooms.
5. Show Product Value by Demonstrating Its Relevance
The common trend in the savings-focused shift in shopping behavior shows that more consumers are not loyal to brand products. Consumers are looking for ways to stretch their dollars and are considering off-brand or store-brand items as long as they help them save.
Aside from creating shopping guides that showcase products, try to highlight your product's importance for back to school. For example, if you are in the food industry, you can put together a resource on how to cook snacks for school children in less than 30 minutes using the products you offer. Meanwhile, if you provide furniture, consider creating a video tutorial on assembling furniture or showcasing how a dorm room looks with your furniture.
6. Provide an Omnichannel Buyer Experience
Consumers prefer an omnichannel shopping experience, and this back-to-school season proves no different. A Think with Google study confirms this as it showed consumers continue to use multiple channels in their back-to-school shopping experience—45% of consumers said that they plan to use both in-store and online channels, and more than 50% research online first before ever setting foot in a store. Fifty-four percent of consumers even use as many as five channels (video and social media), and they spend 1.5 times more compared to those who use only two channels.
Consider the following:
7. Have a Mobile-friendly Online Store
The recent NRF back-to-school retail trend report says consumers' top destinations for back-to-school shopping are online, department stores, and discount stores. What makes online shopping stand out is that the mobile version of your online store plays a huge role in converting sales.
As part of the omnichannel buying experience mentioned previously, consumers are now using their phones to make purchases, especially for last-minute needs, and even checking prices on other retailers' websites while shopping in-store.
And according to the Deloitte study, two in 10 are undecided about channel preference when shopping for back-to-school stuff because price is their priority—they will shop wherever it is cheaper. As retailers, you have opportunities to direct undecided shoppers to more profitable channels. So, start an online store for your brick-and-mortar shop if you haven't yet.
It's not enough to just have an online store, though. You also need to make sure that it is mobile-friendly. More people are choosing the convenience of shopping with their smartphones as they find it easier to research products and price comparisons using phone apps, allowing them to make a corresponding purchase.
Several top ecommerce platforms and WordPress shopping cart plugins make it easy to transform your webpage into a mobile-friendly ecommerce site. Implement ecommerce design tips, along with ecommerce marketing strategies, to increase your sales.
Along with our tips mentioned above, make sure all your back-to-school campaign ideas convert well into the mobile version of your website, too.
8. Do Your Marketing Online
Forty-six percent of shoppers are doing more comparative shopping online, wanting more time to research. Your deals must show up where people are looking—so try to implement some of these online marketing strategies:
Display Back-to-School Products on Special Webpages & Menus
Create unique back-to-school landing pages on your site to highlight back-to-school features, specials, and discounts. Also, try adding special back-to-school categories to your store menu to help buyers navigate the product types they want and shop quickly. Add prominent links to these special sections from your homepage and blog, and include them in email and social media marketing.
Add Social Media to Your Marketing Strategy
Deloitte's back-to-school survey (2023) shows that social media shopping for back-to-school items has decreased from 35% in 2022 to 21% in 2023, but consumers across age groups are using social platforms to find out about back to school promos.
Of people who already use social media, 46% visit retailers' social media pages to find out about brand promotions, 44% visit to browse products, and 44% to read reviews and recommendations.
Clearly, your social channels are ways to engage with customers, update them with the latest offerings, and show them how to use your products (through product photos or actual customer reviews—social proof).
Take a look at Walmart's social media marketing strategy. They took advantage of reels and videos to showcase the newest back-to-school products available in-store.
View this post on Instagram
9. Create Smart Displays Using Strategic Product Layouts
Even with half of the shoppers making their purchases online, don't forget your brick-and-mortar shops! Compared to previous years, shoppers are more confident shopping in stores, with most shoppers preferring to shop in department stores for their back-to-school shopping across all products except tech.
Turn your power walls and other prime in-store real estate into back-to-school blowout displays that lure your customers in and entice them to buy. Maximize these key selling spots using tried-and-true retail store layout methods to keep your space organized and easy to navigate. Use must-buy back-to-school essentials to draw buyers in, allow ample room for movement on busy days, and keep your impulse-buy areas well stocked with inexpensive add-ons.
10. Offer Financing, Repairs & Upgrades for Electronics
Electronics is still the top back-to-school item this year, with 69% of shoppers including a gadget in their back-to-school shopping list, up 4% from last year's 65%. It's a great time to offer customer financing to potential buyers who can't purchase your products outright. Aside from increasing the number of visitors to your store, it can also increase the average purchase amount per customer.
Upgrades and repairs go hand in hand. If you offer upgrades, you end up with an older smartphone, laptop, or PC model that you can refurbish or break apart for parts. This will allow you to offer repair services as an additional income stream for your business.
11. Have Special Promotions for Education Personnel
When it comes to the back-to-school season, teachers need to prepare themselves as much as students, so retailers should not forget educators in their target market. However, unlike students, they might have different priorities and budgeting concerns that affect their buying decisions.
This allows retailers to differentiate themselves by giving special attention to teachers when offering discounts.
Here are some discount ideas you can try:
Start a loyalty program that allows them to earn points for each dollar they spend; they can use them to save money on their next purchase
Create a one-day exclusive sale for them during back-to-school season
Offer them special discounts for customer referrals
Target does a great job with this by holding its yearly Teacher Prep Event where a 15% discount on select back-to-school items is offered at its stores.
12. Create Specific Back-to-School Campaigns for Your Business
Even if your retail business is not offering back-to-school-related items, you can still leverage the season to increase your sales. Here are some examples for specific industries:
Restaurants
If your restaurant offers a delivery service, consider providing special discounts for students and teachers around your area. You can hand out flyers near the schools or through short message service (SMS) marketing―sending promotions via text message. You should also consider creating an app that a young audience can easily download on their phones for free. Then, you can include marketing announcements and offer special event discounts directly to your subscribers.
Fitness Centers
Fitness centers and yoga studios can promote specific discounts, "buy 3, get 1 free" offers or packages for specific time slots. This can be an enticing offer for parents who have the time while their kids are in school or for students and educators who can accommodate the slots into their schedules.
Salons & Barbershops
Parents and teachers want some time for themselves before or after the back-to-school rush. This makes for a perfect opportunity to provide special privileges they will appreciate. Consider offering back-to-school hair supply products as an incentive for purchasing services of a minimum particular dollar value. You can even have unique services like in-store childcare, makeover consultation, and others that will make shopping easier for your customers.
Bottom Line
Because of prolonged inflation and a weak outlook for the economy, US households are tightening their belts this back-to-school shopping season but still considering it as an essential spend—with each family projected to spend close to $890 on back-to-school items.
Retailers should capitalize on these trends, such as savings promotions, omnichannel experience, mobile shopping, and social commerce. You should also employ marketing strategies that build on the overall buyer's experience with a seamless transition from online to in-store purchasing and an emphasis on product value and savings.
Back-to-school season is a great time to increase revenue and build loyalty among customers and employees. As this year shows that people like to shop earlier, we recommend planning and thinking outside the box for marketing so that your business can take advantage of the second biggest spending season.