The term customer relationship management (CRM) came about in the 1980s, but the process of managing customer data started long before. The early days of the CRM evolution simply involved filing customer profiles on paper. In this article, we'll travel through time to learn about the history of CRM systems. You'll discover CRM background information, including who invented CRM software, what the old CRM systems were, and how they evolved into a crucial aspect of modern-day sales operations.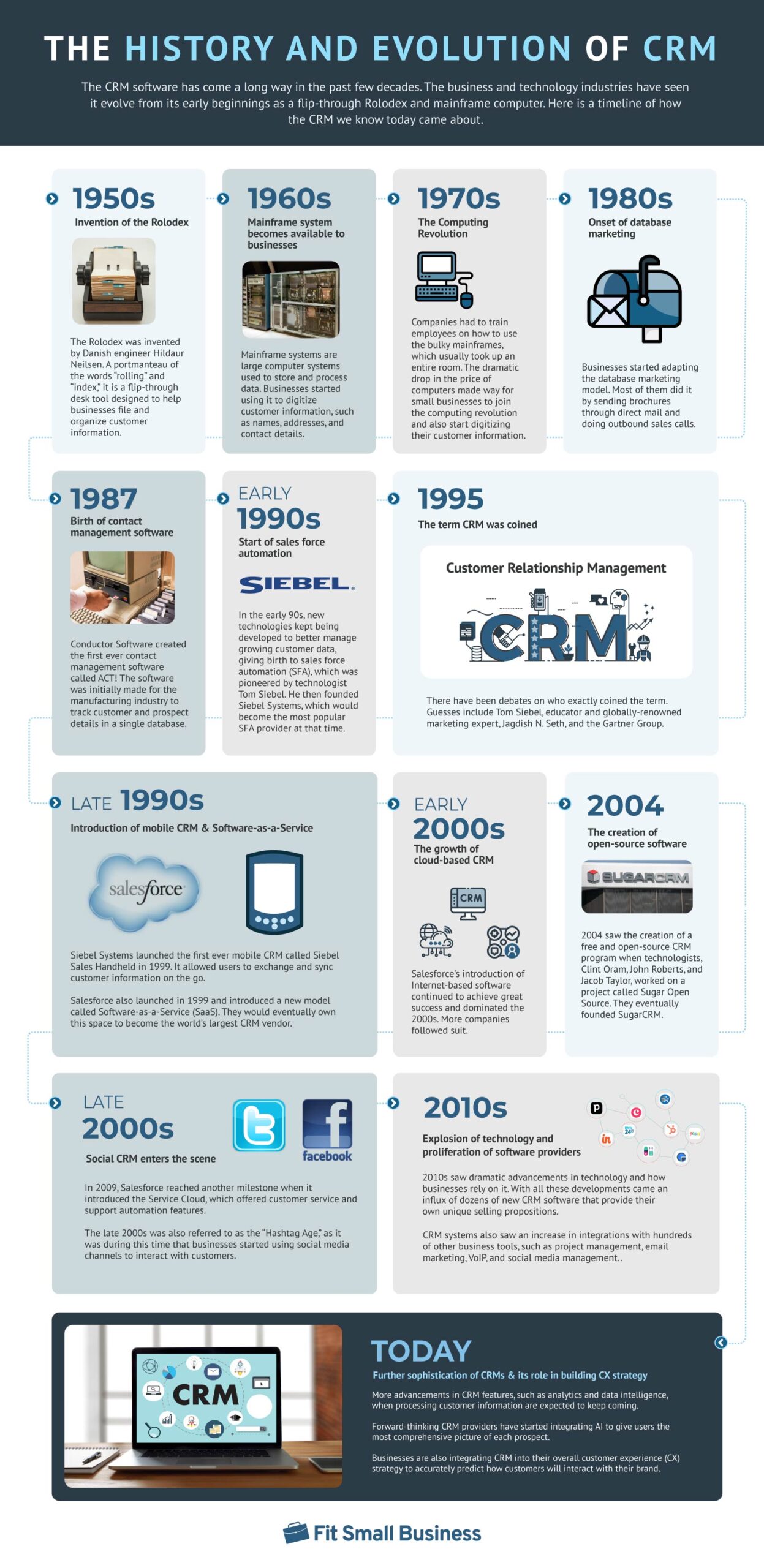 1950s: The Invention of the Rolodex
This history of CRM began with one of the earliest forms of filing customers' contact information—the Rolodex. A rotating filing desk tool invented by Danish engineer Hildaur Neilsen in 1956, it houses a collection of index and business cards people can spin and flip through. In the 1950s, many businesses used Rolodexes to add, update, and store their customers' information.
1960s: The Mainframe System Becomes Available to Businesses
Mainframe systems are robust computer systems used to store and process data. While the first mainframe system was invented between the 1930s and 1940s by Harvard researcher Howard Eiken, it only became available for businesses around the 1960s. Forward-looking companies moved on from the manual Rolodex to using mainframe computers to digitize customer information, such as names, addresses, and contact details. However, companies still needed an entire room to store these giant computers.
1970s: The Computing Revolution & Digitization of Customer Information
The 1970s were known for the development of large mainframes and supercomputers, as well as the rise of more affordable computers for personal and home use. Companies also continued collecting customer information in a central computer that was accessible to the entire organization by logging in to a terminal and typing exact text commands into a prompt system. Mainframes had no graphics, user interface, or mouse input, so companies had to train their employees well on how to understand and use them.
Unfortunately, many salespeople found mainframes cumbersome, and the information they encoded automatically became company property. Most of them preferred to store customer information in their Rolodexes instead of sharing it with their companies.
1980s: The Beginning of Database Marketing & Contact Management Software
At the start of the 1980s, businesses found a way to make use of the customer information they collected through database marketing. Database marketing is the process of reaching out to customers in their database and offering them products or services. This was usually done through direct mail, where brochures and product catalogs were couriered to customers with the goal of convincing them to make a purchase.
Toward the latter part of the decade, businesses started practicing a more proactive approach to selling by conducting outbound sales calls. During this time, computers also became more widely available to businesses, which made filing and managing customer information in a digital format possible.
Pro tip: Outbound call scripts serve as an effective set of guidelines that enable reps to keep their message and customer engagement techniques consistent. Download our outbound sales phone call scripts based on seven different objectives, including setting an appointment and following up on a previous interaction.
Download our free sales script templates and customize them to move leads through your sales process more efficiently.
Thank you for downloading!
💡 Quick Tip:
Compile & organize the information you discover in your outbound sales calls with a robust CRM like Salesforce Essentials.
Salesforce Essentials is an affordable CRM for small businesses that allows you to capture lead information in one place, fostering robust collaboration and organizing prospect information.
Visit Salesforce Essentials
Did you know?
In 1987, the first contact management platform was created by a software company called Conductor Software. Dubbed ACT! (Activity Control Technology), then changed to "Automated Contact Tracking," the software was initially made for the manufacturing industry to track customer and prospect details in a single database.
Early 1990s: The History of CRM Starts With the Rise of Sales Force Automation
Years after database marketing and the first contact management software were introduced, new technologies kept being developed to better manage growing customer data. This paved the way for sales force automation (SFA), which businessman and technologist Tom Siebel pioneered.
In 1993, Siebel founded Siebel Systems, which initially offered sales automation tools, and later expanded to develop marketing automation and customer service applications. Siebel Systems became the market leader and most popular sales force automation system provider at that time.
Late 1990s: The Introduction of Mobile CRM & Software-as-a-Service (SaaS)
1999 saw the advent of a handheld CRM when Siebel Systems launched the first-ever mobile CRM called Siebel Sales Handheld. The device, running on the Windows CE operating system (OS), allowed users to exchange and sync customer information through the Siebel Sales Enterprise data. This made it possible for sales team members to remain up to date with all customer interactions. Some providers in the list of old CRM systems—like Oracle, SAP, and PeopleSoft—followed suit and also released their own mobile versions.
Salesforce, a popular CRM solution, was also launched in 1999. It was designed to deliver software through a new model called software-as-a-service (SaaS) during the time when the internet was becoming widely used. The goal of the company was to eliminate expensive upfront and maintenance costs, as well as lengthy system implementations. Salesforce would eventually own this space to become the world's largest CRM vendor.
Read our comprehensive Salesforce review to learn more about this provider's features and capabilities. This article also includes an overview of its pricing plans as well as insights from real users.
Early 2000s: The Growth of Cloud-based CRM & Open-source Software
Salesforce's introduction of internet-based software was widely successful and dominated the 2000s. It was considered a breakthrough because it made it possible for users to access sales and customer data through any connected device.
2004 saw the creation of a free, open-source CRM program when technologists Clint Oram, John Roberts, and Jacob Taylor worked on a project called Sugar Open Source. Leveraging their past experience working for IBM and Hewlett-Packard, they created and hosted the software on SourceForge, a repository for free and open-source software. This eventually led them to found SugarCRM, making the Sugar Open Source version 1.0 publicly available.
Late 2000s: Social CRMs Enter the Scene
In 2009, Salesforce reached another milestone in the history of customer service when it introduced the Salesforce Service Cloud. Using the SaaS model, the Service Cloud offered customer service and support automation features. In the same year, the first CRM software built on Force.com for Apple's iPhone was launched and became the first enterprise partner on Apple's App Store.
Visit Salesforce Service Cloud
The late 2000s were also referred to as the "Hashtag Age." Businesses started using social media channels, such as Facebook and Twitter, as a way to manage relationships with customers. Companies started using social media in their CRM strategy, shifting from transactional to interactive client relationship management. Toward the end of the decade, some of the CRM providers we know today were founded, such as Insightly (2009), Pipedrive (2010), and Freshsales (2010).
Fast forward to the present age: Social media has become an important channel for communicating with customers, and many providers have included this feature in their systems. Check out our article on the best social CRM platforms and see how top providers can help you track engagements, listen to your audience, and communicate interactively with customers.
2010s: The Explosion of Technology & Rise of CRM Providers
The last decade saw a dramatic advancement in technology and how businesses rely on it. During the 2010s, CRM systems—and technology in general—truly became mobile due to the increase of smartphones, tablets, and other smart devices. The industry shifted from simply using traditional desktops or laptops when accessing the internet to having on-the-go, multichannel connectivity.
With these developments came an influx of new types of CRM software with their own unique selling propositions. Apart from simply offering universal CRM options, these providers specialize in addressing certain business needs or servicing specific industries, such as:
---
CRMs for accounting professionals are designed to help accountants, bookkeepers, and finance staff manage invoicing and billing in a centralized platform. It offers finance-related features such as payment processing and tax computations.
---
CRMs for real estate professionals provide tools for managing property transactions, generating homebuying leads, and monitoring listings. It also offers features for tracking leads and marketing to them through email, phone, online advertising, and social media.
---
CRMs for construction businesses offer tools to manage contract leads, bids, and current projects. These include general contracting and specialty trades like carpentry, demolition, plumbing, electric work, restoration, and welding.
---
CRMs for insurance professionals—including independent insurance agents and brokers—help users prospect and nurture leads. It also tracks new deals and goals, manages policies and plans, and logs activities like emails and meeting interactions.
---
Today: Further CRM Evolution & Sophistication
More sophisticated advancements in various CRM functionalities, such as analytics, reporting capabilities, and data intelligence when processing customer information, are inevitable. CRMs are expected to keep adapting a more robust all-in-one nature, further reducing the need for third-party integrations.
Some of the most advanced and forward-thinking CRM providers have started integrating artificial intelligence (AI) into their software. Machine learning processes massive amounts of data for qualifying leads, automating tedious processes, and giving users the most comprehensive picture of each of their prospects.
Are you looking to implement a new CRM platform for your small business? Be sure to check out our comprehensive guide to choosing a CRM to pick the one that best suits your needs.
Because of various advancements in the CRM evolution, it's only natural that it is being integrated into businesses' overall customer experience (CX) strategy. Moreover, it can accurately predict how customers will interact with their brand based on their past experiences. Businesses can see how customers behave, from awareness to evaluation and purchase phases. This ultimately enables them to personalize and customize their offerings on a granular level.
Are you in the market for a CRM system? Check out our guide on the best small business CRMs to explore which one suits your business needs most.
CRM Usage Statistics
While the use of CRM platforms has expanded over the years, so has their impact on small businesses. Here are five interesting statistics about small and medium business (SMB) sales teams adopting CRM systems:
Pro tip: Want to gain more data-backed insights on CRM systems and their benefits? Read our article on 40 interesting CRM statistics every small business should know.
Bottom Line
The CRM evolution has come a long way from its early beginnings as a humble desk tool called the Rolodex. One thing remains the same, however: knowing who your customers are is paramount. While the broad range of information businesses can manage in a CRM has evolved, advancements in technology will continue helping businesses offer the best service and support to customers.