What is it?
Salesforce is an advanced CRM system.
Want to manage 1000's of leads, save time, and get organized? Click Here to get our FREE CRM guide and find out how.
How popular is it?
Salesforce is by far the largest CRM company, serving over 150,000 businesses according to their 2015 annual report.
What does it do well?
Salesforce can link all of your business programs into a single, automated, beast of a CRM. Automatically send emails (or even postcards) when you update the stage of a deal, e-sign and store your confidential documents, browse leads directly from ZoomInfo – there's endless examples.
What does it not do well?
The software is complicated and takes a while to learn, even for basic tasks. Also, the tools I mentioned above will rack up higher costs – $100s per month.
Who does it work well for?
Larger businesses who need a customizable and automated system that can integrate with other programs, including niche industry software.
Who does it not work well for?
Businesses who only need a basic CRM system and/or those who simply don't need everything to be automated. Insightly and Zoho offer a lot of the same tools on simpler (and faster) interfaces.
Free Edition?
No, but there's a 30 day free trial.
Price Compared to Competitors?
High
Type of Solution:
Cloud & Mobile
Similar products?
US Based?
Yes, Company & Customer Service
Customer Reviews?
Excellent (view reviews)
 Click a Button For More Info
Salesforce Pricing
Salesforce is a large company with a number of sales, marketing & customer service-related products. We looked specifically at their Sales Cloud CRM, which has 3 main editions. Each "tier" adds more advanced features, starting with $25/month for basic contact management:
SalesforceIQ
$25/user per month

Professional
$75/user per month

Enterprise
$150/user per month

Adds advanced lead & opportunity tracking, lead management, custom reports, mass emailing, role permissions and

much more

Adds workflow automation, and territory management
Note: the above prices are billed annually. Salesforce does not appear to offer month-to-month contracts. For more information, check out their pricing page.
Salesforce IQ
The lowest edition is actually a separate CRM product called "Salesforce IQ." It has a different interface and a unique set of features, including "stream" pages. SalesforceIQ automatically saves all emails related to each opportunity. These emails, along with internal notes and comments, are displayed on a "stream" so you can go back and easily view how a sale unfolded.
On the flipside, SalesforceIQ has very basic opportunity management. You can't automate tasks, for example, or save custom fields.

Check out our full review of SalesforceIQ for a full walkthrough of the program with screenshots.
Professional, Enterprise & Unlimited
The other editions are Salesforce "proper," starting with the Professional edition ($75). You get full lead management and opportunity tracking tools, including custom fields and stronger reporting. You also get access to the Salesforce App Exchange, which gives you a huge array of 3rd party integrations.
The Enterprise edition ($150) adds advanced features like territory management and workflow automation. Coupled with 3rd party integration, workflow automation allows you to do some very powerful stuff. For example, you could automatically send payment details to Quickbooks after you close a sale, then send an automated customer service email via Mailchimp.
There's also an Unlimited edition ($300) that gives you unlimited data storage, online training and access to 24/7 support. Professional, by comparison, gives you 612 MB per user and Enterprise gives you 2GB.
Ease of use
Setup – Moderate.
Though it's a complicated program, Salesforce eases you in. Setup is broken up into four 5-minute segments, in which a site wizard walks you through Pipelines, Contacts, Tasks and customization tools. The interactive walkthrough helps you get familiar without feeling too overwhelmed.
To add data, Salesforce lets you import from Gmail, Outlook, LinkedIn, Quickbooks and many other programs. All of these require you to first export a CSV spreadsheet file, however. There's no automatic data-import options.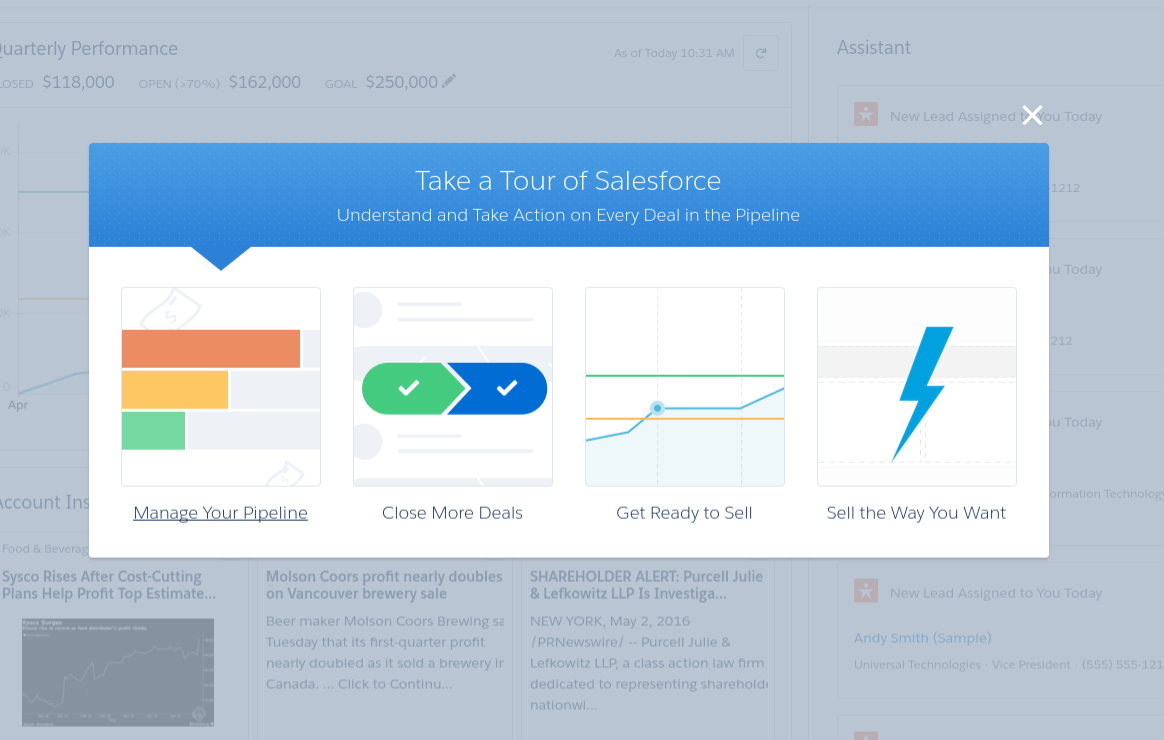 Administration – Difficult.
The backend of Salesforce will take a fair amount of training to master. Most businesses need to hire a Salesforce admin specialist to fulfill this role.
You can add new users easily enough, but managing their role/permission requires you to juggle a few different menus ("Roles," "Permission Sets," "Profiles," and "Queues").
Adding custom fields occurs under the "Object Manager." This is a complex menu with a lot of different options. On the plus side, you get a lot of control over custom fields (even use a drag and drop "Schema Builder" to control the relationship between data fields). On the other hand, it's very complicated for a user who just needs to add an extra field to their contacts.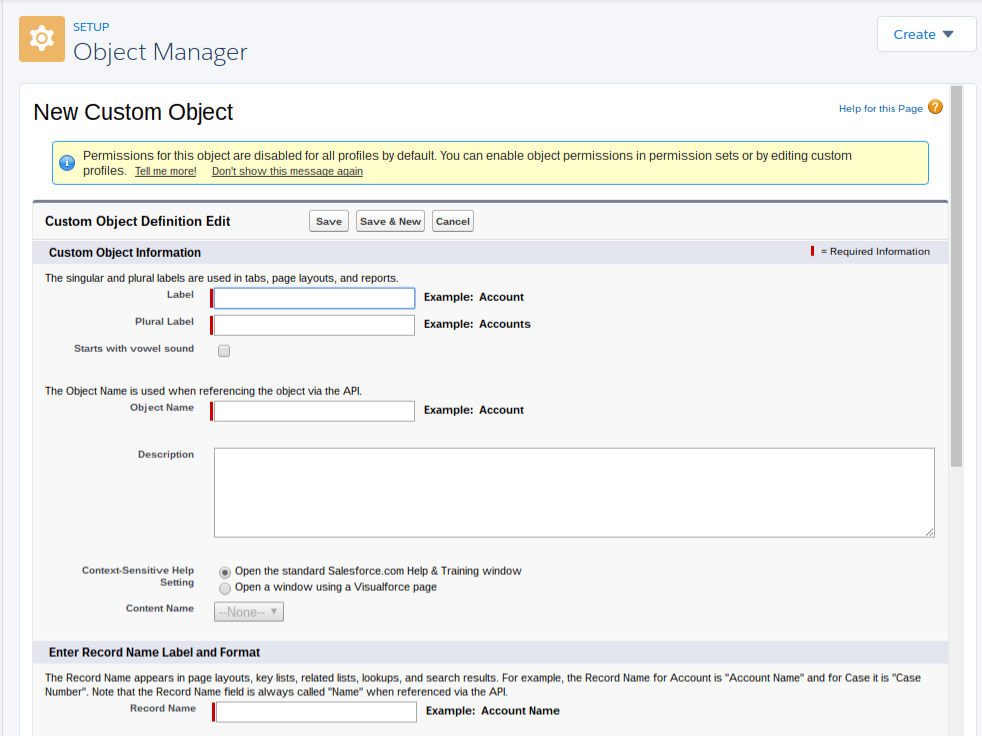 End User – Moderate
.
The new Salesforce interface is simple and more responsive. When you hover over contacts and tasks, for example, there's a popup that displays key information at-a-glance. You don't have to navigate through menus and submenus, as you would with the old Salesforce interface.
One issue that persists, however, is slow loading times. A typical page takes 5 to 7 seconds to load on my Chromebook. (Insightly, on the other hand, took 1 to 2 seconds during the same trial.) Granted, you may get a better performance from a PC or Mac.
Help – Moderate.
Salesforce has a help center loaded with articles, guides and user-submitted FAQs. Search for any topic and you're likely to find what you need – it may take some searching, however, due to the high volume of articles and the range of Salesforce products. Phone support is available, but users have noted difficulty getting specific answers.
Primary features:
| Features It Has | Features It Does Not Have |
| --- | --- |
| Contact Management | Project Management* |
| Sales Pipeline | Accounting* |
| Task Management | Invoicing* |
| Workflow Automation | |
| Calendar | |
| Email Marketing | |
| Lead Management | |
| Document Library | |
| Social Media Monitoring | |
| Territory Management | |
| Web Form Integration | |
| Help Desk | |
*Available as an add-on
You can view the full list of features here.
Primary Integrations:
| Integrations Supported | Integrations Not Supported |
| --- | --- |
| Social Media (Facebook, Twitter, LinkedIn) | Freshbooks* |
| Google Apps | Shopify* |
| Mailchimp | |
| Evernote | |
| Dropbox | |
| Quickbooks | |
| Zapier | |
| Phone/VoIP | |
*Integration supported through Zapier, a third party app that lets you automate workflow between Salesforce and other applications.
Detailed Overview
Salesforce is the top dog in the CRM world. You'd be hard-pressed to find a system that gives you as many features and custom options and is still a reliable, non-buggy, piece of software. You can customize just about everything – from the layout of the website to the data you enter. You can automate any process with workflow rules and control what each and every user sees when they login. This is not to mention the thousands of additional apps available for add-on features.
Features:
Contact Management
Salesforce has detailed contact pages that include recent tweets, an embedded map (of their physical address) as well as the usual contact details. Clicking the "related" tab shows you deals, notes, files and customer service cases that are linked to the contact. There's also a tab to the right where you can quickly add a new task or log a phone call.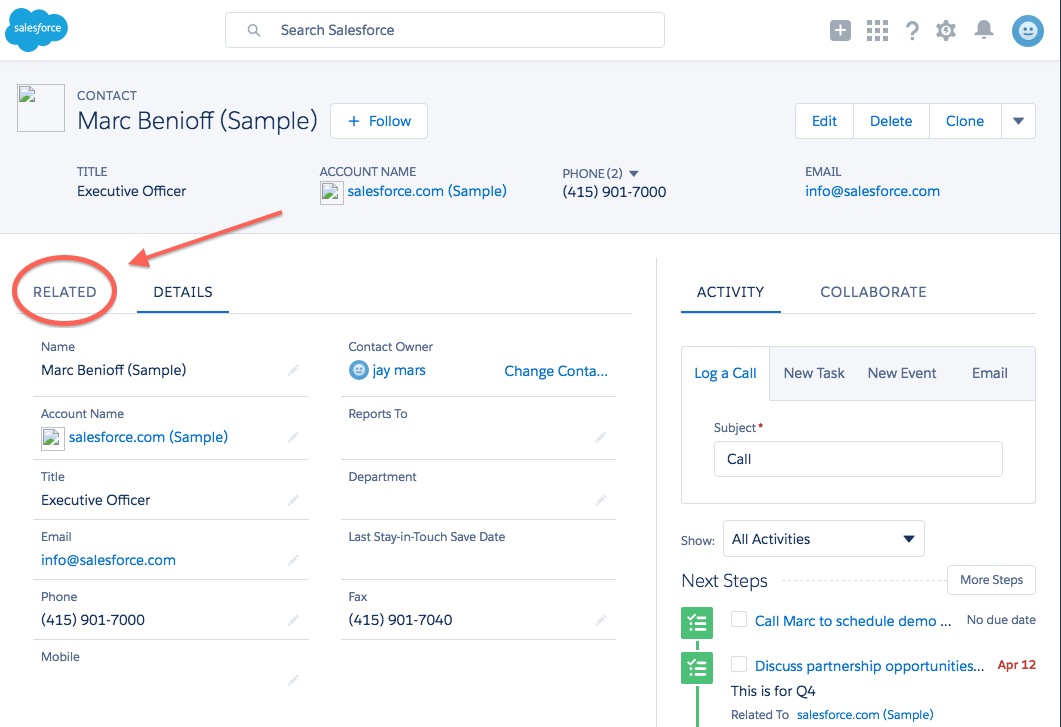 Salesforce has similar pages for Leads and Accounts. Leads are prospective customers which, once qualified, you can "convert" to a contact. Accounts are the organizations your contacts represent.
Sales Pipeline
Salesforce has great tools for visualizing your sales pipeline. Under "opportunities" you can view all sales on a list. Or, select "Kanban" to view them in columns.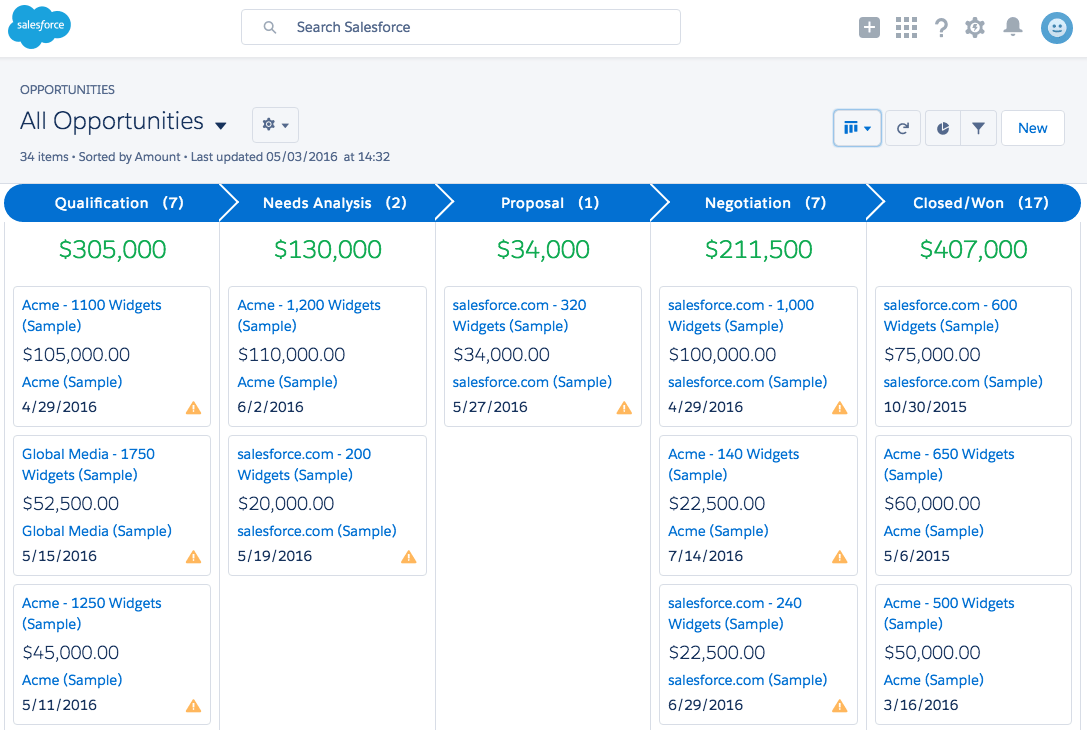 The Kanban view shows every deal in every stage of the pipeline. This allows salespeople and sales managers to monitor their progress (and potential earnings) at a single glance. To update stages, all you need to do is click a deal and drag it to another column.
Under "dashboards" you can also view a proper funnel report which shows the total number and value of deals in each stage.
Clicking on an opportunity brings up a profile similar to contacts. You can view all the sale details, as well as related contacts, files, notes, etc.
Task Management
You can create new tasks on pretty much any menu. If you're looking at a Contact, Opportunity, Lead or Account and remember that you have to schedule a meeting, you can quickly create a reminder using the box below: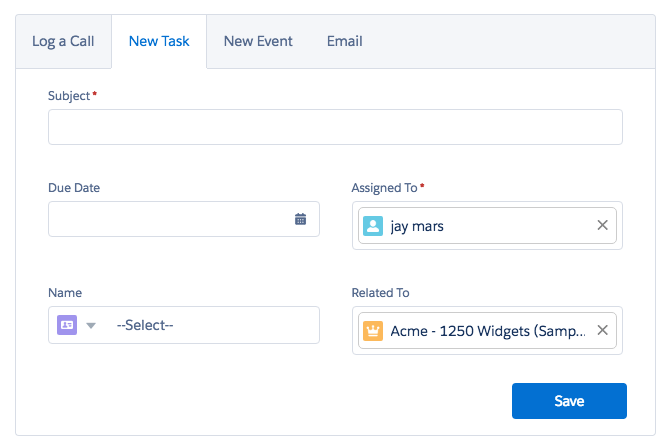 You can also create tasks by clicking the plus sign on the menu bar at the top:

From the "Task" menu, you can see all upcoming meetings and events. You can filter to view just those that are due today, overdue or already completed, among other options.
Reporting
Salesforce has a strong reporting engine. You can create tabular reports based off any metric in the system. Start by selecting the category (Accounts & Contacts, Opportunities, Leads, etc.) then choose exactly which variables you want in your chart.
One nice thing about Salesforce reports is that you can add charts to your custom reports without having to export to another program (as you would with need to with Insightly or Zoho).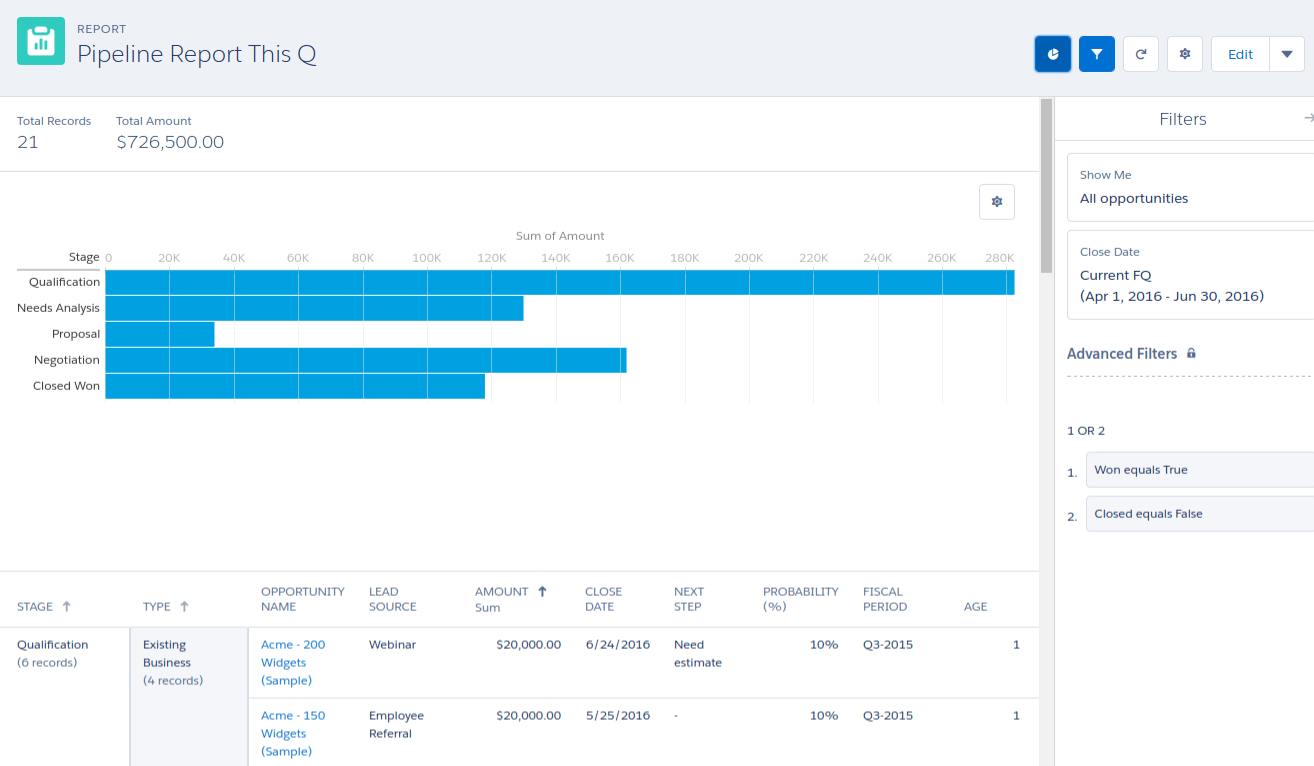 Email Marketing
Salesforce has a close integration with Pardot, the Salesforce marketing automation system. In a nutshell, Pardot helps you acquire web leads via landing pages and convert them through email marketing. It comes at a price tag of $1,000 to $3,000 per month, however
If you just want to send one-off emails to your contacts (such as, an email newsletter) you can do so directly on Salesforce. As of May 2016, mass emailing is not yet available on the new interface, however you can click "Switch to Salesforce Classic" next to settings to find this feature.
Salesforce also integrates with Mailchimp and other email marketing platforms. This is a big step up from Salesforce's native emailing tools, yet far less expensive than Pardot.
Territory Management
Salesforce has advanced territory management for contacts, accounts and opportunities. You can create any number of custom territories, to which you can assign members of your team.
You can also create territory hierarchies – so, for example, you could assign some people to the territory of "North America", others to "United States" and others more specifically to "Central US" and so on. Within each territory, you have have the option to run separate rules on how contacts/opportunities are assigned. Read more about territory management here.
Document Library
Salesforce also has a sophisticated document library with tools for managing and collaborating on files. You can preview image files, PDFs and Microsoft Office files in-browser. You can upload a new version and the system will save a history of past versions. You can also generate secure links to share files with people outside your company. (more here)
Project Management
Salesforce does not have native project management tools. However, you can integrate a number of 3rd party apps for this functionality.
Check out our buyer's guide on the Best Project Management Software for Small Businesses.
Automation
Along with 3rd party integrations, automation Salesforce's biggest specialties. You can create workflow rules that trigger just about any feature in the system. For example, automatically assign a salesperson when a new lead enters the system, send the lead a "welcome" email, and alert the salesperson to schedule a meeting.
What's even more impressive is how you can automate 3rd party applications. For example, with the direct mail app Cloud2You you can automatically send postcards based on actions in the CRM: When a deal closes, automatically send a "thank you" postcard. Or, every 6 months, send follow up "appreciation" letters.
Calendar
The calendar menu shows all of your tasks on a weekly (or daily) calendar. You can create different categories of tasks, then filter to view just one or another category. To add a new task, you can simply click on the calendar at the scheduled time.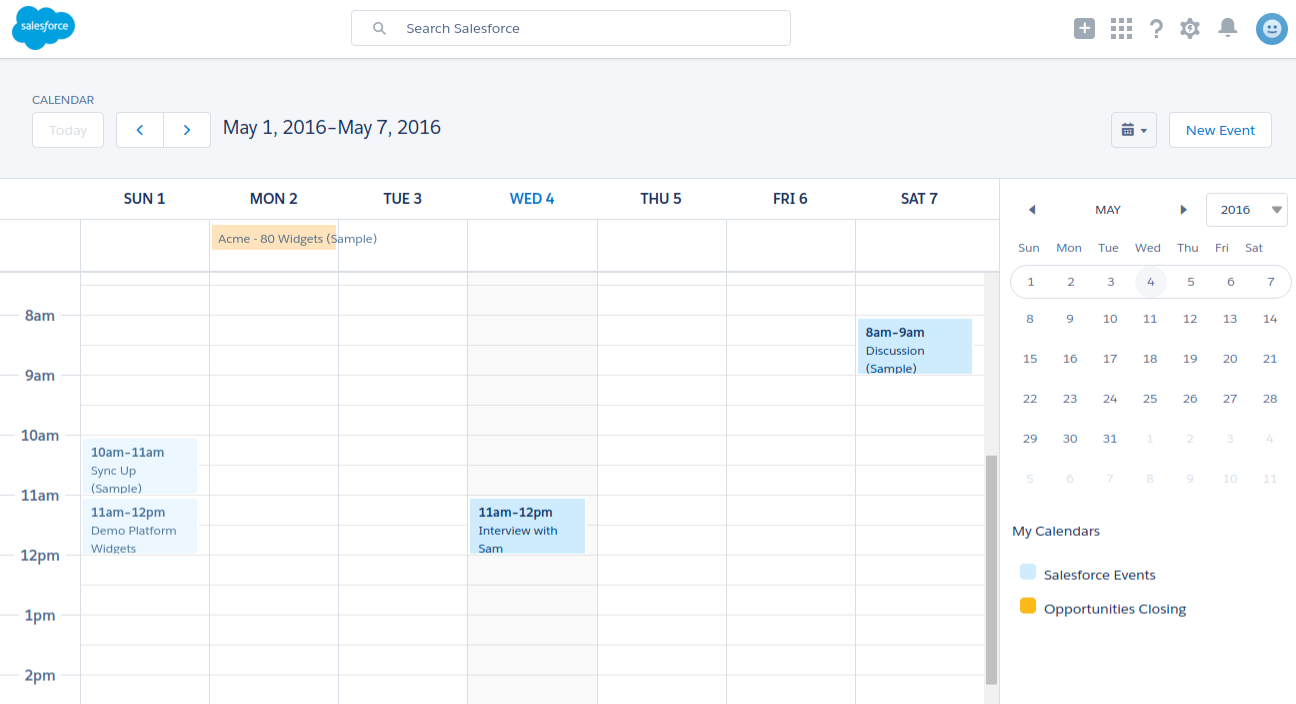 Invoicing / Accounting
Sales Cloud does not have native invoicing or accounting tools. However, you can add these to your system by integrating with 3rd party apps. See accounting apps or invoicing apps.
Desktop/Server Based/Mobile/Offline Access
Salesforce is cloud hosted, so you don't need to install any software on your computer. You can access Salesforce through your web browser or a mobile device. It does not support offline access, however, so you have to be connected to the internet to use Salesforce. The mobile app, however, can work offline.
Salesforce1 is a mobile app available on both Android and iOS. Impressively, it has all the same features as the desktop version, including custom apps. Both the iOS and Android version have mostly good reviews, although some users note it can run slow and has a tendency to freeze up at times.
Integrations:
Salesforce is by far the number one CRM when it comes to 3rd party integrations. The App Exchange has nearly 3,000 third party integrations and add ons, ranging from sales, customer service, marketing, finance, HR, analytics and more. About half are free and the other half cost an additional fee. Check out the Salesforce App Exchange here.
Email Integrations
Salesforce has strong integrations with Outlook and Gmail. You can setup a two-way sync with Outlook (2013 or 2016), so  if you add a contact, calendar event or send an email through one, it will also appear on the other. A Gmail integration allows you to add Gmail buttons next to your contacts in Salesforce that automatically log you into Gmail and fill the "To" field. Likewise, you can add buttons in Gmail to automatically log emails or chats.
There's also the newly released SalesforceIQ Inbox App that allows you to access CRM data straight from Outlook or Gmail. Opening an email will show CRM contact information, tasks and related deals on a right-side panel.
See a short demo of SalesforceIQ Inbox here:
Social Media Integrations
Salesforce integrates with many social media platforms. Under "Contacts" and "Accounts", Salesforce pulls up information from your client's social media pages, such as LinkedIn, Facebook, YouTube and Twitter – including a stream of recent tweets.
Customer Service
24 hours?
No, phone support is available from 8am to 8pm EST in the US. (24/7 support is available to "Unlimited" customers)
US Based or Not?
Yes
What's The Method of Delivery?
The Salesforce Help Center has many articles, guides and user-submitted FAQs. The search function is pretty helpful – you can type a question or enter keywords. No matter what the topic is, there's a good chance you'll find the answers you need. It may just take a while to find the right article, considering the high number of resources on the database.
Phone support is also available, but users have noted issues. Because of the large number of Salesforce products and the large number of features within each product, it can be difficult to find a customer service rep who can deal with your exact issue.
The Bottom Line
Salesforce is all about options. Just about everything is customizable – from the layout of the website to the data you enter, the way it displays information and the rules you set up to automate data flow throughout the system. This is not to mention the thousands of additional apps available for add-on features.
If you have a very specific vision for your CRM and have yet to find the platform that will enable you to build it, Salesforce is undoubtedly your best bet. The downside is the cost ($150/user/month base price + more for add ons) and the time you need to put in for set-up, training your employees and ongoing administration of the system. This hefty investment makes Salesforce an unrealistic option for many small businesses.
---
Noteworthy Salesforce Reviews
Better Business Bureau – C+ rating BBB online reviews
G2Crowd – With more than 650 ratings tallied, Salesforce earned 4.2 out of 5 stars on G2Crowd.com. Of those who rated More than half of reviewers (369) gave the cloud-based service 4- or 5-star reviews. Salesforce is packed with features and has essentially become the gold standard of CRMs, but its outdated interface and problems synching events to user calendars keeps it from being a 5-star choice. "It's ubiquitous. Every respectable company uses it, and therefore it has a broad user base. It has set the gold standard for CRM and therefore it has great features for almost every business big or small." [Read more ]
Top Ten Reviews – Salesforce earns10 out of 10 stars for overall performance on Top Ten Reviews.  The platform received 10 out of 10 stars in each of the rated categories: Contact Management, Sales & Marketing,  Employee Tracking, Ease of Use, and Help & Support. "While the pay scale for its services is tricky to understand and it is hard to get ahold of live support, Salesforce has the most user-friendly interface, the best uses for contact management, and the most advanced sales and marketing strategies among the CRM software we reviewed." [Read more ]
SoftwareAdvice.com – Forty-two reviewers gave Salesforce an overall score of 3.8 out of 5 stars, rating ease of use, functionality, product quality, and customer support. While most users found Salesforce delivered on its promises, a few complaints arose on customer support. They are helpful when you can get them on the phone. Salesforce consistent scores high for product quality, but earns the occasional low mark for ease-of-use as it can be overwhelming during the deployment phase, particularly for users who decided to forego training. "I like that this product is in the cloud. I also like the ease of use of this product when creating reports to track leads and contacts… I do not like how expensive it is to bring in a Salesforce contractor/consultant… Salesforce is the best tool on the market…" [Read more ]
Do you have experience using Salesforce?  Please leave a review below.
Want to manage 1000's of leads, save time, and get organized? Click Here to get our FREE CRM guide and find out how.