How to Build a Restaurant Website to Increase Sales in 5 Easy Steps
A website is vital for businesses in the food service industry. It gives your restaurant the ability to get discovered online, provides patrons with menus and basic information, and serves as a platform to accept online reservations and orders for pick-up or delivery. To build your site, all you have to do is choose a content management system (CMS), a template, customize your template, and hit publish.
Here's how to create a restaurant website in five easy steps:
1. Choose a Content Management System (CMS)
The first step in designing your restaurant website is choosing which site builder to use. This is an important decision that lays the foundation for your website, including how easy (or difficult) it is to design, build, launch, and manage, as well as how much it will cost. From WordPress to other more user-friendly site builders like Squarespace and Wix, you will not run out of options.
Here are the best platforms for building a restaurant website:
You've probably heard that the most popular CMS is WordPress. However, if you're new to web design and don't have the time (or interest) in learning, it's wise to avoid it. WordPress doesn't only involve a steep learning curve, but it will also require frequent upkeep.
To save you from headaches, we're going to opt instead for Wix, which is a low maintenance and very easy-to-use site builder. It is also the overall best website builder for restaurants.
If you are adamant about using WordPress, skip over to our step-by-step instructions on how to build a WordPress website. When adding plugins, be sure to add restaurant-specific plugins, such as Restaurant Menu by MotoPress or FoodBook for online ordering.
2. Create an Account
Shortcut: Wix > Click "Get Started" > Sign Up > Click "Get Started" > Input "Restaurant" > Select Site Features
After choosing which CMS to build your site with, the next step is navigating through your preferred provider. For example, head over to Wix and click the "Get Started" button. From there, you will be prompted to sign up for an account. On the following screen, click the "Get Started" button, and then input that you're building a restaurant website. Finally, you'll be prompted to select which restaurant features you want included in your template.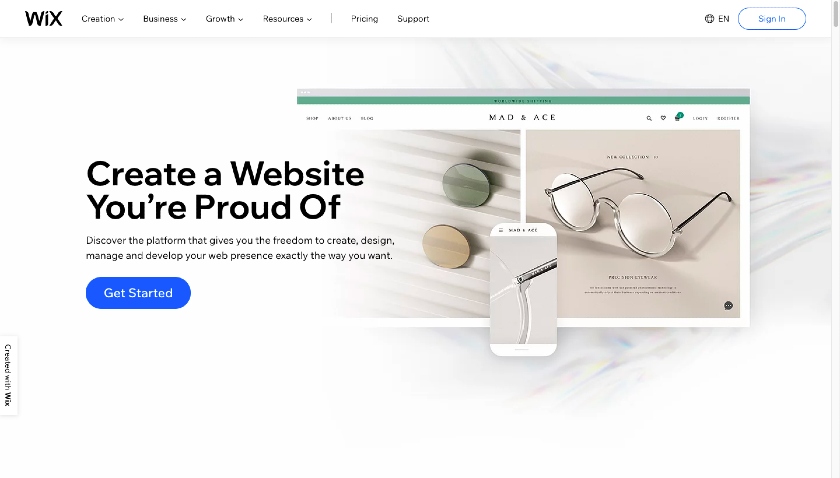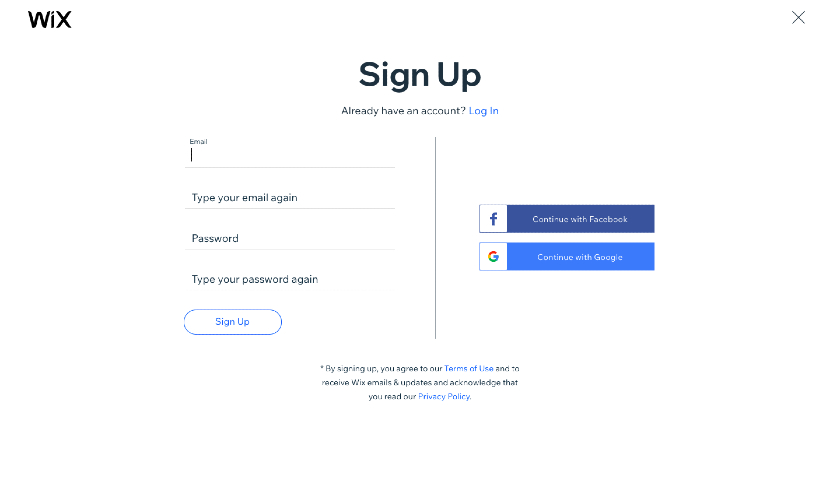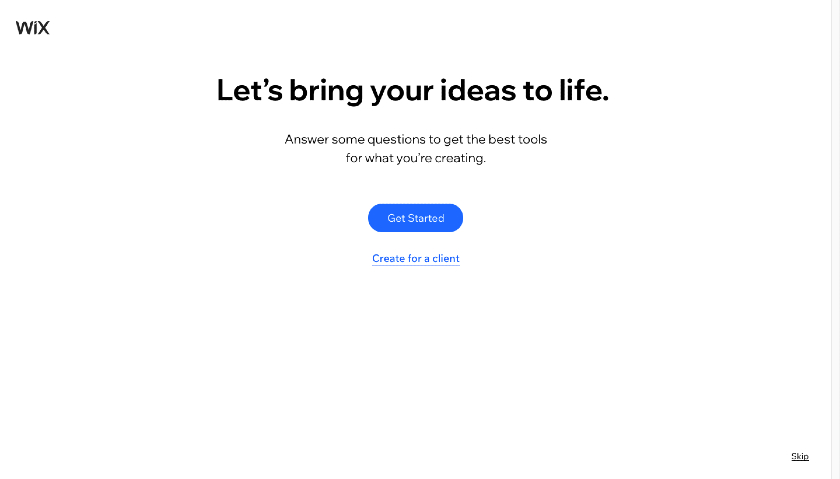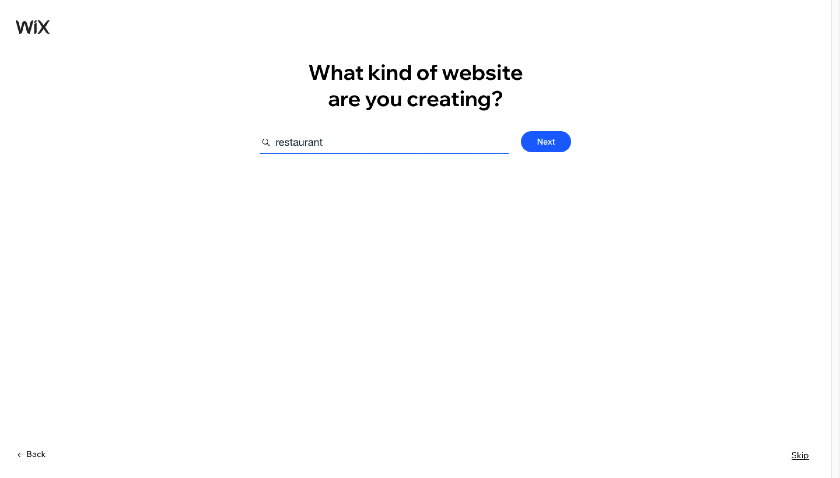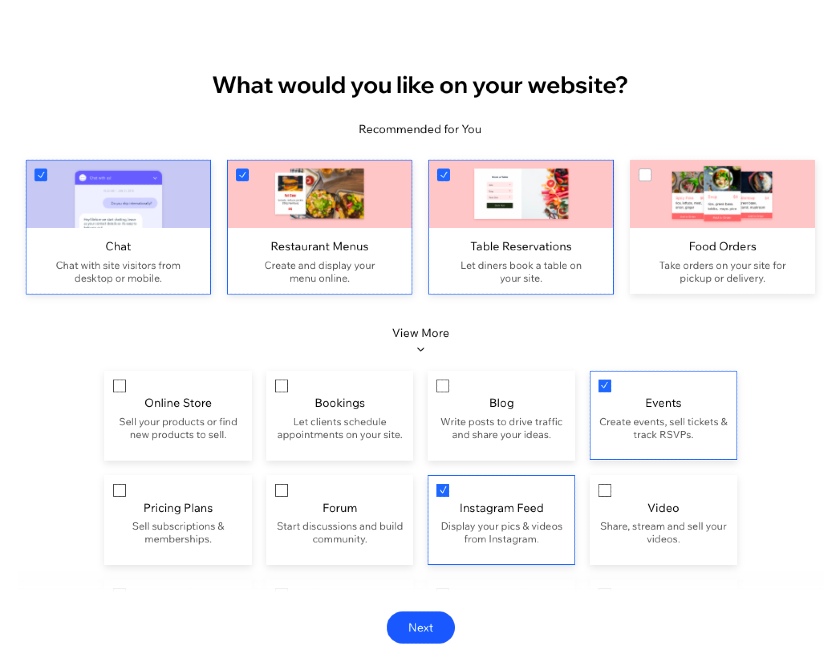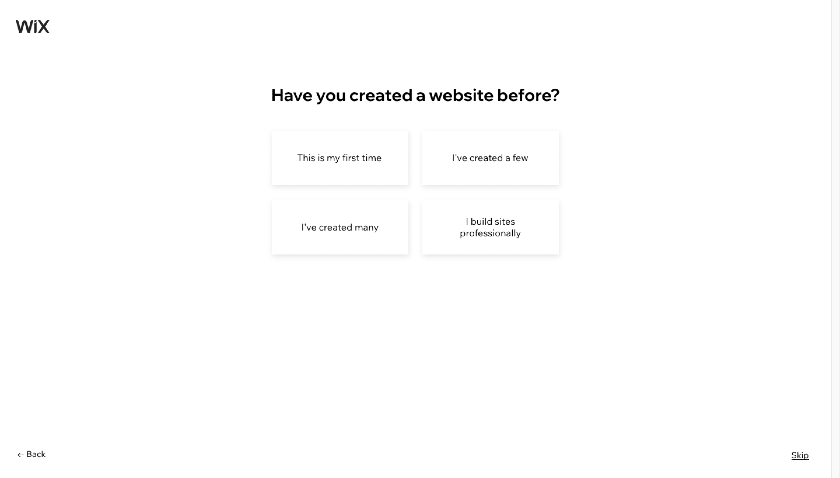 3. Select a Restaurant Template
Shortcut: Select "Choose a template" > Browse > View > View Full Demo > Edit
Next, you'll be asked whether you want Wix to build a site for you or to choose a template. You can use either, but for more design control, we're going to select "choose a template." From there, you will be redirected to the template library with templates that meet your needs based on your inputs in the previous step.
Here are a few tips to help you choose the right template for your restaurant website:
Match the template to your brand
Consider if it comes with the tools you need
Test the template for user experience
Take your time to browse through templates, and when you find one you like, test drive it by hovering over it and selecting "View." If it suits your needs and the design style you're looking for, click "Edit" to open the site editor.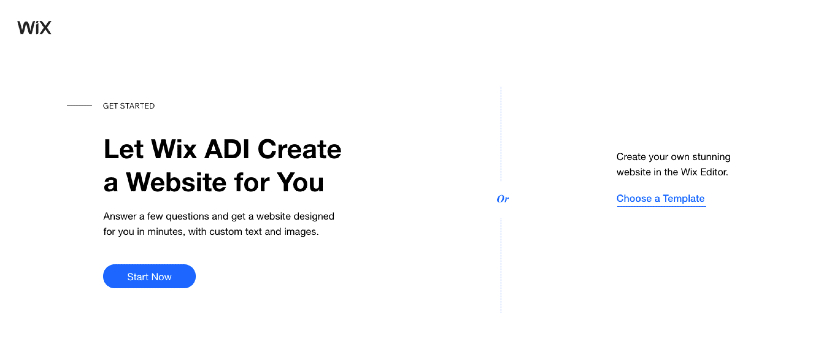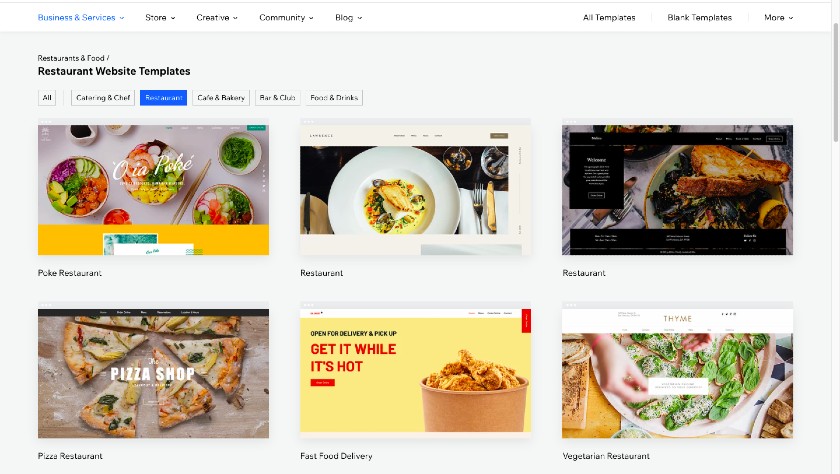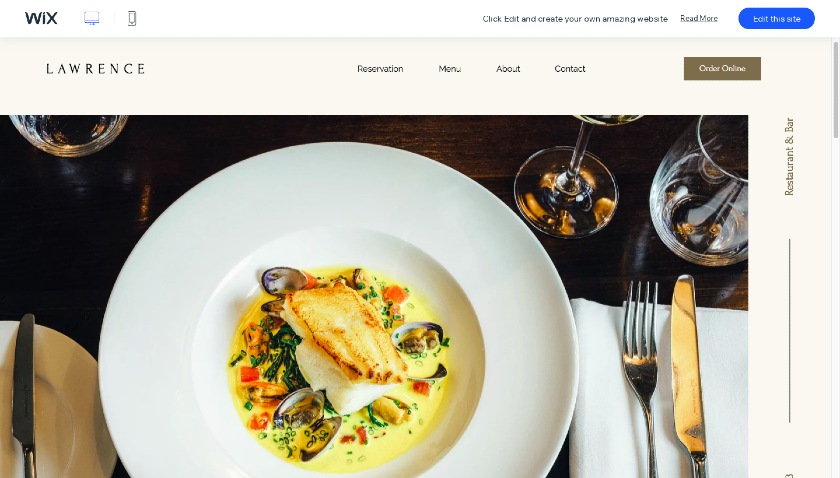 4. Customize Your Template
Shortcut: Click on an element > Edit
Now it's time to begin customizing your restaurant website, including adding your own logo, updating the header and footer, adding and removing pages (e.g., your locations, hours, and menu), and adding any integrations (e.g., OpenTable). Wix is a very intuitive site editor, but it will still take a little bit of time to become familiar with using it.
Here are the major elements to customize:
Header
Footer
Add and remove pages
Customize pages
Use the drop-down below to jump to the step-by-step instructions on each of the elements:
5. Review & Publish Your Site
You're almost ready to publish your site and go live. Before you do, review your site to double-check that everything looks good and functions properly. Comb through each web page, click every link, and edit all text. Also, check how your site looks on mobile by clicking the "Preview" button in the upper right-hand corner and then changing it to mobile by clicking the mobile icon in the upper left-hand corner.
When you're ready, click "Publish" in the upper right corner, and then in the pop-up that appears, click to upgrade to a premium plan. This will enable you to connect your own domain (absolutely necessary for any professional website), as well as accept online payments. Select the plan that suits your needs and complete the checkout process.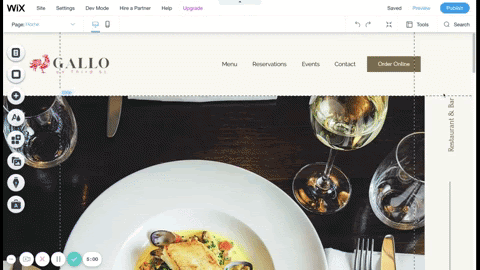 What's Next: Increase Your Site's Visibility Online
Of course, that doesn't mean the work is over. Now that you have designed your restaurant website, you'll need to make sure it can be found online. To do so, here are a few post-launch tasks you should complete:
If you haven't done so in the previous steps, learn how to set up online ordering.
Create a Google My Business account to get found in local search results.
Submit your URL to Google to get found in search faster.
Learn how easy it is to connect to Google Analytics.
Use search engine optimization (SEO) to improve your site's ranking in Google.
Add your website URL to your social media profiles.
Add your website to relevant online business directories (e.g., Yelp, Tripadvisor, and so forth).
Frequently Asked Questions (FAQs)
Which is better: Squarespace or Wix?
Squarespace and Wix are two leading site builders that make it easy and affordable for just about anyone to build their own professional website. While Wix has a true drag-and-drop editor, which lends to more customization capabilities, its editor can be clunky, and the design freedom can lead to inconsistent (and unprofessional) design. Squarespace, on the other hand, is top-rated for its quality templates and professional design.
Ready to try Squarespace? Check out the step-by-step instructions on how to build a website with Squarespace.
How do I embed reviews on my restaurant website?
The answer to how to embed reviews on your site will depend on the platform you used to build your site (e.g. WordPress, Squarespace, or Wix) and the platform you use to collect reviews (e.g., Google, Trustpilot, or Tripadvisor). If your site is built with WordPress, your best bet is to use a plugin. To find one, go to Plugins > Add new, and search for the reviews platform you're using (e.g., Google Reviews). Learn more about how to embed Google reviews.
What are the best online reservation systems?
If your restaurant accepts reservations, then an online reservation system is a must-have. Whether you simply need the ability to accept and manage reservations through your website, or you need more advanced features, such as the ability to accept prepayments or to send text alerts, the best overall systems are ResyOS, Tock, Yelp Reservations, EatApp, SevenRooms, and GloriaFood.
Bottom Line
Building a restaurant business website doesn't need to be difficult or expensive. On the contrary, thanks to an all-in-one website builder, such as Wix, it's actually pretty and affordable, with plans starting at $14 per month and zero setup fees. You can also start using Wix for free (no credit cards required). Head over to Wix to see just how easy it is to build your own restaurant website that can get found online and increase traffic through your doors.
You Might Also Like…