5 Best Blogging Platforms That the Most Successful Influencers Use
Choosing the right blog platform is key when building a blog that not only makes it easy for you to create and maintain but to get found online and build a reader base. To help you get blogging faster and the decision of which to use easier, we narrowed it down to the five best blogging platforms by looking at which are easy to use, include built-in SEO tools to help your blog get found online, come with room to grow as your blog grows, and won't break the bank.
Best Blogging Platforms at a Glance
Best overall blogging platform for creating professional blogs

Best blogging platform for beginners

Best for bloggers looking to sell merchandise

Best for building a complex or highly unique blog

Best for becoming a thought-leader and building a writing portfolio

Standout features:

Standout features:

Standout features:

Standout features:

Standout features:

- Award-winning templates
- SEO formatting
- Built-in marketing tools
- Sell products, services, or subscriptions






- Easiest drag-and-drop editor
- 900+ templates
- Flexible design
- Lots of apps for added functionality






- Easy-to-use blogging editor
- Sell online for free
- Connect a domain for just $6 per month





- Fully customizable
- Thousands of free or premium themes
- Nearly limitless functionality





- 100% free
- Get paid for posts
- Discovery platform opens up new audiences




Looking for something more specific? Try one of these…
Best website builders for SEO: The site builders in this list make it easier for you to rank your site on Google without needing to be a search engine optimization (SEO) expert.
Best ecommerce platforms: If you want to build an online store (with or without a blog), consider these choices.
Best portfolio site builders: Photographers and other visual creators have specific needs for their sites—choose a website builder that offers the best portfolio templates.
Here are the five best blogging platforms:
Squarespace: Best Overall Blogging Platform
What We Like
Easy-to-use editor
Award-winning templates
14-day free trial
Unlimited storage and bandwidth
Built-in SEO tools
Marketing tools on some plans
24/7 customer support
What's Missing
Not the most affordable choice
Less design flexibility
No template switching
No autosave
What You Should Know
Starting price: $12 per month*
Build your site for free with the 14-day free trial (no credit card required)
Given its unlimited storage, it's great for media-heavy blogs—those that include a large number of photos and videos
*Based on an annual payment
Squarespace is the overall best blogging platform because it's an ideal solution for just about every blogging need. So whether you're building a portfolio-based photography blog or looking to sell merch, services, or subscriptions, it has a plan for you. Its designer templates give you a great head start on building a professional-looking blog. And Squarespace doesn't limit how you can make money with your blog, from AdSense and affiliate links to product sales.
Pricing & Plans
Squarespace does not offer a free forever plan, but you can get started at no cost (and with no credit card) with its free 14-day trial. With that, you can find a template you love, test out its site editor, and build out your blog. When you're ready to launch your site and make your blog available to the world, you'll then need to upgrade to a paid plan.
Personal ($12 per month): This plan includes a free domain, an SSL certificate, and unlimited storage and bandwidth. It's a great starting point for any blogger who wants to focus on creating and publishing content optimized for search engines.
Business ($18 per month): You'll get everything in the Personal plan, plus business email from Google, access to Squarespace apps, pop-ups, and a shopping cart. You'll have to pay 3% on transactions (in addition to payment processing fees). This would work well for a blogger who's new to ecommerce.
Basic Commerce ($26 per month): If you choose this plan, you'll get everything in the Business plan, but no added transaction fees. You'll also be able to use an in-person point-of-sale app (through Square), and you can sell products on Instagram. Bloggers who want to sell on social, at pop-ups, and at markets may want this plan.
Keep in mind that while Squarespace is a very versatile blogging platform, one thing it can't do is pay you based on the number of readers your blog content has. If that's the monetization channel you're looking for, then Medium will be a better fit.
Ease of Use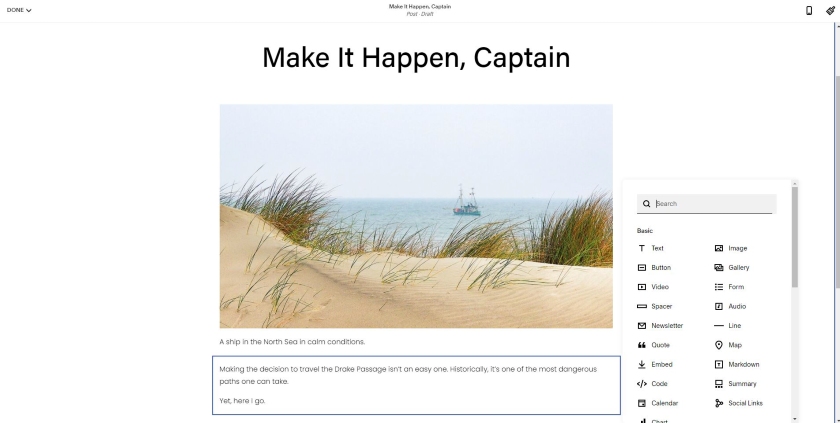 Squarespace has some of the best templates available from a site builder. Its editor makes it easy to get started with page building, blogging, and adding sections. It's a point-and-click what-you-see-if-what-you-get (WYSIWYG) editor. However, one downside to its site editor is that it's fairly limited in terms of design, as sites are built out with content blocks.
If you're a creative person with an eye for design, looking for more flexibility but the ease of use of Squarespace, consider Wix instead.
One word of caution with Squarespace blogs: There's no autosave feature. So, if your browser crashes or you lose connection, your blog is gone. Also, you can't restore deleted blogs after 30 days. Learn more about how to build a site with Squarespace.
Example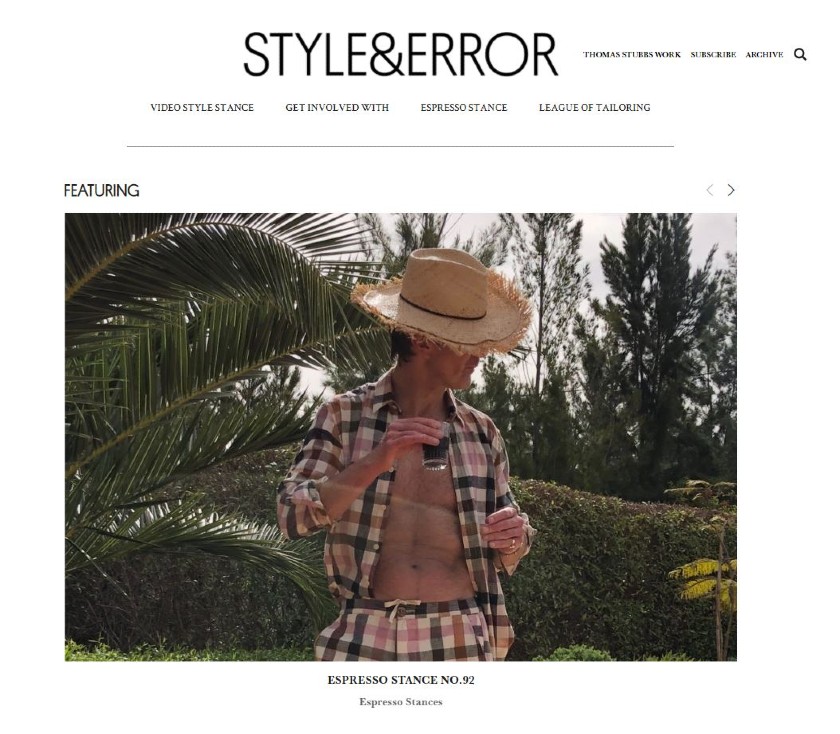 Style & Error is stylist Thomas Stubbs' blog dedicated to menswear and style. Although the domain authority is only 32 (out of 100), it seems to be more of a personal blog for the stylist. Stubbs includes a link to his author/stylist page as well, which is more of a portfolio of celebrities he's styled and articles he's written.
Our Expert Opinion
Squarespace is a great all-around platform for those looking to build a professional blog. It's easy to use, its designs are top-notch, and it comes with an array of features and monetization channels. It's easy (and free) to get started, so start building your blog with Squarespace.
Wix: Best Blogging Platform for Beginners
What We Like
Most customizable site builder
Lots of apps for added functionality
Easy to set up and use
True drag-and-drop site editor
900+ free templates
Lots of predesigned elements
24/7 customer support
Free plan available
What's Missing
No easy template switching
Low storage limits
Load speeds for editor and site can be slow
What You Should Know
Starting price: Free or $14 per month*
The free plan displays ads and uses a Wix subdomain
Most intuitive site editor
Most customizable website builder
Save blog drafts and schedule posts
Dropshipping integrations available
*Based on an annual payment
For beginner bloggers, look no further than Wix. Even if you have zero design experience, you can create a professional-looking blog quickly. On top of that, Wix offers design freedom, making it a good choice for creatives who don't want to invest their time learning how to use WordPress.
Wix provides a good deal of freedom to make money. For example, use Google AdSense if you have lots of site visitors, create sponsored posts, or sell products or services.
Pricing & Plans
You can create a free website with Wix, allowing you to create and publish a site without paying a dime. However, your site will be on a subdomain (yoursite.wix.com), and Wix displays ads on your free site. You can connect your own domain for only $5 per month, but you'll still have ads.
Wix Combo ($14 per month): The lowest-priced paid plan gives you a free domain for one year, SSL certificate, and 3GB of storage. It's a good starter plan for a new blogger.
Wix Unlimited ($18 per month): If you upgrade to this plan, you'll get 10GB of storage, SEO tools, and analytics. Bloggers who are focusing on building an audience should consider this plan, at least.
Wix Pro ($23 per month): At this level, you get 20GB of storage, an events calendar app, and a logo maker. If you're starting to turn your blog into a business, this may be a good choice for you.
If you're looking to sell online and want a more affordable option, go with Weebly. For just $6 per month, you can sell products online and connect your own domain name.
Ease of Use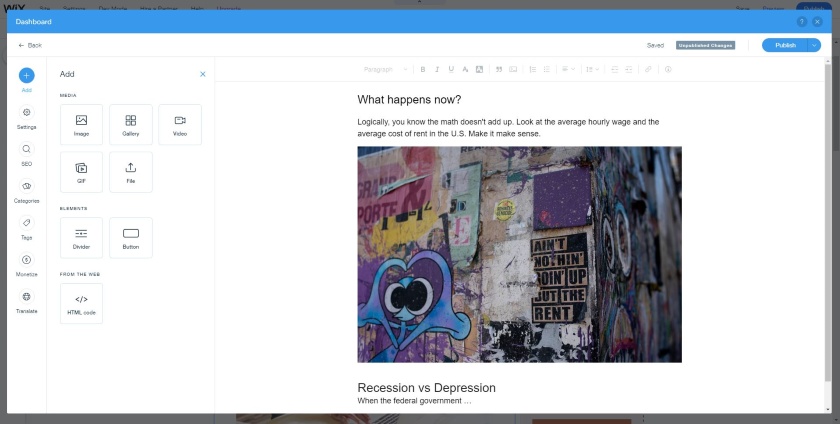 Wix's true drag-and-drop editor is intuitive, so you can get started right away. Simply choose a template, add your own images and text, and voila—you have a fully functional and mobile responsive blog.
It's the most customizable site builder on the market. However, this level of design freedom can be a pro or a con, depending on your eye for design. If design isn't your thing, be sure not to over-customize a template. Otherwise, your site might look homemade.
For more insight, check out this step-by-step guide on how to create your Wix website.
Example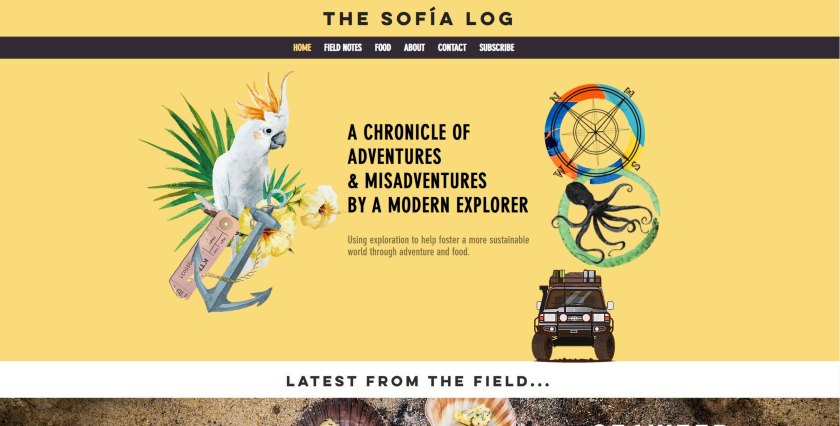 The Sofía Log is a blog created by Sophie Hollingsworth, a chef and adventurer. Although her nearly 5-year-old blog only has domain authority of 12, 100% of her backlinks are high quality. Some of her posts are actually external links to articles in which she's been featured. And her Instagram carousel is a big focus on her site—and she has nearly 10,000 followers there.
Our Expert Opinion
Wix makes it easy for any blogger to get started—and it's affordable with the basic plan starting at just $14 per month. Similar to Squarespace, it comes feature-packed, so no matter what you're looking to do with your blog, odds are you'll be able to with Wix.
Weebly: Best for Bloggers Selling Merch
What We Like
Affordable ecommerce plans
Simple, customizable templates
Easy-to-use editor for blog sites
Offers free plan
Change blog theme easily
What's Missing
Limited support hours
Must use Square editor for ecommerce
Limited apps if you use Square
What You Should Know
Starting price: Free or $6 per month
Weebly offers two different types of site builders: one for blogs or small business websites and one powered by Square for ecommerce businesses
Beginner-friendly site editor
Weebly comes with a lot of features at a very low price, making it a good value compared to other site builders—especially for selling products online. You can create a free blog or ecommerce site and only pay for payment processing. However, the free site doesn't let you use your own domain. You'll have Weebly/Square ads on your site. Upgrade to the $6 per month plan to connect your own domain and sell online.
Pricing & Plans
Weebly offers a free plan that's more powerful than most of its competitors, but your blog will perform better if you upgrade to a paid plan. All of Weebly's plans are more affordable than most other website builders.
Weebly Personal ($6 per month): This plan is most suitable for creating a personal blog for friends and family and those who won't mind the Weebly/Square ads on their site. You'll be able to connect your own domain, and for your online store, you'll get a shipping calculator.
Weebly Professional ($12 per month): Most bloggers and entrepreneurs will want this plan, at least. You get unlimited storage, remove those ads, and you'll get a free domain name for a year. It's at this level that you'll be able to get phone support too.
Weebly Performance ($26 per month): It's more than twice as much as the plan below it, but Performance gives you everything you need to beef up your blog and online store. On this plan, you can accept PayPal payments, send out abandoned cart emails, and you'll have access to online store metrics.
Ease of Use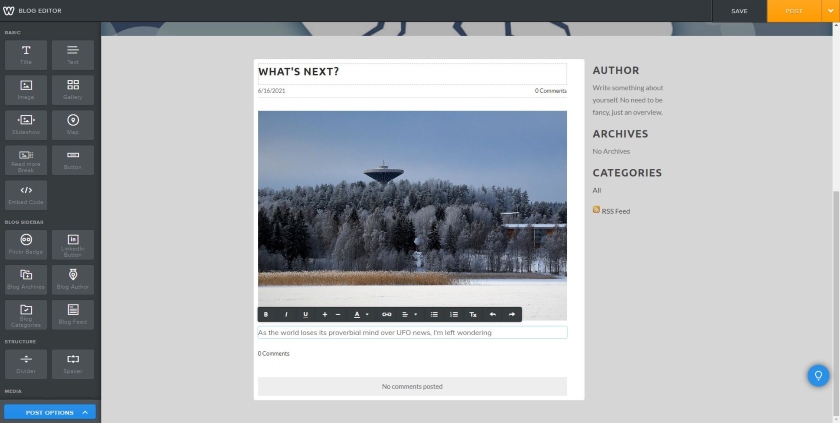 The Weebly editor makes it easy to create a small business website or blog. Unlike other site builders, its blog editor is accessible via the site editor—and you can add elements and write directly in the editor. This is far more intuitive than other solutions. To add an image, for example, just drag the element block to your post and then add an image. Although the editor feels a bit outdated, it's easy to use.
If you're looking for a more modern site editor and the best templates on the market, your better bet is Squarespace.
Read about how to build a Weebly site to see how easy it is.
Example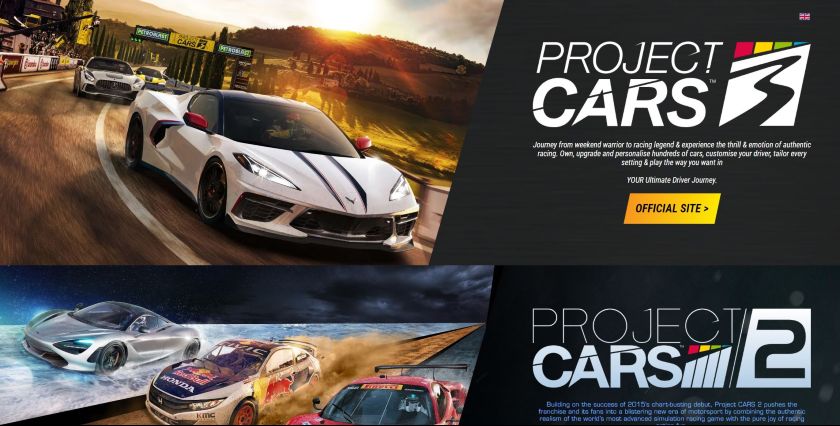 Project Cars is a video game series produced by Slightly Mad Studios. The site is built on Weebly and includes lots of visual elements, a blog, and an online store that sells digital and physical copies of the games. The domain authority of the site is 67 and includes nearly 70,000 quality backlinks.
Our Expert Opinion
For the easiest way to build a free site, blog, and online store, choose Weebly. Upgrade to a paid plan to unlock more features and storage. It's possible to make a professional site, rank in Google, and include everything you need at a low price.
WordPress.org: Best for Building a Complex or Highly Unique Blog
What We Like
Fully customizable
Easy to learn
Thousands of free themes available
Thousands of apps for added functionality
Most popular choice for blogs
What's Missing
Not an all-in-one solution
Updates required
Apps, themes, and security can get pricey
What You Should Know
It's free to use, but there are expenses involved
WordPress is an open source CMS, so it's free to use; you'll have to register a domain, get web hosting, and pay for premium themes if you don't use a free one
Bloggers who are serious about creating a unique site and want one of the best content management systems (CMS) will find WordPress.org the best fit. It's the most customizable thanks to thousands of themes and plugins, giving you just about any functionality possible—and never mind the ability to use custom code.
Pricing & Plans
WordPress itself is free, but that doesn't mean there aren't costs involved with using it. At a minimum, you'll have to register a domain name and get web hosting. You may also end up paying for a premium theme and plugins, as well as any professional web development work. Bluehost is a popular choice for many bloggers because it offers affordable pricing with plans starting at $2.95 per month, and includes everything you need to build a WordPress site.
Get the complete breakdown of how much WordPress really costs.
Ease of Use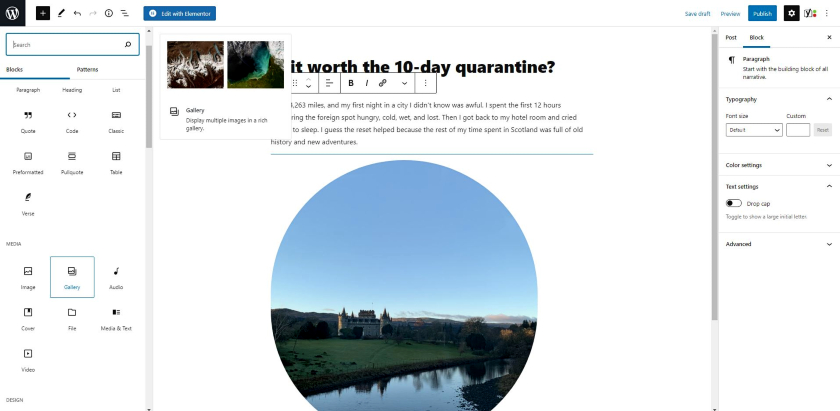 You may have heard that WordPress is easy to use, but those who make such claims are either experienced developers or those who lack firsthand experience with the CMS. In reality, WordPress is not the most beginner-friendly platform, and building a quality site with it will involve a learning curve.
To start, choose a web hosting plan that comes with a free domain and one-click WordPress installation, then install a theme and customize your site.
Like many other site editors, you can save drafts of blog posts, publish posts immediately, or schedule posts. WordPress is fairly forgiving and customizable, so you can do just about anything you want with this CMS. Check out the full breakdown of how to make a WordPress website.
Example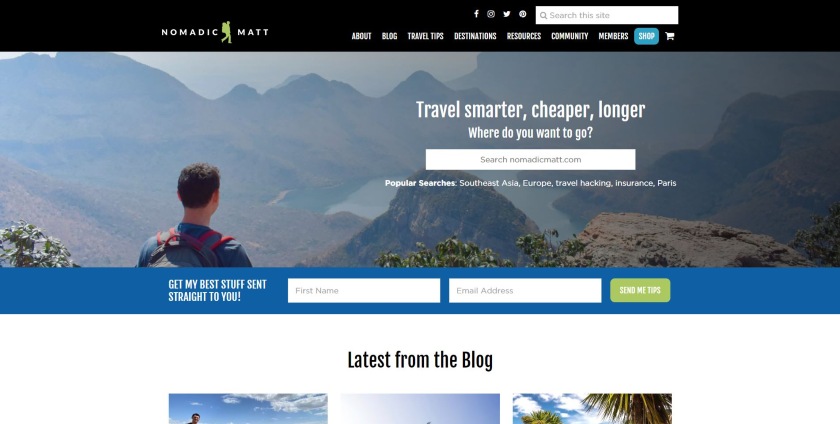 Nomadic Matt is one of the most popular travel blogs in the blogosphere. It has a high 76 domain authority score with about 2,000 high-quality backlinks. The blogger built his audience to nearly a million visits per month, and he monetized it by creating e-books, courses, and affiliate marketing.
Our Expert Opinion
WordPress is the world's most popular CMS. However, that doesn't mean it's the best blogging platform for everyone and every need. It's best for those with unique or complex blogging specs and who have some web design experience (or the time to learn).
Medium: Best for Free Blogging With Built-in Discovery
What We Like
Easy and free to use
Access to a large audience
No tech knowledge needed
Get paid for blogging
What's Missing
Lots of competition
Don't own your blog
What You Should Know
Starting price: Free
Traditional blogging platform
Blogging on Medium is a great way to build brand awareness or even make money for blogging
Bloggers who want to use a traditional blogging platform with built-in audience discovery should try Medium. Unlike professional blogs that require your own domain and site set up, you can get started right away with Medium—at no cost and with no technical experience required. It's a good choice for bloggers looking to become thought leaders and develop a writing portfolio—all with the opportunity to get paid through its Partnership Program.
The only monetization opportunity with Medium is via its Partnership Program, so if you're looking to sell online, use AdSense, or do affiliate marketing, it's not the ideal platform. Instead, use Squarespace, which has a wide array of monetization opportunities, as well as built-in marketing tools to help you build and increase your readership.
Pricing & Plans
Medium is free to use. You can subscribe to Medium to get access to all stories on this platform, but as a creator, you don't need to pay anything.
Ease of Use
Medium is as easy to use as a word processing program. You simply click on the page and start writing. You can also add images, videos, and embed links. The uncluttered editor helps keep the focus on what Medium wants: the stories. Many use Medium to promote their actual blog, social media, or articles published on other sites.
To get started with your own blog, read a guide on how to create a blog.
Example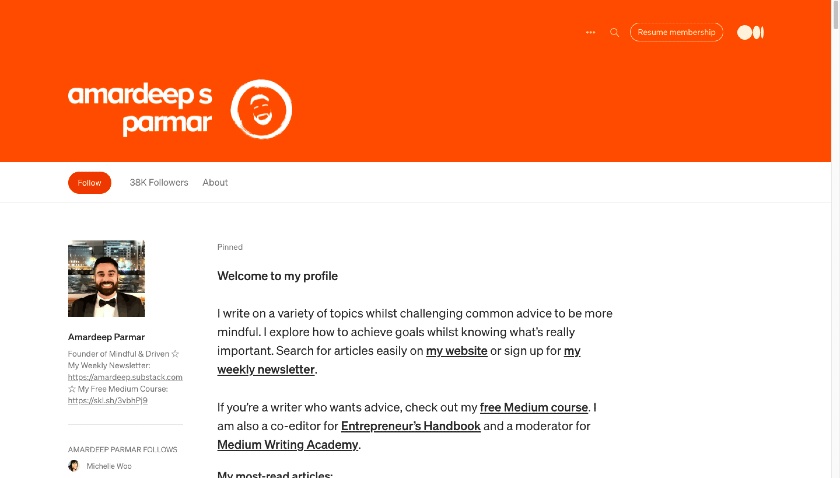 It's hardly fair to share the domain authority here because it doesn't belong to Amardeep Parmar's blog—the 95 domain authority score belongs to Medium. Still, the blog we're highlighting here has 42,000 followers. The author includes links to his newsletter and his Substack page, and he's building some serious brand awareness.
Our Expert Opinion
Medium is a great choice for bloggers who just want to blog. It's also a good pick to help you build a following. You can create a newsletter, link out to posts you publish on other sites, and you can even make money through the partner program. It's free to use and super-easy to get started.
Best Blog Platform Runners-up
Of course, there are many blog options out there, and we can't include them all in this guide. If you're looking for something more specific for your blog journey, consider some of these other picks. They're excellent choices, but may be more niche.
Here are the runners-up for the best blogging platforms:
Whether you only want to create a blog or you want a site with an online store, one of your best avenues is an all-in-one solution. Most of the best website builders are a great start for any blogger.
Frequently Asked Questions (FAQs)
Where can I start blogging for free?
Many people start with microblogs on social media platforms, such as Twitter, Instagram, and Facebook. Tumblr and Medium are popular choices for free blog sites too. When you're ready to take the plunge to create a full-fledged site with a blog, consider paying for a site builder and start with a blog business plan to keep you on track.
How do beginner bloggers make money?
The first hurdle for most bloggers is building an audience. Once you have lots of high-quality content on your blog, you want to make sure it's ranking on search engines so that people can discover your site. Then you can start monetizing with affiliate links, sponsored posts, or even an online store. Follow this guide to making money blogging to learn about other methods.
How many times a week should I post on my blog?
The most effective way to ensure your blog is successful is to be consistent with your blog posts. You may post twice per week or every single day, but the keys are consistency and quality content. Before you start a WordPress blog or any blog, be sure you're ready to commit to creating content on a regular basis.
Bottom Line
Squarespace is the best blogging platform if you want an all-in-one, easy solution. You'll get everything you need to get started. Depending on the plan you choose, there are features that will help you rank your content, get users to subscribe to email lists, and boost eCommerce sales for whatever products or services you sell.
You Might Also Like…
Serious about growing your audience? Try Google ads to make sure your blog gets seen.
You spend most of your time blogging, so get help with your social presence from the best social media agencies.