Customer relationship management (CRM) software helps sales teams manage and organize leads, prospects, and current customers to help sales teams make sure nothing slips through the cracks. It includes tools like contact management, advanced reporting, and lead prioritization. Costs range from free to more than $100 per month, depending on the CRM provider and its features.
Examples of Leading CRMs for Small Business
| CRM | Best Feature | What It Does | Price per User, per Month |
| --- | --- | --- | --- |
| | Built-in phone | Manage and make sales calls without leaving the CRM | Free - $69 |
| | Social media integration | Publish content, monitor customer engagement, and track interactions on social channels | Free - $30 |
| | Service desk tools | Document and organize customers' help desk interactions right in the CRM | Free - $46 |
| | Project management | Converts opportunities into projects with customizable pipelines | Free - $99 |
| | Advanced analytics | Monitor key business metrics with prebuilt reports and customized dashboards | $25 to $75 |
Pro-tip: Many CRMs offer built-in or third party integrations such as contact management and reporting. Read our article about CRM Integrations to learn more.
You can also check out our list of the 10 best small business CRMs to learn more about these services as well as other highly rated and popular alternatives.
What Is CRM Software?
CRM software creates a single storage environment for all data related to leads, prospects, and existing customers. Sales agents can access the software from their desktop computer or, in many cases, their mobile devices. Once logged into the CRM software, users can manage customer information, check pipeline stages, and more.
Download our free CRM e-book for a comprehensive look at how customer relationship management systems help teams reach their sales goals. It also offers tips on how to choose the right system, CRM training best practices, and more, so download the e-book today.
FREE Guide: Choosing the Right CRM for Your Business
CRM Software Costs
Customer relationship management software costs range from free to hundreds of dollars per month, depending on the provider, the type of CRM it is, and the kind of features it offers. Free or very low-cost solutions are no-frills platforms that may be limited in the number of users it supports or features it includes. These are best for solo business owners and small teams on tight budgets.
Mid-range CRM software, including some industry-specific CRMs, run from approximately $5 to $50 per user, per month. They contain enough features and tools to accommodate most sales teams and small businesses. High-end CRM software, generally priced over $50 per user, per month, contains myriad features, from advanced customization options to comprehensive business phone systems. They are usually used by enterprise-level organizations with hefty software budgets.
Pro tip: While the advertised cost of a CRM may show only part of the picture, with maintenance costs, phone service, and more adding to the bottom line, the good news is most CRM providers will work with you to find a solution that meets your team's needs and budget.
Benefits of a CRM System
Before customer relationship management software was available, sales teams kept their contact records in Rolodexes and customer information in filing cabinets. Although it's still possible to organize and manage leads, prospects, customers, a busy sales pipeline, and all the other essential data that sales teams generate, why bother?
Click through the tabs below to learn more about how customer relationship management features give your sales team a competitive advantage.
Find out which CRM functions are mission-critical to your team's success with a look at the 12 features your small business needs.
Recommended CRM Resources
Our site is filled with advice and recommendations on every aspect of CRM software, from defining a CRM process to training teams on how to use it. Click through the tabs below for more resources.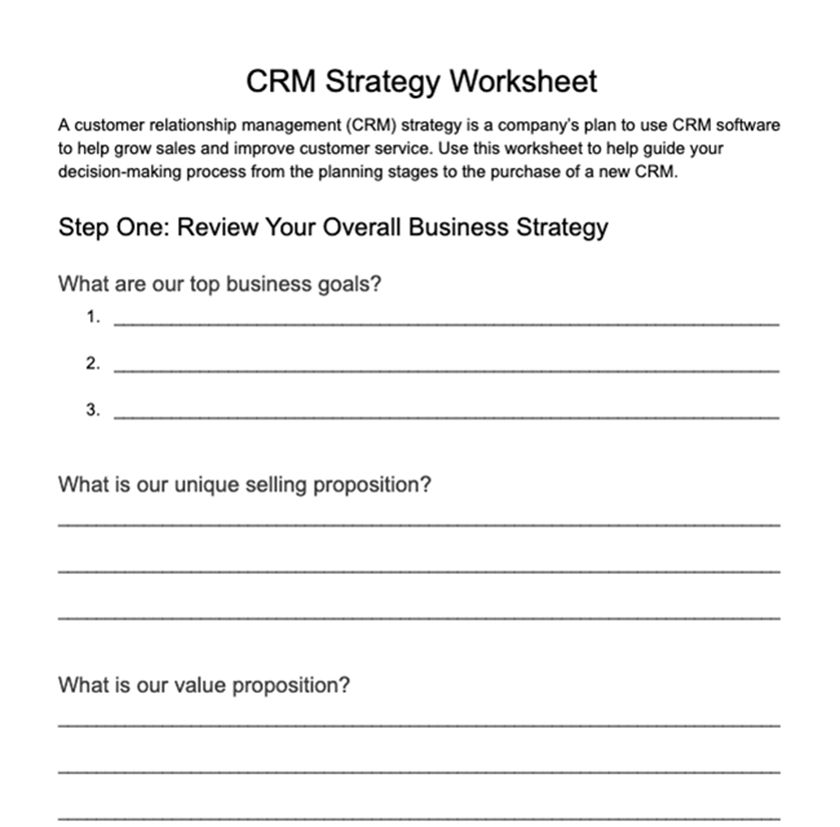 Developing a solid CRM strategy is a multistep process that begins with understanding your company's guiding principles and overall business strategy. You'll then want to take a look at what you expect from the customer journey and establish your sales workflows. Our article and free worksheet help walk you through everything you need to know about creating a CRM software strategy.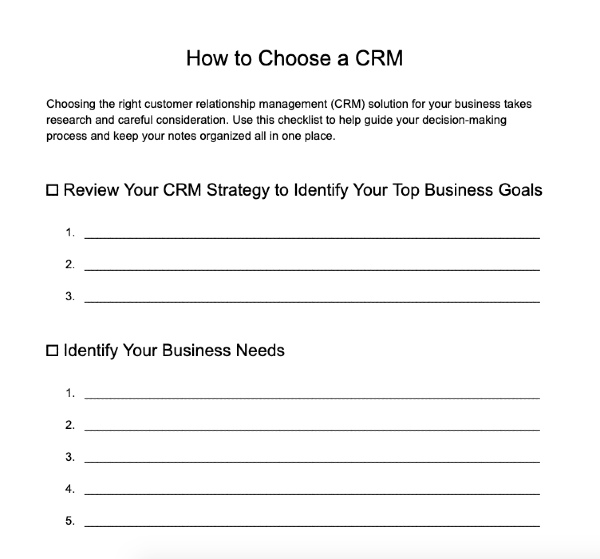 Selecting the right CRM for your small business takes time and effort, but the payoff of a better sales experience for agents and customers alike is worth it. There are lots of details to keep track of during the selection process, so we've put together some tips and a free checklist of things to consider when choosing a CRM to make sure nothing slips through the cracks.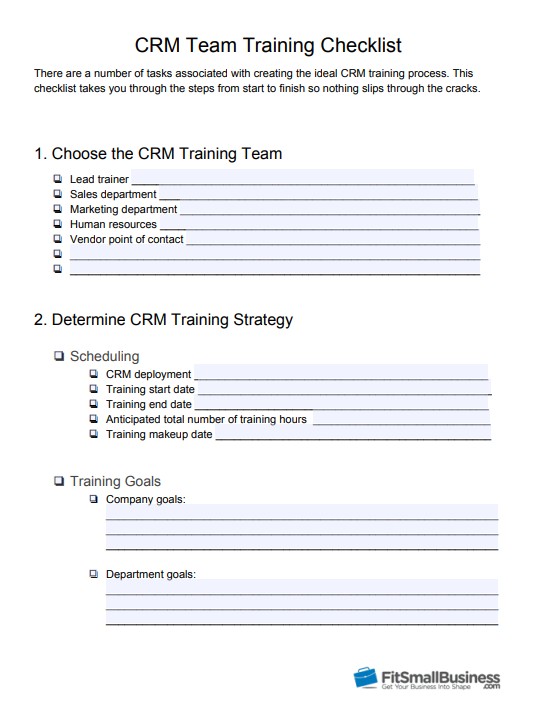 A CRM training strategy is a multistep process that starts with deciding who owns the process and ends with evaluating the results to see how the learning process went and where there's room for improvement. Our article and free CRM training worksheet outline everything you need to get the most out of your CRM investment and maximize the efforts of your training program.