Customer relationship management (CRM) software helps sales teams manage and organize leads, prospects, and current customers to help sales teams make sure nothing slips through the cracks. It includes tools like contact management, advanced reporting, and lead prioritization. Costs range from free to more than $100 per month, depending on the CRM provider and its features.
What Is CRM Software?
CRM software works by creating a single storage environment for all data related to leads, prospects, and existing customers. Sales agents can access the software from their desktop computer or, in many cases, their mobile devices. Once logged into the CRM software, users can manage customer information, check pipeline stages, and more.
While shopping for CRM software, it's important to keep in mind that some sales tools on the market offer similar features to CRM platforms. However, these tools aren't quite up to the job of managing the granular customer details sales teams need.
Examples of sales tools that aren't customer relationship management software include:
Email marketing and management: Sales tools like Mailchimp are great for creating and sending email campaigns to targeted customers. While they do help manage contacts and email preferences, they don't manage leads generated by those sent messages efficiently, which is why many email management platforms integrate with CRM software.
Marketing automation: While some CRM software and marketing automation platforms have overlapping features, marketing automation software providers like Marketo are chiefly designed to help sales teams generate and nurture leads. CRMs are best for managing the long-term sales cycle once you've converted a lead to a customer.
Content management: Although it's easy to confuse a CRM with a content management system (CMS), the two have vastly different uses. A CMS platform like Squarespace is a sales tool for creating, storing and publishing website content and digital assets that are used to generate customer interest.
Why Your Team Needs a CRM
Before customer relationship management software was available, sales teams kept their contact records in Rolodexes and customer information in filing cabinets. Although it's still possible to organize and manage leads, prospects, customers, a busy sales pipeline, and all the other essential data that sales teams generate, why bother?
The benefits of using CRM software are too numerous to overlook, including:
Capture leads: CRMs are a great place to store leads but they can also help capture them with tools like web-to-lead forms that log visitor data directly into the system.
Qualify prospects: There are plenty of lead qualifying methods to choose from but a CRM does the heavy lifting for you automatically.
Track the sales pipeline: Nearly all CRMs track the stages of the sales pipelines in one form or another so agents can make sure nothing slips through the cracks.
Connect with customers: CRM software offers many ways to engage with customers wherever they are, including social media, live chat, or on the phone.
Store contact details: CRM solutions store more than just names and addresses. They also house details on important customer interactions like email outreach or support tickets so all teams are on the same page.
Manage sales teams: Keep an eye on your teams with CRM metrics and reporting tools that help you track agent or team wins and notice what areas need improvement.
Click the arrows below to learn more about what a CRM can do for you.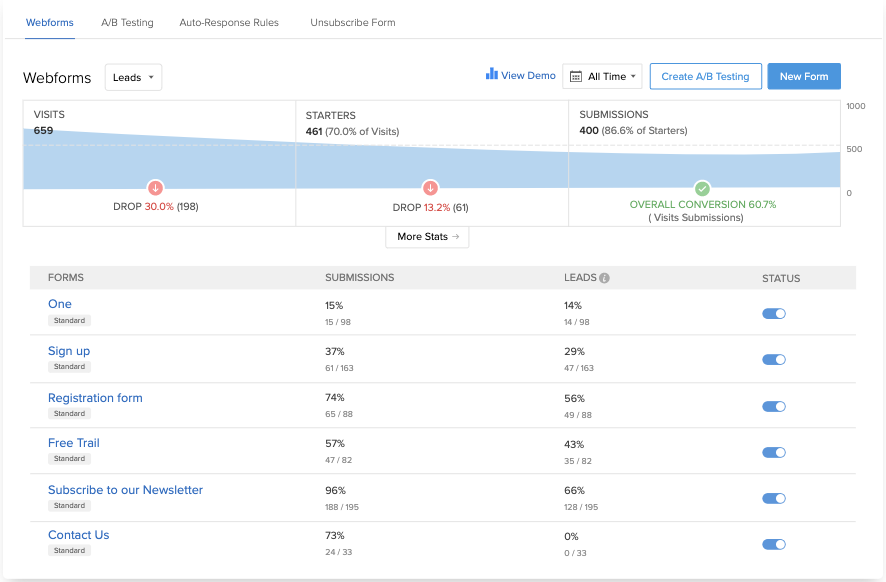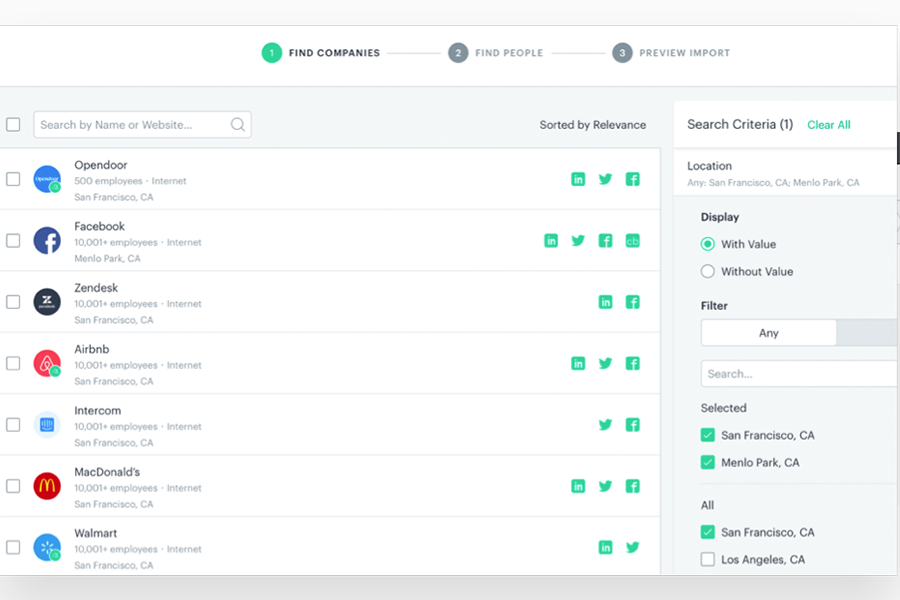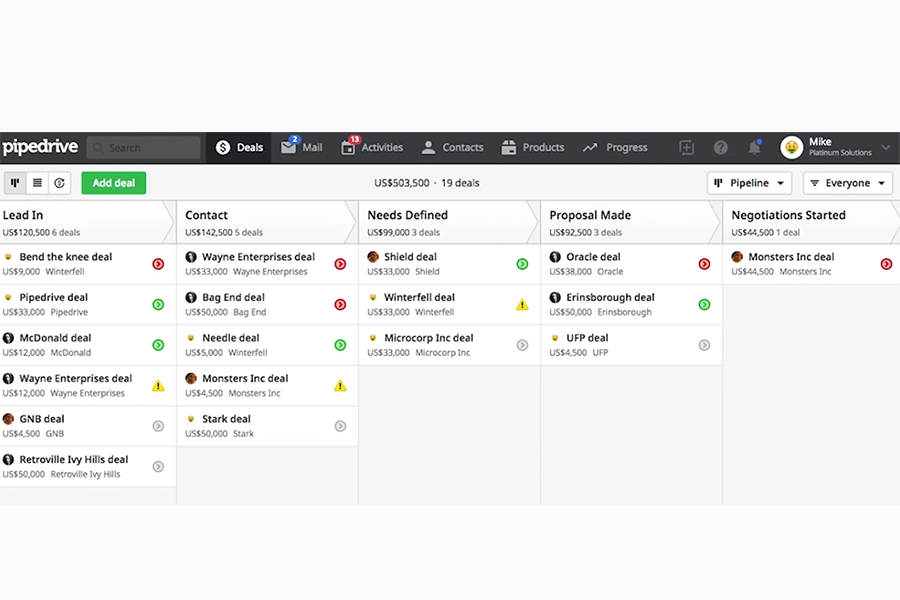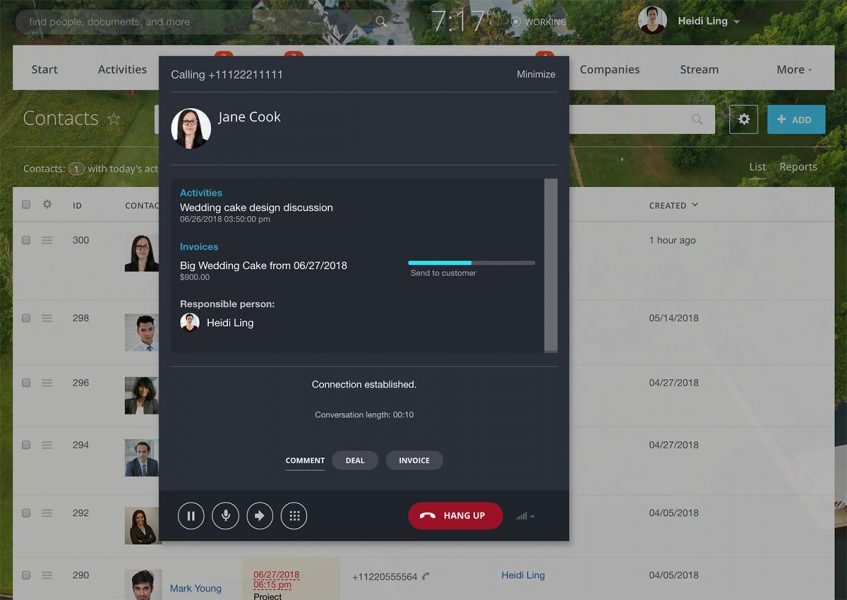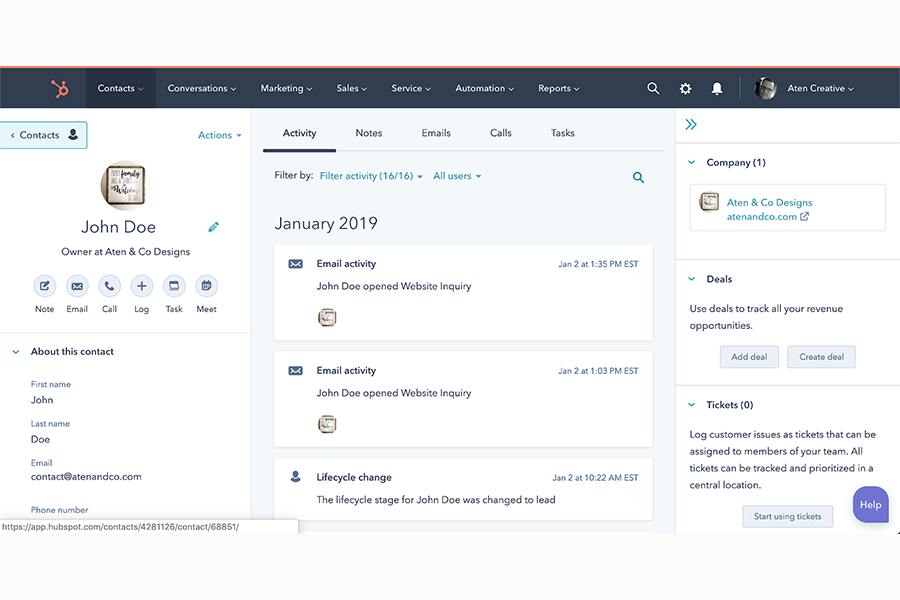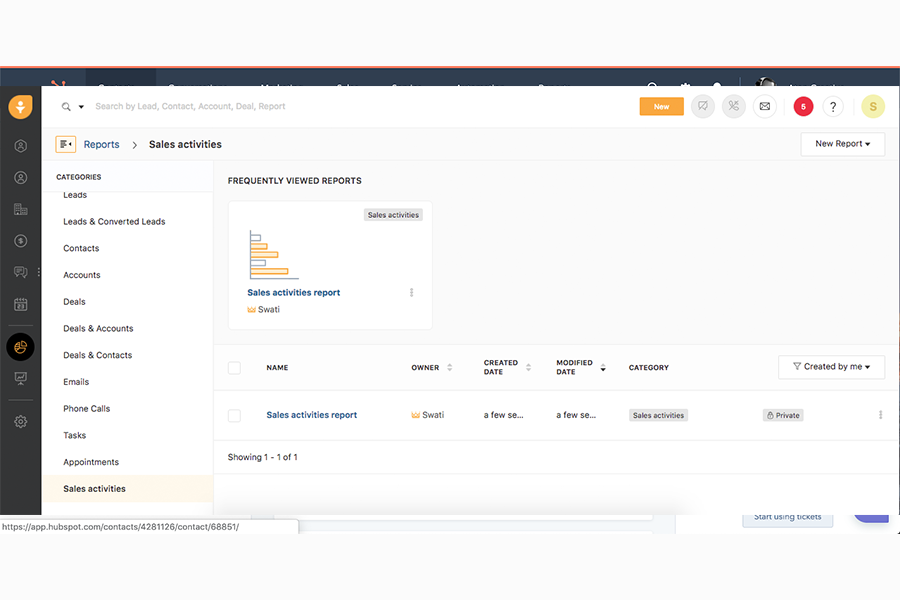 Those are just a few of the ways customer relationship management software gives your sales team a competitive advantage, but the benefits don't stop there. There are numerous other ways a CRM helps your business grow.
Accessible anywhere: With cloud-hosted CRM software, remote teams and agents working their territory can access customer information from anywhere through a smartphone app or internet connection on their laptop.
Scalable: CRM software scales easily to grow with your team and business needs. Managers merely need to click a few buttons on the platform's online dashboard to add new users instantly.
Smooth integration with other business apps: Most CRM software connects smoothly with other popular sales tools like email tracking and help desk platforms, saving you money by working with your existing software.
Central location for customer information: CRM software is a central repository with customer notes that agents can update in real-time, keeping the whole team instantly informed.
The Best Small Business CRMs
The right CRM software solution for your business depends on several factors, including your budget, the size of your team, and what features you want. Let's take a look at some of the top CRMs for small businesses on the market today with a range of features and price points to fit most every need.
Leading CRMs for Small Business
| CRM | Best Feature | What It Does | Price |
| --- | --- | --- | --- |
| | Built-in phone | Manage and make sales calls without leaving the CRM | Free to $49 per user, per month |
| | Social media integration | Publish content, monitor customer engagement, and track interactions on social channels | Free to $30 per user, per month |
| | Service desk tools | Document and organize customers' help desk interactions right in the CRM | $14 to $46 per user, per month |
| | Project management | Converts opportunities into projects with customizable pipelines | Free to $99 per user, per month |
| | Advanced analytics | Monitor key business metrics with prebuilt reports and customized dashboards | $25 to $75 per user, per month |
Pro tip: To compare and evaluate a wide range of customer relationship management solutions on everything from price and features to user comments, visit our comprehensive CRM software reviews section.
CRM Software Features & Functionality
CRM software features vary widely from basic tools to track lead and customer interaction to robust processes that follow leads through every granular stage of the sales cycle from prospect to returning customer. When shopping for a CRM, it's useful to assess ahead of time what you expect from your customer relationship management system so that you don't pay for features you don't need.
Some common features you'll find in most CRMs include:
Lead management: Acquiring leads is only the first step toward making someone a customer. CRM lead management tools help you track and manage leads through every step of the sales funnel.
Sales pipeline tracking: It's important to know the stage of every deal so nothing slips through the cracks. Sales pipelines help track sales activities and also help estimate current and upcoming workloads.
Social media integration: CRMs with social media tools let you engage customers on their platform of choice and publish content to social sites like LinkedIn and Twitter.
Mobile apps: Robust CRM mobile apps keep agents and teams connected to the CRM and to each other from anywhere.
Service desk tools: A CRM with integrated support desk features helps keep both sales and service teams in the loop to facilitate multi-team customer support.
Click on the feature buttons below for more information on how they help your business manage customers and increase sales.
Types of CRM Software
There are several kinds of sales tools and platforms on the market to help target leads and nurture prospects. However, CRM software is the gold standard for managing those leads once they become customers.
Customer relationship management software offers a range of functionality that can be adapted for almost any sales environment. However, some kinds of CRMs offer specific tools or features built with certain kinds of job types or industries in mind.
Common types of job-related CRM include:
Project management: Sales professionals that create projects for customers after closing the sale use this type of CRM to keep pre- and post-sale data all in one place.
Analytical: Analytics-focused CRM software offers advanced dashboard or lead scoring features that help you create reports to forecast sales or help you identify areas of opportunity within your sales process.
Collaborative: Some CRMs emphasize the importance of team collaboration by providing tools to centralize communications and share files while agents work to close an opportunity or work together on a post-sale project.
Operational: This type of CRM tracks sales as well as important business functions that are critical to the success of the team, such as human resources (HR), accounting, inventory, support, and projects.
Mobile: CRMs that offer full-featured mobile apps allow traveling and remote sales people to manage contacts, access reports, and perform sales activities on the go.
Click a CRM type below to learn more about how a tailored solution can help your small business.
Since we last updated:
Freshworks CRM, formerly Freshsales, recently rebranded with a new name, new service plans, and access to Freshmarketer automation software. Forever-free plans are still available and include mobile apps, 24×5 support, live chat, and more.
In addition to job- or role-related CRM software, some solutions are created specifically for certain industries, such as:
Real estate: CRMs built for real estate agents and agencies feature tools like video email, cloud storage for housing contracts and other documents, and the ability to search public social profiles to learn more about a lead. Many also integrate with popular real estate services like Realtor.com and Zillow for a greater range of lead capture.
Call centers: CRM call center software combines customer relationship management tools with a voice-over-internet-protocol (VoIP) business phone system that's designed to handle the large call volumes of contact and call centers. They often integrate with customer service solutions like help desk software.
Financial advisers: CRM solutions for financial advisors include financial planning tools in companion with customer relationship management features. These include industry-specific offerings like compliance and audit tools, advanced data security, and integration with services like Envestnet and Docusign.
Find the perfect CRM: To find a solution that's tailor-made for your role or type of company, we have a list of nearly a dozen different types of CRM software and a roundup of industry-specific CRMs for you to check out.
The Real Cost of CRM Software
Customer relationship management software costs range from free to hundreds of dollars per month, depending on the provider and the types of features it offers. Free or very low-cost solutions are no-frills platforms that may be limited in the number of users it supports or features it includes. These are best for solo business owners and small teams on tight budgets.
Mid-range CRM software solutions run from approximately $5 to $50 per user, per month. They contain enough features and tools to accommodate most sales teams and small businesses. High-end CRM software, generally priced over $50 per user, per month contains myriad features, from advanced customization options to comprehensive business phone systems. They are usually used by enterprise-level organizations with hefty software budgets.
Free CRM Software
Free CRM software can be a great choice for small businesses but it isn't without drawbacks. The number of supporters users is often limited to two or three, it may lack critical features, and customer support can be sparse. However, free CRMs are a boon for startups and young businesses as well as companies that want to experiment with customer relationship management software before dedicating resources and training time.
Some CRM software vendors offer free and paid plans, which is a good option for companies that want a solution that scales as they grow. For instance, Freshworks CRM and HubSpot both offer basic forever-free plans for an unlimited number of users as well as paid plans with advanced features like task automation and lead qualification that help teams manage heavier workloads as the company takes on more customers.
| Pros of Free CRMs | Cons of Free CRMs |
| --- | --- |
| Budget-friendly | Often limit the number of users or access to features |
| Great for solo business owners and very small teams | Upgrades can be expensive |
| Typically have short learning curve | Usually limited or no customer support |
Mid-range CRM Software
CRM software priced in the neighborhood of $5 to $50 per user, per month are considered mid-range solutions. They offer a variety of features to help teams nurture leads and manage customers, as well as robust mobile apps that mimic the desktop experience. Although mid-range CRM is a bit more of an investment, it pays dividends by helping sales professionals collaborate across teams and work efficiently in or out of the office.
Customer relationship management software like Zoho CRM and Really Simple Systems include features such as built-in social media management, marketing, and service desk capabilities that extend the benefits of a CRM to include other teams outside of the sales department. Virtually all CRM solutions offer a free trial so users can learn what the software has to offer before making a commitment.
| Pros of Mid-range CRMs | Cons of Mid-range CRMs |
| --- | --- |
| Moderately priced | Choices can be overwhelming |
| Scale easily | Some lack free trials |
| Great for a variety of small businesses | Can be challenging to migrate data to another solution in the future |
High-end CRM Software
High-end CRM software typically costs over $50 per user, per month and is generally best for large businesses with equally large budgets. Although they offer a wide array of features, many small businesses find the additional cost isn't worth it for solutions that often require upkeep and maintenance that's outside the resources of what most small businesses can manage.
Not all high-end CRMs are out of reach for small businesses, however. A handful of CRM solutions, such as Salesforce Essentials, offer an enterprise-level experience at a reasonable price. With features like rules-based lead scoring and tools to unify your CRM and inbox, high-end CRMs are worth exploring if your company plans to expand and needs a solution that can keep up seamlessly.
| Pros of High-end CRMs | Cons of High-end CRMs |
| --- | --- |
| Plenty of features | Can be expensive |
| Robust customer support | May have a steep learning curve |
| Best for growing or large companies | Might require a dedicated IT professional |
Whichever CRM price range you choose, the cost of ownership of a CRM doesn't always end when the bill of sale is paid. There can be additional costs managers, and business owners should keep in mind when considering the total cost of a CRM software solution.
Additional CRM costs may include:
Internet: The most popular CRM solutions today are hosted in the cloud and require a stable internet connection to access.
Cell phone plans: Many CRMs offer companion mobile apps so that sales agents can access the system while away from their desk or on business travel from their company-provided smartphones.
Monthly or yearly subscription fees: Providers that offer cloud-hosted CRMs typically charge monthly or yearly fees in exchange for system management and maintenance.
Information technology (IT) support: Organizations that prefer to host the CRM system themselves need to factor in the cost of IT personnel to keep it running smoothly.
Training: Employees need to be trained on the CRM to get the most out of it. Costs of worker downtime and, if needed, onsite trainers, add to the total cost of ownership.
Add-ons: Many CRMs offer add-ons like 24-hour customer support or premium features that can add up quickly.
Pro tip: While the advertised cost of a CRM may show only part of the picture, with maintenance costs, phone service, and more adding to the bottom line, the good news is most CRM providers will work with you to find a solution that meets your team's needs and budget.
How to Create a CRM Software Strategy
Once you select the right customer relationship management solution for your team's needs, it's important to create a CRM strategy to ensure its implementation and use lines up with your sales goals. Failure to take this step could lead to a reduced return on your software investment, through user apathy or by not using the platform to its fullest potential.
Developing a solid CRM strategy is a multi-step process that begins with understanding your company's guiding principles and overall business strategy. You'll then want to take a look at what you expect from the customer journey and establish your sales workflows. This worksheet helps walk you through everything you need to know.
Choosing a CRM
Selecting the right CRM for your small business takes time and effort but the payoff of a better sales experience for agents and customers alike is worth it. To research the available CRM options and evaluate individual solutions, it's important to have a plan to make the process as efficient as possible and to make sure the CRM you select is the best choice for your business.
There are lots of details to keep track of along the way so we've put together a free checklist of things to consider while choosing a CRM to make sure nothing slips through the cracks. It's also a central place to record notes, tasks, and vendor contact information as you go through the selection process.
Check this out: For maximum benefit, use the checklist in conjunction with our article on how to choose a CRM.
Defining a CRM Process
Creating a CRM software strategy focuses on the sales agent but defining a CRM process shifts the focus squarely to the customer. It helps agents nurture leads into customers and identifies the best ways to engage prospects. Think of the CRM process as the roadmap for growing relationships and the CRM software strategy as the place to document the journey.
Similar to creating a software strategy, defining a CRM process is a multistep process. The first step is to connect with new leads and prospects to identify their potential to become a customer. You'll want to monitor your sales opportunities and take the time to understand your customers' needs and desires.

Learn more: To find out more about this important step in your CRM implementation plans, take a look at our guide on how to define a CRM process.
Training Your Team on CRM
Once you've selected your CRM software and defined its process, the final step is to train your team how to use it. There's more to it than simply deploying the software and giving everyone login information. A properly-trained sales team knows how to use their new CRM to its best advantage which, in turn, offers a great return on investment for your business.
A CRM training strategy is a multi-step process that starts with deciding who owns the process and ends with evaluating the results to see how the learning process went and where there's room for improvement. Our free CRM training worksheet outlines everything you need to get the most out of your CRM investment and maximize the efforts of your training program.
Check this out: For greater insight on the training process, be sure to use the checklist in conjunction with our guide to training your team on CRM.
Bottom Line
Sales teams can't afford to be without the valuable information customer relationship management software provides, from reporting tools and workflow automation to agent performance tracking. CRM solutions come in dozens of variations at a range of price points. Most offer free trials so you can try before you buy, so check out one of the recommendations in our article to find out what CRM software can do for your small business.