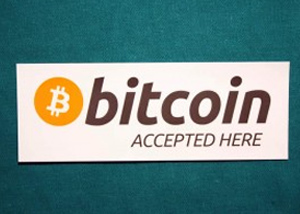 Why should you consider adding bitcoin as a payment option? According to Coinbase, a US based bitcoin payment processor, more than 25,000 merchants are using their platform to attract new customers. BitPay, another Bitcoin Payment Service Provider, has over 20,000 merchants currently accepting bitcoins with their payment interface. Two years ago this number stood at few hundred. The number of transactions facilitated by Bitpay increased tenfold in 2014 and crossed the 50,000 mark in November. The payment processor said that 6,296 bitcoin transactions occurred on Black Friday last year, up from only 99 transactions the year prior.
Before we dive into the details on this topic, we suggest you check out Square, a free POS system that can manage inventory, process credit cards, and track sales by item. Visit Square to learn more.
Some of the notable merchant adopters as of late include the NBA team Sacramento Kings, Virgin Galactic, and Overstock.
Why are so many merchants interested in bitcoin lately? According to Coinbase, on 27th of February 2014, the company has hit one million Coinbase consumer wallets. At the start of 2013 that figure was under 13,000. That is an astounding growth rate of 7,592.31%. As more people start using the upcoming virtual currency, more merchants are bound to follow suit and adopt it into their payment systems.
Lower Fees
With Visa and MasterCard estimated to take a 2 to 3 percent cut out of every card transaction, by using bitcoin instead, merchants stand to improve their bottom line instantly by at least 2 percent. In addition, because bitcoin transactions are irreversible, there is no possibility for chargebacks and other payment related fraud. This reduces the costs of operation by another several percentage points. This coupled with the very low fees charged by bitcoin payment processors should make any business consider adding bitcoin to their checkout process.
How To Accept Bitcoin Using Coinbase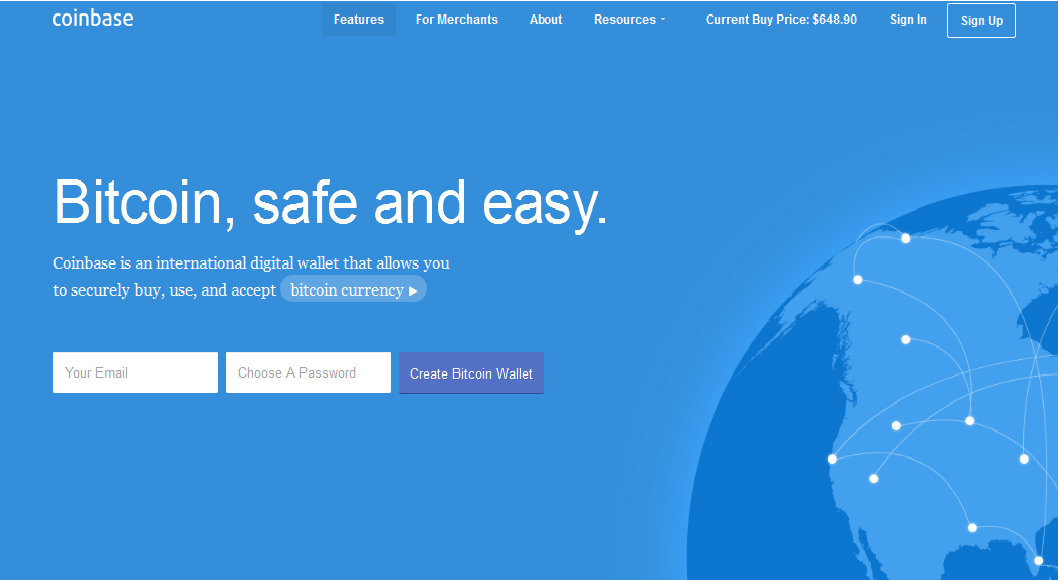 Adding bitcoin to your payment options today is easier than ever. Several major payment processors have their own turnkey solutions that make bitcoin payment integration a breeze. Let's start with US based Coinbase. The company's payment solution has 0 fees on the first 1 Million US Dollars in sales. In addition, this fee only applies if you choose to convert bitcoin into your local currency, US Dollars for example. There is no fee if you decide to keep your funds in bitcoins and you just withdraw them to your local bitcoin wallet. Furthermore, the firm offers custom solutions for merchants who already process over $1 Million in sales per month (for more info click here).
Here are some of Coinbase's professional merchant tools.
In addition to being a payments processor, the company also allows you to buy and sell bitcoins for US Dollars. The fee for this is 1%. If you live in the States, you can also link your bank account to Coinbase to facilitate quick and easy transactions.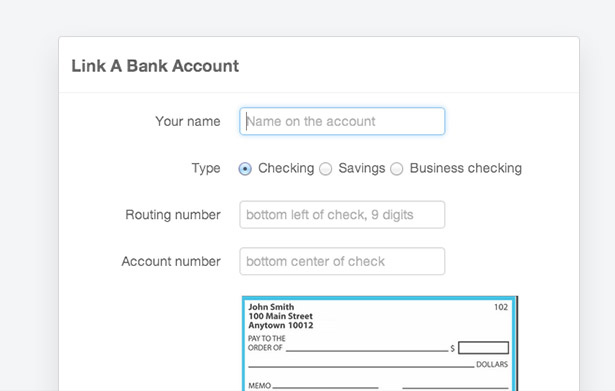 How to accept bitcoins with Coinbase if you own a brick and mortar business?
You can accept bitcoin at your brick and mortar shop by using a mobile device. Currently, due to restrictions by Apple, Coinbase's app cannot be used with an iPhone/iPad. Luckily, the app works on android and android phones/tablets are much cheaper than their Apple equivalents. The picture below shows the simple few step process.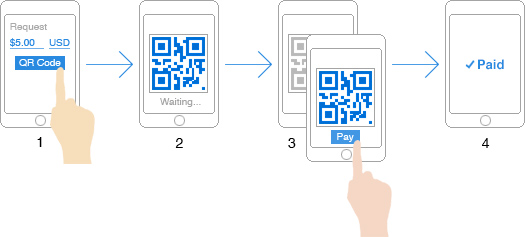 Enter the details of the sale
Tap "Request payment" to display the QR code
The customer scans the QR code with their own phone and taps to pay
The customer receives payment confirmation, so do you — sale complete!
You can read more about Coinbase's POS solution here. You can download the android app on Google Play.
How To Accept Bitcoin Payments Using BitPay.com
BitPay is another popular choice for online and offline bitcoin businesses. The company has several payment plans and boast to have ''the world's first All-Inclusive Processing with Zero Transaction Fees, and Zero Hidden Charges.'' Monthly plans start at $0 with a 1% transaction fee. By signing up for their ''Professional'' plan and paying $30, you can cut the transaction fees down to 0% (Check their pricing table).
BitPay is available in every country and you can set your prices in over 150 different currencies. You can see the current BitPay exchange rates and how they're calculated here. To avoid risks presented from accumulating reserves at the site, BitPay prefers to send at least one payment daily to every merchant. Payments to bank accounts are made every business day while payments in bitcoins are sent to your btc address at least once per calendar day. The company has daily direct deposits to 33 countries (Click here for more info).
BitPay makes it easy to accept btc payments in your retail store. Their Mobile Checkout allows brick and mortar shops to receive bitcoin payments by using their smart phones.
How To Accept Bitcoin Payments Using Coinkite.com
Similarly to BitPay, Coinkite has a tiered payment plans system. The options start at the starter pack that is free but carries a charge of 1% on withdrawals and 1% charge on POS (Point of Sale) transactions. By paying $29.46 per month you can cut those fees down to 0% (Check their pricing table).
Coinkite has two distinctive features that are better suited for offline shops, a dedicated Bitcoin Payment Terminal and a Bitcoin Debit Card. Here's what the terminal looks like.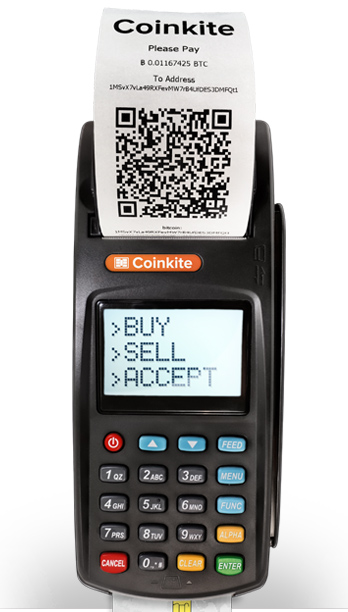 There are two terminal versions to choose from, a Retail Payment Terminal that is WiFi only and costs $491. The option with the QR code scanner (the Exchange Payment Terminal) will set you back $819. Both terminals allow you to take Bitcoin and Litecoin payments. The Exchange Payment Terminal can dual as your own personal fiat to bitcoin/litecoin exchange. Some of the other features of the terminals include the ability to accept the Coinkite Bitcoin Debit Card, setting your own exchange mark-up that will be added automatically to all fiat conversions and invoicing capabilities. You can learn more about Coinkite's products here.
How to Accept Bitcoin Payments on Your Own
Bitcoin is a completely decentralized currency that doesn't rely on any third parties. Any two individuals that have access to the internet are free to engage in commerce. While the three options outlined above make the whole process much easier, if you own a very small business and you're not yet sure if the bitcoin ''gamble'' will pay off, you can try taking bitcoin payments on your own.
There are a lot of ways you can do this but in this example I will use MultiBit. MultiBit is an easy to use bitcoin client that allows you to send or receive bitcoin payments. One of the major advantages of MultiBit over the traditional Bitcoin-qt client is that you can use MultiBit without having to download the entire bitcoin blockchain (which is over 5 GB in size at this point). You can download MultiBit by going here, the options on offer are Windows, Linux or Mac based clients.
The installation shouldn't take more than few minutes and after you're done you'll be able to send or receive btc payments from anyone with a bitcoin address. After installing the client you will be presented with a screen that looks something like this.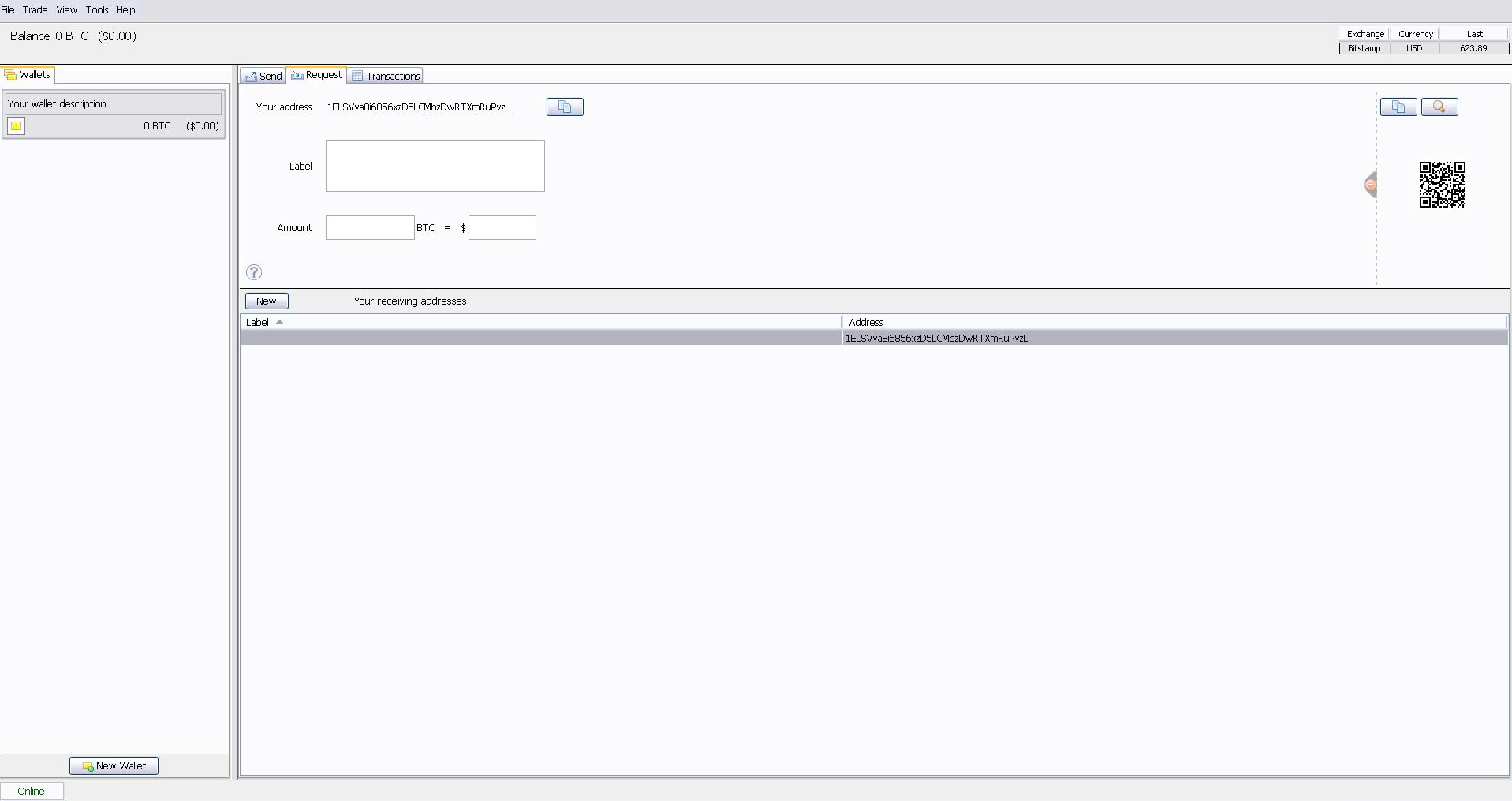 Here's an easy step by step process on how to accept a payment. First, go to the <Request> tab. You can either use of the pre-generated bitcoin addresses or make a new one by clicking on <New>. In the amount field, indicate how much the client should pay you. You can charge the ''invoice'' in either bitcoins or another ''fiat'' currency like the US Dollar. Due to the volatility of bitcoin prices, it is recommended to input the sum in the US Dollars field (or other fiat). Just as an example, let's use a charge of 10 USD. After inputting the $10 value in the <$> field, the client will automatically pull up the current exchange rate of bitcoin versus the US Dollar and translate the USD to BTC.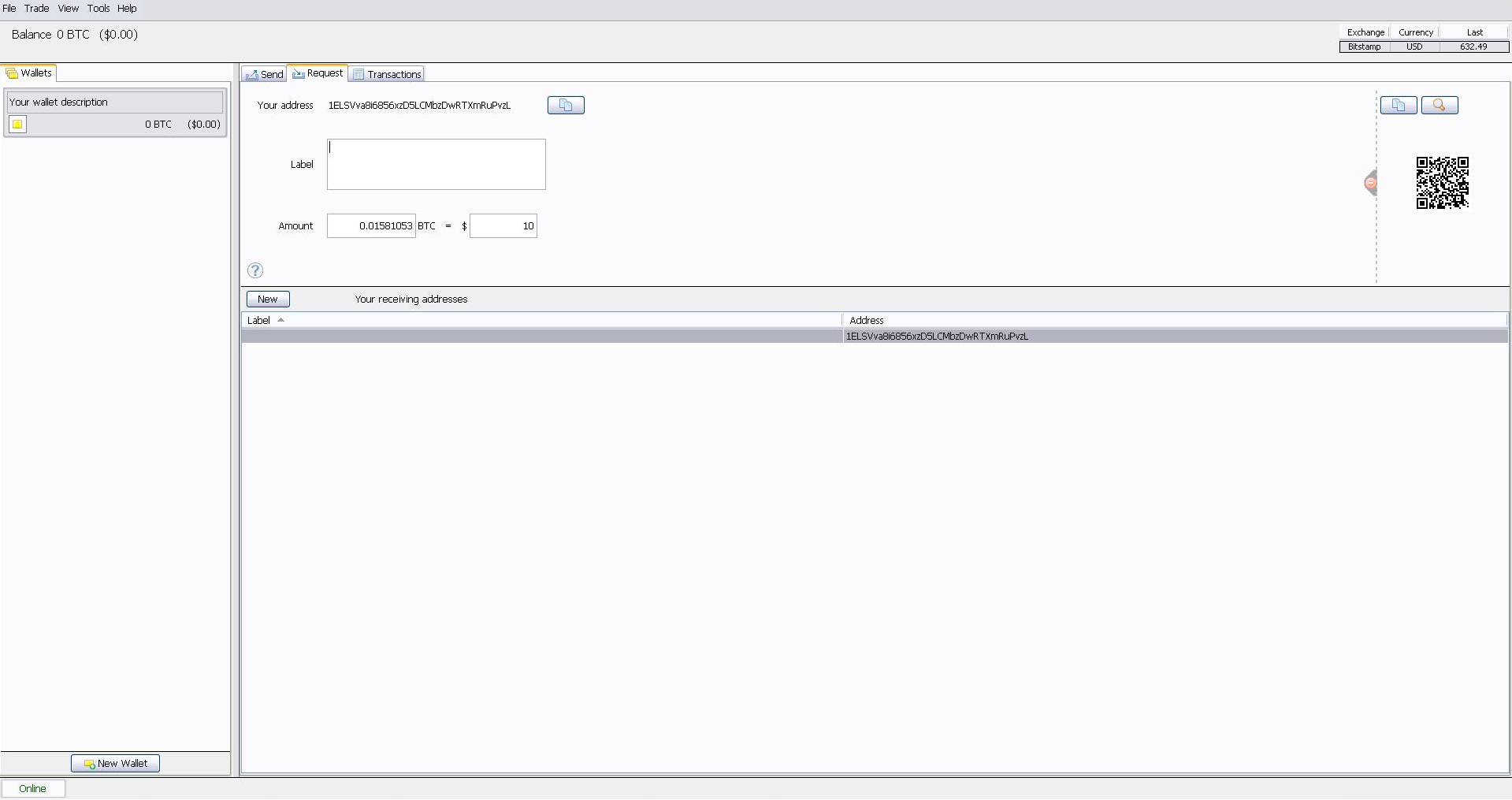 With current BTC-E prices of $632.49 per bitcoin, a bill for $10 equates to 0.01581053 of a bitcoin. At the same time as you put in the $10, you will notice that the QR code on the right changes. If your customer has installed one of the many bitcoin clients available on mobile, all he needs to do is use his smartphone to scan this QR code. This will generate an ''invoice'' on his end. After he confirms the charge, a payment of 10$ worth of bitcoins will be sent to your address.
Few considerations are in order here. You can change the currency displayed and the bitcoin exchange MultiBit will use to pull data from by clicking on <View> at the top and then on <Preferences>.
If you cannot use the QR code function, you can use the bitcoin address displayed in the <your address field> to receive payments. To avoid copy/paste mistakes, MultiBit allows you to easily copy this address by clicking on the button right next to this address. This will automatically copy the bitcoin address. You can then paste the address in an email and send it to a client/customer. This process is obviously a lot more cumbersome than a simple QR code scan.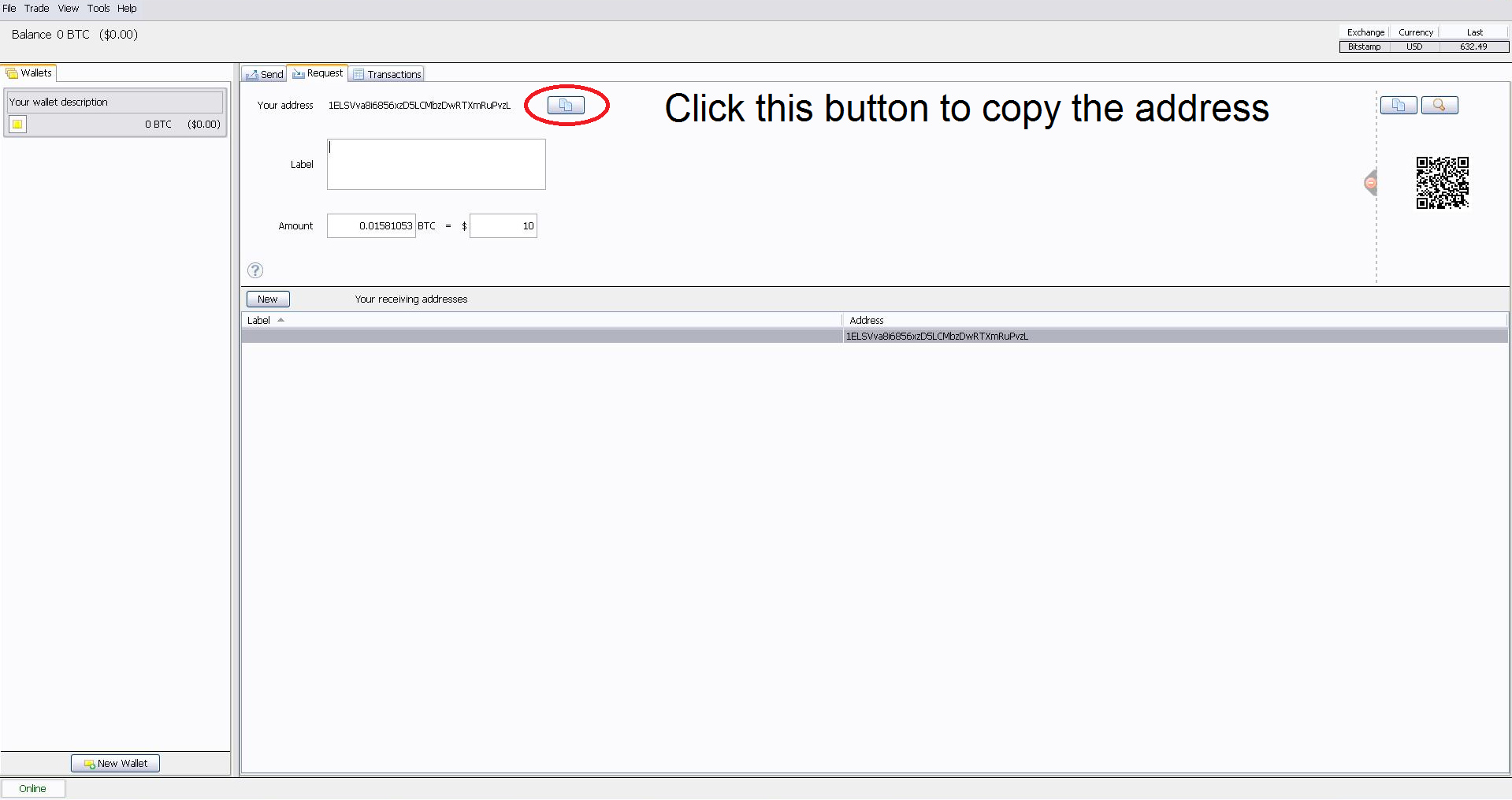 In addition, if you don't want to carry the risk of volatility associated with bitcoin prices, you should setup an account with one of the popular exchange websites. The top 3 options as of March 1st 2013 are Coinbase, BitStamp and BTC-E.
Confirmation and Fees
As of March 1 2014, the minimum bitcoin fee is 0.0001. This translates into a charge of around 5.5 US cents at current prices. Due to Bitcoin's persistently high exchange rate, the minimum fee will be cut tenfold to 0.00001 BTC or 0.55 of a US cent soon. The fee is not depended on the size of the transaction, a $1 transfer will carry the same fee as a $1 Million Dollar transfer.
The Bitcoin network is completely decentralized and all transactions need to be included in a public ledger known as the blockchain. Because of this, btc transactions need a certain amount of time to both be included in the blockchain and then to propagate around the network. This time is measured in ''confirmations''. This is a somewhat complicated subject, you can learn more about this process by going here. Most merchants and bitcoin clients use 6 confirmations to count a transaction as legitimate. After a client sends a payment to you, in the MultiBit client you can follow the progress and the number of confirmations by switching to the <Transactions> tab. Keep in mind that 6 confirmations can take as long as 1 hour in some cases. It is recommended to include a fee to the transaction. By using the minimum fee you ensure that bitcoin miners will ''pick up'' the transaction and include it in the blockchain as soon as possible.
How many confirmations should you wait for?
Taking into account the fact that a transaction with 6 confirmations can take up to an hour to propagate around the network, for smaller amounts it is recommended to use 1 or even 0 confirmations. For very small bitcoin payments, like purchasing a cup of coffee for example, a payment can be considered as confirmed as soon as it is seen on the network. It is unlikely that people will go through the trouble of initiating a ''double spending attack'' over a few bucks. If time is not a factor, it is recommended to wait for 6 confirmations. If you prefer instant payments, you can either use a 3rd party payment service like Coinbase or an online bitcoin wallet like the one offered by BlockChain.Info. In order to have instant btc transactions, both you and your client have to have an account with your chosen 3rd party. In addition to this, the customer needs to have enough bitcoins in his online wallet to cover the purchase.
Despite trying my best to outline a simple process for accepting btc payments, I realise that all of this probably seems complicated and a bit overwhelming to someone who is new to bitcoin. Take your time and download MultiBit or one of the other bitcoin clients here. Tryout one of the three payment services we've discussed in this article. Deposit a small amount and make a few transactions to get familiar with how the software works. Bitcoin is a new payment phenomenon and the businesses that decide to embrace this technology will get access to a fast growing customer base at a fraction of the cost compared to traditional payment processors.
Want to Reduce Retail Theft and Better Manage Your Inventory? Click Here to find out how.