Cyber Monday, an idea conceived by Shop.org in 2005, encourages consumers to shop online and helps online retailers generate revenues. E-commerce retailers lure shoppers by offering attractive price cuts and enticing deals and packages on this day. It's celebrated on the Monday after Thanksgiving.
This year, Cyber Monday falls on November 27, 2017 and is expected to be the biggest shopping day of the year, surpassing even Black Friday in sales revenue.
Sales Trends for Cyber Monday
Cyber Monday sales continue to grow year after year. More people want to avoid crowds, and prefer to shop online. In addition, Thanksgiving weekend is the time when many people travel. Cyber Monday gives travelers the advantage of doing their holiday shopping and getting great discounts without visiting a brick and mortar store.
Every year since 2009, Cyber Monday sales (which includes purchases on mobile devices) have been increasing, as the graph below shows: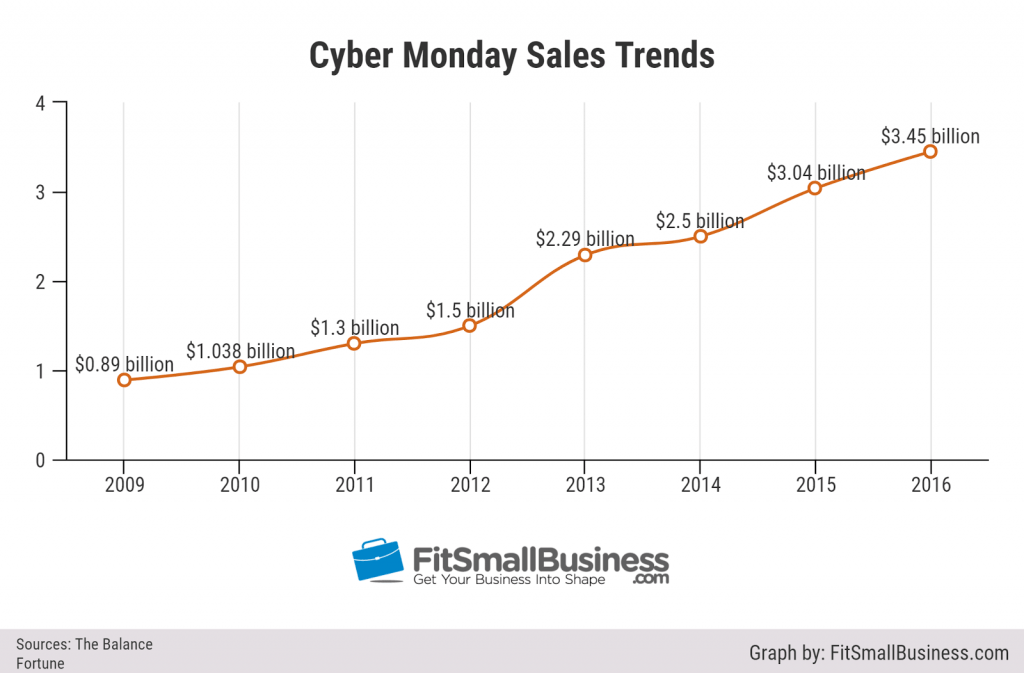 What Consumers Buy on Cyber Monday
Widespread support is one of the reasons why Cyber Monday sales continues to grow. A 2016 Perk report revealed that nearly 6 out of 10 consumers plan to shop on Cyber Monday. It outpaced even Black Friday, when only 5 out of 10 consumers plan to shop.
The report also showed the most in demand product categories. While the study was created for Cyber Monday last year, the data gives small business owners hints on which items to include in their holiday inventory this year: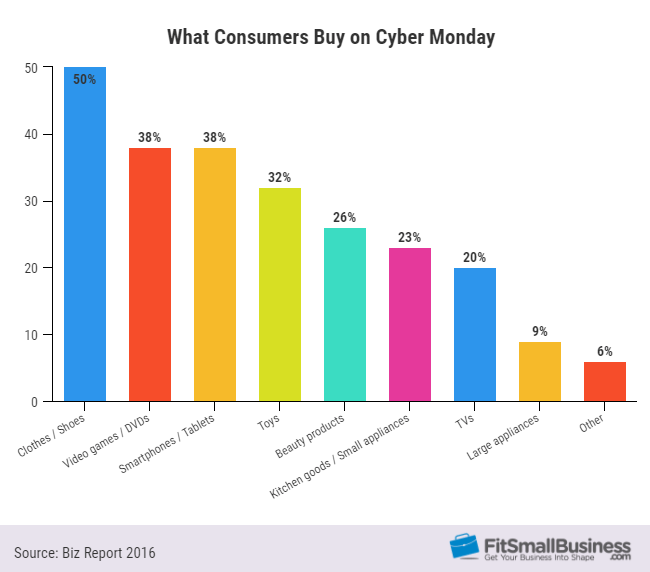 Apparel, consumer electronics, and home goods were some of the most sought after items on Cyber Monday in 2016. Small business owners should take note of these categories and consider building deals and packages around them.
12 Ways Small Businesses Can Crush It This Cyber Monday
In 2017, a small e-commerce company can compete with big box retailers. It's not about how much money you spend. It's about how you spend your money and how you appeal to customers who are searching for your products and services.
Here are 12 ways to get the most out of Cyber Monday this year:
1. Come Up With The Most Popular Offers & Deals
Large retailers will be coming out with big discounts and enticing deals on Cyber Monday. As a small retailer, you can stand out by featuring unique products and best sellers. Focus on these items, and come up with offers and packages to attract customers. Here are a few popular Cyber Monday offers:
Buy one get one free offer
Discounts on best selling items
Average order discount ($10 off purchase of $150 and above)
Freebies
Free shipping threshold (Free delivery on $200+ purchase)
Discount coupons on next purchase
Putting together great deals and packages is a good first step. You also need to rev it up in terms of increasing your visibility and improving user experience.
2. Step Up Your Advertising
After you come up with awesome deals, the next step is to get the word out on the street. Invest in paid ads, and tap the online marketing avenues mentioned below. We have complete guides on many of these things that can help you maximize your Cyber Monday campaign:
A significant portion of your Cyber Monday traffic and revenues will come from mobile devices. In 2016, mobile devices accounted for $1 billion in sales, up from $782 million in 2015. Make it a point to optimize your website for mobile users, or you might miss out on serious profits. The last thing you want on Cyber Monday is for users to abandon their carts just because the checkout process is not mobile optimized.
3. Use Email Marketing Along With Search Ads
For Cyber Monday 2017, combining search ads with email marketing can help give you the best returns, especially if you run your campaign weeks before the big day.  The National Retail Federation found that in 2016, a third of holiday weekend consumers made purchases because they were driven by promotions. When you promote your products just before the holidays, it's difficult to stand out from your competitors. Your customer's inbox will most likely be popping with dozens of promos and deals on the days leading to Cyber Monday.
Instead, build anticipation in both search ads and email marketing. You can do this several weeks ahead of the event. Offer a glimpse of your upcoming deals and packages to generate excitement. More importantly, a sneak peek enables consumers to take note of your offers. On Cyber Monday, you might not have to exponentially increase your ad spend because shoppers are already coming to you.
4. Invest in SEO
You can have the most amazing website and deals, but if no one sees them, you're going to miss out on Cyber Monday. Here's where Search Engine Optimization (SEO) comes in. While SEO and paid ads are often seen as mutually exclusive, the two approaches can actually work well together, especially in cases when there's a significant uptick in demand like Cyber Monday.
To increase your visibility using SEO, you need to find out what consumers are looking for. Keyword research enables you to see how people are searching for products and services on Google (e.g. are more people searching for 'virtual reality headset' or 'vr headset'?), so you can optimize your website and ecommerce inventory for those keywords.
Visit Google AdWords, and use the Keyword Planning tool to search for keywords. Input your product or service and then click on 'get ideas'. Then click on the keyword ideas tab to see average monthly searches for your product or service. AdWords also provides keywords by relevance so you want to choose the ones that post higher searches.
5. Get Online Reviews
Online reviews help build trust among consumers. In addition, they help shoppers understand what makes your product or service stand out from the competition. A BrightLocal study reveals that 9 out of 10 customers read product reviews before making a buying decision. You need genuine reviews to help convince your customers that what you're selling is worth their money, whether they are buying something for themselves or a gift for someone else.
Here are a few tips to get reviews:
Offer an incentive in the form of loyalty points or discount coupons to current customers who write reviews. Adagio Teas rewards customers with five loyalty points for each review written and it has helped them generate hundreds of reviews per product.
You can also offer raffle entries to customers who leave product reviews. Prizes may include gift certificates or best-selling items in your store to persuade shoppers to write a review
Ask walk-in customers for reviews. If you provide good customer service, you'd be surprised how many happy customers will write a review for you.
6. Get Featured on YouTube
Video product reviews are gaining popularity. A Google analysis reveals that holiday shoppers turned to YouTube stars like the Kid President to get gift ideas. Some of these videos rack up millions of views. As a small business owner, you want to give your best-selling products a chance to be featured by these influencers.
You can contact video bloggers on YouTube and get them to review your products. You want to reach out to bloggers who get high view counts and have a sizeable following. Their contact details are usually found on the links to their website or at the end of the video. What's better is that you can even ask them to create a link to your product page in their description. If your product gets featured, you have a huge opportunity to be seen by millions of viewers.
7. Offer Multiple Payment Options
Some people do not feel comfortable entering sensitive credit card details in websites that they've never encountered before, especially if the site is not secure. A study discovered that 65.8 of online shoppers will only shop on sites that offer PayPal as a payment option. Adding PayPal as an alternative payment option can alleviate customer concerns about security and help improve the chances of making a sale.
8. Streamline Checkout
When your customer is ready to pay, follow these tips to prevent shopping cart abandonment:
Reduce the visible navigation options on checkout. Eliminate headers, footers, and sidebars to remove distractions while decreasing loading time and encouraging shoppers to move forward.
Offer express or guest checkout so shoppers don't have to register with a username and password.
Include a progress bar if you have a multi-page checkout process. You want to show shoppers their progress so they won't get frustrated and abandon their carts.
Clearly show final price before checkout. Be transparent and provide an overview of total costs including shipping, taxes, and fees. Otherwise, shoppers will abandon the purchase.
With the average online shopping abandonment rate standing at 69.23 percent, streamlining the checkout experience reduces the probability that customers will drop out before the end of the transaction.
9. Migrate Your Ecommerce Site to Https://
Google began marking a number of http:// pages as not-secure back in January of this year. The action made an impact on pages that accept or send sensitive consumer details, including emails, credit card data, and login information. Starting in October 2017, Google plans to ramp up its campaign against not-secure sites. All http:// pages that require users to enter any data will be given a "not secure" label in Chrome.
Https:// is the upgraded version of HTTP that offers more security.  With HTTPS, you have better protection against hackers. Small business owners should migrate to HTTPS now in preparation for the holidays. Customers might back out and shop on a competing site if they see the 'not secure' label on Chrome. You can start the process by purchasing an SSL Certificate from your web hosting provider.
10. Acknowledge the Rise of Google Shopping
Google Shopping enables small businesses to compete with big box retailers. Sellers can upload their items on Google's Merchant Center and create a campaign on AdWords.
This will help Google match your items with a customer search query. Let's say the customer searches for "sneakers". The combination of an AdWords campaign and Google Merchant puts merchandise related to sneakers at the top of the screen.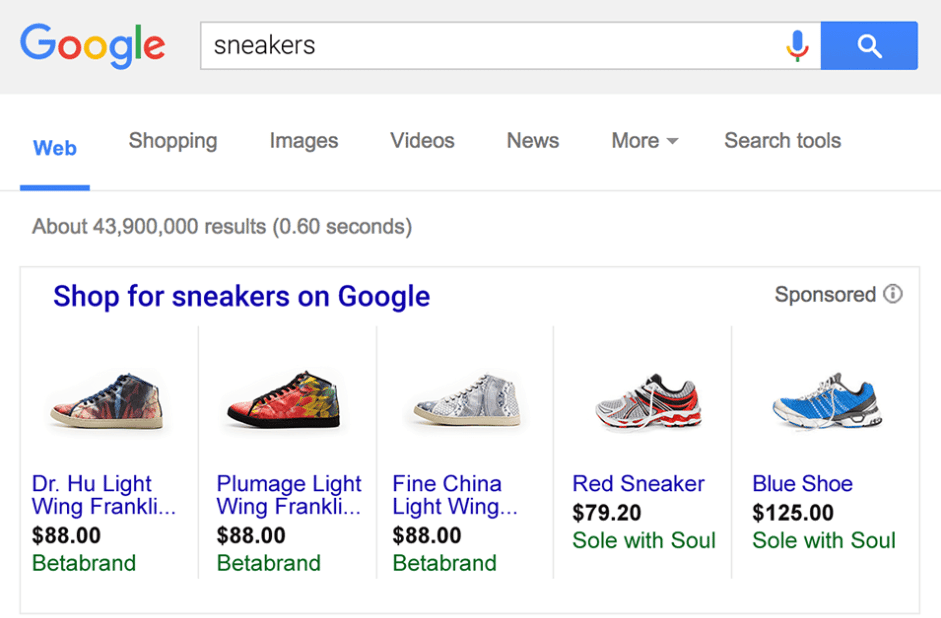 This is huge for small businesses as it levels the playing field. Big box companies can rely on their brand name and media advertising to increase visibility. With Google Shopping, small retailers can get their products displayed with a picture and brief description before the first Google search result.
In terms of revenues, Google Shopping proves to be a profitable investment.  According to Google Shopping Cyber Monday Report, overall return on ad spend almost doubled and gross revenue during 2016's Cyber Monday grew by 105 percent in comparison to 2015's performance.
11. Prepare for Voice-Enabled Shopping
For Cyber Monday this year, you might want to think about catering your ads to voice-enabled shoppers. According to the recently released Salesforce Connected Shoppers Report, 40 percent of millennials (age 18 – 36) use voice-enabled assistants like Google Home and Amazon Echo to research products before buying online. In addition, a Report Linker online survey shows that nearly 1 out of 5 users polled use voice assistant devices to make shopping lists. Those who attend to this segment could capture a significant portion of the holiday shopping market.
To prepare for this new trend, you have to first understand that people use different vocabulary when talking and writing. For instance, a shopper may write "PS4 Pro" in the search box, but the same person may ask the assistant, "Where can I get the best gaming console?" Those who use voice-assistants tend to speak in a conversational manner to their devices. Hence, you need to put together content and ad campaigns to accommodate this new search vocabulary.
To start, you can use services that offer free keyword suggestions such as Ubersuggest to search for relevant keywords. What you want to capture are long tail keywords which are somehow similar to conversational language. Using "the best gaming console" keywords as an example, here are some interesting suggestions:
When shoppers use voice assistants to do product research, you have a better chance of ranking using long tail keywords.
Also, the of use voice assistants fits well with our tip above on deploying ads weeks before the holiday season. When shoppers are curious about your promotions, they'll most likely tell their voice-enabled device to save your promotion to be retrieved later.
12. Consider Offering Deals All Holiday Weekend
Although much of what was discussed in this article prepares you for Cyber Monday, there's no reason why you can't apply these strategies on Black Friday and Small Business Saturday. Black Friday used to be dominated by brick and mortar stores, but that changed last year when 10 million more Americans shopped online than in stores.
If you decide to offer deals all holiday weekend, think about changing up your offer for different days. For example, you might want to focus on your best selling items to kick off the holiday on Friday, and then mix it up and come up with different deals for Saturday and Sunday centered on newer products. Finally, you can promote a different line of products with interesting offers on Cyber Monday. Or, you offer broad across the board discounts on Monday to end your holiday season sales on a high note. With this strategy, you can rotate items in your inventory and probably sell most of them, if not all.
Bottom Line on Cyber Monday 2017
Cyber Monday continues to see record highs in terms of sales every year. It's anticipated to be the largest shopping day this year.  As more people avoid crowds and shop from the comfort of their homes, Cyber Monday proves to be a shopping tradition where small ecommerce businesses have the opportunity to compete with large retailers on equal footing.
Do you have other Cyber Monday insights? Share them in the comments below!