Cyber Monday Strategies & Tips for Small Businesses
This year, online holiday sales are expected to reach up to $267.6 billion—an increase of 10%–12% from last year. And Cyber Monday (the online shopping holiday on the Monday after Thanksgiving) is slated to remain the biggest shopping day of the season, racking up an expected $11.2 billion in sales.
Whether you have a brick-and-mortar store and website or sell exclusively online, adopting Cyber Monday strategies is crucial for driving sales during the holiday season.
Here are seven top small business Cyber Monday strategies and tips for improving the shopping experience and making the most of the annual shopping event:
1. Make a Great Offer for Cyber Monday
First, you need to determine which products to offer and promotions to run. According to Deloitte's 2020 Pre-Thanksgiving Pulse Survey, better deals and lower prices are the most compelling reasons to shop. Next, free or fast shipping and good return options are what shoppers want.
For Cyber Monday, your best promotional strategy is offering a percentage discount or specific markdowns on particular items. Also, prioritize making life easier for shoppers—be generous in your shipping and return policies.
Shoppers are willing to search around for the best prices, with 83% saying that getting a great deal has the biggest influence on their retailer selection. In other words, small retailers can compete with larger stores by offering competitive prices.
When it comes to the question of which products to put on sale, there's no one-size-fits-all answer. Some options include:
A flagship item (often deeply discounted by up to 50% off or more) to generate buzz and bring in qualified traffic
Slow-moving items and/or less popular product categories
Popular gift categories, like clothing, toys, and electronics
Your store's entire catalog
Gift cards are a top holiday gift across the board, so another idea is to start with a buy one, get one at a discount gift card offer. Alternatively, you can offer a free bonus card with each gift card purchase of a set value— like a $5 bonus for every $25 card purchased.
There are several different strategies for promotions and offers that any retailer can use. Ecommerce platforms like Shopify, BigCommerce, or WooCommerce have built-in features that make it easy to offer one or more of these promotions on your site and push them out across other online sales channels like Amazon and Facebook.
---
---
---
---
---
---
2. Advertise Effectively
Now that you have a great deal for Cyber Monday, it's time to develop an effective advertising strategy. To get the results you want, shoppers need to know about your store and your Cyber Monday sale. For online shopping, there are four main advertising channels we'll focus on:
Search engine optimization (SEO)
Facebook
Instagram
Email
Here's how to use these channels for you Cyber Monday advertising:
Build a Dedicated Cyber Monday Landing Page
When shoppers arrive on a dedicated Cyber Monday landing page, it shows them they're in the right place for powerful seasonal deals. Then it guides them toward conversion and promotes targeted offers.
Part of effective Cyber Monday advertising is building a slick-looking and on-brand landing page that pushes shoppers to purchase from your store. To learn how, read our guide to creating a landing page.
Increase Visibility With SEO
Online search is the number-one place holiday shoppers go for gift-giving inspiration—and 67% of customers say they prefer to do their holiday shopping online this year.
But the commerce landscape is highly saturated as well as fiercely competitive, so sellers must take measures to increase their store's online visibility through search engine optimization (SEO). SEO is a set of practices that improve your products' visibility and help your store gain more clicks while boosting conversions.
Here are some SEO Cyber Monday strategies to get your goods onto holiday shoppers' radar:
---
---
Sell & Advertise on Facebook
If you don't already have a Facebook business page for your retail store, the pre-holiday season is an excellent time to set one up. It's simple and can be accomplished in a matter of minutes. Once you have your Facebook business page, you can sell items directly through Facebook. It's a successful channel to use because it streamlines the sales process by letting customers discover, shop, and checkout without leaving the app. This frictionless model also makes paid ads highly effective.
Before running a paid Facebook ad campaign, the first step is to create regular posts to schedule throughout the week leading up to Cyber Monday. Facebook video posts receive a higher click-through rate (CTR) than other post types.
So it's a good idea to make a video showcasing your products and deals. To liven up regular in-feed image posts, you can use a free tool like Canva to create professional-looking on-brand posts. To save time and ensure you're targeting your audience at the right time, schedule the posts directly through Facebook.
Once your page and regular posts are set up, the final step is to advertise. Facebook is a powerful advertising tool, especially for small businesses. It offers an even playing field between big and small retailers for reaching a targeted audience for a relatively small investment.
There are several different ways to advertise on Facebook—you can boost a post or create an ad campaign. Often, the most effective strategy is creating a specific Cyber Monday ad campaign using Facebook Pixel. Pixel helps retarget people that have clicked on your ads or visited your website so that your Facebook campaigns are shown to people who have demonstrated interest.
Sell & Advertise on Instagram
As a highly visual platform, Instagram is an excellent channel to showcase your products in their best light. Like Facebook, Instagram is also shoppable, making it a great place to convert followers into shoppers.
The first step to start selling on Instagram is to make sure you have an Instagram Business account. You'll need to connect your Instagram account to your Facebook account and create a product catalog or connect it to an existing online store. Next, create shoppable posts that promote your products and the Cyber Monday deals you're running.
The final step is to create an advertising campaign. Since Facebook owns Instagram, you create Instagram ads under your Facebook Business Page. Alternatively, if you are using an ecommerce platform like Shopify, you can manage your ads and product catalogs directly through your Shopify dashboard.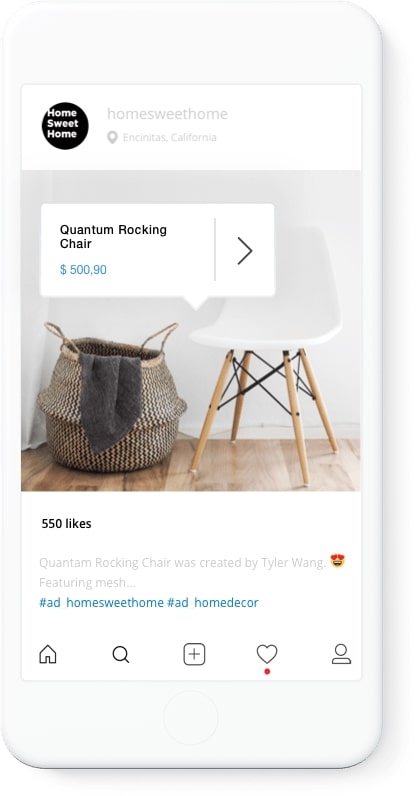 Use Email Marketing
Email marketing is a tried-and-true marketing tool for online businesses. According to Litmus email software, email campaigns generate $36 for every $1 spent on a campaign, which is higher than any other channel.
The key to email marketing for retailers is to personalize your campaigns to different audience segments; marketers who use segmented campaigns note as much as a 760% increase in revenue. Another study found that a segmented email campaign can get open rates as high as 94% and CTRs of 38%.
Many national brands send out their Cyber Monday promotions on the day itself. But attempting this strategy runs the risk of getting drowned out in a sea of other promotions. The solution is to get in first and send out your promotions the night before. You can then create an email sequence and send out a reminder later in the day.
An effective strategy for email marketing is to promote a specific deal or product in the email. Then, have the email link to a landing page that is specific to your deal. This helps streamline purchases and make the process easier for shoppers, especially for mobile users.
3. Provide a Great Experience
So you've attracted shoppers to your site with targeted advertising campaigns and irresistible promotional offers. What's next? You need to make sure you're providing shoppers with an easy-to-use, enjoyable and frictionless shopping experience. Doing so minimizes bounce rate and shopping cart abandonment—which in turn maximizes conversion.
Here are a few simple steps you can take to improve your site's user experience for Cyber Monday:
4. Offer Convenience Services
The rise in contactless experiences during the covid pandemic sparked an enduring demand for convenience services. Even as shoppers are feeling more comfortable returning to stores, options like Buy Online, Pick Up In-store (BOPIS); Buy Now, Pay Later (BNPL); and contactless payments are in high demand.
Embrace customers' preferences and make the shopping experience as comfortable as possible by implementing these services. And make sure to promote them alongside your deals and offers, so interested shoppers will know that the options are available.
---
---
---
5. Close the Sale & Prevent Cart Abandonment
Getting customers on your site and clicking "Add to Cart" is only half the battle. On average, nearly 70% of online retail orders are abandoned altogether. And cart abandonments during shopping holidays tend to be even slightly higher.
Here are a few strategies for reducing cart abandonment rates on Cyber Monday:
---
---
---
---
---
---
6. Earn a Lifelong Customer
Cyber Monday is a great opportunity to get in front of new customers. Ideally, these customers will continue to buy from you long after the holidays are over.
When compared to new customers, existing customers are 50% more likely to try new products and typically spend 31% more on average—so it's important to hang on to previous customers.
Even if you manage to just hang on to a few of your Cyber Monday customers, the results in time will be well worth the effort.
Here are a few Cyber Monday Strategies to increase customer retention:
7. Prepare for Next Year
Hopefully, by following all of these tips, you'll experience record-breaking Cyber Monday sales. But—believe it or not—once the holiday season is over it's already time to start planning for next year. You can never prepare too early. And starting preparations promptly will get you ahead of the competition.
Here are some Cyber Monday strategies to prepare for 2023:
Beef Up Your Social Media Presence
Take the same concepts you used to create your Cyber Monday sales posts and use them to showcase your products year-round. By scheduling your social media posts ahead of time, you can keep an active page by just investing a few hours a week.
More followers on social media equal more eyeballs for your Cyber Monday promotions. So, work on building followers throughout the year so that next year's promotions have an even greater impact.
Take High-quality Product Photos
Brick-and-mortar stores have the advantage of letting customers feel and test products in person before making a purchase. For online sellers, your product page and photos are all you have to work with. Give shoppers a clear idea of your products and ease any concerns by having high-quality photos that highlight products individually and lifestyle shots that show your products in action.
Give multiple perspectives: Make sure to offer pictures of all angles of each product so there is nothing left to the imagination and customers aren't surprised when their order shows up.
Showcase different sizes: If you sell apparel (which has notoriously high return rates) take pictures of models wearing different sizes so shoppers can get a better sense of how the item will fit.
Lighting matters: Bright white lighting will help showcase the product accurately.
Gather More Reviews
Online reviews are social proof and help build trust among consumers. Nearly 50% of consumers say they trust the reviews they read online as much as personal recommendations.
Reviews also help shoppers understand what makes your product or service stand out from the competition.
Your website needs genuine reviews to show customers that what you're selling is worth their money, whether they are buying something for themselves or a gift for someone else.
Here are a few tips to get more customer reviews:
Offer an incentive like loyalty points or discount coupons to current customers who write reviews. Adagio Teas, for example, rewards customers with five loyalty points for each review written, and it has helped them generate hundreds of reviews per product.
You can also offer raffle entries to customers who leave product reviews; prizes may include gift certificates or bestselling items in your store.
Use a customer loyalty program like Podium that makes it easy for employees to ask customers to leave reviews.
Cyber Monday Sales Trends
As you review our seven tips and plan your Cyber Monday strategies, keep in mind recent trends that can inform your decisions.
Every year since 2009, Cyber Monday sales have steadily increased on both mobile and desktop devices. Plus, the general trend toward online purchases has been accelerated as a lasting result of the COVID-19 pandemic.
This year, rising inflation and supply chain crunches are expected to impact Cyber Monday for consumers and retailers alike. Consumer Price Index is up 7.7% over 2021, causing significant increases in the cost of goods.
But according to the NRF, total holiday sales for 2022 are projected to grow 6%–8% over the previous year, reaching up to $960.4 billion. This means consumers will still be on the hunt for holiday gifts, but deals will be the top driver behind their purchase decisions.
Additionally, like its sister shopping holiday Black Friday, Cyber Monday is increasingly expanding beyond just a single day. Some retailers, particularly those with both brick-and-mortar and ecommerce operations, are effectively merging the two events into one long sale. For other online retailers, Cyber Monday is evolving into a weeklong sales event, known as Cyber Week.
Bottom Line
Standing out from the crowd on Cyber Monday isn't always easy, especially as a small business. You need to have clear Cyber Monday strategies and make your offers irresistible to your target audience.
Effective advertising, compelling deals, and a smooth shopping experience are all essential components of a successful Cyber Monday. Approach Cyber Monday with a step-by-step strategic approach and see what results you can drive.
You May Also Like…