18 Jewelry Marketing Ideas to Drive Sales Without Spending a Fortune
The jewelry industry is bursting with an estimated value of $292 billion by 2025―up from $230 billion in 2020. Those using the right marketing tools, strategies, and ideas will secure a larger share of the market. To help you promote your jewelry business, here are 18 jewelry marketing ideas. Use them to increase jewelry store sales, even with a tight marketing budget.
From selling online to generating referrals and getting good press, here are the best jewelry marketing ideas to grow your business:
1. Build a Website Optimized for Search
Regardless of where you sell your jewelry—online, at fairs, your own store, or in other retail shops—it's vital to have a well-designed small business website for customers to find your jewelry, your story, and where they can purchase from your business. You don't need to have website design skills to create a site with search engine optimization (SEO) in mind—instead, use one of the best website builders for small businesses.
Using a site builder like Squarespace lets you easily create a professional website with modern templates. Some of Squarespace's built-in SEO features include properly written page titles and descriptions, a site map, and a secure sockets layer (SSL) certificate. These features ensure your site is secure for customers and its content is optimized to rank higher in search engine results pages (SERPs) on Google and other search engines.
2. Improve Your SEO for Better Rank on Google
Success in ranking relies heavily on creating excellent content that inspires readers who visit your site to click on a call to action (CTA) to purchase your items. Use Ahrefs keyword search tool to find words and phrases to use in your site's content to help it rank higher organically. Ranking higher increases your exposure online to new audiences that may convert to customers since more people see your content in online search results.
If your website was published before you learned about the importance of SEO, it's a good idea to reassess your site to find out what it needs to rank higher on Google. You can rank higher in Google with paid advertising, local search results, or organically when you create content that answers a searcher's question well based on Google's algorithm and best practices.
3. Use Pinterest to Promote Your Jewelry Business
One of the best social media platforms to use for visual items like jewelry is Pinterest. Pinterest users often search for specific items or use broad terms and then discover items they didn't even know they wanted. They might pin those items to boards for inspiration, or even purchase items directly from a Pinterest post.
To be successful on Pinterest, you need to photograph your jewelry, create eye-catching graphics, and post your content on Pinterest with the right hashtags and keywords. For example, if you exclusively sell flat-back earrings, you could use keywords like "flat back earrings" or "earrings to wear with headphones" to attract a specific audience. If you want to aim for a broad audience, use keywords like "silver jewelry," "gold jewelry," and "earrings."
Most importantly, as mentioned before, Pinterest is visual, so it's important for your posts to look great. You can use Canva, a free online graphic design tool, to create graphics that are sized right for Pinterest (and other social media sites). Plus, you'll get access to free templates, graphics, and stock imagery.
4. Create a Brand or Product Story
Emotional selling is an excellent way to market jewelry, especially since jewelry is often purchased as a gift for a loved one. In "How Customers Think: Essential Insights Into the Mind of the Market," author and Harvard Business School professor Gerald Zaltman claims that 95% of purchasing decisions are made in the subconscious mind. Tying emotion to a brand or an item has proven to increase sales for many businesses, according to the book.
Jewelry is not a necessity, and convincing a person to buy a luxury product often comes down to selling them a story and showing them why they want it. A compelling brand story can generate brand loyalty, and creating a product story can motivate a customer to purchase. Sell rings related to love or friendship, or necklaces to celebrate a person's individuality—and write that story. Emotional storytelling can be done with photos, graphics, and words.
If you aren't sure how to start writing the story of your business or your jewelry products, consider hiring a professional writer or photographer to help. You can find affordable freelancers to help you write your brand story or create storytelling graphic designs at Fiverr, a freelance marketplace, starting from $5.
5. List & Advertise on Etsy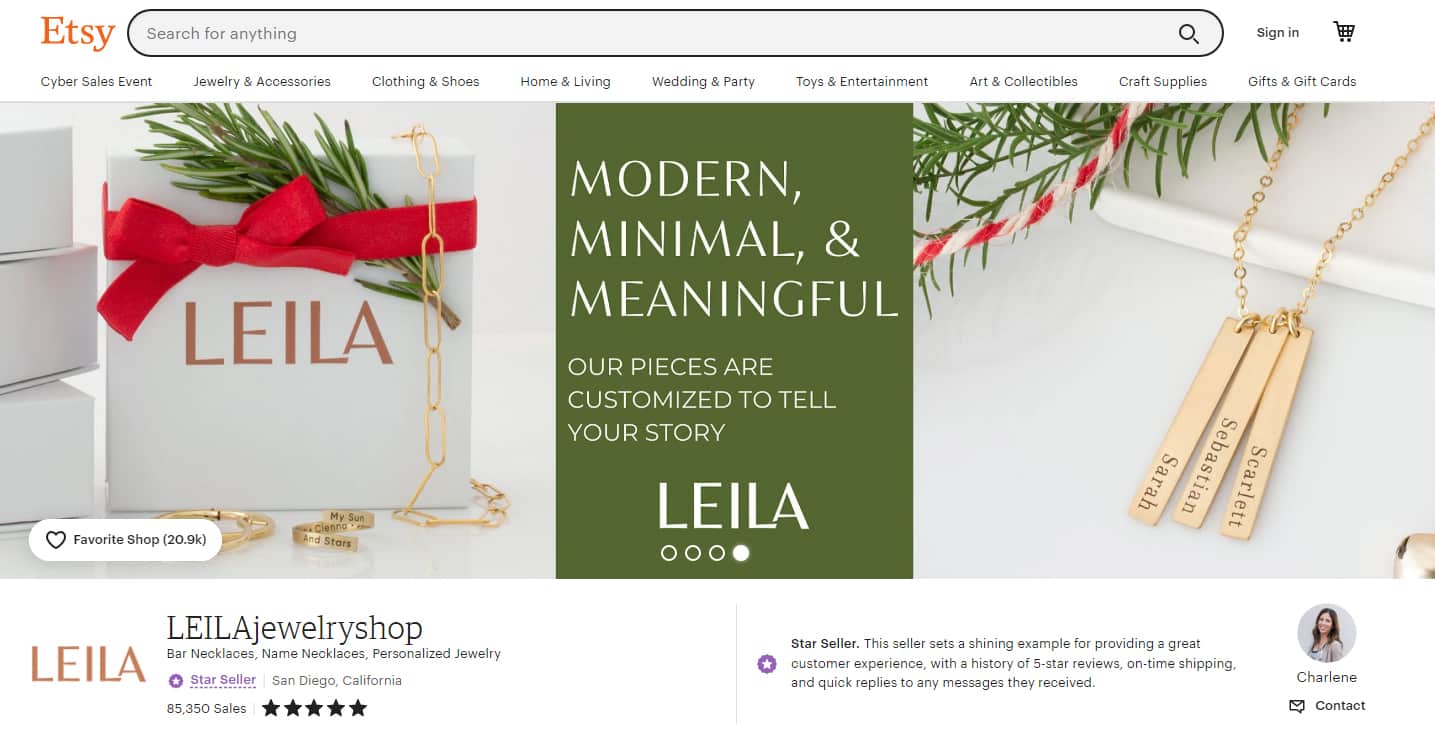 Lots of shoppers turn to Etsy to find handmade products, so it's an ideal platform for you to set up a shop to sell your jewelry, especially if you make it yourself. The process of how to sell on Etsy is easy: sign up for an account, set your shop preferences, name your shop, add items and pricing, and then set up payment preferences. You can even customize your shop if you'd like.
Keep in mind that you have to pay Etsy fees for listing each product and also whenever you make a sale. However, these fees are relatively minimal if you think of Etsy as an extension of your online store or brick-and-mortar shop, plus a marketing channel. The platform works similarly to having a Facebook shop—you can run an Etsy ad campaign to appear to buyers who fit your target audience.
6. Hire a Marketing Expert
You might find that you're not only the owner of your jewelry business, but also the designer or buyer, customer support, tech support, and, of course, the jewelry marketing ideas expert and executioner. A lot of small business owners try to do everything themselves, but that might not be the best course of action. Try handing off some of the responsibility to someone else.
Hibu is a full-service marketing agency that can help you build or maintain your online reputation (more on that below). Hibu can also manage your digital advertising campaigns and generate more site visitors for your business. Get your free custom quote.
7. Use Facebook Ads to Find New Audiences
Facebook advertising is a little different from search engine advertising. Instead of keyword searches, it capitalizes on users' tendency to scroll through their news feed.
As they scroll, ads pop up between posts from friends or pages they've liked. The ads are targeted and placed based on a user's browsing habits, interests, what they "like" on the platform, and a wide variety of demographics ranging from location, gender, and age to job title.
After creating a Facebook business page and ad account, add Facebook's retargeting pixel to your website—it's a line of code that needs to be placed in your site's footer. Then you can set up event tracking to see when someone goes to your site, your target audience (such as demographics and location), and choose the type of ad you want to display and your budget for advertising.
Using Facebook ads for jewelry marketing may be a bit more technical than you want to deal with. In that case, consider hiring a social media advertising expert, like Hibu. A Hibu consultant will meet with you to make sure of your business goals, use that information for precise targeting and optimization of ads, and provide analytics that show your return on investment.
8. Add & Manage Business Directory Listings
In a perfect world, that whole "build it and they will come" adage would work, but it doesn't, and that's why effective jewelry marketing ideas are needed. Whether you run a brick-and-mortar store or an online shop, you need to list your business wherever it makes sense to do so.
Online business directories are ideal for any small business because they're usually free to use and include your most important information: name, address, and phone number (NAP). You will often also be able to add other information, such as your website, hours of business, and sometimes even reviews from previous customers.
Find the online business directories that are relevant to your business and add your listing to each one. Be sure you keep track of which directories you listed your business in and update all listings when changes occur. For example, if you change your brand name, your site, or your phone number, you need to change it on every directory. This is one of the easiest jewelry marketing ideas, but it can also be time-consuming.
To save time, consider signing up for Yext, a listings management service. Yext has directory listings management plans that are affordable for small businesses, starting at about $199 per year. It will add and track listings on your behalf on hundreds of sites across the internet, so your information stays up to date across all business listings.
9. Get Local Press Coverage
Small local businesses have an edge with local media, which makes this an easy and possibly effective jewelry marketing idea. Figure out why your local newspaper or TV station might be interested in writing an article or doing a segment on your business—even something simple like "local hometown person celebrates grand opening of jewelry store" could be enough. All you really need is a newsworthy angle that will capture readers' attention.
Writing a press release isn't complicated, but you might want to rely on a press release service to ensure it hits the news desk at multiple outlets. You'll also want to prepare your store or product release for incoming jewelry sales and new business that could follow after a story is published.
10. Collaborate With Retailers to Promote Your Jewelry
Exposure for any small business is worth its weight in gold—if it's with the right audience. One idea to market your jewelry is to try to get a top retailer to notice your line. A partnership, even if it's just for a limited time, can put a relatively unknown jeweler in front of thousands more eyes.
If you already have connections in retail, reach out to your contacts and ask for an opportunity to pitch your line to a retail buyer or for a referral. Otherwise, consider attending trade shows to network with lots of different retailers that are there to find the next great thing.
11. Increase Your Reviews Online
Having a lot of positive customer reviews on Google benefits any jeweler from large franchises to small, independent jewelry stores. When users search for a jewelry shop, the top results on Google will be a few paid ads followed by organic search results, which will be made up of local jewelry stores. One contributing factor to an organically high rank is happy customers leaving positive reviews.
You can get reviews on Google to help market your jewelry business starting by asking customers for reviews as part of each transaction. Once you've completed a sale, ask a customer to leave a review on Google. Follow up with an email or a postcard with a link, a quick response (QR) code, or instructions on how to leave a review. It's a good idea to respond to reviews to help increase brand trust.
Pro tip: When launching a campaign to get good reviews, first create your Google My Business profile. If you already have one, make sure all the information on it is up to date.
12. Create Business Cards for Networking Events
Business cards are still very relevant today, especially when you attend networking events. It's quick and easy to pass along your contact information to an interested retailer, a possible partner, or a future customer.
The content on your card can go beyond your business name and website. For instance, including a time-limited or first-time customer discount code on the back of your business card encourages leads to visit your site and make a purchase.
A great jewelry marketing idea is to simply wear your own products wherever you go, and keep a handful of business cards on you. When you get a compliment on a piece you're wearing, you can pass a card to them so they can buy the piece themselves.
Creating your own business cards is easy, thanks to premade templates from most printers. Browse through the business card designs here to get inspired to make your own for your shop.
When you're ready to design and buy, Vistaprint is a popular place to print business cards. It offers more than 7,000 templates to get you started, and you can choose from a variety of unique materials for your cards, such as plastic or magnetic. You can also add metallic finishes to your cards, giving a nod to your jewelry business and making your business cards stand out.
13. Work With Local Retailers to Sell Jewelry In-store
As mentioned earlier, trying to snag a collaboration to sell in top retail chains is a fantastic jewelry marketing idea, but it might be a long-shot bet. An easier option for small jewelry store businesses is to approach owners of local small independent retail shops. They will be more willing to sell your products at their store if you make it easy for them to stock your products, though you may also have to give them a percentage of sales.
Put together a pitch that includes reasons why the store would benefit from selling your products. Your online sales history is a big selling point; if you can show that your product sells and brings in new traffic, a shop owner is more likely to give up a bit of real estate in their store for your display. Also, it's a good idea to have a branded display for your jewelry.
The idea is to make it easy for the retailer to carry your products while also driving brand awareness and recognition. Working with local retailers is just one great marketing idea for jewelry shops—consider these other local advertising ideas to get your brand on the map in your town.
14. Get Repeat Business With a Loyalty or Referral Program
You love all your customers, of course, but you are likely especially smitten with your most loyal customers—the ones who return again and again to buy jewelry from you. Customer retention is worth its weight in gold, and it's far more affordable to retain customers than acquire new ones. A loyalty or referral program is a great way to show your appreciation and keep customers coming back.
To implement this jewelry marketing idea, use loyalty program software that integrates with your website and other software, such as your point-of-sale (POS) system. These programs help you capture information about customers for future email marketing campaigns and automatically reward customers for repeat business. Affordable options include Smile.io and CandyBar.
15. Use the Right Hashtags on Instagram
Instagram is a social media site known for being a visual platform. Using Instagram as a jewelry marketing channel is similar to using Pinterest. You can include text with each post and multiple hashtags to increase your exposure on the channel, but it's your imagery that will turn heads (and get those all-important "likes").
It's important to use the right hashtags on Instagram to make sure you get your jewelry in front of the right Instagram users. Start by doing research on Instagram to figure out where your jewelry fits.
Create a running list of the hashtags you want to use with each post, and make sure they're relevant. You can't include a link to your jewelry website or product links in a post, but you can on your profile, so make sure you keep your profile updated with pertinent information.
16. Create Relationships With Influencers to Market Your Jewelry
Social media is a viable jewelry marketing idea, but if you aren't all that comfortable photographing yourself wearing your jewelry, or your social media skills aren't great, there's another way to tap into the market. Consider working with Instagram influencers and other social content creators to get them to promote your jewelry.
Start by creating a relationship with an influencer that fits your jewelry line's aesthetic or your brand's views or story. Follow them on social media, interact with their posts, and show your interest in what they have to say.
After you develop a relationship, pitch a collaboration. You will need to pay them, just as you would with a model or an actor, and you can expect them to wear your jewelry in public, get photographs or shoot video with your products, and (hopefully) create a buzz about your products.
17. Create an Online Contest or Giveaway
Everyone loves getting something for free, and it's a way to market your jewelry business that mostly costs you just time and a single piece of jewelry. An online giveaway or contest includes rules you have to follow based on the social media platforms you want to use, so be sure you read through any requirements before you launch a contest.
First you need to figure out what you want to get out of your giveaway or contest. You can use this marketing tactic to get more site visitors, more followers on social media, exposure on a platform you're new to, sales, or possibly just brand awareness. Create a plan for the launch, graphics for the giveaway, and a budget for advertising.
18. Use Email Marketing to Reach Your Audience
There are many ways you can use email marketing to increase jewelry sales. Send a monthly newsletter to keep your subscribers abreast of what's new and include links to product pages or let them know about upcoming events or sales. Send timed email campaigns to lead up to a big sale or holiday specials. Use email to reach out to customers who haven't visited in a while in an attempt to re-engage them.
Constant Contact is one of the leading email marketing apps for small businesses. It's easy to create website forms to get sign-ups, and the platform offers more than 200 email templates to get you started designing. Plus, there's no limit to how many emails you can send each month. One more unique feature of Constant Contact is its seamless integration with Shopify, which gives you the ability to add your Shopify products to emails for easy calls to action (CTAs).
Frequently Asked Questions (FAQs)
How do you attract customers to buy jewelry?
There is no one answer to this question—it's about using a combination of jewelry marketing ideas to attract customers. A helpful avenue to inspire people to buy your jewelry is to get them to subscribe to your emails through landing pages, social media, digital advertising, and pop-ups on your website. Then use email marketing to continue to nurture your leads to become customers.
Is a jewelry business profitable?
Just like any business, selling jewelry can be profitable if you price your pieces appropriately, stick to a budget, and stay on top of finances and marketing. Use a point-of-sale (POS) system with inventory management features that shows which items sell well and which ones don't, so you can stock the right items.
To ensure customers can find your jewelry business, do everything you can to rank high on Google's local search results pages, including following best practices for search engine optimization (SEO). Implement a combination of the jewelry marketing ideas above to drive brand awareness, increase sales, and grow a thriving business.
What is jewelry markup?
There are varying opinions on how much jewelry stores mark up, or increase, prices on pieces they purchase at wholesale prices to make a profit. Generally, the range of markup on jewelry is two to three-and-a-half times the cost, or a 100% to 350% markup. Larger brick-and-mortar shops tend to increase prices significantly because they have to carry a large inventory and have more overhead than small jewelry shops or online jewelry stores.
Bottom Line
You don't have to use every jewelry marketing idea on this list to attract customers and sell more jewelry. Instead, use the ideas that make the most sense for your business, whether you run a small local jewelry shop or an online store. Regardless of the type of jewelry shop you have, a well-designed website provides a solid online presence for customers to find your business, even if you sell through online shops like Etsy or Shopify.
Squarespace is a top website builder that offers award-winning website templates that will let you showcase your jewelry beautifully. It's easy to use the editor to create your site—even if you have zero site design experience. There are SEO features to help your site show up in search engine results, and it's an affordable option.
You Might Also Like…
You might be on Facebook, but is your business? Create a Facebook business page to help market your jewelry.
Reviews can help new customers decide whether they want to shop at your store, and Yelp isn't just for restaurants. Plus, listing on Yelp for Business is free.
Increase your chances of being discovered by new audiences by expanding your digital advertising to include social media advertising.