22 Jewelry Marketing Ideas That Won't Cost a Fortune
The jewelry industry is bursting with an estimated value of $332.6 billion by 2026. Those using the most effective jewelry marketing ideas will secure a larger share of the market—and the good news is most don't require you to spend a fortune. To promote your jewelry business, here are 22 jewelry marketing tips to gain brand awareness, increase website traffic, and drive sales—including ideas for selling jewelry online and marketing on social media.
Looking to get away from third-party platforms that take a portion of your sales? Build your online jewelry store on Weebly in a matter of hours, with ecommerce plans starting for free.
Jewelry Marketing Ideas to Increase Website Traffic
Your website acts as your small business' primary point of contact and information online. It's also your best chance of acquiring new customers in the digital world, which is why high website traffic is a key indicator of your brand's success. Below are jewelry advertising ideas to increase your website traffic, from using paid social ads to garnering Google Reviews.
1. Use Facebook Ads to Find New Audiences
Facebook advertising is a little different from search engine advertising. Instead of keyword searches, it capitalizes on users' tendency to scroll through their news feed. As they scroll, ads pop up between posts from friends or pages they've liked. Ads are targeted and placed based on a user's browsing habits, interests, what they "like" on the platform, and a wide variety of demographics ranging from location, gender, and age to job title.
After creating a Facebook business page and ad account, add Facebook's retargeting pixel to your website—it's a line of code that needs to be placed in your site's footer. Then you can set up event tracking to see when someone goes to your site and your target audience (such as demographics and location), and then choose the type of ad you want to display and your budget for advertising.
Learning how to advertise jewelry on Facebook may be more technical than you want to deal with, or you might need to stay focused on making jewelry instead. In that case, turn to a top social media marketing agency like Lyfe Marketing. Get started by setting up a free consultation to learn how they can increase your sales and return on ad spend.
2. Improve Your SEO for Better Ranking on Google
Success in ranking relies heavily on creating high-quality content that inspires readers who visit your site to click on a call to action (CTA) to purchase your items. Ranking higher can increase your sales, as more site visitors may convert to customers after discovering your content in online search results. If your website isn't generating organic traffic that produces sales, it's a good idea to reassess your site to find out what it needs to rank higher on Google.
3. Hire an Affordable Marketing Expert
You might find that you're not only the owner of your jewelry business, but also the designer or buyer, customer support, tech support, and, of course, the jewelry advertising ideas expert and executioner. Many small business owners try to do everything themselves, but that might not be the best course of action for long-term success. Try handing off some of the responsibility to the experts if you're having trouble figuring out your marketing strategy.
Hibu is a full-service marketing agency that can help you build a smart website that gets found in online searches and maintain your online reputation. It can also manage your digital jewelry marketing campaigns and generate more site visitors for your business. Get your free custom quote.
4. Add & Manage Business Directory Listings
In a perfect world, the "build it and they will come" adage might work, but it isn't, so it doesn't—that's why effective jewelry advertising ideas are needed. Whether you run a brick-and-mortar store or an online shop, listing your business in online directories gives customers more ways to discover your business. It also improves the search engine optimization (SEO) of your website.
As Google is the top name in online search, starting by setting up a Google Business Profile is essential. Plus, it's free to use and includes your most important info: name, address, and phone number. You will often also be able to add other info, such as your website, hours of business, and sometimes even reviews from previous customers.
Find the online business directories that are most relevant to your business and add your listing to each one. Keep track of which directories you listed your business in and update all listings when changes occur. For example, if you change your brand name, site, or phone number, you must change it on every directory.
5. Get More Online Reviews
Having a lot of positive customer reviews on Google benefits any jeweler, from large franchises to small, independent jewelry stores. When users search for a jewelry shop, the top results on Google will be a few paid ads followed by organic search results, which will be made up of local jewelry stores. One contributing factor to an organically high rank—and more positive brand awareness—is happy customers leaving good reviews.
You can get more reviews on Google to help market your jewelry business simply by asking customers for reviews as part of each transaction. Once you've completed a sale, ask a customer to leave a review on Google. Follow up with an email or a postcard with a link, a quick response (QR) code, or instructions on how to leave a review. When a review is left, it's a good idea to respond to help increase brand trust, whether the review was positive or negative.
Manually requesting reviews can quickly become a tedious and time-consuming process, especially as your business grows. Instead, use a tool like Podium to automate review requests and monitor your brand reputation online.
6. Create Business Cards for Networking Events
Business cards are one of the most well-established marketing materials for jewelry businesses. They're especially useful when you attend networking events. Business cards offer an easy and professional way to pass along your contact information to an interested retailer, a possible partner, or a future customer.
The content on your card can go beyond your business name and website. For instance, including a time-limited or first-time customer discount code on the back of your business card encourages leads to visit your site and make a purchase. A great jewelry marketing idea is to simply wear your own products wherever you go, and keep a handful of business cards on you in case people inquire about them.
Creating your own business cards is easy, thanks to premade templates from most printers. Browse through the business card designs here to get inspired to make your own for your shop.
When you're ready to design and buy, VistaPrint is the best place to print business cards. It's affordable, offers more than 7,000 templates to get you started, and you can choose from various unique materials for your cards, such as plastic or magnetic.
Jewelry Marketing Tips for Brand Awareness & Engagement
Gaining brand awareness and engagement are the first steps to acquiring new customers and increasing sales for your jewelry store. Fortunately, the digital world offers countless opportunities to get the word out about your business and get more customers interested in your products. From creating a brand story to getting press coverage, keep reading for jewelry advertising ideas to increase your brand awareness.
7. Create a Brand or Product Story
Emotional selling is an excellent way to market jewelry, especially since jewelry is often purchased as a gift for a loved one. In "How Customers Think: Essential Insights into the Mind of the Market," author and Harvard Business School professor Gerald Zaltman claims 95% of purchasing decisions are made in the subconscious mind. Tying emotion to a brand or an item has proven to increase sales in many businesses, according to the book.
Because jewelry isn't a necessity, convincing a person to buy a luxury product often comes down to selling them a story and showing them why they want it. A compelling brand story can generate brand loyalty and motivate customers to purchase. Sell rings related to love or friendship, or necklaces to celebrate a person's individuality—and write that story. Emotional storytelling can be done with photos, graphics, and words.
If you aren't sure how to start writing the story of your business or your jewelry products, consider hiring a professional writer or photographer to help. You can find affordable freelancers to help you write your brand story or create story-telling graphic designs at Fiverr, a freelance marketplace, starting from $5.
8. Get Local Press Coverage
Local businesses have an edge with local media. Getting a story on the local news comes down to finding the angle that would make a local newspaper or TV station interested in covering your news. Even something simple like "local hometown person celebrates grand opening of jewelry store" could be enough. All you really need is a newsworthy angle that will capture readers' attention.
Writing a press release isn't complicated, but you might want to rely on a press release service like EIN Presswire for distribution to ensure it hits the news desk at multiple outlets. You'll also want to prepare your store or product release for incoming jewelry sales and new business that could follow after a story is published.
Pro tip: A well-written press release could easily boost your jewelry store's brand exposure. Get professional press release distribution services with a service like Newswire.
9. Connect With Retailers to Promote Your Jewelry
Exposure for any small business is worth its weight in gold—if it's with the right audience. One idea to market your jewelry is to get a top retailer to notice your line. A partnership, even if it's just for a limited time, can put a relatively unknown jeweler in front of thousands more eyes and get engagement from potential leads.
If you already have connections in retail, reach out to your contacts and ask for an opportunity to pitch your line to a retail buyer or for a referral. Otherwise, consider attending events to network with many different retailers to find the next great thing.
10. Leverage Video Content on Social
Jewelry is one of the most eye-catching products you can advertise—perfect for today's video-centric social media landscape. Whether for Instagram story ads or TikTok videos, create video content featuring your jewelry products for social media. With the right optimization, the algorithm can pick up your video and get it in front of the right audience. Some examples of video content for jewelry are simple modeling videos, testimonial videos, or packing videos.
Unsure of how to get started on your jewelry video ad? Hire professional videographers and video editors via Fiverr for as low as $5.
Jewelry Marketing Ideas to Boost Sales
Getting your leads to convert is the final stage of the customer journey and is your best indicator of success. From digital marketing tactics like referral programs to on-ground methods like selling at trade shows, here are jewelry promotion ideas to boost your sales.
11. Work With Local Retailers to Sell Jewelry In-store
Trying to snag a collaboration to sell in top retail chains is a fantastic jewelry marketing idea, but it might be a long shot. An easier option for small jewelry store businesses is to approach owners of local small independent retail shops. They will be more willing to sell your products at their store if you make it easy for them to stock your products, though you may also have to give them a percentage of sales.
Put together a pitch that includes reasons why the store would benefit from selling your products. Your online sales history is a big selling point; if you can show that your product sells and brings in new traffic, you're more likely to land a spot in a retailer's store. Moreover, having your jewelry on display also helps attract potential customers.
The idea is to make it easy for the retailer to carry your products while driving brand awareness and recognition. Working with local retailers is just one great marketing idea for jewelry shops—consider these other local advertising ideas to get your brand on the map in your town.
12. Get Repeat Business With a Loyalty or Referral Program
You love all your customers, of course, but you are likely especially smitten with your most loyal customers—the ones who return again and again to buy jewelry from you. Customer retention is worth its weight in gold, and it's far more affordable to retain customers than acquire new ones. A loyalty or referral program is a great way to show your appreciation and keep customers coming back.
To implement this jewelry marketing idea, use loyalty program software that integrates with your website and other software, such as your point-of-sale (POS) system. These programs help you capture information about customers for future email marketing campaigns and automatically reward customers for repeat business. Affordable options include Smile.io and CandyBar.
13. Sell at Local Fairs or Trade Shows
Local fairs are excellent venues for small businesses to stand out and connect with customers in person, especially if you're marketing handmade jewelry. Scour your local community for any upcoming fairs or trade shows in your area, and get in touch with the organizers about becoming a vendor.
If you don't have a physical location yet, local fairs also make for great testing grounds to assess your business' supply and demand. They also allow you to get to know your customers on a personal level, which you can use to improve your future business decisions.
14. Give Limited-time Offers on Special Occasions
Jewelry always make for excellent gifts, especially on special occasions like Valentine's Day and Mother's Day. If you haven't already, take advantage of these special dates to drive sales by offering limited-time promotions in the days leading up to those occasions. Whether it's a 25% discount, a free gift, or a shipping coupon, limited-time offers are a tried-and-true marketing strategy to get people to convert.
When planning your marketing strategy, mark the dates with special occasions in your digital marketing calendar for the best results. Plan your limited-time offers ahead of those dates so you can organize and execute your campaign promotions accordingly.
Ideally, your limited-time offers should be up and running days before those special occasions, and your marketing promotions should start days even prior to that. These promotions can include email marketing campaigns, social media posts, in-store posters, and more.
Best Ways to Sell Jewelry Online
The jewelry industry is expected to increase by over $60 billion in 2026—and a large part of that is due to its steadily growing ecommerce sector. The internet offers several opportunities for jewelry stores to expand their market reach and increase their sales. Whether you have a brick-and-mortar store or are selling exclusively online, keep reading for some of the best jewelry advertising ideas to sell jewelry online.
15. Build a Website Optimized for Search
Regardless of where you sell your jewelry, it's vital to have a small business website for customers to find your jewelry, your story, and where they can purchase from your business. Plus, ecommerce-friendly site builders like Weebly and Wix make it easy for you to avoid third-party platform fees when selling jewelry online. They also make it easy to build a website in just a few hours, even for web design beginners.
Using a top small business website builder like Weebly lets you easily create a professional and mobile-optimized ecommerce website, starting for free. We recommend using Weebly's free plan to build your jewelry website. Then opt for the Professional plan, which costs just $12 per month, to connect a custom domain and start building your brand's presence online.
16. List & Advertise on Third-party Platforms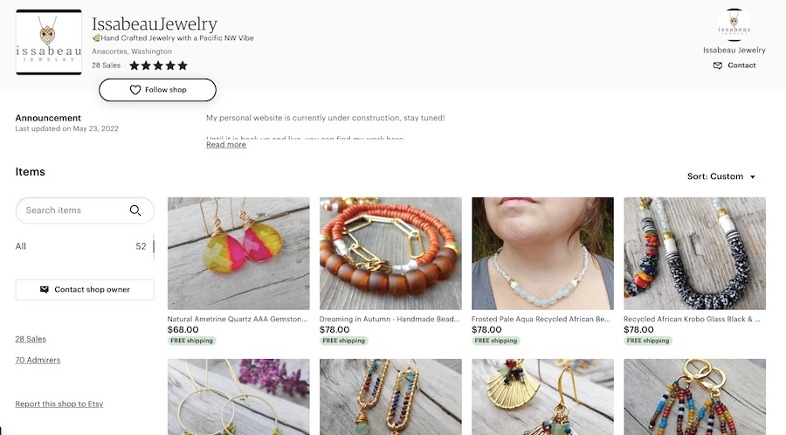 ---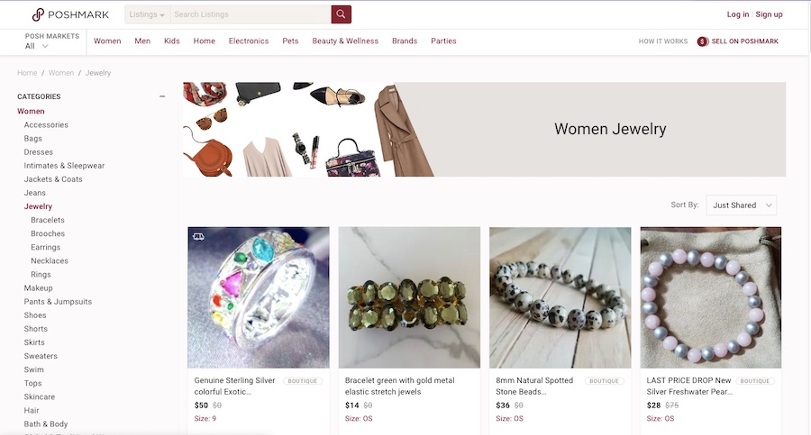 ---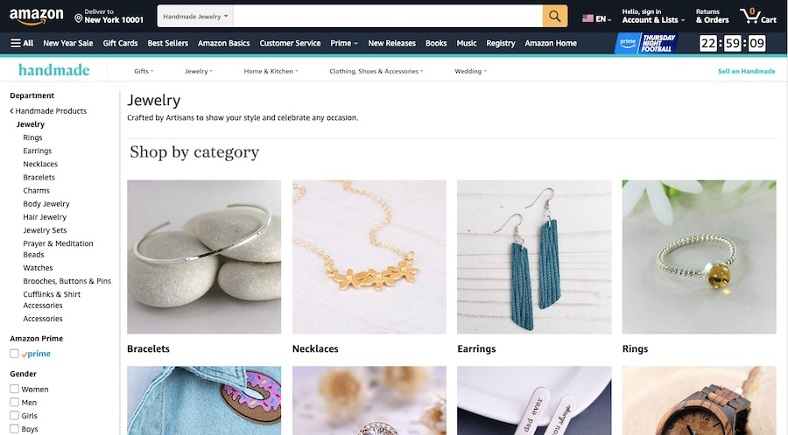 ---
While your website is your business' primary digital storefront, there are several third-party ecommerce platforms to reach new customers and increase your sales. From Etsy to Poshmark and more, these sites already have a defined, active consumer base that you can easily tap into.
Etsy is best known as a marketplace for handcrafted products, so it's an ideal platform for marketing handmade jewelry. The process of how to sell on Etsy is easy. First, sign up for an account, set your shop preferences, name your shop, add items and pricing, and then set up payment preferences. You can even customize your shop if you'd like. Keep in mind that you have to pay Etsy minimal fees for listing each product and whenever you make a sale.
Poshmark is a platform most known for fashion, accessories, and beauty products, with a consumer base across the United States, Canada, and Australia. Like Etsy, you'll simply need to create an account, upload photos of your products, and make sales directly on the platform. Finally, Handmade by Amazon is Amazon's platform catering specifically to crafters and artisans. It connects you with customers around the globe.
Alternatively, you can build your own brand and website using Shopify, and forgo the third-party platform fees. While it doesn't offer the advantages of an already engaged audience, its native tools and features are ideal for jewelry marketing.
17. Use Email Marketing to Entice Your Audience to Purchase
When it comes to online marketing for jewelry, email marketing can be a low-cost and effective channel to promote your products, which is why it's one of the most effective marketing ideas for small businesses. Unlike social media, emails have the benefit of allowing one-on-one communication with your customers. This creates a more personal experience allowing for focused, long-form communication and CTAs leading to your website.
There are many ways you can use permission-based email marketing to increase jewelry sales. Send a monthly newsletter to keep your subscribers abreast of what's new and include links to product pages or let them know about upcoming events or sales. Send timed email campaigns to lead up to a big sale or holiday specials. Use email to reach out to customers who haven't visited in a while to re-engage them.
From newsletters to drip email marketing, Constant Contact is one of the best email marketing software platforms for small businesses. Starting at $99.9 per month, it's an affordable and easy-to-use option, with over 200 templates to get you started. Finally, it allows for seamless integration with Shopify, so you can add your Shopify products to emails for easy CTAs.
18. Curate Relationships With Influencers to Market Your Jewelry
Social media marketing is a viable jewelry marketing idea, but it may not be right for everyone. If you aren't all that comfortable photographing yourself wearing your jewelry or your social media skills aren't great, there's another way to tap into the market. Consider working with Instagram influencers and other social content creators to get them to promote your jewelry.
Start by creating a relationship with an influencer that fits your jewelry line's aesthetic or your brand's views, values, or story. Follow them on social media, interact with their posts, and show your interest in what they have to say.
After you develop a relationship, pitch a collaboration. You will need to pay them, just as you would with a model or an actor, and you can expect them to wear your jewelry in public, get photographs or shoot videos with your products, and (hopefully) create a buzz about your jewelry.
Jewelry Marketing Ideas for Social Media
These days, many of your consumers spend a significant amount of time on social media, making it a lucrative platform for marketing your jewelry business. However, a challenge with social media is that it's highly populated—you'll likely be competing with thousands of other brands, all vying for customers' attention and interest. Below are some tips and ideas on social media marketing for jewelry.
19. Take High-quality Photos for Pinterest
One of the best social media platforms to use for visual items like jewelry is Pinterest. Pinterest users often search for specific items or use broad terms and then discover items they didn't even know they wanted. They might pin those items to boards for inspiration, or even purchase items directly from a Pinterest post.
To be successful selling on Pinterest, take good photographs of your jewelry, create eye-catching graphics, and post your content with the right hashtags and keywords. For example, if you exclusively sell flat-back earrings, you could use keywords like "flat-back earrings" or "earrings to wear with headphones" to attract a specific audience. If you want to aim for a broad audience, use keywords like "silver jewelry," "gold jewelry," and "earrings."
Most importantly, as mentioned before, Pinterest is visual, so your posts need to look great. You can use Canva, a free online graphic design tool, to create graphics that are sized right for Pinterest (and other social media sites). Plus, you'll get access to free templates, graphics, and stock imagery. Learn more in our article detailing how to use Pinterest for business.
20. Create a Social Media Contest or Giveaway
Everyone loves getting something for free, and it's a way to market your jewelry business that mostly costs you just time and a single piece of jewelry. An online giveaway or contest includes rules you have to follow based on the social media platforms you want to use, so be sure you read through any requirements before you launch a contest.
First, you need to figure out what you want to get out of your giveaway or contest. You can use this marketing tactic to get more site visitors, more followers on social media, exposure on a platform you're new to, sales, or possibly just brand awareness. Create a plan for the launch, graphics for the giveaway, and a budget for advertising.
21. Use the Right Hashtags on Instagram
Instagram is a social media site known for being a visual platform. Using Instagram as a jewelry marketing channel is similar to using Pinterest. You can include text with each post and multiple hashtags to increase your exposure on the channel, but it's your imagery that will pique users' attention and generate engagement.
Use the right hashtags on Instagram to ensure you get your jewelry in front of the right Instagram users. Start by doing research on Instagram to figure out where your jewelry fits.
Create a running list of the hashtags you want to use with each post, and make sure they're relevant. You can't include a link to your jewelry website or product links in a post, but you can on your profile, so make sure you keep your profile updated with pertinent info. To leverage this platform, learn how to sell on Instagram in seven steps.
22. Feature User-generated Content (UGC)
One of social media's best benefits is its ability to easily interact and build communities with your customers. A good way of benefiting from this is by featuring user-generated content (UGC) on your social media page. User-generated content is similar to user reviews in that they act as social proof for your brand—when potential buyers see other customers using your products, they are more likely to make a purchase.
Featuring UGC on social media also fosters a sense of belonging among your existing consumer base, which helps foster brand loyalty. Being featured on a store's official social media page makes customers feel special, incentivizing them to choose your brand over others. Generating UGC from your customers can be as simple as encouraging them to take photos of their products after purchasing, and sharing them on social media with a specific hashtag.
Frequently Asked Questions (FAQs)
How do you attract customers to buy jewelry?
Attracting customers usually requires a combination of jewelry marketing ideas. For example, a search-friendly website can bring organic traffic (and sales) from online searches. Getting people to subscribe to emails blasts through landing pages, social media, and digital advertising allows you to nurture leads over time to become customers. Other avenues include selling on third-party platforms, collaborating with local retailers, and joining fairs or trade shows.
Is a jewelry business profitable?
Just like any business, selling jewelry can be profitable if you price your pieces appropriately, stick to a budget, stay on top of finances, and use proven marketing strategies. In addition, use a point-of-sale (POS) system with inventory management features that shows which items sell well and which ones don't so you can stock the right items. Implement a combination of the jewelry marketing ideas above to drive brand awareness, increase sales, and grow a thriving business.
What is jewelry markup?
Jewelry markup is the amount (usually a percentage) a wholesaler or retailer adds to the cost of the jewelry they purchased to resell. Generally, the range of markup on jewelry is two to three-and-a-half times the cost, or a 100% to 350% markup. Larger brick-and-mortar shops tend to increase prices significantly because they have to carry a large inventory and have more overhead than small jewelry shops or online jewelry stores.
Bottom Line
You don't have to use every jewelry marketing idea on this list to attract customers and sell more jewelry. Instead, use the ideas that make the most sense for your business, whether you run a small local jewelry shop or an online store. Regardless of the type of jewelry shop you have, a well-designed website provides a solid online presence for customers to find your business, even if you sell through online shops like Etsy or Shopify.
Weebly (owned by parent company Square Online) is a top ecommerce website builder that allows you to easily build an online store to showcase your jewelry beautifully. It's easy to use—even if you have zero site design experience—and you can get started for free, so there's no risk in trying it.