Ultimate Guide to Effective Marketing Materials
Digital marketing may have taken center stage, but businesses that overlook tangible marketing materials and print marketing campaigns may be missing out on a big opportunity to build lasting awareness, leads, and sales. Marketing materials can be used in a number of ways and give businesses the chance to connect more personally with audiences offline.
30 Marketing Materials Ideas & Examples
Businesses looking to connect with people on a more personal level should consider using marketing materials. The trouble is that while print materials can be highly effective, getting ideas for them can be a challenge. So we compiled a list of the most effective marketing materials in 2020 complete with marketing material examples and design ideas, pricing, and strategies to best use them to reach your audience and marketing goals.
Here are 30 effective marketing materials examples and ideas in 2020:
Business Cards

Business cards have been a networking device for decades and they give businesses a way to put their contact info in the hands of potential customers and partners. They come in a variety of shapes, sizes, and materials, but the best business cards aren't only well-designed, they are those that reach people who actually want to retain the contact info on the card. They are also generally affordable. For example, at Vistaprint 100 standard business cards start at $15.
1. Mini Business Card Example – Photography
Created with: Moo
Why it works: This is an example of a "Mini Card" by Moo, a business card design and printing service. What makes the business card unique is its size, which is only 2.75" x 1.1," compared to the standard business card size, 3.5" x 2." This makes them a good option for those who frequently carry business cards on them to capture any potential networking opportunities as the cards are smaller and less obtrusive to hold on to.
---
2. Business Card Example – Appointments
Created with: Canva
Why it works: Business cards are not always used to simply share contact info, they can provide value such as serving as an appointment card. Granted, this means someone is already a customer or client, but it's a nice customer service touch and provides more visibility to your clients where they're seeing your business name more, making it more familiar and serves as reminder advertising.
---
3. Business Card Example – Fitness Center
Created with: Vistaprint
Why it works: This standard size business card has a unique touch with its vertical orientation. It goes beyond breaking the mold of traditional business cards by also including an offer of a free fitness class. Similar to digital ads, it gives recipient's a way to attain the offer—in this case, by scanning a QR code. While offers are not commonly an element of a business card, it does increase the chances someone will not only hold on to the card but will convert thanks to it.
Postcards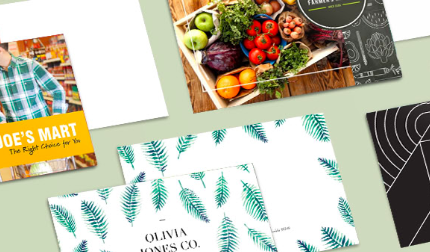 Postcards can be a good way to share a marketing message in a fun and effective way because they can be read on first-glance. Businesses can use postcards in a number of ways from announcing an upcoming sale, inviting recipients to an event, or sharing an exclusive offer. They are a low-cost way to connect with a mailing list. For example, Moo offers 25 postcards for $21 or you can get 100 postcards for $32 from PsPrint.
---
4. Postcard Invitation
Created with: Canva
Why it works: This postcard is an example of a simple event invitation. Nowadays the standard delivery method for event invitations is via email, making postcards a nice touch— especially for high-value, annual events such as industry expos and professional conferences. Postcards are also a good way to reinforce an invite that was sent via email as not all emails get opened. This helps ensure the recipient received your invite, making them more likely to register for an event.
---
5. Sales Postcard
Created with: Vistaprint
Why it works: What's good about this postcard is that it's bold and straightforward. By being so simple, it may work to cut through the noise and stand out in a pile of mail. It uses very limited text, with one large word "ROI." While it seems almost too short, it draws a recipient in to continue reading the rest of the postcard, which is backed by a powerful message that should be appealing to every recipient on the mailing list (assuming email segmentation is employed).
---
6. Happy Birthday Postcard
Created with: Canva
Why it works: Businesses that have birthday information for their contact list should consider sending personalized birthday wishes the month of a contact's birthday. It not only adds a nice personal touch by showing your contacts that you're thinking about them—without thinking about your next sale. Back your message with a special offer—in this example a free doughnut from a bakery. This helps keep businesses top-of-mind and gets people coming back to them.
Door Hangers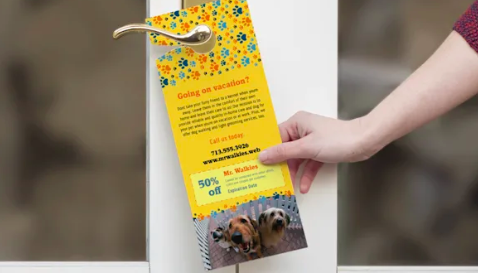 Door hangers are similar to rack cards, or fliers, but they are designed to be left on a doorknob. They're best for local businesses that provide home-based services that they can see a recipient is in need of. For example, a lawn care company may leave door hangers at homes that evidently need their lawn mowed, or painting business that sees a house is in need of a fresh coat of paint. Door hangers can be printed for as little as $35 for 100 from Vistaprint.
---
7. Landscaping Company Door Hanger
Created with: Vistaprint
Why it works: This door hanger for a landscaping business includes all of the information a door hanger should, such as effectively telling the recipient what the service is, provides an offer, and it gives a way for the recipient to contact the provider. It doesn't overwhelm the recipient with information and its designed so that it's easy to identify what the service offered is.
---
8. Pet Grooming Door Hanger
Created with: Vistaprint
Why it works: This door hanger includes all of the basic information a door hang should include, but what makes its messaging a bit unique is that instead of leading with the "what" (pet grooming services), it leads with the "why" (so pet owners don't have to go to the groomers). By sharing its selling point that the groomer comes to you and highlighting why that is good for the recipient, it reduces friction and makes people more likely to become a customer.
---
9. Home Staging Door Hanger
Created with: Vistaprint
Why it works: A home staging company would leave these door hangers on homes that are listed for sale in their area. They may even strategically choose homes that they have seen on the MLS for longer than, say, 60 days, and on those that they can see from pictures are not staged. It's a simple, yet attractive door hanger that if used correctly could provide a homeowner with a relevant and timely solution to achieving their goals.
Flyers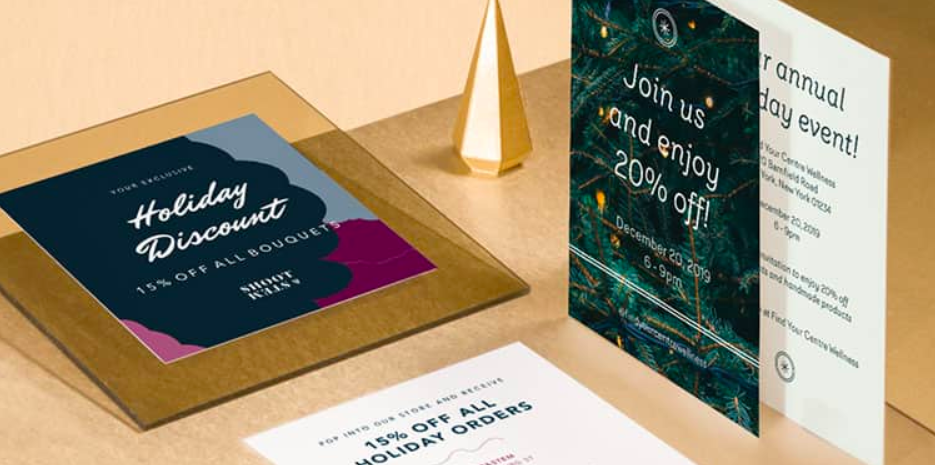 Flyers can be a good way for businesses to promote upcoming events and timely news. When deciding whether flyers are right for your business, consider how you will distribute them. For example, will the flyer be handed out on the streets, posted on public bulletin boards, or left at checkout for recent customers? If you have a good way to distribute business flyers, then they might be an affordable marketing option with pricing around $15 for 100 flyers from PrintRunner.
---
10. Community Event Flyer
Created with: Canva
Why it works: This is a promotional flyer for a local, community event that would likely be posted on bulletin boards within the community it serves. The flyer has its main message, the announcement of the fair at the forefront, combined with an inviting image of a happy family to quickly draw in the attention of parents of young children (the target audience). In addition, it includes information on when and where the event is, as well as how to get more info about it.
---
11. Workshop Flyer Example
Created with: Canva
Why it works: While this promotional flyer utilizes a standard design, with a message, information, and a photo, it's the use of two contrasting colors makes it eye-catching and makes its primary message pop. Notice that the background is navy blue, whereas the text is a combination of red and white—all colors drawn from the image it includes. This creates a modern-looking and cohesive design in a simple way.
---
12. Music Festival Flyer
Created with: Moo
Why it works: What makes this flyer for a music festival a good design is that it permeates a feeling of awe by using its bright, cheery colors and its off-the-cuff-type of message. Notice that it uses the same font size for its headline, date, and location, but with different text colors. This makes the headline stand out while keeping the date at the forefront of the flyer. This makes the date feel important, or something to remember—making readers more likely to remember it.
Brochures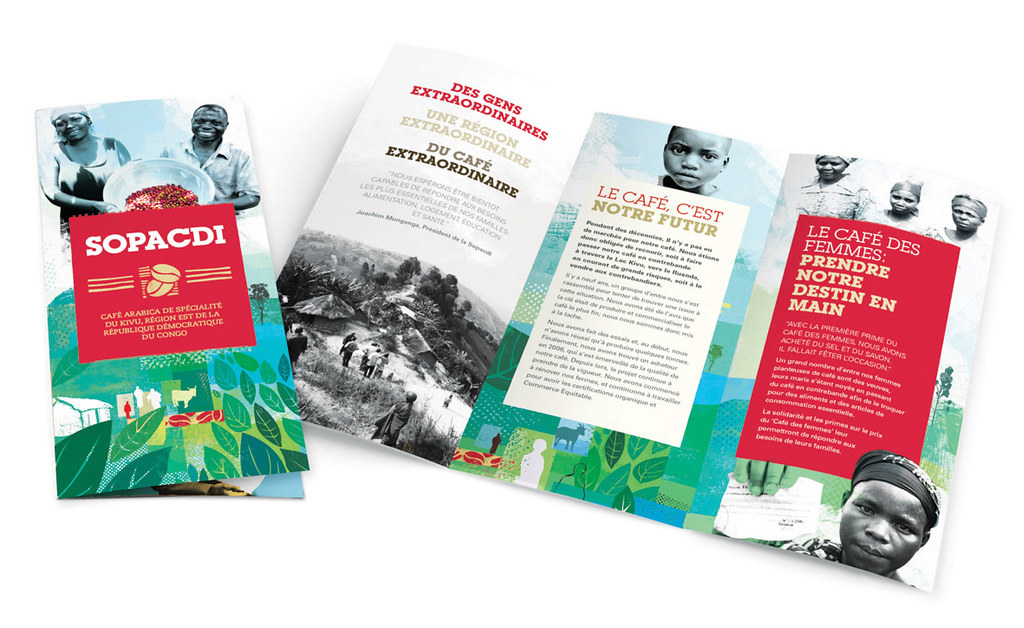 Brochures are a versatile marketing material that provides information about a product or service. They are a unique and effective marketing tool because people only take them when they are interested in what they contain. They are ideal for a number of business-types, from those in tourism that will leave them at local hotels or tourism centers to those with booths at trade shows, or even local businesses such as a restaurant promoting catering services.
---
13. Takeout Menu Flyer
Created with: Canva
Why it works: While most have quick access to the internet and can access your menu online, many businesses still use brochures to distribute menus in print as people still collect takeout menus. It also gives people a way to find your menu and number in case of losing power and adds a traditional touch to hospitality. A restaurant would likely leave its brochure at its front desk or distribute them to local hotels.
---
14. Adventure Sports Brochure
Created with: Canva
Why it works: this brochure for adventure sports promotes its unique offering of paragliding tours using a unique brochure design, with bold, contrasting colors. It piques a reader's interest with exciting images and provides basic information about the services the company provides. By providing pricing, it helps reduce the likelihood that people take the brochure if it's out of their price range, and in return, leaving more brochures to those that will become a customer.
---
15. Wine Tours Brochure
Created with: Canva
Why it works: This brochure example for a vineyard tour company provides basic information along with quality visuals to entice readers. It incorporates a subdued and rich-feeling color from its logo throughout the brochure, along with simple black text to contrast the simple white background. It includes all necessary information, without the brochure feeling cluttered.
Booklets & Catalogs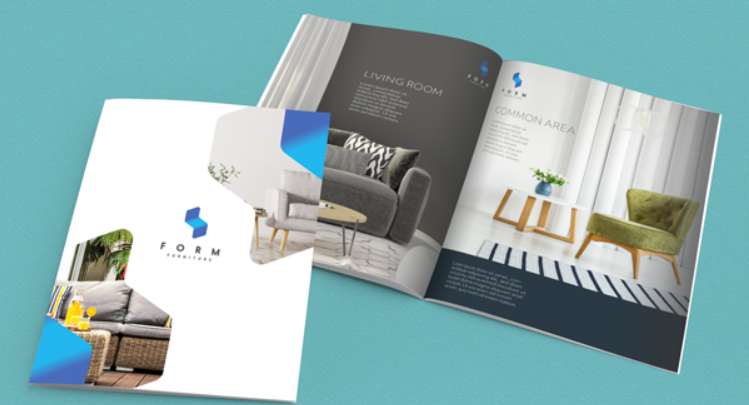 Booklets, portfolios, and product catalogs can be a powerful marketing tool for high-end and expensive products or services. They're generally one of the more costly types of marketing materials, and thus why they're best used for high-priced goods or services that involve a high amount of consideration from consumers. Pricing varies greatly based on the size, number of pages, and quantity purchased and can range from under $1 to over $5 per booklet or catalog.
---
16. Catering Booklet
Created with: Canva
Why it works: Special events catering services are expensive and people hosting a special event want the food to be the best it can be. This means that selecting a catering service is a big to-do, and so a catering business might provide a booklet of its menu options and information about its business such as the chef's qualifications, pricing, and requirements. It gives prospective customers a way to remember a menu after a tasting and book services.
---
17. Builders Product Catalog
Create with: Canva
Why it works: Booklets and catalogs can serve as a sales and marketing tool for sharing a business's portfolio such as this equestrian facilities building company. Unlike a product catalog which shows available items for sale, a portfolio is a good way to show previous work, illustrating a company's capabilities, while also giving the recipient inspiration and motivation to hire the company.
---
18. Sailing Company Sales Booklet
Created with: Canva
Why it works: This booklet for a sailing company resembles a magazine, giving it a more luxurious feel—in line with its branding. It's a visually-appealing booklet that would likely be used as a monthly or semiannual sales tool for its contact list. It includes interesting, editorial-style information such as an article on a must-visit island you only reach by boat, and sales information on upcoming charters and training programs—making it both fun and useful.
Presentation Folders

Presentation folders give businesses a nice way to professionally present information and documents. They are on the expensive side, so they're best for businesses with high-profit products or services such as a construction company providing a bid for a home project or a training program providing a certificate of completion or acceptance letter. The price for pocket folders depends on a number of factors, but expect folders to cost anywhere from $1 to $5.
---
19. Yoga Teacher Certification Program Presentation Folder
Created with: Canva
Why it works: This is a simple and modern pocket folder design that is used to provide new student materials for a yoga teacher certification program. Beyond providing a nice touch, it also gives new students a way to stay organized in a program that frequently provides handouts, notes, and paperwork.
---
20. Interior Design Company Presentation Folder
Created with: Canva
Why it works: This presentation folder is a good example of a very clean and simple design—something that matters for a design business such as a home interiors company. The folder may be used to present custom designs and project estimates. By using a presentation folder in this case, it helps to show a prospective client that the business is detail-orientated and reassuring clients that they are the best choice for their interior design needs.
---
21. Event Planner Presentation Folder
Created with: Canva
Why it works: This presentation folder for an event planning business incorporates an elegant design with a full-size background image. It is very simple and only includes the business's name. This makes it a versatile folder for a business that may plan different types of events from weddings to birthdays or baby showers.
Banners & Signage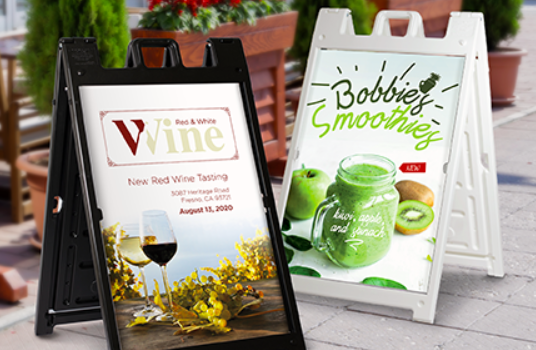 Business banners and signs play a larger role than just telling customers how to find you. Instead, they tell people what your business is and why they might want to become a customer. Banners and business signs can be used in a number of ways, from promoting a new service to existing customers using a banner in your store or attracting new ones with public signage. Regardless of your goal, banners and signs increase awareness and generate interest.
---
22. Holiday Banner
Created with: Canva
Why it works: This holiday banner from a local bakery is an example of a banner that the business may use every year to generate Thanksgiving orders. By sharing this message, it reminds patrons that they can order baked goods from this bakery for Thanksgiving, and that it's time to submit their order. Notice that it does not use specific dates, which is what enables the business to recycle and reuse this banner year after year.
---
23. Book Club Banner
Created with: Canva
Why it works: This banner for a book club is uncomplicated and effective. It uses one main image to show what it is promoting, along with a relative quote and the name of the book club. It would likely be used to promote the book club within a library or bookstore, or alternatively, may be used as a mobile sign for book clubs that host meetings in different locations.
---
24. Fitness Center Banner
Created with: Canva
Why it works: This banner promotes an event a fitness center or gym is hosting. It uses a black and white image as the background with red text for its main message. It includes basic information about what is offered including the outcome ("six weeks to fit"), dates, and an offer or incentive. It would likely be hung in the window of a fitness center to promote its program to both members and non-members.
Stickers

Stickers are an affordable and versatile marketing material. They can be used in a variety of ways from promotional tools that are distributed to customers for free to easily customizing packaging. For example, 1,000 custom 2" x 2" basic stickers from PrintRunner costs just under $30 or 100 for 15.
---
25. Stickers as Drink Labels
Why it works: What makes these stickers unique is that they are clear and waterproof, making them a good choice for labeling plastic and glass products. These stickers give businesses an inexpensive way to label products, while also reducing the amount of overhead a business would otherwise have if they were to purchase custom-printed glasses and packaging, which generally involves a high minimum quantity order.
---
26. Stickers for Food Packaging
Why it works: These matte stickers provide a touch of luxury and customization to otherwise basic product packaging. Another thing that makes stickers a great solution, in this case, is that it provides a business with frequently changing products an affordable way to label packages as their packaging remains constant while their stickers/labels change instead.
---
27. Stickers for Product Packaging
Why it works: This an example of logo stickers, which businesses can use in a number of ways from being a cheap alternative to custom-printed materials such as binders (as pictured), presentation folders, or simply distributing them to customers. Retail businesses and brands commonly leave stickers near checkouts for customers to take, or businesses include stickers in packages. It's a way to provide something extra with the potential to build brand awareness.
Branded Apparel

Branded apparel is another marketing tool that can be used in a variety of ways, whether for employee clothing, events, or general brand awareness. It's best for client- or customer-facing roles in the service industry—especially those that make house visits such as electricians or cleaning services or public-facing organizations such as a retail store or businesses that have customers who are fans, from breweries to nonprofit organizations.
---
28. Branded Restaurant Apparel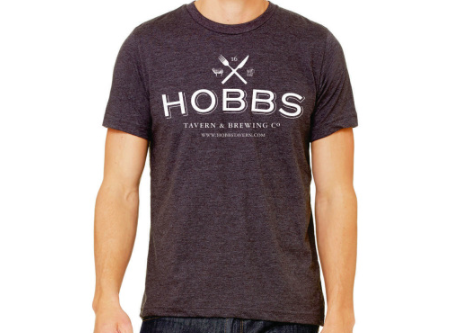 Why it works: This branded T-shirt is from a restaurant and tavern, which serves both its staff and patrons. The restaurant is located in an area that is frequented by tourists, so branded apparel may be a good thing to offer for sale as a memento that showcases its logo.
---
29. Branded Tourism T-Shirt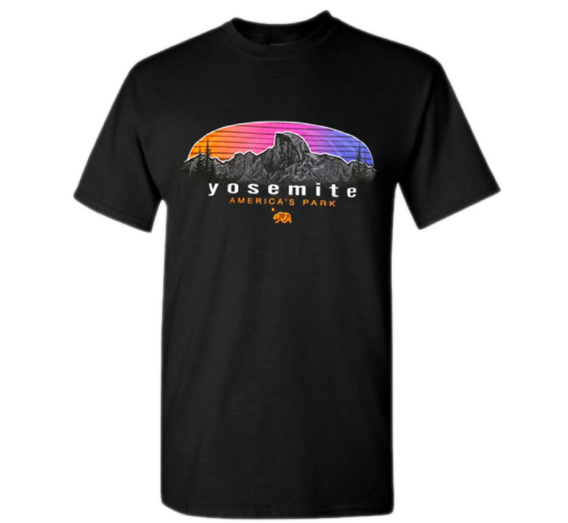 Why it works: Another T-shirt to be purchased by tourists as a memento, this shirt is available from the Yosemite tourism board. While the national park is not in the business of selling clothing, it is a way for it to have another source of revenue while providing visitors with fun merchandise.
---
30. Branded Hat for Bike Park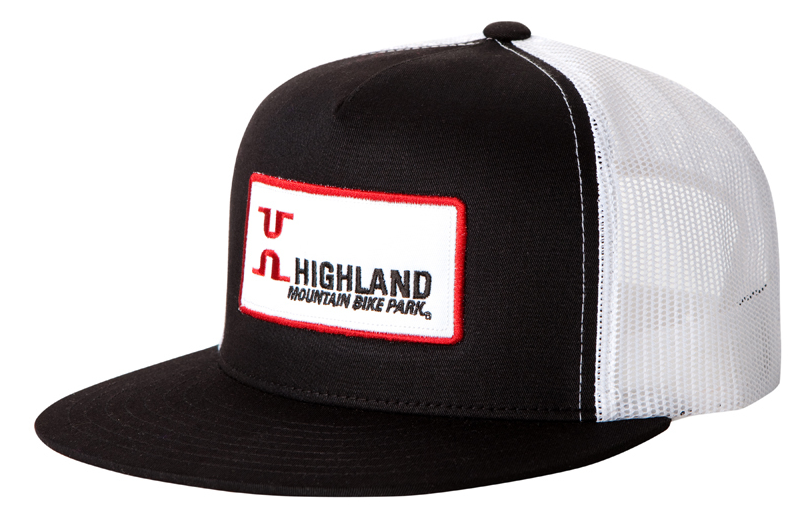 Why it works: Branded apparel can come in all shapes and sizes, and it's not only T-shirts. Hats can be a good product to offer as they are generally a one-size-fits-all product that people can easily wear over and over—unlike T-shirts which involve maintaining an inventory of different sizes and is unlikely to be worn daily as one might with a hat.
7 Best Marketing Material Tools & Services
It might sound like businesses creating marketing materials would be limited to using the company chosen to print said materials. However, there are a number of tools and services available to help businesses design marketing materials and implement direct mail campaigns. From DIY design tools such as Canva to Flowcode for generating and tracking QR codes, consider using these tools to create campaigns.
Here are seven marketing material tools and services:
The marketing material tools you use will depend on your unique marketing goals and campaign-type. For example, a hair salon looking to promote a new service and drive appointments through a direct mail campaign may find a call tracking service to be the best way to track the campaign's performance, whereas a business promoting an upcoming event may use a landing page with a unique URL to track event registrations.
Frequently Asked Questions (FAQs)
What is direct mail marketing?
Direct mail marketing is a marketing strategy that uses printed marketing materials sent via mail to a contact list. Unlike email that doesn't get opened or read, direct mail marketing is a good way for businesses to get their message or offer in the hands of their target audience. Those interested in using email marketing more effectively should consider using a service such as Constant Contact to grow a small business.
Is direct mail still effective?
Direct mail marketing gets overshadowed by digital marketing, though it does remain an effective marketing channel. People not only get excited to receive mail, but direct mail has an open rate 2-3x times higher than email. What this says is that your direct mail message is most likely to be read, unlike digital ads that are easily overlooked or marked as spam.
What are the best direct mail services?
Direct mail services are available to help deliver your direct mail campaign, including printing, shipping, and tracking marketing materials. There are a number of services available, though those that are considered the best for small businesses include Vistaprint, PsPrint, and Every Door Direct mail. Get the full breakdown to find which is the best direct mail service for your business.
Bottom Line – Marketing Materials
Marketing materials can be beneficial tools for businesses that can be used to achieve a variety of marketing objectives, from sharing a promotion using direct mail to generating sales. Marketing materials come in many forms from business cards and flyers to stickers and apparel. Those that overlook marketing materials are missing out on an opportunity to connect with customers, build relationships and increase their return on investment.
Those that don't find marketing materials to be fruitful are typically those with poorly-designed materials. Don't waste your time and budget—and don't risk your reputation on low-quality DIY designs. Instead, find an expert graphic designer on Fiverr to create stunning visuals that present your business in the best possible light for as little as $5.