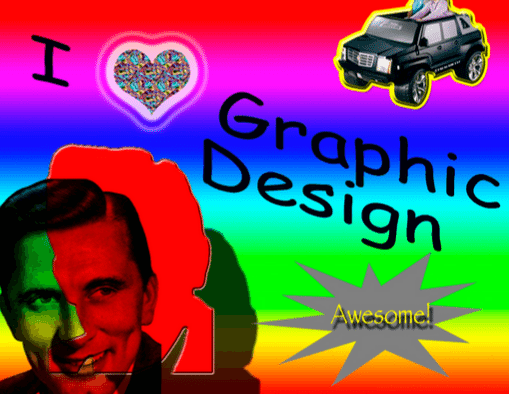 As an analyst and writer for Fit Small Business, every day I browse dozens of business websites, checking out products, services, prices, and more — just as a customer or potential client would. There are five biggest issues I consistently run into that leave a bad taste in my mouth, and these website mistakes will drive customers away from your website with a bad impression of your business.
Before we get started, check out our guide on how to get a website up and running. It's surprisingly easy to get a Wordpress site set up on a custom domain. Click here to give it a shot.
1. Are those colors supposed to be neon or did a programmer just up-chuck onto the page?
The first impression a potential client or customer has when they visit your site is dependent on your site's design and style, especially on your homepage. A poorly designed website is a huge problem and a definite turnoff for visitors.
So How Am I Supposed to Know if My Site Has Poor Design?
Odds are, if you haven't updated your site in the past couple years, it could probably use some tweaks and upgrades. The design industry is constantly evolving. What was in a year or two ago is now passé and outdated. Other dead giveaways include:
Garish, bright colors

Out of focus pictures and crappy images

Animated badges/logos/flags

Pages that take 4-5 clicks to find (from your homepage)

Homepages with paragraphs and paragraphs of text

Any kind of sliding or shooting text and images. You get the idea.
Ok, Ok, So My Site Could Use Some Tweaking. What Are My Options?
1. Hire a professional designer/developer to make some changes or rebuild your site
Time = 2-5 hours
Cost = Upfront cost of $250-$3500 (depending on whether it is small edits or complete redesign) and ongoing cost of Free-$150/month(depending on if site is managed professionally or not)
There are lots of reputable developers and designers out there that are qualified and experienced. Check out sites such as freelancer.com, Upwork (formerly odesk), and Elance to find a good fit. If you need some tips, check out our guide to hiring a freelancer.
2. DIY Using a Quality Website Builder
Time = 5-10 hours (can even be as little as 1-2 for a simple site)
Cost = None upfront, free-$35/month or so ongoing
It is possible to build a whole new site pretty quickly, especially if your site is not too complicated to begin with (not too many products, pages, etc). Just make sure you use a quality website builder with well-designed themes. For more info, check out our Best Website Builder Buyer's Guide.
2. Bad Grammar & Sentence Structure
When people are checking out small business websites, they are often either looking to buy or researching a future buying decision. In short, they are looking for reputable and well-spoken people to do business with. If youre kontent is herd to reed inkomplete and lacking proper grammar, spelling, and punctuation, your credibility will suffer, not to mention your page traffic. See how annoyed you were by the first part of my last sentence? Don't let that happen to your visitors.
Here are your options for addressing the problem.
Ask a friend who has more writing experience to look over your site for you and make edits

– This is not the time to be embarrassed. Just own up to your weakness, ask a friend for help, and get your site readable and understandable.

Hire a professional editor

– If you had a reputable professional build your site, you may not have any problems at all. But if not, another option is to hire a professional editor to look things over for you and make changes. Again, freelance sites like freelancer.com and elance are good places to look.
3. Wait, I Thought It Said $20 on the Last Page But This One Says $30 . . . Which is It?
One of the biggest and most confusing turn-offs for visitors is when a website has inconsistent information. Not only is this confusing, but it means that your visitor has to put in extra effort to actually figure out which information is correct and which is not. If a potential client or customer is trying to decide between you and a competitor, the business that provides clearer and more understandable information generally wins out.
Here's what you need to do:
Create a Master Reference List for Important Information –

If there are any content questions, any employee can reference the master list and make sure info is consistent across your site and marketing campaigns.

Make a List of the Content that You Have Listed on Multiple Pages of Your Site –

This gives you a more specific way to focus on which content is duplicated and has the most chance of being inconsistent.

Assign One Specific Person to Check Site Content and Make Necessary Edits

– When multiple people are trying to manage content, it is much easier for a page or type of content to fall through the cracks ("I thought that was your job"). With one point-person, everything is much more likely to be covered.

Be Extra Vigilant During Site Redesigns, Product Releases, and Product/Service Changes

– Inconsistencies are most likely to show up when you're already making lots of changes to the site. Just be extra careful to double-check your posted information during these periods. For more help, check out

this article

on navigating business change successfully.
Here are some specific areas to check for inconsistencies:
Pricing

– This is the biggie, make sure your pricing is consistent

Product & Service Descriptions

– If your pro-plan has 1,000 email marketing credits on one page, make sure it does on all the others as well

Contact Information

– This one is also a biggie. Any phone number, email, etc should be changed on your site same-day to prevent missed calls and leads.

Mission/Vision/About

– Recently changed the focus of your business? Update it.
4. Error, Error, Page Not Found

Have you ever been on a website and clicked on a page only to find an "error" or "under construction" message. I have, and it is a big turn-off, especially if I check the site again in a day or two and things have not changed. That communicates to me, and your visitors, that your website is not a priority. Errors like this are big no-no's.
Here's what you need to do to make sure everything is up and running:
Click through all your site pages from a third-party computer

– This ensures that there are no "saved" pages (cookies) as there could be on your computer, meaning you see your site as a customer would for the first time.

Fill out All Your Forms, Surveys, Etc. To Make Sure They Work –

Another common problem is contact forms that don't contact and surveys that don't survey. Make sure to test everything yourself to make sure it is up-and-running correctly (that includes getting an email with contact information and survey results).

Test Third-Party Apps

– Don't just assume an app works because it seems to have loaded okay. Check it out thoroughly to be sure.
5. "This Business Site is Awesome . . . I Wonder What They Actually Do"
Last but not least, visitors leave websites because the important content is lacking or the site is just plain boring. There are two components to this: making sure important business information is easy to find and working to get content that grabs and holds people's attention. To start with, make sure all the essentials are there:
Your Site Needs to Clearly Communicate What Your Business Does

– A visitor should be able to tell what your business does right from the homepage, or at most with one click on the about page. It's just common sense, but a surprising number of websites seem to miss this.

Your Contact Information Needs to Be Easy to Find

– Don't bury your contact info at the bottom of a page somewhere. Make it easy for people to get ahold of you.

If Selling Products or Services Is Your Thing, Put Them Front and Center –

This is a no brainer. Don't make people search to find what you are selling.
Once you have the essentials in place, you need to make sure the rest of your content and information is compelling as well. Here are some pointers:
Avoid Huge Paragraphs

– Keep things snappy and to-the-point. This makes it much easier for web readers to stay engaged.

Use Stories and Examples Whenever Possible

– Stories and examples are always compelling. Instead of saying how you save people money, tell about how you saved one customer money.

Make Content Actionable

 – All kinds of websites try to tell people what to do. But if you take it another step and tell them how to do it, your site will stand out.
Don't Let Your Website Go To Waste
If you are serious about your small business website, then do not let it go to waste. Take the time to address the issues above if you want to keep people on your site, get more site traffic, and represent your business professionally online.
Don't forget to check out our free guide on how to get a website up and running in less than an hour.