5 Best Social CRM Platforms
This article is part of a larger series on CRM.
Social customer relationship management (CRM) platforms connect with social media channels, allowing you to track engagements, monitor audience behavior, and generate leads. The integration between a CRM system and a social media channel provides you with richer contact data and lets you respond to customer concerns on social media. We evaluated dozens of social CRM software to identify the five best options for small businesses:
Best Social Media CRM Software Compared
Provider

Free Plan

Free Trial for Paid Plans

Starting Price for Paid Plans*

Supported Social Media Channels

Help & Support

Yes (unlimited users)

14 days

$45/month

Facebook, Instagram, Twitter, LinkedIn, and YouTube

Email, chat, and phone (7 a.m. to 8 p.m. Eastern Time, Mon-Fri)

Yes (up to 3 users)

15 days

$14 per user/month

Facebook, Instagram, Twitter, and LinkedIn

24/7 email, 24/5 phone, and live chat

Yes (up to 10 users)

No

$9.99 per user/month

Facebook, Twitter, LinkedIn, and Google+

24/5 email support; phone support for paid plans

No

14 days

$19 per user/month

Facebook, Twitter, and LinkedIn

Email and live chat support

No

14 days

$25 per user/month

Facebook, Twitter, Instagram, and YouTube

30% of subscription fees for Premium support
*Based on annual billing; monthly pricing is also available at slightly higher rates
HubSpot CRM: Top Overall Pick & Best CRM for Social Media Marketing
What We Like
Free plan supports an unlimited number of users and Facebook Messenger integration
Offers social post scheduling features
Social campaign return on investment (ROI) reports
What's Missing
Free plan lacks access to customer support and is limited to forums
Social media management tools are available in the Professional and Enterprise plans only
Pricing Summary*
Free: Unlimited user allocation
Starter Marketing Plan: $45/month for 1,000 contacts
Professional Marketing Plan: $450/month for 2,000 contacts
Enterprise Marketing Plan: $1,200/month for 10,000 contacts
Free trial: 14 days
Add-ons for paid plans:
CRM Suite: Starts at $45/month
*Based on annual billing; monthly pricing is also available at slightly higher rates
HubSpot CRM is our top recommended pick for best social media CRM software because of its robust integrations with Facebook, Instagram, LinkedIn, Twitter, and YouTube. It features strong social media marketing tools, including publishing social content within the CRM and monitoring keyword mentions. It also allows you to compare the performance of different platforms you're using, including campaigns, publishing times, and leads generated.
One of the disadvantages of using HubSpot CRM for advanced sales and marketing is its pricing, which can be limiting for small businesses. Its free edition offers a Facebook Messenger integration, but you need to pay at least $800 per month to access its social media management capabilities. If you need a lower-level pricing tier, consider using Zoho CRM, which offers social data enrichment, lead generation, and engagement tools starting at $14 per user, per month.
HubSpot CRM Features
HubSpot CRM offers a wide range of sales, marketing, and service tools to help users grow and nurture customer relationships. Check out some of its core and social media management features below:
Core CRM: Contact management, contact website activity, companies, deals, tasks and activities, company insights, prospects, ticketing, reporting dashboard, email tracking, email templates, documents, and calling.
Social media keyword monitoring: Create keyword monitoring streams for your team so they can spot critical interactions. You can also trigger email alerts when prospects mention a specific keyword.
Social media marketing return on investment (ROI) measurement: Compare the performance of different platforms, campaigns, and publishing times. View the visits, leads, and customers your social media channels are generating for your company.
Social media campaign management: Allows you to tag related marketing assets and content so you can easily measure the effectiveness of your collective marketing efforts. It also lets you see how your social posts impact your larger marketing strategy.
Mobile app: Android and iOS apps;, caller ID, live chat, team collaboration, voice notes, emailing, and meeting outreach
While HubSpot CRM's marketing automation and social media capabilities are extensive, it is also an excellent tool for managing customer relationships, leads, deals, and pipelines. This is why it tops our list of the best CRMs for small businesses. To discover some of the other ways this software benefits growing businesses, read our HubSpot CRM review.
Zoho CRM: Best All-in-One Social CRM With Profile Enrichment Tools
What We Like
Cost-effective CRM solution with a free plan and low price-per-user options
Offers social listening tools
Facebook Messenger integration through Zapier
What's Missing
Social integration is not available for Free plan users
Customer support in lower plans is limited to self-help resources and phone support
Pricing Summary*
Free: Up to 3 users (minimal features)
Standard: $14
Professional: $23
Enterprise: $40
Ultimate: $52
Free trial: 15 days
Special CRM Editions:
Bigin: $0 to $12
Zoho CRM Plus: $57
*Per user, per month pricing is based on annual billing; monthly pricing is also available at higher rates
Zoho CRM enriches your CRM data with information taken from your Twitter and Facebook profiles, such as lead interest and behavior based on their social activities. It also offers tools for social monitoring, messaging, and automatically converting social activities into new leads. It also allows you to publish an unlimited number of posts on all social network sites from your CRM.
While Zoho CRM offers a free plan, this tier does not include social tools. HubSpot CRM's free tools, on the other hand, include a Facebook Messenger integration. Its premium Marketing Hub plans also offer solid social campaign reporting capabilities.
Zoho CRM Features
Zoho CRM is one of the most affordable and feature-rich CRM software options in the market. Below are some general and social media-related features that businesses can use by subscribing to the software:
Social listening: Follow posts and conversations of your leads, contacts, or potential customers so you are aware of their interests or concerns.
Social lead generation: Manually add leads from the social tab or automate your lead generation by capturing lead information from social media channels. You can set up triggers to automatically add leads and contacts from social media based on the type of customer interaction, such as social ads or inquiries through messengers.
Keyword monitoring: Follow what your prospects and competitors are saying about your brand on Twitter with keyword tracking in the monitor tab.
Reports and analytics: Standard and custom CRM reports, scheduled reports, charts, key performance indicators (KPIs), funnels, target meter, comparator, cohorts, anomaly detector, dashboard, webform analytics, webform A/B testing, and workflow reports.
Mobile app: Android and iOS apps manage deals, contacts, tasks, analytics dashboards, RouteIQ (route planning), and mobile card scanner (convert business cards into CRM contacts).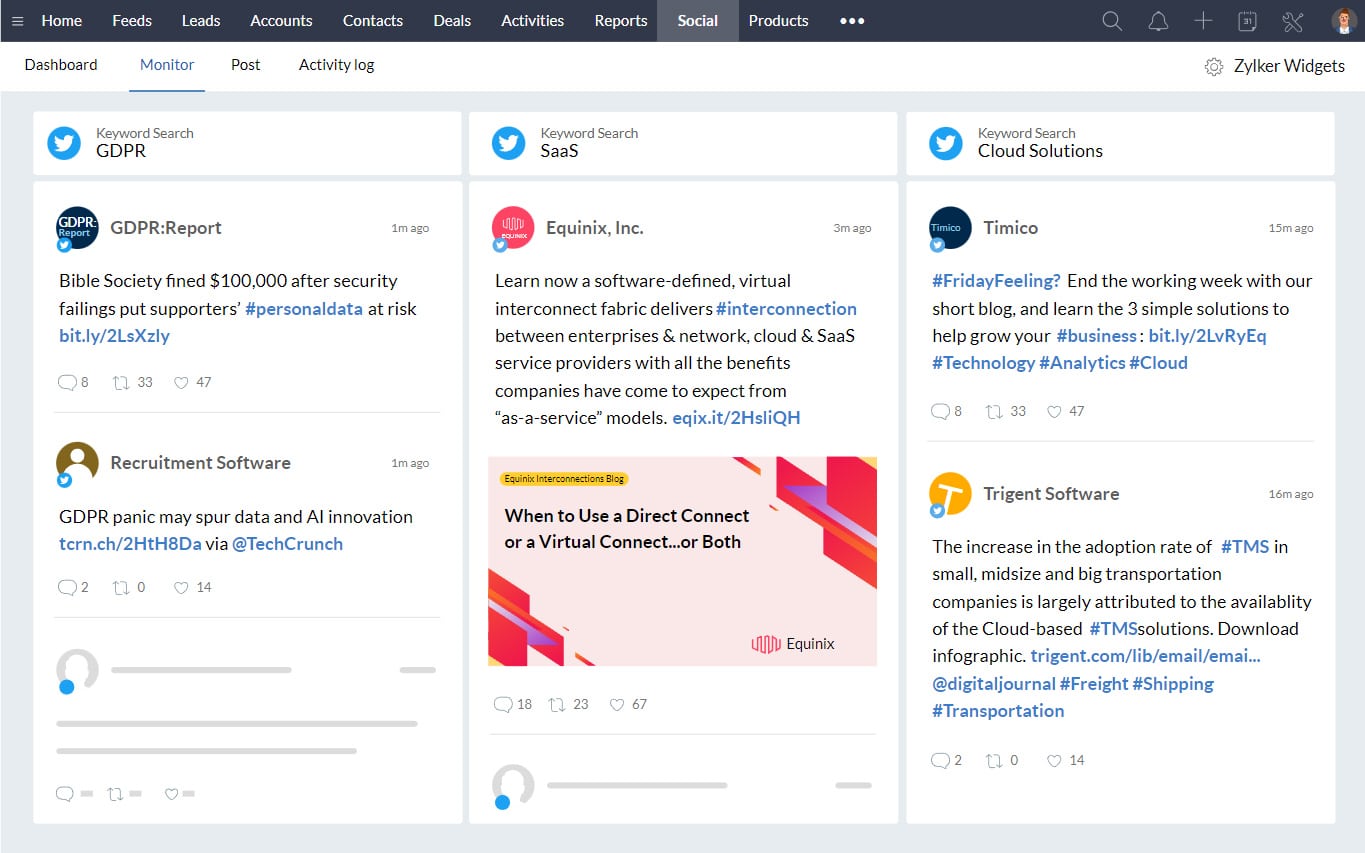 ---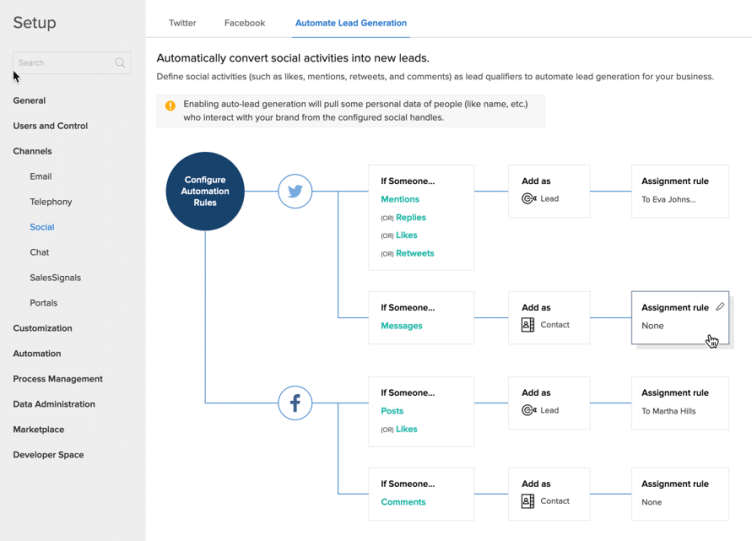 ---
Zoho CRM gives small businesses the option to begin with free CRM software and upgrade to higher plans as they scale up. Head over to our Zoho CRM review page for more details on its pros and cons, features, and integrations.
Agile CRM: Best Social Media CRM Software With Strong LinkedIn Prospecting Tools
What We Like
LinkedIn widget enables easy transfer of lead details to CRM
Offers social listening tools to analyze customer sentiments
Has social media post and publishing capabilities
What's Missing
Social tools are not included in the Free plan
No Instagram integration
More than one social media integration requires higher-tier pricing plans
Pricing Summary*
Free: Up to 10 users (limited features available)
Starter: $9.99
Regular: $39.99
Enterprise: $64.99
*Per user, per month pricing is based on annual billing; monthly pricing is also available at slightly higher rates, and two-year contracts are available at slightly lower rates.
Agile CRM allows you to add its LinkedIn widget so you can use your CRM to check profiles and get lead information, connect and get updates, as well as send LinkedIn messages to your contacts. It also enables you to interact with your customers and monitor brand mentions on Facebook and Twitter. Its publishing tools allow you to cross-post, schedule social posts, and send direct messages to your customers using your CRM.
Like Zoho CRM, its social listening tools are available only with paid plans. On the other hand, Agile CRM allows up to 10 users with its free plan, which is better than Zoho CRM's three-user free plan. Another disadvantage of Agile CRM is the absence of built-in social campaign reports. If this is an essential feature for your team, consider using HubSpot CRM.
Agile CRM Features
Agile CRM centralizes your sales, marketing, and customer service tools in one platform. Below are some of the features we like most from the system, as well as its key social media CRM tools:
CRM sales essentials: Contact management, centralized database, calendar, documents, and deals.
Social listening: Track the social behavior of your influencers, prospects, and customers. Get notifications when someone voices a concern or dissatisfaction with your product or service so you can resolve issues.
LinkedIn integration: Check the profiles, location, and work history of your contacts directly from your CRM dashboard. You can also send LinkedIn messages to contacts directly from the platform.
Mobile app: Android and iOS apps offer a mobile dashboard, contact management, deal tracking, events and tasks, and Google Calendar sync.
Agile CRM is comprehensive CRM software that offers integrated sales, marketing, and customer service automation tools in a single platform. Check out our Agile CRM review to explore the other benefits your company can gain from using this software.
Nimble: Best Social CRM for Simplified Outreach & Lead Capture
What We Like
Robust social media integration for customer profile enrichment and social media posting
Social listening feature for Twitter
Feature-packed yet easy to use
What's Missing
Has only one pricing option, which is not ideal for growing businesses wanting to scale
No phone support
Doesn't offer Instagram integration
Pricing Summary*
Annual pricing: $19
Monthly pricing: $25
Free trial: 14 days
Add-on:
Prospecting enrichment credits: $10 for 100 extra credits
*Per user, per month pricing is based on annual billing; monthly pricing is also available at slightly higher rates.
Nimble may be a simple CRM, but it offers excellent social integration features, which include Nimble Prospector. This is a browser extension that enables you to monitor Twitter mentions and schedule Twitter and Facebook posts. It can also search and match additional profiles for your contacts from Facebook, Twitter, and LinkedIn.
Its browser extension is one of Nimble's greatest strengths since you can install it on various platforms like Gmail, Outlook, and LinkedIn. This makes it easy to use the CRM while working on other tasks and eliminates the need to toggle from one platform to another.
However, like Salesforce Essentials, its simple pricing structure could prove disadvantageous to growing businesses. Use Zoho CRM or Agile CRM for a social-friendly CRM with more plan options.
Nimble CRM Features
Nimble enables you to gain actionable insights to engage leads better through its social media integrations. Below are some of the features we like most that users can access to use social media data in their CRM system:
Social Prospector: Get detailed information about a contact, including contact details, social media presence, location, and company profile. You can also have access to your client's social media profiles, as well as comment and like their posts straight from the CRM dashboard.
Facebook profile enrichment: Enrich profiles of Facebook-generated prospects by gathering in-depth insights from Facebook lead ads, Facebook pages, and Facebook Messenger.
Core CRM features: Unified message inbox, contact management, calendar sync, contact records, unlimited email message syncing, custom fields, unlimited saved search segments, and 2GB storage for file attachments, contacts, and email conversations.
Mobile app: Android and iOS apps; access rich profiles, research new contacts, conversation history, business card scanning, email templates, engagement tracking, visual deal pipeline, and sales intelligence.
Nimble is a simple CRM system that offers excellent social media integration tools and essential CRM features, such as lead and deal management, sales pipelines, and reporting. To explore the full extent of its benefits and capabilities, read our expert Nimble review to find out if it is the right fit for you.
Salesforce Essentials: Best Social CRM for Customer Support Teams
What We Like
Allows users to reply to their customers on various social channels, including Facebook, Twitter, Instagram, and YouTube
Automatic case and ticket creations from customers' social posts
What's Missing
Pricing is limited to one paid plan
No social listening and social posting capabilities
Pricing Summary*
Annual pricing: $25
Monthly pricing: $35
Free trial: 14 days
Add-on:
*Per user, per month pricing is based on annual billing; monthly pricing is also available at slightly higher rates.
Salesforce Essentials is a robust CRM that lets users provide support to their customers through its integration with various social media channels. Its social customer service feature allows you to turn social interactions into cases (similar to a ticketing or task system). These interactions include posts to your Facebook page, mentions and direct messages on Twitter, comments on YouTube, and comments and replies on Instagram.
However, Salesforce Essentials lacks social listening and posting capabilities. In addition, it only offers a single pricing plan, limiting the choices of small businesses either looking for a free option or a scalable solution that fits their budget. Meanwhile, Zoho CRM offers both free and affordable paid plans. Under its paid options, you can also monitor social mentions and publish posts on social media.
Salesforce Essentials Features
Salesforce Essentials lets you engage and join customer conversations on social media without monitoring your accounts in separate tabs. Below are some of the features we like most from the system that users can access to manage their social media accounts:
Core CRM: Account and contact management, opportunity management, customizable sales processes, task management, activity feed, deal collaborators, and calendar.
Social messaging: Connect with Twitter, Facebook, Instagram, and YouTube to respond to posts and direct messages in Salesforce.
Social customer support: Create cases from social posts so your team can provide customer service everywhere your customers are.
Twitter integration: See your @mentions, replies, and direct messages. You can reply, retweet, favorite, and follow from Salesforce, or click tweets to view and respond to them on Twitter.
Facebook integration: View your Facebook timeline in Salesforce. Reply to and like posts from Salesforce, or click posts to view and respond to them on Facebook.
Mobile app: Android and iOS apps; team collaboration, deals, customer service tools, personalized marketing, offline access, and sales forecasting.
Salesforce Essentials is a CRM solution for small businesses that integrates with the overall ecosystem of Salesforce apps. You can customize its contact management, sales opportunities, mass emailing, and customer service ticketing features to fit your business requirements. To learn more to determine if it suits your business needs, read our in-depth Salesforce Essentials review page.
How We Evaluated the Best CRM With Social Media Integration
To discover the best social media-friendly CRM platforms, we compared factors like pricing, general features, ease of use, quality of customer experience and support, and expert scores. We also closely examined the social integration tools you can access through each provider, including social monitoring, social posting, and campaign reporting.
We ranked HubSpot CRM as the best social CRM because of its extensive social CRM tools, availability of a free option with Facebook Messenger integration, and ease of use. It also offers premium plans that work with various social media sites, including Facebook, Twitter, Instagram, LinkedIn, and YouTube. All these factors make it an ideal choice for small to large businesses.
The tabs below offer more insight into our evaluation process for selecting the best platforms:
20% of Overall Score
It's crucial that CRM providers come in all shapes and sizes from a pricing and subscription standpoint to meet the needs of businesses. Since the use of most social media platforms is free, we looked for social CRMs that offer both free and affordable plans that can scale with business growth. We also considered the availability of a monthly billing option for businesses with a budget that suits a pay-as-you-go pricing model.
30% of Overall Score
We evaluated the CRM integrations, reporting capabilities, and collaboration tools of each provider. We also determined the availability of a mobile app, and which features can be accessed via mobile. In addition, we looked at standout features that make a provider better for some businesses than others.
20% of Overall Score
As a small business owner, running your business is already a lot of work. Thus, your social media CRM should be easy to use so you can dedicate more time to running your business rather than learning a new platform.
20% of Overall Score
If case you get caught in a technical issue while trying to connect social media platforms with your CRM software, we evaluated the support options you have. These include self-help resources as well as such as live chat, phone, and email support.
10% of Overall Score
Some CRM software options are more popular than others. To help us choose the right CRM for your business, we explored standout features and online reviews from real-life users and compared them to our own expert opinions.
*Percentages of overall score