Welcome to the Fit Small Business QuickBooks Online training course. In this lesson, we're going to cover the importance of reviewing your Accounts Payable (A/P) Aging report and how to run an A/P Aging report with samples in QuickBooks Online.
We're glad you're taking the time to learn QuickBooks Online, our best overall pick for small business accounting software. We encourage you to follow along in your own QuickBooks Online account.  If you don't already subscribe to QuickBooks Online, click here to sign up for a free 30-day trial.
To complete this lesson, you can watch the video below, read through the step-by-step instructions, or do both. Let's begin.
If you'd like to learn more about managing income, expenses, and reporting in QuickBooks, download our free 39-course QuickBooks tutorial here.
Download Our Free Quickbooks Course
What Is an Accounts Payable Aging Report?
The A/P Aging report is the exact opposite of the A/R Aging report, which we covered in the previous lesson. The A/P Aging report provides a list of unpaid vendors that you owe. For this report to work, you must set up the payment terms your suppliers have extended to you in QuickBooks. In the How to Set Up Vendors in QuickBooks Online lesson, we walked through step-by-step how to set up payment terms.
Why Is the Accounts Payable Aging Report Important?
Similar to the A/R Aging report, the A/P Aging report provides you with the payments that you have coming up. With this information, you can determine how much cash you will need to meet your obligations. It is important to pay the suppliers who extend you credit on time so that you can maintain a good payment history. Doing so can also open the door for you to increase the current credit amount they have extended to you. Maintaining a positive payment history can also improve your business credit rating.
What Are the Components of the Accounts Payable Aging Report?
Below, you will find the A/P Aging report for a fictitious company, Paul's Plumbing. We will look at this accounts payable aging report example to help demonstrate the components of the A/P Aging report.
Date: Similar to the Balance Sheet, the A/P report is as of a specific date. In this example, it is as of September 30, 2016.
Aging categories:

This report is organized by vendor and then by five different aging buckets similar to the A/R Aging report. The

Current column indicates invoices that are not yet due. Beginning with the 1-30 day column, each category represents the number of days your invoices are past due.
Tip:

If you are having difficulty meeting your obligations promptly, pick up the phone and call your supplier. Chances are, they will be happy to extend you some additional time to pay your bills. Also, most of them will take a partial payment or set up some type of payment plan for you. The worst thing that you can do is not communicate with them.

Totals by group:

A good rule of thumb is

to make sure that the majority of your outstanding payables stays within the first three columns. It should be a rare occasion that you have something creep into the 61 and over categories. If you do, be sure to address it as quickly as you can with your supplier.
How Do I Run an Accounts Payable Aging Report in QuickBooks Online?
Step 1―Navigate to the Report Center
From the Home page, click on Reports located on the left menu bar as indicated below:

Step 2―Report Center
Click on the Recommended Reports tab. The A/P Aging Summary report is right below the Balance Sheet report as indicated below: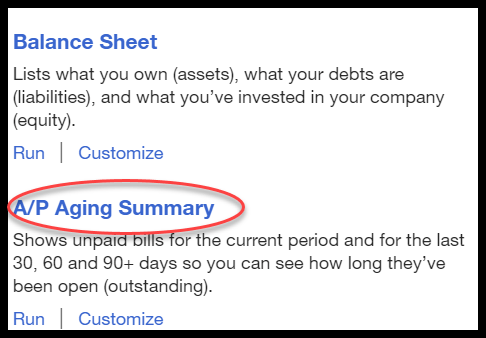 Step 3―Report Filters
From this screen, you have several options to choose from, as shown below:

Reporting period:

Select the report period you would like to run the report for like today, this month, or this week.

Show nonzero or active only:

This will display only active vendors that you have an outstanding balance with.

Days per aging period:

Select the number of days you would like for each aging category. In Paul's report, we have each category set to 30 days like 1-30 days or 31-60 days. Typically, this is the most common option, but if you have terms shorter than that like net 15 days, then you may want to go with 15-day increments like 1-15 days or 15-30 days.

Number of periods:

Select the number of categories you want to age invoices. In Paul's report, we have a total of four like 1-30, 31-60, 61-90, and 91 & Over.
Step 4―Display Report
Click the Finish button, and your A/P Aging Summary Report will display on-screen like the one below for Paul's Plumbing:
Step 5―Display the Invoice Detail for a Vendor
To view invoice details from the summary report, you simply click on the vendor that you want to see the details for. When you do so, QuickBooks will provide you with details of the invoices that make up the outstanding balance for that vendor, as indicated below:

Recommended Action Plan
By now, you should have a better understanding of how the A/P Aging Summary report can help you stay on top of unpaid vendor invoices so that you can be sure to pay your suppliers on time.  
Here are a few things that you should implement at your earliest convenience:
Be sure to enter all vendor bills into QuickBooks Online as soon as possible

Make sure that payment terms are set up in QuickBooks for all vendors

Be sure to communicate to your vendor is you are going to be late with a payment

Review the A/P Aging report weekly to stay on top of your bills
Wrap Up
That wraps up our lesson on How to Run an A/P Aging Report in QuickBooks Online.
To access this lesson or any of the others in the series, click here. Or, click here for a free 30-day trial of QuickBooks Online.
Our Recommended QuickBooks Apps