Welcome to the Fit Small Business QuickBooks Online training course! In this lesson, we're going to cover how to set up messages in QuickBooks Online.
You can follow along on your own QuickBooks Online account. If you don't have one already, click here to sign up for a free 30-day trial and follow along below.
To complete this lesson, you can either watch the video below, read through the step-by-step instructions, or do both. Let's begin!
Before we get started with the lesson, it's worth mentioning that there are affordable virtual bookkeepers that can set-up and manage your QuickBooks for you. They will even help you get caught up if you are behind. For example, SmartBooks offers help with cash flow management, monthly financial statements, payroll processing and more starting at $250/month. Get a free consultation to learn more.
Why is it Important to Set Up Messages?
If you send invoices or sales receipts to your customers then you should take a few minutes to create a personalized message that will appear on the invoices and sales receipts that you send to them. This will show your customers how much you appreciate them, as well as give them any additional information they might need to pay the invoice.
How to Set Up Messages
Below are the step-by-step instructions on how to set up messages:
Messages allow you to customize the email that you send to your customers along with their invoices, sales receipts, and estimates.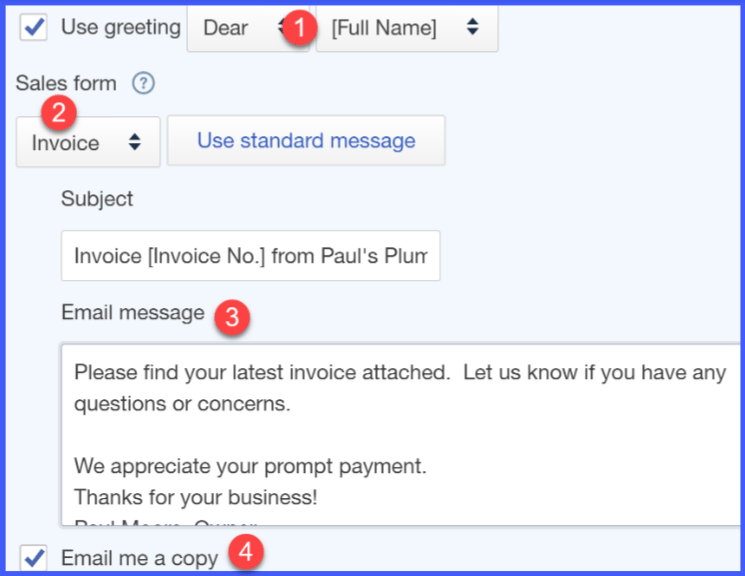 QuickBooks gives you the option to select a Salutation and who you want the email addressed to.

Select a sales form (Invoice, Sales Receipt, or Estimate) from the drop down.

You can type the email message that you would like your customers to receive in the next field.

Select the checkbox if you want to be copied on all emails sent to your customers.

For more information on invoicing your customers and how to set terms,

click here

.
Wrap Up
That wraps up the lesson on How to Set Up Messages in QuickBooks Online. The next lesson in our QuickBooks Online Training Course will be How to Set Up Statements. In this lesson, we will walk you through when you might want to send a statement to your customers and how to create statements in QuickBooks.
To access this course or any of the others in the series, click here.
Our Recommended QuickBooks Apps