Welcome to the Fit Small Business QuickBooks Online training course! In this lesson, we're going to cover how to set up your sales forms (i.e. your invoices, sales receipts, and estimates).
You can follow along on your own QuickBooks Online account. If you don't have one already, click here to sign up for a free 30-day trial and follow along below.
To complete this lesson, you can either watch the video below, read through the step-by-step instructions, or do both. Let's begin!
If you'd like to learn more about managing income, expenses and reporting in QuickBooks download our free 39 course QuickBooks tutorial here.
Download Our Free Quickbooks Course
Why Is It Important to Set Up Sales Form Content (Invoices, Sales Receipts & Estimates)?
It's important to set up sales form content because the selections that you make here will affect when your customers pay you as well as how to properly account for any discounts that you provide to customers and deposits received from customers. This is one of those areas that can cause negative cash flow if it is not set up properly.
How to Set Up Sales Form Content
Sales form content determines what information appears on invoices, estimates, and sales receipts.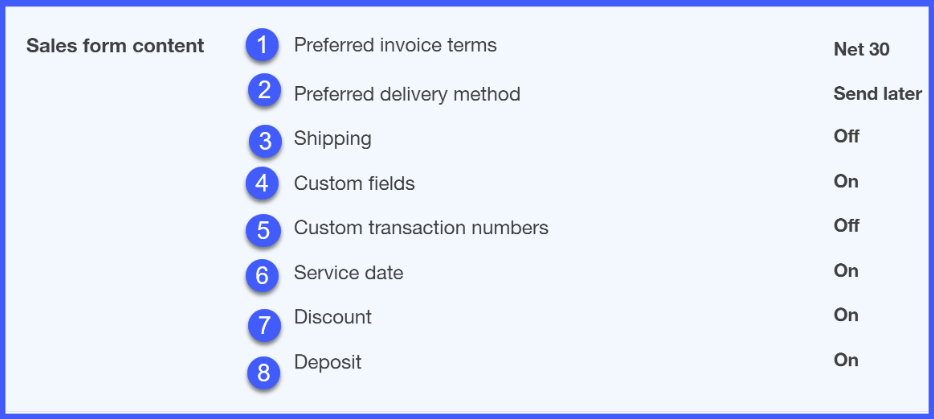 As you can see, there are a total of eight fields that we can edit here. To edit a field, just click on the pencil icon in the upper right portion of the screen.  
Below you will find a brief description of each feature along with how we would set this up for our fictitious company, Paul's Plumbing:
1. Preferred invoice terms
This allows you to set up default payment terms for all customers. For example, setting default payment terms of Net 30 means that payment from your customers is due 30 days from the invoice date.
This will save you the time so that you don't have to set up payment terms for each customer separately. However, if you need to set up special payment terms  for a customer you can do so when you create the customer in QuickBooks. In the Setting up your Customers module, we will walk you through how to set up special payment terms in the customer profile. You can also learn more about choosing payment terms for your customers here.
2. Preferred delivery method
This allows you to set up a default for how you will send your customers their invoices. The options here are print later, which means you will print & mail the invoice, or send later, which means you will send the invoice via email.
Example: Paul prefers to save as many trees as possible, so he will set the default here to email his customers their invoices.   However, a handful of his customers also prefer to receive a mailed invoice copy.  Similar to payment terms, you can select special delivery method option when you set up your customers.  Be sure to take our Setting up Your Customers tutorial to learn how to do this.
3. Shipping
This feature is applicable only if you are shipping products.  If so, then this feature will add shipping fields (ship date, tracking #, ship to address) to your sales forms.
4. Custom Fields
If you need to add any additional information in QuickBooks but there is no place to put it then you can create custom fields by turning this feature on.  For example, if you have an order # that you want to add to your sales form, then you can create a custom field that will show the order # on all sales forms.

Example: Paul would like to create a custom field to keep track of the customer ID# he has assigned to each of his customers. This ID# is for internal tracking purposes only so we will select Internal.
5. Custom Transaction Numbers
QuickBooks allows you to use your own numbering system for invoices, sales receipts, and estimates.  This can be beneficial to a business that is converting from another bookkeeping system and wants to keep the same numbering system that it currently has in place. Otherwise, don't worry about turning this feature on. QuickBooks will automatically assign transaction numbers for you.
6. Service Date
This will add a service date field to all sales forms if you need to track date of service separately from the invoice date.  Typically a business that provides consulting services may want to use the service date field to provide the date the consultation took place on their invoices.
Example: Paul definitely likes to keep track of service dates.  Since he cannot bill a customer until he completes a job, it is important for him to keep track of how long it takes him to invoice a customer for a job from the date of service.
7. Discount
If you plan to give your customers a discount on the products or services that you provide then you will need to turn this feature on to add a discount field to all invoices.  This will ensure that your customer can see on their invoices any discounts that you have applied.
8. Deposit
If you typically require a deposit from customers prior to doing any work, then you should activate this feature so that a deposit field can be added to an invoice form.  QuickBooks will subtract the deposit from the total amount of the invoice to calculate the balance due.

Example: In the plumbing business, you've got to purchase materials and supplies before you can start any work.  This can be a rather large outlay of cash, depending on the job.  For this reason, Paul requires a 50% deposit on jobs that are $1,000 and over.  So this feature works very well with how Paul likes to run his business.
Wrap Up
That wraps up the lessons on setting up your invoices, sales receipts, and estimates. The next lesson in our QuickBooks Online Training Course will be How to Set Up Products and Services. In this lesson, we will show you how to choose what information appears on sales forms when you invoice your customers for products or services sold.
To access this course or any of the others in the series, click here. 
Our Recommended QuickBooks Apps