If you're transitioning to Intuit after having used a different payroll service, you may need to enter historical data into QuickBooks Payroll. This will help ensure your payroll and tax reports are accurate and not missing any information. If you owe taxes accumulated before using QuickBooks, this will be a vital step to ensure QuickBooks pays applicable tax agencies in full and that you won't get penalized for late or inaccurate tax payments.
Once you've successfully added all prior period payroll information into QuickBooks Payroll, you can use it to manage employee benefits, file taxes, print checks, and take advantage of same- or next-day direct deposit. If you need help with bookkeeping, you can opt to automatically integrate it with QuickBooks Online accounting software, and save yourself time from having to manually transfer payroll data. Sign up for a free trial today.
When Can You Enter Historical Payroll Data?
You can only enter historical payroll data under two conditions. Otherwise, you will need to contact the Payroll Support team for assistance.
The data is for the current calendar year.
You have not run any payrolls for the employee for whom you need to add data.
You cannot bulk upload historical data into the software and enter past years on your own.
How to Enter Historical Data
Adding historical payroll data to QuickBooks Payroll typically happens during the setup process. Follow along with our video on how to set up your payroll account and get some quick tips on things to consider when you're entering historical data.
1. Gather Data
You can only add past payroll data as summary information. Therefore, you will need the data found on each employee's last pay stub. You may also have this information in a payroll report.
You need the following information:
Last time you paid your employee. It will ask by quarters, months, or pay periods, so you may answer several of these in a Yes/No fashion.
Regular wages: This is the full wages your employee earned in the year to date, as shown in the last pay stub.
Overtime: This is all the overtime earned, year-to-date, as shown in the last pay stub.
Deductions (Employees Pay): There may be several lines, depending on the specific deductions, such as medical insurance, 401(k), etc.
Deductions (Company Pays): There may be several lines, depending on the specific deductions, such as medical insurance, 401(k), etc.
Federal Income Taxes withheld: This tax should show on every employee's paystub unless they are exempt.
Social Security Taxes withheld: Also known as FICA.
Medicare withheld: Also known as FICA.
State Income Taxes withheld: Also known as state withholding or PIT/SIT.
State Disability Insurance: If applicable to your state. If not, it will not show up on the QuickBooks form.
Net Pay: This is optional, and QuickBooks uses it to check for the accuracy of calculations. If you do not add it, it will make this calculation for you.
2. Find Your Employee
If adding an employee. Go to Payroll, then click on Overview. You may already be on that tab. You will see a task in your To-Do for completion. Click on Let's Go to add your employee.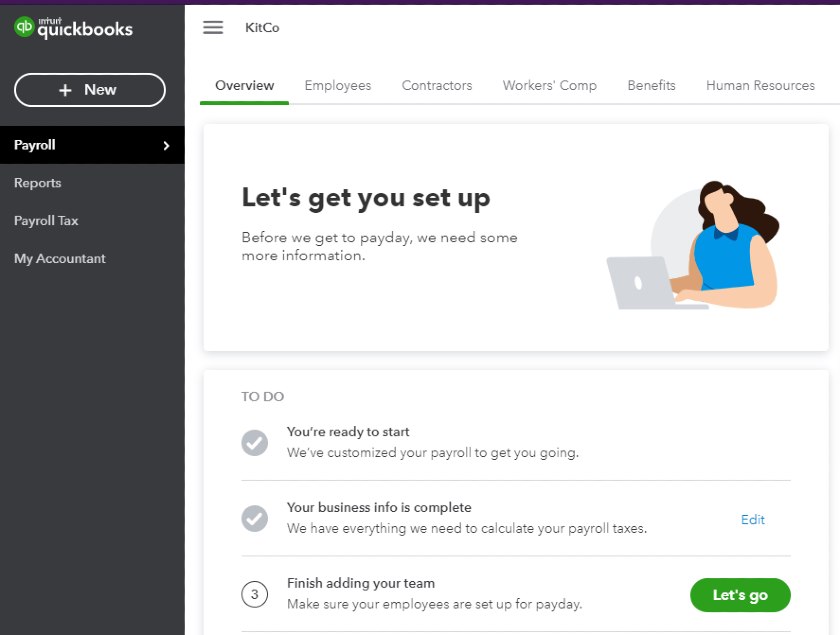 If coming back to an employee. Hover your cursor over Payroll, then click on Employees.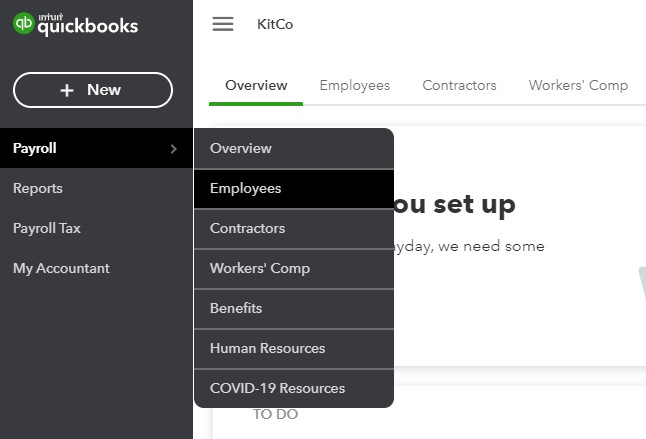 Next, select the employee you wish to complete.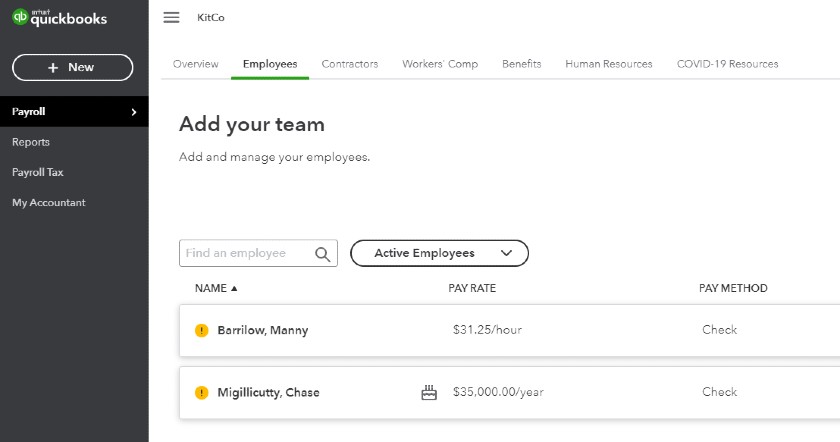 3. Input the Totals From Your Payroll Reports or Employee Paystubs
Note: You won't enter historical data until later in the setup process.
The Employee screen opens up with all the information you need to input for payroll. It will ask, in step 9, for historical data.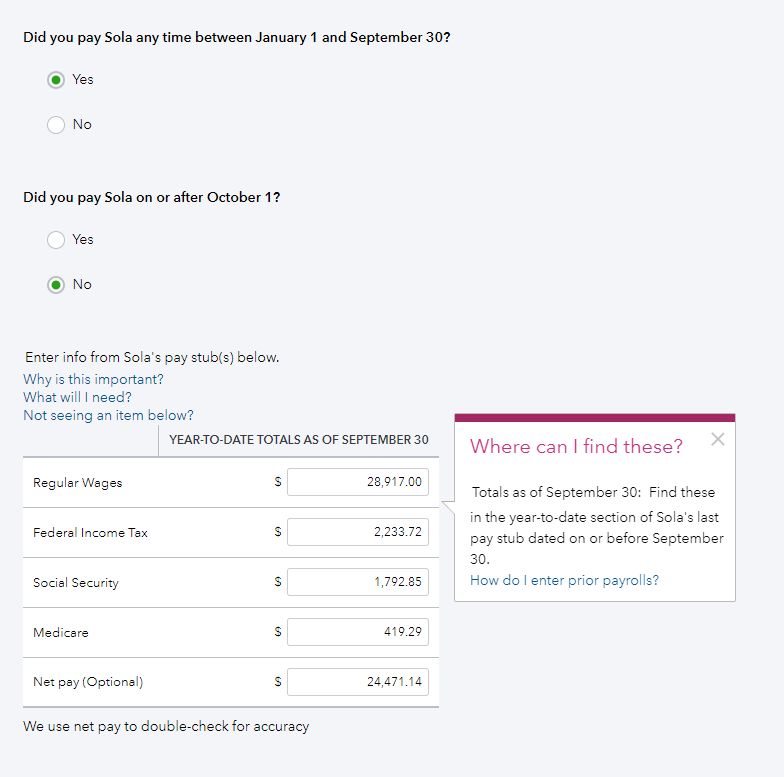 Note: If these numbers do not match what QuickBooks expects, it will not proceed until these are correct.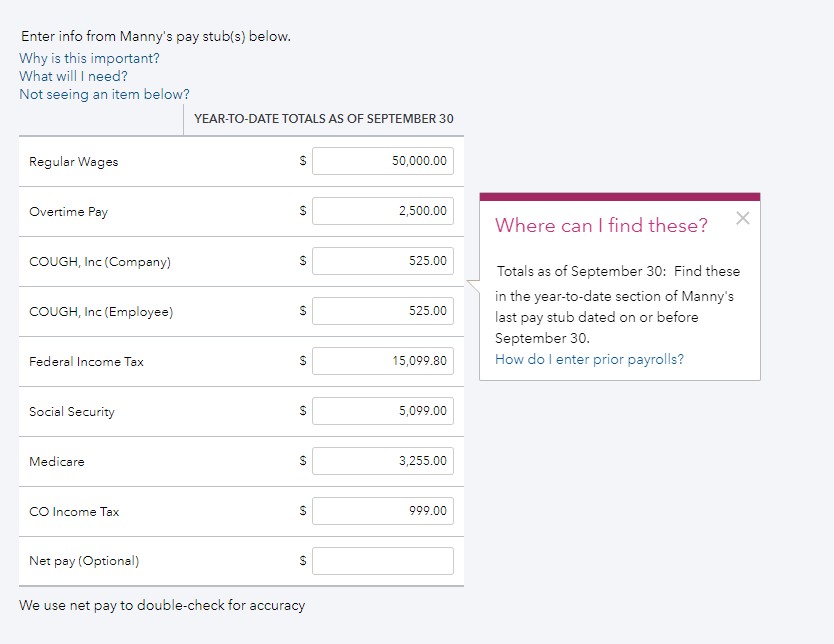 4. Complete the Input
When you finish, press Done in the lower right corner. QuickBooks will then update, showing you the gross pay, taxes withheld, and net pay to date. Click Done again to complete this employee.

5. Go to Next Employee
When you press Done, it takes you back to the Overview page. Click on Let's Go to set up your next employee.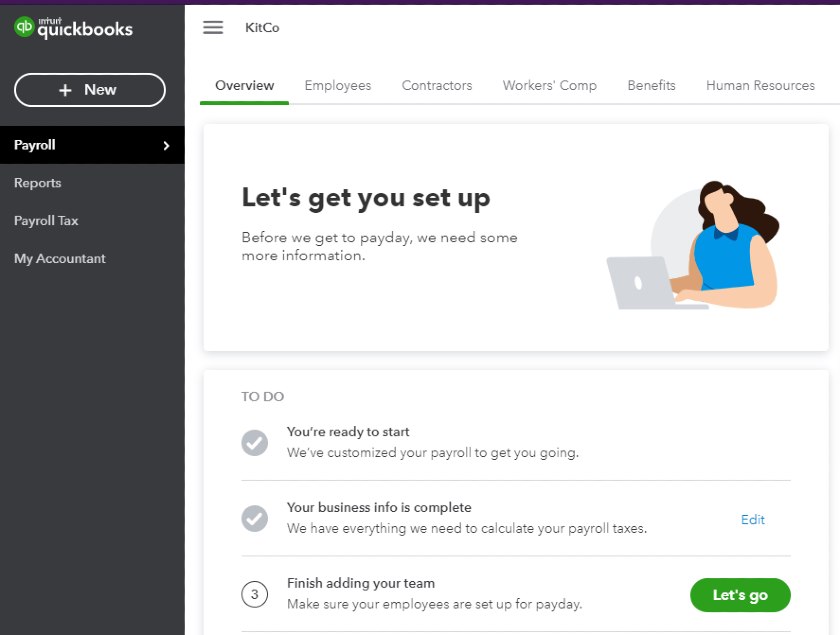 FAQs
What should I do if I need help with the QuickBooks Payroll program?
If you have a question while working in QuickBooks Online Payroll, click on the Help button in the upper right corner, and you'll be given some options. You can type in your specific question, "see what you can do," by getting general articles on banking or troubleshooting, or contact support. Contact options include posting to the community help forum, chatting with customer support, and talking to customer support over the phone. Chat and phone support hours vary by location, but the chatbox will tell you the next available hours if they are closed when you ask.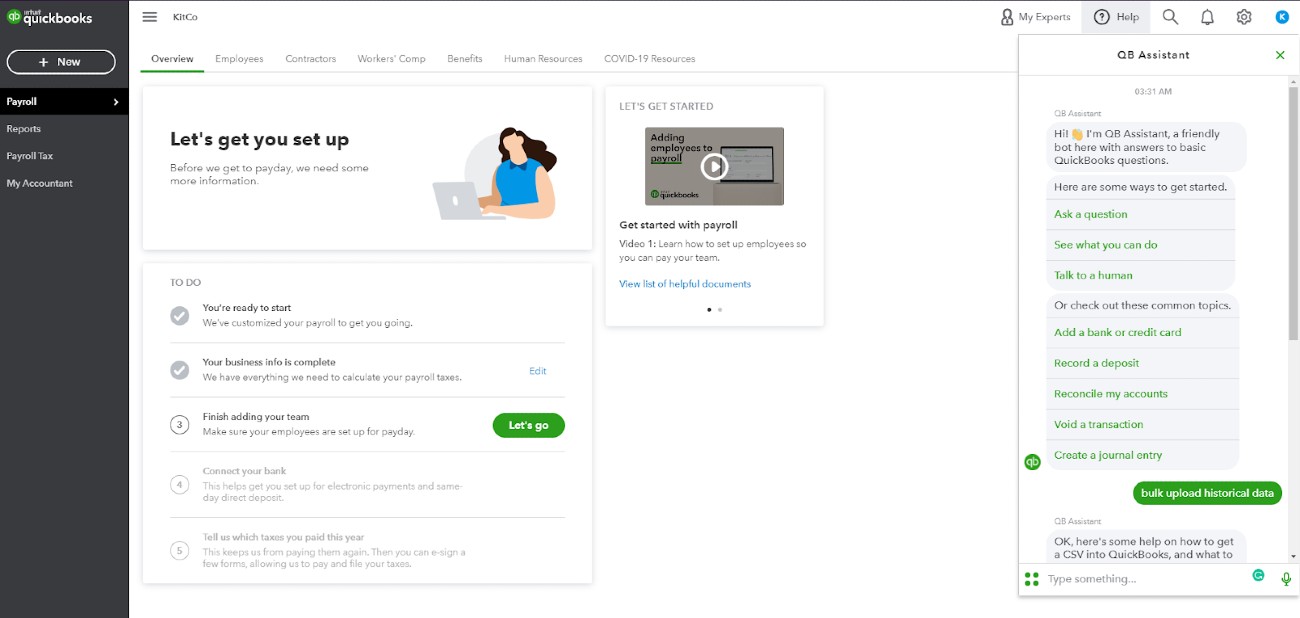 How much does it cost to add payroll to QuickBooks?
QuickBooks Online Payroll's plans start at $45 monthly plus $4 per employee, per month. QuickBooks Payroll services include payroll checks or direct deposit, payroll tax payments, and all tax form filings.
Bottom Line
Once all your employee data is set up in QuickBooks Online Payroll, you'll be ready to run your payroll. You can also learn more about how to do payroll yourself here.
QuickBooks Payroll offers a free 30-day trial where you can test out all its features. Give it a try and start making payroll easier.