How To Customize Invoices in QuickBooks Online
In this free QuickBooks Online tutorial, we're going to cover how to customize the look and feel of your invoices. The custom format you design can also be applied to your sales receipts and estimates, giving your company a consistent and professional look.
QuickBooks Online is our best overall pick for small business accounting software. You'll get the most out of our tutorial if you follow along in your own QuickBooks Online company. New subscribers can choose between a 30-day free trial or 50% off for three months.
This tutorial is part of our Free QuickBooks Tutorial Series. To complete it, you can watch the video below or read through the step-by-step instructions that follow.
Step 1: Navigate to the Sales Tab in Account and Settings
Customize the design of your invoices in the Sales tab of your company settings. To do this, click on the gear icon in the upper right corner of the QuickBooks Online screen and select Account and Settings.
---
Step 2: Create a New Invoice Template
From the Accounts and settings screen, choose Sales in the left menu bar, then click on the Customize look and feel green button on the Customize section.
QuickBooks Online will take you to the custom form styles window where you can see the list of all the invoice templates you created or you will create. From here, you can create a new sales form, whether it's an invoice, estimate, or sales receipt. To create a new invoice template, mouse over to the New Style menu on the upper right-hand side of the custom form styles window, and select the invoice drop-down.
---
Step 3: Customize Your Invoice Template
If this is a new company, the only form style available is the default template named "Standard." If you want to make only a slight adjustment, you can edit the default template by clicking Edit on the far right side of the line.
There are nine areas to customize the options and defaults on your sales forms, which consist of invoices, receipts, and estimates. Later tutorials will walk you through all nine areas as this tutorial focuses only on the look and feel of your invoices.
There are three tabs in the upper left corner: Design, Content, and Emails. This tutorial will work through the Design tab. The Content tab is included in How to Set Up Sales Form Content in QuickBooks Online while the Email tab is in How to Set Up Messages in QuickBooks Online.
The Design tab deals purely with the aesthetics of your invoice, and there are five areas to design your invoice. If it's your first time making any changes, you should see the following descriptions:
Dive in with a template
Add your unique logo
Splash on some color
Get choosy with your font
When in doubt, print it out
Heads up! The descriptions change as you make changes. For instance, if you already added a logo, the Add your unique logo changes to Make logo edits, so don't be confused if you're seeing different descriptions on your screen.
Preview your invoice: The spacing between elements in the invoice preview on the right side of the screen is affected by the dimensions of your screen. To see how your invoice will look, click on Preview PDF in the bottom right corner of the screen.
Step 3.1: Dive in with a Template/Change Up the Template
After you click on Dive in with a template, you can choose from six different options. Click on each to see a preview, then select the one you think best suits your business's image.
Click Done to apply a template to your invoice.
---
Step 3.2: Add Your Unique Logo/Make Logo Edits
ou can add a picture or logo that will make your invoice one of a kind. Your logo must be saved as an image file on your computer.
If it's your first time adding a logo, click on Add your unique logo and then select the green plus sign under Add a logo. If you have already uploaded a logo, the description of the button changes to Make logo edits. Click on Make logo edits, and a window displaying all the logos you previously uploaded to QuickBooks Online will appear.
If your logo is already uploaded, select it to add it to your invoice template. If this is a new company, or the logo you want isn't shown, click the blue plus sign. QuickBooks provides a window to browse your computer and select the image file of your logo. After selecting the image file, click Open to return to the prior screen where a thumbnail of your new logo will appear.
The logo is now stored in your QuickBooks Online account and will be available for the customization of other forms without having to reload it. Make sure the logo you want to add to your invoice is highlighted and then click Save.
Your logo now appears under the Design tab with options to change the size and place the logo on the left, center, or right of your invoice. Unfortunately, the logo can only be placed at the top of the invoice. Play around with the options until you settle on how to display the logo. If you decide you don't want the logo in your invoice, click on Hide logo.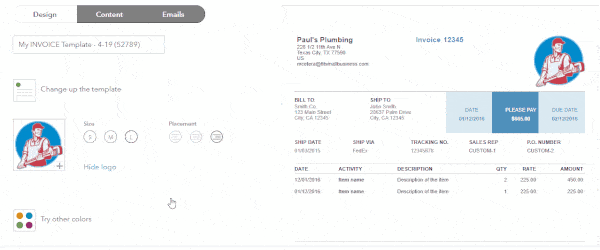 ---
Step 3.3: Splash on Some Color/Try Other Colors
The next option under the Design tab is to select the color of your template. After clicking Splash on some color or Try other colors, you can choose between 18 colors:
The color selection will affect both the text color and highlight color of the invoice headings. You might want to revisit your template selection as some templates are more colorful than others. For maximum color, try the "bold" template, which shades the entire background of the invoice.
Custom colors: You are not limited to the 18 predefined colors. The text box located under your color selection is an HTML color code, which you can input manually for a nearly infinite selection of color choices. If you want to apply a different color, you can use a website that provides HTML color codes. See the screenshot below as an example.
---
Step 3.4: Get Choosy With Your Font/Select a Different Font
The next task under the Design tab is to choose your font. Click Get Choosy with your font (or Select a different font if you've clicked there before) to view a selection of four fonts and three sizes.
---
Step 3.5: When in Doubt, Print It Out/Edit Print Settings
The final task under the Design tab is to set your print options. Select When in doubt, print it out (or Edit print settings if you've already clicked there) to view options for printing your invoice.
By checking the Fit printed form with paystub in window envelope option, QuickBooks will print a dividing line, turning the top portion of your invoice into a payment stub and print the message "Please detach top portion and return with your payment." This will help you match payments received to outstanding invoices, which is especially useful if you send numerous invoices for the same amount.
Meanwhile, the Use letterhead paper option will remove the company name, address, and logo from the top of the invoice. This allows your emailed invoices to include your business information and logo, but these can be removed quickly when printing on company letterhead.
When you are satisfied with the custom design of your invoice, click the green Done button in the bottom right corner of the screen. QuickBooks returns you to the Custom form styles screen, where you can see your newly created invoice template with the default name assigned by QuickBooks. You can change the name of your custom invoice by clicking Edit and then Rename.
Tip: The type of invoice template you need varies depending on several factors, including whether you sell products or services and whether you need to include discounts. We've put together a selection of top 10 QuickBooks invoice templates that you can download for free.
Create multiple templates for different situations. For instance, you can craft one to be printed on company letterhead and another to be emailed. You can choose which template to apply before printing or emailing an invoice.
---
---
How To Create Custom Estimates and Sales Receipts in QuickBooks Online
Now that you know how to craft a custom template, you can produce custom templates for estimates and sales receipts. The steps are identical to the process we used to create your customized invoice. From the custom form styles screen, click New style, then select either Estimate or Sales receipt.
You have the same design options for estimates and sales receipts as invoices. I suggest that you make the custom format similar to your invoices but different enough that it's easy to tell each of the forms apart to avoid confusion. It's important that customers don't mistake invoices for estimates.
The Importance of Customizing Sales Forms
We highly recommend customizing your invoices, receipts, and estimates to make your business look professional and unique. The default QuickBooks forms aren't very professional-looking and are used by many businesses. You can build brand awareness and enhance your brand recognition with a well-designed logo on a unique invoice.
Wrap Up
Congratulations on customizing the design of your sales forms in QuickBooks Online. Consider making multiple invoice templates for different types of sales. For instance, you might want to omit the shipping address and method for service invoices. Our next tutorial is How to Set Up Sales Form Content in QuickBooks Online, where you'll learn how to designate what content will show on your invoices, estimates, and sales receipts.