How To Run an Accounts Receivable Aging Report in QuickBooks Online

This tutorial presents how to run an accounts receivable (A/R) aging report in QuickBooks Online. An A/R aging report shows a list of your customers' unpaid invoices and how many days they're overdue. In this course, you'll learn how to create a basic A/R aging report and modify it using custom settings.
Our QuickBooks tutorial series, which includes this guide, is intended to help you maximize the functions of QuickBooks Online, our best small business accounting software. We recommend you follow along with your QuickBooks account open. If you don't have one, head over to Intuit's website to sign up for a 30-day free trial or 50% off for three months.
---
Locate the menu bar above the A/R aging summary report by scrolling up the screen. The menu bar provides some general options that can be adjusted.
Provide the following details to complete the basic A/R aging summary report:
Report period: Indicate the period for the outstanding invoices you want to be covered in your report. You can choose common reporting periods from the drop-down menu or enter a custom date.
Show nonzero or active only: Select whether the report will include all rows or columns (All), only those with data (Active), or just those with nonzero totals (Non-zero).
Aging method: The age of an accounts receivable can be calculated based on either the report date chosen in item A or the date the report is created.
Days per aging period: Aging reports are commonly based on intervals of 30 days per column, but you can adjust that to a different number of days.
Number of periods: Set the number of periods, or columns, you would like to display in your aging report.
Run report: Select this option to apply your changes.
Customize: Hit this button to customize your A/R aging report even further (although we discuss this in detail in the next section, Step 3).
Save Customization: Click this button if you want to save the options you have selected. You can apply the same settings when you run your next A/R report.
Don't forget to click Run report (item F) to record the changes.
---
You can select additional options for your A/R aging report by clicking the Customize button (item G in the prior section).
General
In the first section, you can customize general settings, such as the reporting period and number format.
Rows/Columns
Select which rows or columns will be displayed in your report and exclude nonzero and no-activity accounts if needed.
Aging
This Aging section is more useful than the Aging method offered in Step 2 as it allows you to select not only the aging method but also the days covered in each period and the number of periods to run.
Filter
This customization allows you to filter the aging report based on two variables, customer and location.
If you don't have the option to filter your A/R aging report by location, you can read Step 4 in our how to set up advanced settings guide.
Header/Footer
Here, you can choose which information to display in the header and footer of the A/R aging report.
You can change the name of the company and the report that will appear in the header. If you uploaded a logo while setting up your company information, you can opt to show your logo at the top of your A/R aging report.
Once you're done customizing your report, click the green Run report button.
---
You can print, email, or export your A/R aging report via the icons in the top right corner of the screen.
You can click the
envelope icon (item A) to email a copy of your A/R report without having to leave QuickBooks Online
printer icon (item B) to print a copy of your report
drop-down arrow next to the export icon (item C) to choose between exporting your aging report as a PDF or an Excel file.
Take a look at this sample QuickBooks A/R aging summary report.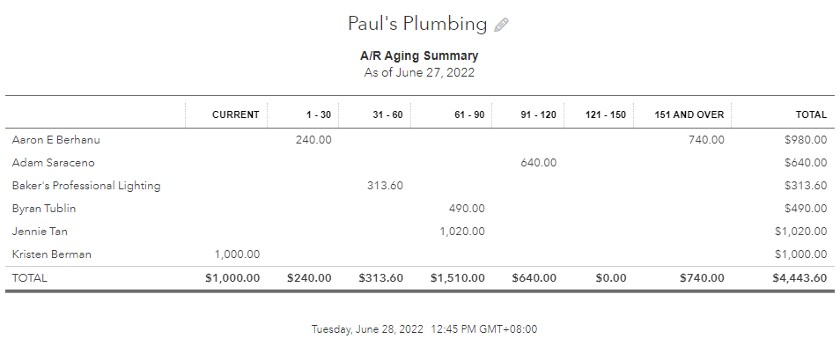 ---
Why the QuickBooks Aging Report Is Important
The A/R aging report lists the amounts owed to you by customers, separated into columns based on the number of days the invoice is overdue. This allows you to quickly identify potential collection problems to address. Since the A/R report includes past due invoices, it gives you a better idea of how much money you're likely to collect next month than looking only at total receivables.
Wrap Up
You've finished another QuickBooks tutorial and can now run an A/R aging report in QuickBooks Online. Our next guide is on how to run an accounts payable aging report. It covers the basic setup and customizing options—just like what you did in the previous tutorials on creating balance sheets, cash flow statements, and profit and loss statements.